1 Night 2 Days: Episode 325
Here we are with Episode 325 of 1N2D, which is a continuation of the previous episode wherein new member Uhm Tae-woong gets initiated into the fold. There's nothing like shoving the newly hatched bird off a ledge to get him to flap his wings. (Or, you know, die.)
Here's where we get to see the big movie star completely out of his element, stranded and without any mentors to teach him tips and tricks. Talk about a crash course in 1N2D survival.

EPISODE 325. Broadcast on March 13, 2011.
girlfriday: I love how Tae-woong admitted that his major weakness is having a hard time talking to strangers, and on his first day, they leave him stranded in the street.
javabeans: How much do you suppose that was coincidence?
girlfriday: Zero.
javabeans: This episode was a pretty hard challenge. You're just gonna make the new guy hitchhike his way to the beach? With a 2-hour time limit?
girlfriday: They throw you off the deep end.
javabeans: I have to think that it might've been easier for Tae-woong, because he has face recognition. A lot of his helpers did know who he was.
girlfriday: True. In general those types of missions are easier for Seung-gi or Ho-dong because they're more easily recognized. Although, sometimes they're forced to also wear embarrassing costumes, marring all sign of recognition, or simply upping the humiliation factor. But I think the hard part for Tae-woong was his OWN awkwardness with strangers.
javabeans: In the beginning, it was like I could almost hear the "Oh, shit" in his brain.
girlfriday: Yeah, it was written all over his face.
javabeans: I was sort of shocked at how easily Korean drivers actually picked up a hitchhiker, even though I'm positive the camera crew presence greatly mitigates the fear aspect. And a lot of people know 1N2D, even if they don't watch it, it seems. But whatever the case, I think it's cute when the helper actually knows who he is and is trying to play cool when they're secretly excited. Like that little boy who asked for a photo while he was hitching a ride.
girlfriday: Actually, sometimes it's even cuter when they don't know. Once they went to a really tiny mountain town, and Seung-gi walked a grandma home, and she just assumed he was a nice kid, saying that someone must've raised him well. It was maybe the most adorable thing ever. I think most people know the show, but they hit remote areas and are an unassuming bunch anyway, so you never know what to expect with civilian reactions.
javabeans: Tae-woong seemed to approach the challenge by assuming people didn't know who he was. And I notice that the guys don't actually introduce themselves. If they're recognized, they'll smile, but they won't draw attention to what they're doing. It was funny how some drivers were like, "You're just like you look on TV!" and others were, "You're much better-looking in person." Heh. But for a while there, I didn't think Tae-woong was gonna make it to the beach.
girlfriday: They made it hard by not letting him say what his destination was, so he could only ask for a ride on their way to wherever.
javabeans: Is that because most people would be really nice and take him the whole way if they knew?
girlfriday: Wouldn't you?
javabeans: Just checkin'. He really scored with that car of college kids, though. I'm sure it helps when the helpers are familiar with the show and its challenges, but that one guy was like a 1N2D expert. I wonder how that kid felt when he heard Tae-woong describe him to his buddies later as "this future variety PD." He was even advising Tae-woong on how to conceptualize his character for the show.
girlfriday: Which was exactly what the members were doing on the beach while waiting for him. (Some of the cast members have nicknames, like Ji-won is "Cho-ding," because he's like a grade-schooler, essentially a big kid who delights in schoolyard pranks. Seung-gi is "Huh-dang," because there's something slightly missing from what appears to be the perfect package…he's just always bumblingly two hairs shy of being cool, which is of course adorably endearing.) They came up with a couple of possible nicknames for Tae-woong.
javabeans: When Seung-gi suggested "Uhm-ko" at first, I thought, "Is he making fun of his nose?" (Ko is the word for nose.) I didn't get right away that he meant Uhm-comedian, ha.
girlfriday: They also had "Moo-dang," meaning he's good at nothing. Heh.
javabeans: Aw. He had a rough start. He did admit to some of the strangers that he was so startled at the way he was kidnapped that he couldn't remember anything he might've prepared. But at least he made it to the beach, with barely four minutes to spare.
girlfriday: It was such a dramatic music-video reunion. Arms open, running across the beach to meet his brothers. That's the kind of thing I love about this show, because it's artificial, and yet…you can't make this shit up. There's a structure to the games and the situations, but the moments are real. They were genuinely so happy that he made it.
javabeans: And then to completely undercut the moment, Ji-won (who was closest to Tae-woong) told the others that while Tae-woong was running to them dramatically, he was actually cursing to himself, "Damn if I ever wear these tight pants again!" HAHA.
girlfriday: Keh. Sometimes the guys make fun of each other for what they wear, especially if any of them tries to look especially cool. I think there's a bro code for the wardrobe, meaning there's a narrow window of stuff you can wear: can't be too slobby, but can't be too cool either. 'Cause then you're trying too hard. And you get made fun of, mercilessly.
javabeans: So I get that the boys all went into the freezing water as a bonding exercise, but I thought that was supposed to be the punishment for failing the mission.
girlfriday: Seung-gi was supposed to go in for Tae-woong being a black hole of multiplication, but they all ended up going in for bonding's sake.
javabeans: After the second dude voluntarily went into the water, it was kind of a given that they'd all go in. I wonder if the guys after him were grumbling, "Aw man, now I have to go?" (Side note: Uhm Tae-woong in a wet T-shirt? Mmm.) Then after that, they showered, rested, and had to "earn" their dinner in stages. Tell me, is this a recurring issue?
girlfriday: Yes. It's the backbone of 1N2D.
javabeans: And showering together?
girlfriday: That's the backbone of bromance.
javabeans: But the food: THAT'S SO MEAN. It's a good thing they ended up winning the meat, but I felt so sad for them every time they lost a side dish because they couldn't MANEUVER IN THE DARK to configure their bodies into some insane position and then hold it indefinitely.
girlfriday: Gotta earn your food. It's just like real life, except with a god-like PD who giveth and taketh away as he chooses. There are times when they literally end up with NOTHING. And they have to watch as the staff eats up all the delicious food in front of them.
javabeans: Is that legal? Forget legal, is that ethical?
girlfriday: That's why they constantly call the PD inhumane.
javabeans: I guess it makes sense — the boys aren't gonna take the challenges seriously if there aren't consequences.
girlfriday: It also makes whatever they DO get to eat that much more delicious.
javabeans: Glass waaaay half full, dude.
girlfriday: But I always have the worst food envy when I watch this show, because they hype up the food SO MUCH. Even if it's a 1-dollar package of ramen with some instant rice. It's like nectar of the gods. And the guys get so excited about food, without fail. I love whenever Ho-dong starts talking about how delicious something might be, and he falls into a food-trance. The first time I cracked up in this episode was when Seung-gi imitated Ho-dong's "It's tasty!" in that hilarious tone.
javabeans: Can we talk about that game? AND THE PANTS. (To earn dinner, the boys had 10 seconds to move into formation in the dark. Or, in another case, switch pants with a partner.) I just about had a fit when they turned on the lights and the boys were frozen in fear, some of them lacking pants.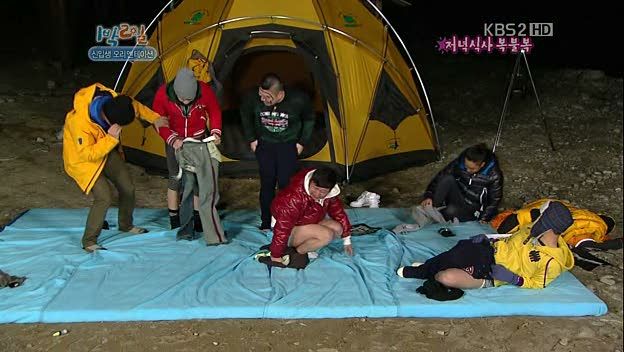 girlfriday: I literally laughed stuff out of my nose when the lights came on, and half the guys were pantsless.
javabeans: This is a case where the captions were particularly hilarious. The lights went off and you saw the frantic shouts materialize onscreen in word form. "Where are you?" "Here, here, here, HERE!" "Don't play around!"
girlfriday: I just knew someone was withholding pants.
javabeans: I wondered whether Tae-woong was particularly fearful of being caught with his pants down on his first outing. He made damn sure he had Seung-gi's pants on.
girlfriday: He was so fast that he gave his pants to Seung-gi inside-out!
javabeans: I think I saw the fear of god in his eyes. For shame's sake, it was damn lucky that Seung-gi and Ji-won had worn long johns, since neither of them was quick enough to finish the challenge. But poor Su-geun. Not only did they have to draw on a fig leaf in post-production, didn't somebody actually THROW his pants offscreen?
girlfriday: Yeah, Ho-dong threw them like six feet away. I DIED.
javabeans: I was never so relieved to watch other people eating before. Man, I got a lot of satisfaction watching them have dinner after that trauma.
girlfriday: That's the way Na PD trains them. To be grateful for what they get. Like in prison.
javabeans: Well, it works. I remember Ji-won mentioning that he wondered if Tae-woong would be all uppity about his food like a proper movie star. But it turns out he was just so happy he got to eat that he didn't have time to be picky.
girlfriday: And then Tae-woong woke up the next morning to learn his next 1N2D lesson: never leave your treasure unguarded.
javabeans: I felt so bad for him! The guy is the first to retrieve a flag, and picks up three instead of just one, and gives two of them away to his team members so they could eat breakfast too, and then he doesn't even get to eat?! Plus, the reason he was even away when breakfast was called was because he was changing out of his icy clothing, from wading in freezing water to retrieve said flags. HOW IS THAT FAIR.
girlfriday: Clearly, this is going to be an issue for you, if you're concerned about fairness. That is not the law of the land on 1N2D.
javabeans: I'm getting that. But it was sweet for Ji-won to lie about not being hungry so that Tae-woong could eat something.
girlfriday: And that's REALLY out of character for Ji-won, who loses to no one. He kept saying that he was scared Tae-woong wouldn't come back next week, because they put him through the wringer on his first trip. Maybe it was his way of saying, "Please come back, hyung!"
javabeans: Well, I'm sure Tae-woong won't make the same mistake again. It'll be fun watching his learning curve on the show in the coming weeks. (Although, if his multiplication tables are any indication, it may take a while.)
girlfriday: Who needs math when bromance is in bloom?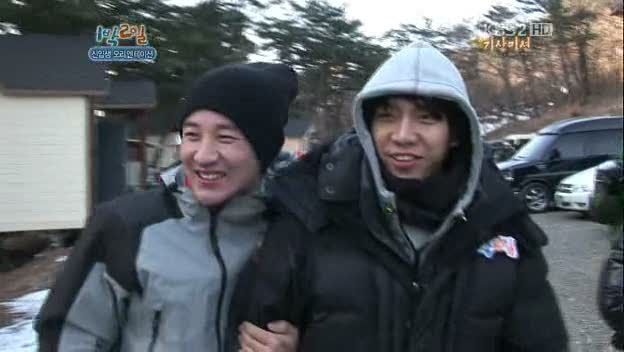 RELATED POSTS
Tags: 1N2D, Eun Ji-won, featured, Kang Ho-dong, Kim Jong-min, Lee Seung-gi, Lee Su-geun, Uhm Tae-woong