49 Days: Episode 14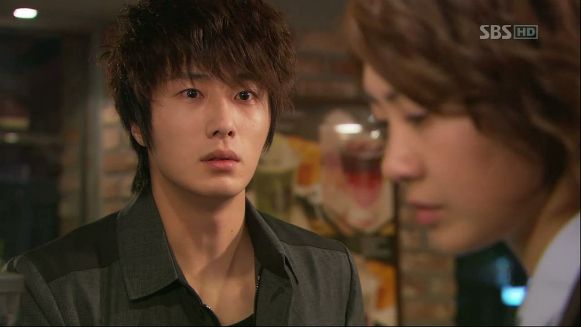 You know what I love about this drama? It's not subtle or new or anything, but damn if it isn't addictively satisfying. It does something that few dramas do—it keeps changing the game, little by little each time, and it actually allows characters to figure things out before we're left pulling our hair out in frustration. I think I've gotten SO used to k-drama characters being blind to the things that we notice, that I find I'm actually surprised when these characters proactively search for clues and deduce things on their own. I mean, nobody's gunning for Sherlock Holmes territory, but there's nothing like a little sleuthiness to brighten up my day!

EPISODE 14 RECAP
Ji-hyun finally puts some of the pieces together (and thank god, really, because one can only be endearingly naïve for so long) and shows the Scheduler what she's found: a graduation picture of him, aka Song Yi-soo, aka Yi-kyung's boyfriend.
He's stunned, as he stammers, "…But…that's me…" She peers up at him curiously, clocking his reaction, and then rushes out the rest of what she knows—that Yi-kyung and Yi-soo were in love (furnishing the birthday card as proof), and that Yi-kyung still cries over him to this day.
His eyes grow wide. "I…loved…this woman?" He points at her, Ji-hyun standing there in Yi-kyung's body. It's so strange that they're talking about her in the third person, while her body is standing right there.
It takes a moment for the shock to wear off, but then he denies it, thinking that Yi-kyung can't possibly be the girl he loved. Ji-hyun reminds him that he said he had something important left to do—couldn't it be for Yi-kyung?
He can't remember, of course, and Ji-hyun's insistence just sends him spinning into the land of denial. After a moment's pause, he puts his hand to his face… "This face… do you think I borrowed it?" HA.
And Ji-hyun, ever the gullible one, gasps, "Can you borrow faces??" These two.
He wonders why Ji-hyun of all people found him, and thinks that something went horribly awry. She thinks it's an easy thing to confirm: he just needs to appear in front of Yi-kyung. And what, give her a heart attack?
But he nixes that idea, since there's already a built-in failsafe that prevents him from appearing as himself, to anyone from his former life. (It's the Dead Like Me thing, where he automatically appears with someone else's face if he happens to bump into someone he used to know.)
She tells him that he should still try, so that he can confirm for himself, since he's the one who's got unfinished business that he's spent five years working for. He flatly denies that it's about Yi-kyung, since it could be for his parents, or some sort of revenge. She tells him that he's an orphan, and to stop denying what's right in front of his face. They're yelling at each other by now, and he dismisses her, asking for some time to think.
On her way out, Ji-hyun lets out her anger, blaming him for not remembering Yi-kyung. "How could he not remember, when this unni is crying over him?" Aw, it is SO CUTE how she's taking her unni's side. I love how much Ji-hyun's attachment to Yi-kyung has grown.
Meanwhile, the Scheduler thinks it over, recalling the moment in the café, and then again in Jinan, when he felt a weird connection to Yi-kyung. He calls Biker Granny to ask if maybe she could just tell him what his reaper-wish was (the thing he asked for in exchange for the five years of reaper duty, way back when he died). He gets an earful for even asking, and I love what he mutters under his breath: "this unni." Ha. Part of me still wishes Yi-soo ended up being Yi-kyung's gay little brother.
As Ji-hyun walks along the street, she sighs that Yi-kyung's got it rough, living like that because she's unable to forget Yi-soo. But from her perspective, she muses that no one will remember her that way when she's gone.
She sighs that she wasted three days at Min-ho's, and then thinks, "I miss Kang-ee. He must be worried." AWWW. She checks her phone but there aren't any messages from him. She pouts, "He's not worried, he's mad."
Min-ho gets some backstory on Yi-kyung from his lackey—that she's been living off the grid, and that her boyfriend died some years ago. He thinks all of this lines up with why Ji-hyun and Kang befriended and/or helped her.
He goes to meet In-jung, who basically tells him that his time to think is up. What's he planning to do about the fact that Kang and Yi-kyung know about their plan? His answer: nothing. He trusts them. What's more is that he's not going to stop seeing Yi-kyung either.
Ruh-roh. In-jung does not look happy about this development. She cries, asking how he could do this to her, and he tells her that it's not that never loved her, but he can't control where his heart goes. That's cold.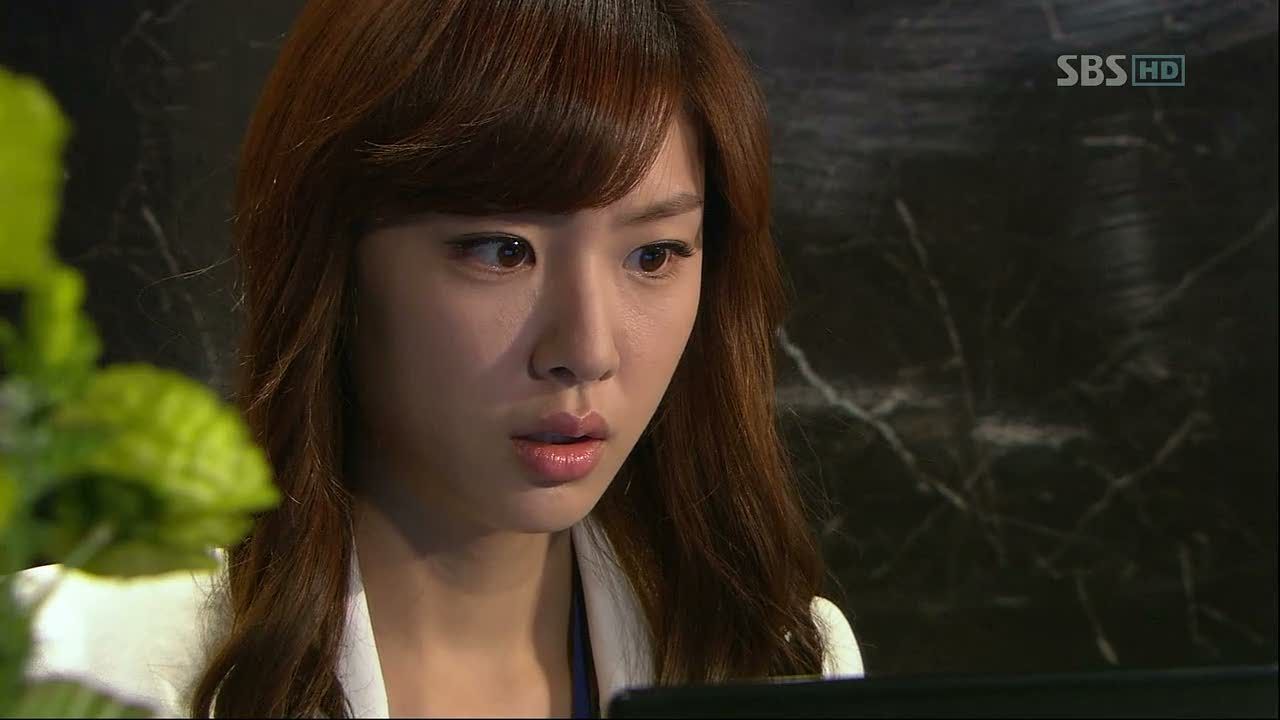 But her reaction is even better: she's like, You wanna go? Let's go, asshole. She threatens to go straight to Ji-hyun's parents if he sees Yi-kyung. She's got nothing to lose now, and he really should have seen this coming. I've been waiting all series long for this table to turn, and I'm excited to see what havoc In-jung will wreak now that she's been unceremoniously cut loose.
Her first order of business is to do a little digging into Yi-kyung's so-called internet handle, Jung-eun. She discovers something curious…Jung-eun died, a year ago. Oh, crap. This cover story's not gonna hold much longer.
Kang digs into the Haemido project and finds out that a shell company was created to buy the land. Fishy. He's sent Manager Oh to try and find out more about 49-day-ers, but no dice.
Ji-hyun comes back and finds that Kang isn't mad at all, and even covered for her with the others, that she went on a trip for a few days. He's relieved to see she's returned, and doesn't ask for any explanations.
On her way out to answer a call from In-jung, she drops the letter she had written to Dad when she was going to give up on her 49 days. Kang picks it up curiously.
Ji-hyun meets In-jung, who calls her out on having an ulterior motive and pretending to be Ji-hyun's friend. Ji-hyun in turn asks In-jung why she did all this to her so-called friend, and she just says she wanted Ji-hyun to know what it was like to have nothing, like her.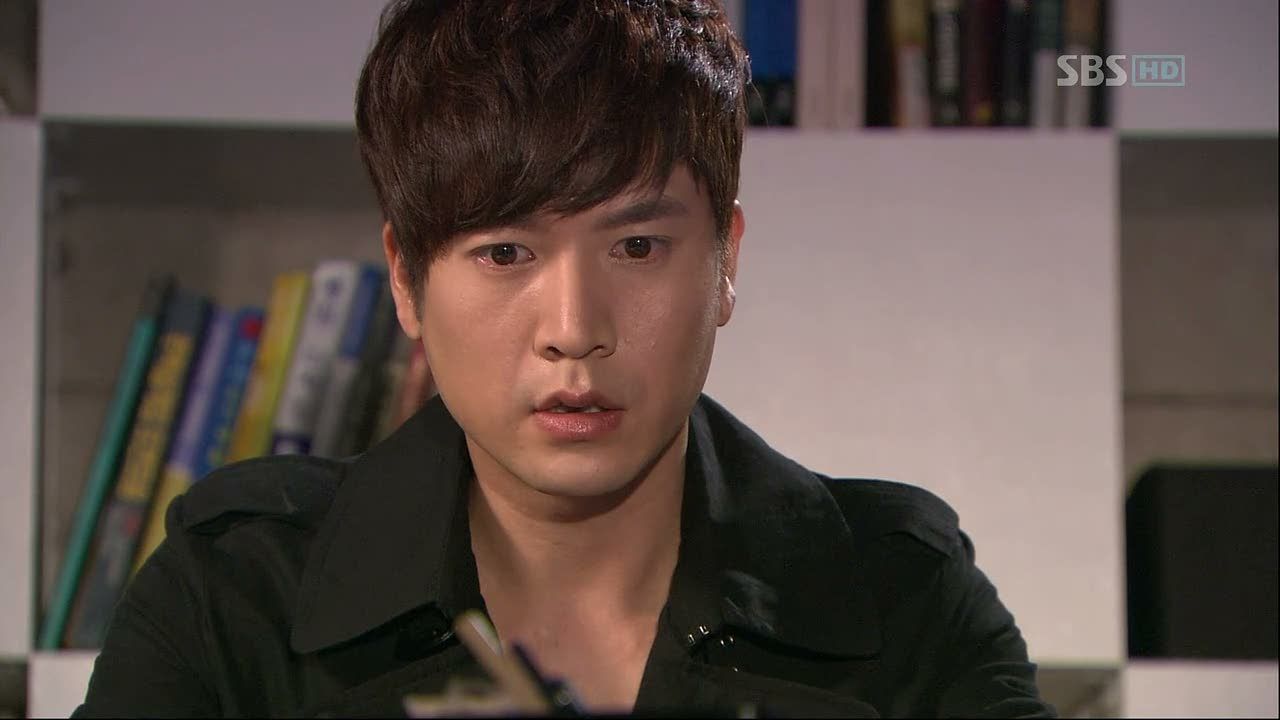 Back at Heaven, Kang reads Ji-hyun's letter and realizes that she knows everything, even her father's condition and his refusal to have surgery. He thinks back to when she quit and left, and takes out the resignation letter:
Ji-hyun: I was wandering alone in an endless desert, and then I found the oasis-like Han Kang! Boss… thank you. On my final path, you were my only friend. –A friend called Song Yi-kyung
He realizes that she intended to reveal everything to her dad, and that this was a goodbye, forever. He runs upstairs.
In-jung arrives a second after, looking for him, and gets directed downstairs to his office. She sees the letter on his desk and reads it, only she notices something curious—it's Ji-hyun's handwriting, and it's signed with a smiley face that looks familiar to her. She makes a copy of the letter to take with her.
Kang comes down dressed in another suit—KYOW!—but leaves in a hurry. In-jung goes home to compare the letter to her old cards from Ji-hyun. They're signed exactly the same way, "—A friend called Ji-hyun
" She shakes, and then reasons that it can't be what she's thinking…
Kang goes to see Dad, to try and convince him one more time. He tells him that because Ji-hyun isn't dead, her spirit could be wandering about, watching over him. What if she can see that Dad isn't getting surgery and risking his life because of her? Wouldn't that make her want to die, instead of holding on?
This shakes Dad up a little more, and he asks this time if Kang has feelings for Ji-hyun, otherwise why is he being so insistent? Kang gulps, and then lies that Ji-hyun isn't his type, and urges Dad that this isn't the way to go. Mom looks on, teary-eyed and grateful for Kang's persistence.
Min-ho goes to the hospital to visit his mother, but can't bring himself to go in. He just watches her with a heavy heart, and then when she runs out of her room calling his name, he hides, unable to face her. Tears fall as he listens to her voice, but he doesn't go out to see her.
He meets Ji-hyun for a date and asks if she's got any other secrets, and then promptly tells her to quit working at Heaven if she's going to keep seeing him. Dude, just when I'm about to feel sorry for you for like, a second, you remind me why you're the villain of this piece. Control freak much?
She doesn't give an answer, and instead suggests they go back to that restaurant from last time—his mom's favorite place. It's all in an effort to get him talking about his mother, of course, and she manages to wrangle his mother's birthday out of him this time.
That night when Ji-hyun's soul pops out, she tells Yi-kyung that she'll get the Scheduler to come see her, and that she hopes that she can meet unni if she lives again. She promises to make her less lonely, if she has the chance. Aw. Yi-kyung can sense that someone is there, and looks around warily.
She heads to work, and a chubby dude with a mustache is being a creepy stalker outside the coffee shop. Turns out it's Yi-soo in mystical disguise, pacing outside and watching her.
He finally can't stand it anymore and goes inside to order a coffee. While he waits, he decides that this can't be right. His eyes glaze over when two girls in short skirts walk past him, and he declares that he would've loved someone like them, yunno, since HE looks like THIS.
HA. Oy, the ego on this reaper.
He then decides that they aren't his type, and looks back at Yi-kyung curiously. He keeps trying to reason that it can't be, and yet when he's near her, he can't shake this strange feeling he gets.
He pays for his coffee and leaves, not any surer of anything. Outside, he says to himself that she doesn't recognize him, and wonders, "Are we really fated to cross paths?"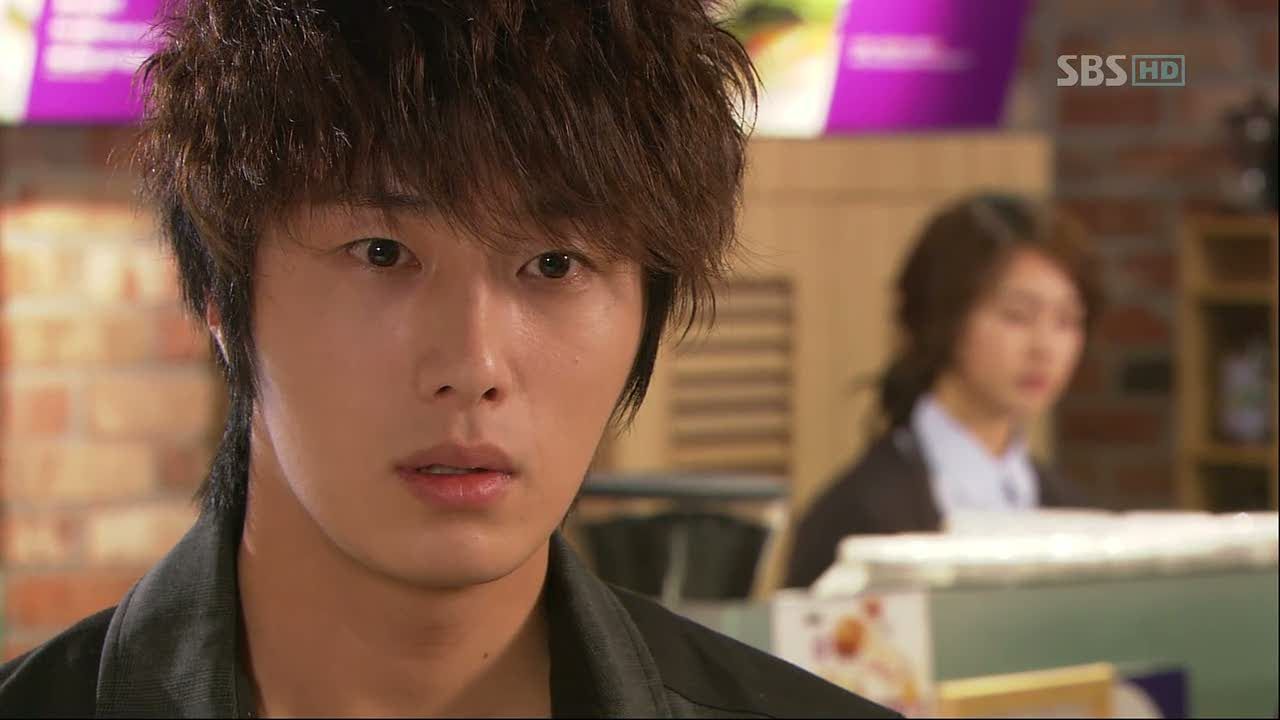 In the morning, Ji-hyun sews up the hole she ripped in Yi-kyung's bag, and then puts her stuff back in, only then realizing that she's lost her letter to Dad. She panics, thinking someone could've found it and delivered it to him.
Cut to the hospital, where her parents receive the letter. Immediately, her necklace flares red-hot, and then shatters. Her soul pops out of Yi-kyung's body, and the Scheduler appears in a black suit, to tell her that her 49 days are up.
It's her imagination, of course, because things can't end that way. And we know that Kang's got the letter. Dad ponders Kang's words and wonders if Ji-hyun really is watching over him.
In-jung does a little more digging, asking Ji-hyun's housekeeper what she remembers about Jung-eun. She tells her that she and Ji-hyun must've been really close, since she even knew that Mom doesn't eat ox bone soup.
In-jung gets rattled, as it dawns on her that her crazy hunch might be right…"Why does it feel… like she's Ji-hyun?" NICE. So much more interesting this way.
Dad comes to the hospital and announces that he's getting the surgery. Mom calls Kang, grateful for his part in convincing him. Kang jumps in excitement and calls Ji-hyun to work right away, just telling her that there's an emergency.
Meanwhile, Ji-hyun goes to the hospital herself to see if the letter has been delivered. Mom's there and she confirms that there hasn't been a letter, and tells her about Dad deciding on surgery.
Ji-hyun barely contains her relief, and asks what happened to change Dad's mind. Mom tells her that it was Han Kang, who she suspects has harbored feelings for Ji-hyun all this time. She points out the bouquet of pink roses that he's kept fresh all this time.
YESSSSSSSSSS! I LOVE MOM!
Ji-hyun rushes out at Kang's phone call, stopping in the hallway with tears in her eyes. She bows (at no one, just generally at the universe) in gratitude. In-jung sees this on her way in, and gets confirmation from Mom that "Jung-eun" has been told about Dad's surgery. She looks at Ji-hyun, lying there, and asks why she keeps feeling Ji-hyun's presence in Yi-kyung.
Ji-hyun rushes to work, where Kang is pacing back and forth waiting. He tells her to change for work, so she rushes into the locker room, which is labeled "Rocker Room." LOL. Best misspelling ever. Kang is, appropriately, wearing his rocker leather jacket today to accompany his Rocker Room.
He waits till she leaves and then sneaks in to put the letter in her purse. She's forgotten her cell phone though, and sees him in there when she heads back in. She hides out of sight and then checks her purse to see what he was doing…and finds her letter…
Freaking out, she runs off like the wind. She meets the Scheduler in the park and tells him in a panic that Han Kang read the letter and knows. Reaper Boy is in no mood to deal with her today, and looks totally deflated from his encounter with Yi-kyung.
He just responds half-heartedly that her necklace is intact, so that must mean that Kang figured it out himself before finding the letter. He tells her that it happens, sometimes, that humans find out. Like 11% of the time. Heh.
He reminds her that this doesn't mean she can go around discussing her afterlife with Kang or anything, and she rests assured for now. She asks if he can remember anything about Yi-kyung, which of course he can't, and blames her for drudging up all these confusing feelings.
She was under the impression that reapers didn't feel human feelings, but he tells her that the closer he gets to the end of his scheduler term, he gains his human feelings back. She urges him to hurry up and remember her, and he poofs away in exasperation.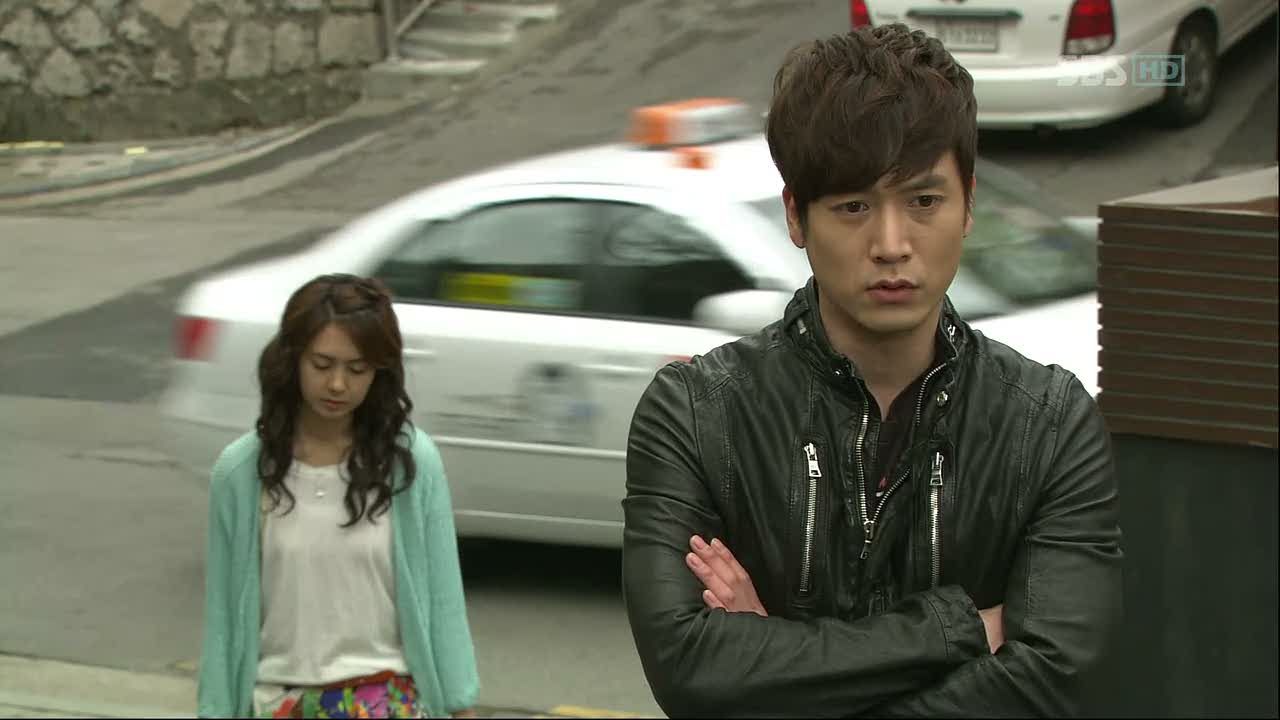 Ji-hyun walks back, slowly putting the pieces together, after um, she's been told everything. She realizes that Kang figured it out and that all his awkward sweetness with the bad excuses was him being there for her and not letting on.
She even puts together that the girl he likes, the flowers, the hug… it's all because he likes HER, and not Yi-kyung.
Everyone with me, now: FIIIIIIIINALLY!
Kang paces back and forth, worrying and waiting, losing his mind over not knowing what's going on. He starts jabbering to himself out loud, eventually shouting, "Where ARE YOU?!" right as Ji-hyun appears.
He does that adorable worry-shout thing, telling her to please for the love of god TELL HIM when she's going and where so he doesn't go crazy. Awwwww.
She asks what the emergency is, and he tells her that Ji-hyun's dad is getting his surgery. She tells him that she knows since she stopped at the hospital on her way in.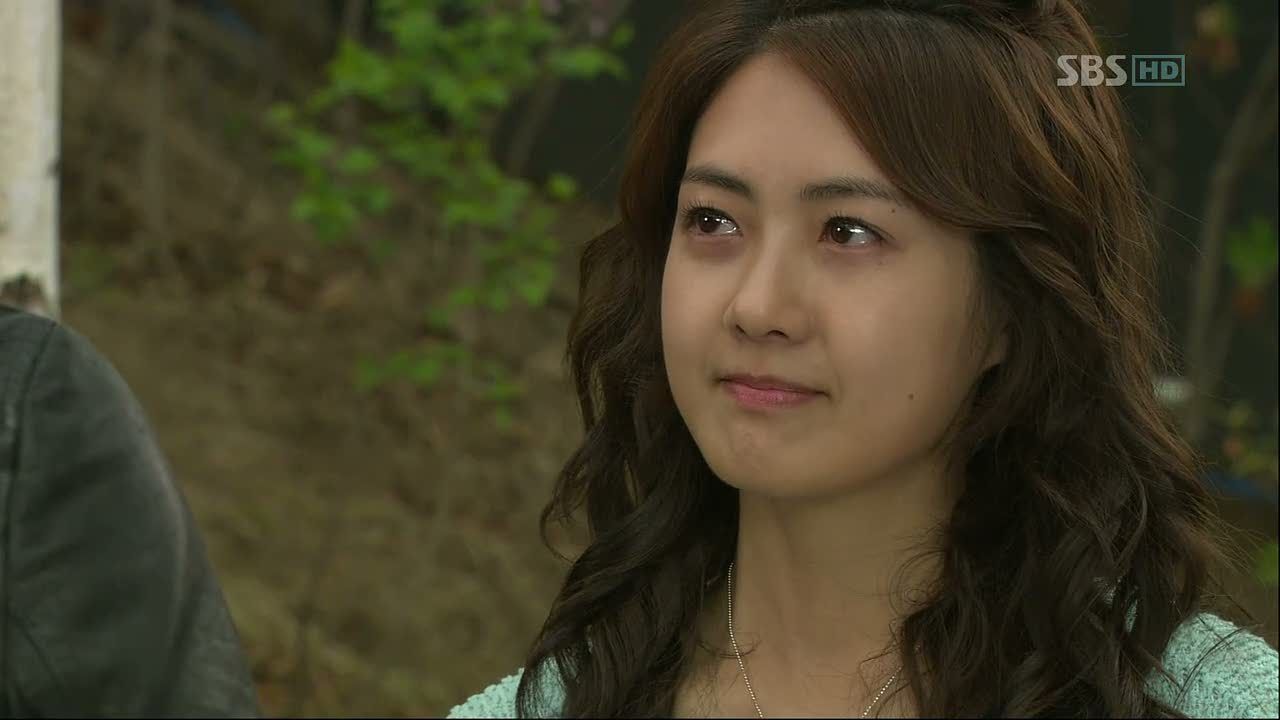 Ji-hyun: Thank you… for convincing Ji-hyun's dad to have the surgery. I'm saying thanks…in Ji-hyun's place.
Kang: Shin Ji-hyun is my friend too.
Ji-hyun: Shin Ji-hyun is quite lucky. She's got two people insisting that they're her friends.
She can't let on that she knows, but just smiles at him gratefully, tears in her eyes. He looks at her curiously, but then is interrupted by the other waiter, who he's sent on a secret errand.
Now it's time for the boys to have it out. Kang calls Min-ho and over drinks, he confronts him, admitting that he knows what Min-ho is planning to do with Haemido and Ji-hyun's father's company.
Min-ho realizes that Kang's the one digging up dirt on him, and doesn't play nicey nice anymore. He doesn't deny any of it, and when Kang asks why Ji-hyun, why her family, he just answers that they're simply unlucky is all.
They're unlucky now the same way he was unlucky to be born into his station in life. Kang argues that no matter how bad things were for him, he can't take it out on other people who aren't to blame.
Min-ho just scoffs that a silver-spoon boy like him can't possibly fathom what life is like on the other side. He finally opens up a little about his childhood, as poor and destitute as it gets. He describes the day his father died with a bitter smile as the best day, because at least he knew they wouldn't be beaten anymore.
He says that his fight isn't against Ji-hyun or her family, but against Fate itself, God or gods or whatever force that decided his fate. "I wanted to change my fate by my own hand." So…you're playing God, is what you're saying.
Well, a traumatic childhood in and of itself does NOT a megalomaniac make, nor does it make me any more sympathetic to his crazy plan. But let's just say this is how HE justifies his reasoning and his actions.
Kang says that he's sorry for what Min-ho has endured, but he's not going to stand by and watch Ji-hyun and her family lose everything because of him. Min-ho accepts the challenge with a haughty smile, thinking that Kang is no threat to him. Well, we'll see about that.
In-jung shows Yi-kyung's resignation letter to Seo-woo, and without reading it carefully, Seo-woo immediately recognizes it as Ji-hyun's writing. In-jung asks, increasingly worried, if Seo-woo believes in ghosts and souls inhabiting other people's bodies.
She goes to see Min-ho, armed with the letters, and pleads with him to check if her hunch is true. She insists that this isn't out of jealousy, and even though it sounds crazy (which he tells her) she asks him to meet with Yi-kyung and try to confirm her suspicion.
Meanwhile, Ji-hyun heads home and is startled by Dr. Noh, who stopped by to find out why Yi-kyung hasn't been coming to her hypnotherapy sessions. He notes the difference in her appearance, and she tries her best to act like Yi-kyung and rushes inside.
The next day Ji-hyun goes to Min-ho's place to try the safe, only this time he's changed his front door lockcode, so now she can't get inside the apartment. Aaaaargh.
He calls her for a date, and he thinks to himself that In-jung's theory is crazy… but then when she gets in the car, he notes her shoes. They're the same ones that she wore to the hotel the day she discovered him with In-jung… and when one of the beads had fallen off, he had picked up.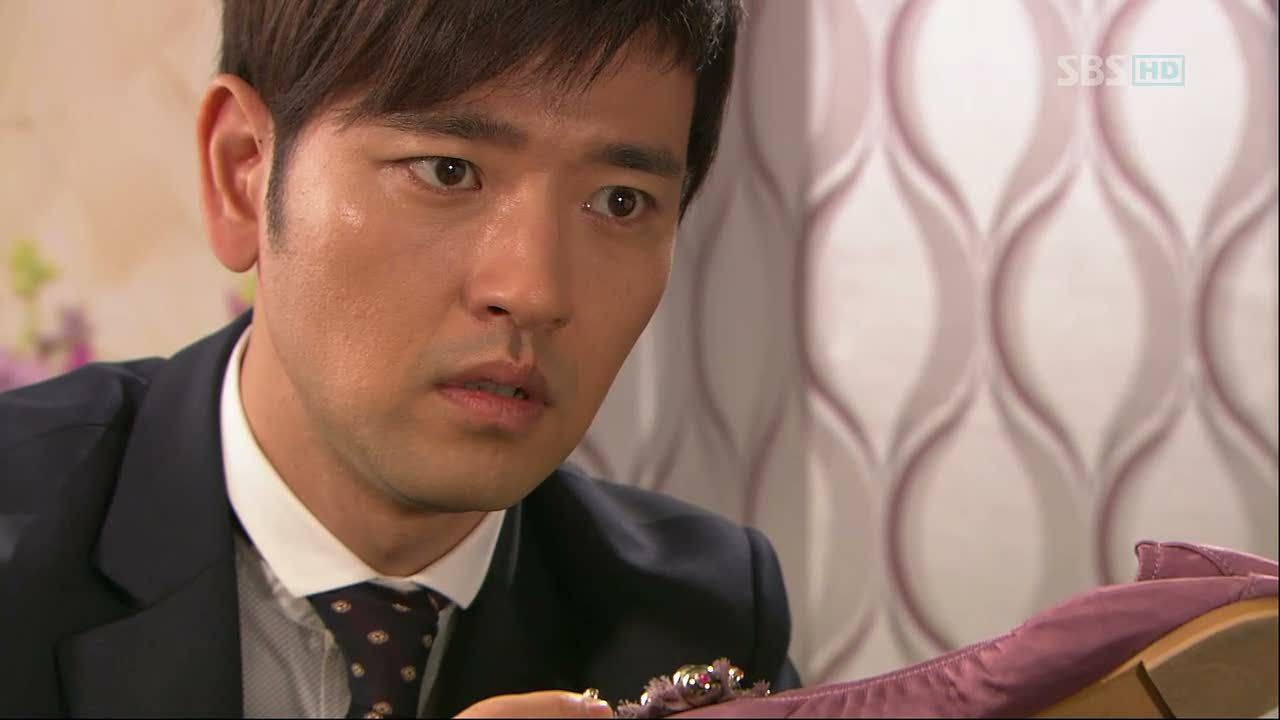 He takes her to buy new shoes and insists she throw the old ones away, only to have his minion pick them up. At home he finds the bead and compares it to the shoe… It's a match. DUN DUN.
He waits outside Yi-kyung's place that night, and Yi-kyung comes out. She sees him but doesn't acknowledge him, and heads to the coffee shop. He follows her, and then walks in, determined to figure it out once and for all.
He walks up to the counter, "Song Yi-kyung-sshi."
She looks at him blankly, then answers back: "Yes, Kang Min-ho-sshi?"
WHAT THE…?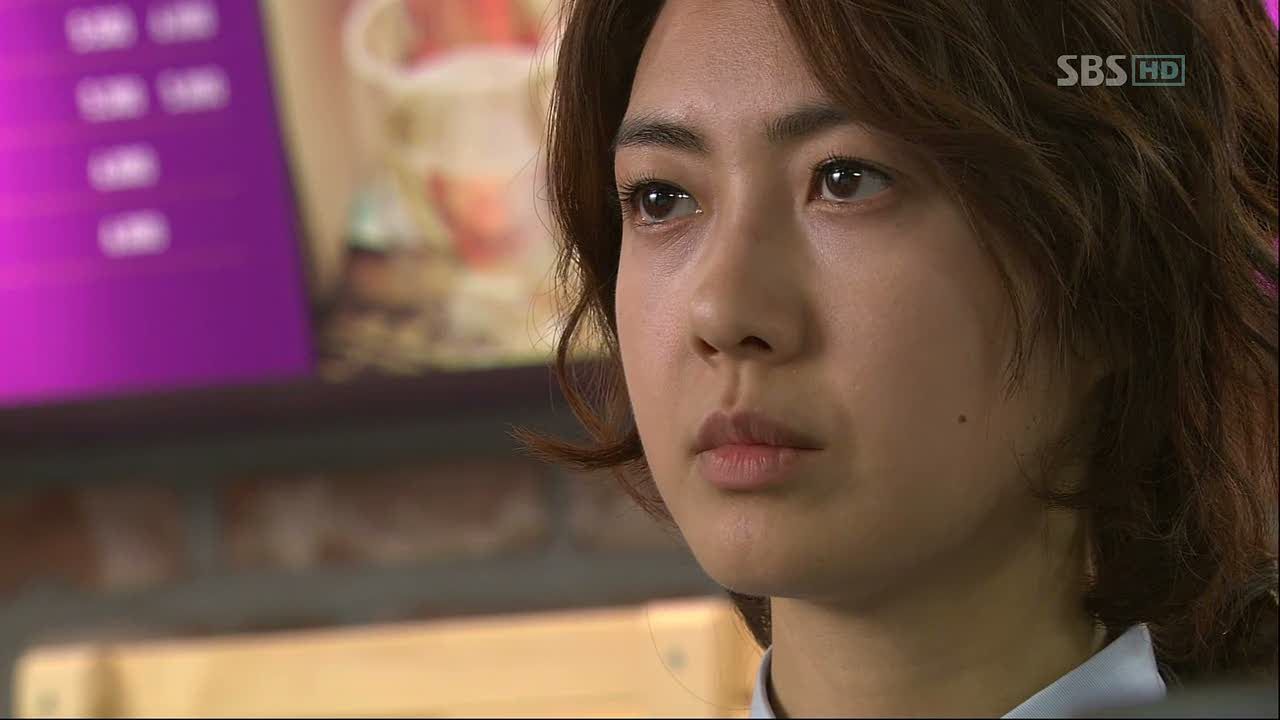 COMMENTS
Oh my goodness! What is going on? Is it Ji-hyun in there, breaking the rules to throw Min-ho off her trail? That seems too calculated for Ji-hyun. I think it's actually Yi-kyung, but remembering Min-ho because the wall that separates her and Ji-hyun is breaking down day by day.
Based on her last hypnotherapy session alone, she's called up memories lived by Ji-hyun's soul but in her body, so it's possible that she recalling things now that she's been experiencing subconsciously.
I love that this is where the drama is going. I'm fascinated to see what this twist in the soul-host relationship does to shift everyone's perspective, and to know where it comes from. For example, is this normal for a 49er, or is this happening because Ji-hyun is growing attached to Yi-kyung and forging a bond with her?
How much do I love that Ji-hyun finds out about Kang's devotion and his sweet heroics far before her 49 days are up? There's so much time now for the relationship to develop if she knows that he knows, even though he doesn't know that she knows. You know?
It also just KILLS ME that his big hero move is to save her daddy. It's so… befitting their high-school-first-crush relationship. I adore how immature and awkward they can be around each other, because it's that kind of familiarity and transparency that makes Kang diametrically opposed to Min-ho, who is smooth on the outside, but remains a mystery to Ji-hyun.
I love that she now has the upper hand in knowing about his undying crush. I can't wait to see what he's inadvertently going to reveal because he thinks she's still oblivious. Eeeee!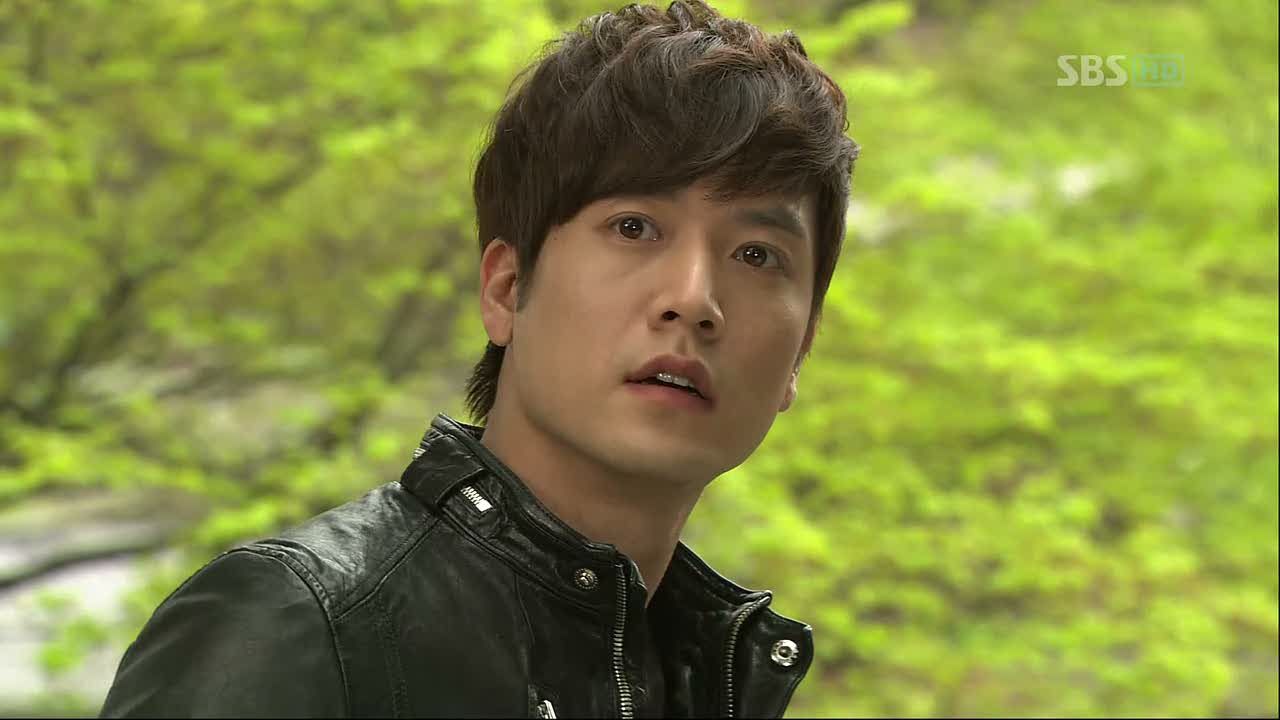 RELATED POSTS
Tags: 49 Days, Bae Soo-bin, featured, Jo Hyun-jae, Jung Il-woo, Lee Yo-won, Nam Gyuri, Seo Ji-hye