ATHENA: Episode 17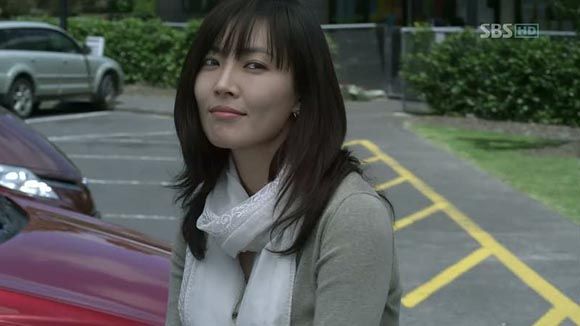 Episode 17 has only one highlight. It's also got the best action scene second to those in the first two episodes. It's also the highlight that gave this series a mini boost, but not enough of one to help the lagging series.
The casualty count is slowly increasing with the death of Sung Chul. At the funeral wake, Jung Woo stands before Sung Chul's picture with angry tears forming in his eyes as he reminisces his time with his mentor. He's not the only one feeling the loss keenly: Ki Soo is getting himself drunk at the funeral place, angry and annoyed (in that bitter, depressed way) that he must now take care of the man's kids as he promised.
Meanwhile, Hye In is haunted by the image of Sung Chul dying in the warehouse as she sits in the NTS interrogation room, once again a prisoner. She calls Director Kwon, requesting to be allowed to attend the funeral of Sung Chul (and we all know how bad she is at funerals…).
He attends the funeral with Chul Hwan to pay his respects, and then leaves with Jung Woo. They bump into Hye In, who has been given permission, albeit wearing handcuffs. Seeing how pitiful she must look, Kwon allows for the handcuffs to come off.
She places a flower before Sung Chul's picture and bows her head in respect, letting her emotions break free from her shell. She apologizes to Sung Chul – and of course Jung Woo sees this (because all Kdrama heroes must eventually see the goodness of their girls).
Son Hyuk's bitter too – but he deals with Hye In's betrayal by drinking (because all Kdrama brooders must drink alcohol). He's so angry that he manages to crush a glass in his hands (for added effect). Whoa – I wish I could do that with my bare hands.
Ki Soo returns to his office, bummed out like hell but forced to play secret agent for Chul Young – he's going to New Zealand! Though Ki Soo wants to leave Sun Hwa alone, Chul Young wants her to be found before the North Korean agency gets to her. Apparently, North Korea is in the process of eliminating former elite agents, and so Ki Soo and Sun Hwa are at the top of their list.
Unfortunately their entire conversation is also being eavesdropped upon.
Son Hyuk phones in to NTS and wants to speak to Jung Woo. Of course, the entire office listens in via speakerphone. Son Hyuk says that he's suffering more than Jung Woo. (And I go, "Sigh* I think I'm suffering the most from the cheesiness of this conversation.") He ends the conversation with a threat: he will do something so magnificently disastrous in the middle of Seoul – "just wait and see."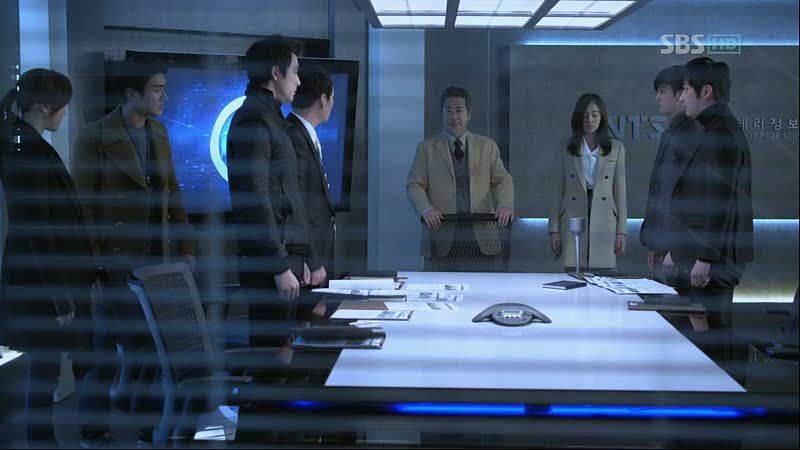 That spurs NTS (mainly Joon Ho) to look up all possible targets within Seoul city center. They've already secured cooperation with all other organizations. Kwon makes the decision (informing Jung Woo first privately) that Hye In be part of the team. She can shed a lot of light on Son Hyuk and what his plans may be, even if it means turning her back on Son Hyuk completely.
With her cell phone, Sook Kyung and her team manage to extract information about Athena's possible target – the nuclear power plant. The plant isn't exactly in the middle of Seoul, so the other Secretaries of the President's cabinet are quite wary of the information. They insist on placing more security around the major targets within Seoul, and then some at the plant.
Jung Woo is point person for this mission, so he has everyone on a task – but Jae Hee. She's still shaken by the hostage incident, even though she refuses to admit it. Tae Hyun also joins the team as "immediate backup" because he's a "multi-talented" agent.
Creative, writers. Very creative.
So aside from being a bomb specialist, he knows special equipments. (How vague is that!?) He also specializes in the Art of Stating the Obvious – "I don't think they can attack the nuclear plant from the outside since it's protected by five layers…[but if they used a bomb like the one in NTS] it'd be possible if they used it inside the reactor."
Since security has been increased, Jae Hee wonders how Athena would attack if they can't do it from outside or get inside. Um – that's your job isn't it?
Thankfully, we escape to New Zealand. Ki Soo sits at an outdoor cafe, photos in hand and ready to meet So Yeon Sun Hwa. He watches her come out of a minivan (the sign of motherhood) outside a kindergarten school, alone. He approaches her cautiously, and Sun Hwa initially thinks nothing of it. But when she recognizes him, she slowly turns a grave face at Ki Soo and warns him not to come any closer.
The children come out with their parents, and Sun Hwa greets her young daughter and husband. Using the excuse of meeting the teacher, she passes by Ki Soo and slips a small piece of paper in his palm, telling him to meet her there at 10.
Cue montage of family day! Sun Hwa and her family go to a nearby park and have a picnic, getting ice cream from a truck and visiting a museum. They're absolutely adorable! Is it weird if my favorite part about this is the daughter gets to wear basketball shorts?
Sun Hwa then puts her daughter to sleep and tells her husband to go to bed – no hanky panky, since he's got an early day tomorrow.
She waits until he's asleep before heading out to meet Ki Soo, but the threat is already at her door step: four masked men with silencers on their gun. As she makes her way into the kitchen, she detects something strange. Gunman 1 aims his gun behind her head, and she immediately knocks his arm, letting the bullet fly into the window instead. It's a fierce fight, and Sun Hwa shows us the proper way to fight an intruder with kitchen supplies – specifically a pan. She gets the guy into a headlock, breaks his neck, and then punches his heart, letting him fall like a rag doll.
Woops – her husband just saw the whole thing.
Another gunman appears behind her husband. Sun Hwa grabs a kitchen knife and throws it at the guy, piercing his heart and missing her husband. She orders him to get their daughter out of here, and like a good husband, he obeys.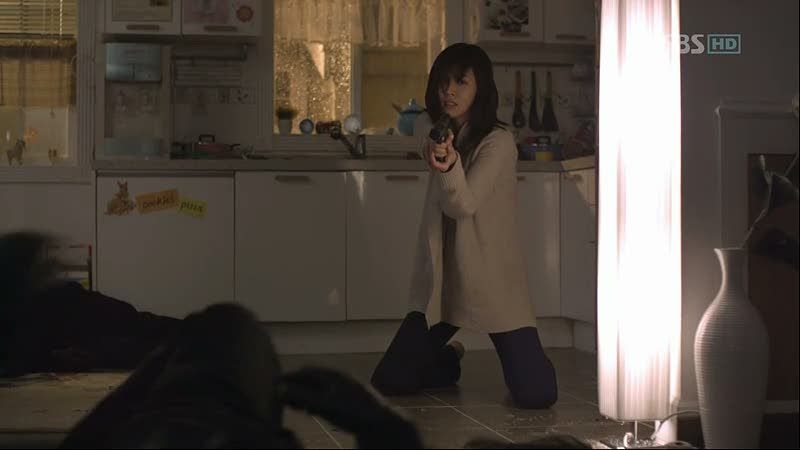 Another one shoots into the kitchen from outside, and when he breaks in, Sun Hwa lifts the kitchen table to knock him back out onto the patio. Using the barbecue grill (I seriously love how she's using everyday home appliances) she slams the guy down continuously. They're back inside the kitchen…and she pushes him far enough to grab the gun and fire four bullets into his body. Three down.
Sun Hwa begins to wonder why her husband and daughter aren't coming down yet, so she dashes up the stairs to encounter the fourth one on the second floor. She disarms him and shoots him down as well.
She enters her child's bedroom – her daughter and her husband are dead, with her husband's body lying over the child as if he were trying to protect her. Sun Hwa breaks down, gasping out screams of pain and despair as the tears run down her face.
Assholes.
Meanwhile, Ki Soo is waiting for her at the appointed location, wondering why she hasn't shown up yet. Back at her home, the phone of one of the gunmen rings and Sun Hwa picks up – it's Chul Young. Aw great. She unmasks the killer and recognizes him as a North Korean agent. Chul Young is surprised to hear her on the other end of the phone, but she's too pissed to care. She thinks he orchestrated this hit, and she's so angry that they had to kill her husband and children – both of whom never knew her past. She swears, "My dead kid's name is Park Saemi. I'm going to swear before my baby bleeding to death, I will take my revenge on you and North Korea, so please remember my daughter's name."
See – now why wasn't this the plotline for Athena? Who gives a crap about another outside organization when we can have an awesome tale of revenge instead? It would also mean more Ki Soo scenes, since he's North Korean.
Ki Soo finally drives up to Sun Hwa's house and he immediately realizes something is wrong. He searches for Sun Hwa, but she's nowhere to be found. He makes his way to the child's bedroom, sees the blood, but no bodies. The entire family's gone.
Back at NTS, Hye In proposes that they first locate the people working for Son Hyuk. One thing for sure is that once people within Palace are assigned to teams, they never switch into another team for security reasons. To locate these people, they have to go through customs and see who entered the country recently. It's a lot of research, and Jung Woo and Hye In work tirelessly at it. Jung Woo finally takes a break at the cafe for coffee – but he ends up making a cup for her and a couple of waffles. A nice reversal since he always wanted her to bring him coffee.
They finally get a match – Oh Dae Shik, the team leader, and above him is Lee Chang – a guy who works in Shanghai. To get to Oh, they need Lee Chang's access card and code. They send Jae Hee to seduce him, and she makes her way up to his hotel room. When he corners her (as a way of trying to get her in his bed), she twists his arm, kicks him in the chest, brings her leg around his neck to take him down, and breaks his neck. Best use of slo-mo ever.
Now she's free to get his key card and phone. As she leaves his bedroom, she drops her bag as a bait to draw out the body guards so that she can snap their necks too.
Ki Soo calls Jin Young over to his gambling parlor to hand "something" over to Chul Young. He leaves for a second and that's when Jin Young gets a call from one of his men – one of the gunmen sent to kill Sun Hwa. There's no reply on the other line – because it's really a trap set by Ki Soo. Now that he knows Jin Young masterminded the whole thing, he asks why. Jin Young knows that Chul Young had Kim Ho Gyun killed, and that he wanted to protect Sun Hwa (a "traitor") for personal reasons. But Ki Soo's angry that they had to resort to bloodshed and kill innocent people. North Korean agents and their families are a touchy subject.
Using Lee Chang's access card, Hye In sends a message to Son Hyuk's team saying that they're sending over a small-sized cargo. "Small sized cargo" stands for people, and "large sized cargo" stands for weaponry. She gets back the coordinates of where they will meet them. Jae Hee doesn't want Jung Woo to go, since he's so recognizable, but Jung Woo isn't about to let Son Hyuk slip through his fingers.
So he disguises himself and waits at the appointed time, looking very much like Clark Kent, standing outside a phone booth no less. Wow – I guess glasses and a bit of a mustache is supposed to work wonders. Everyone's watching from afar or from NTS as the Athenian agents roll up to him. Jae Hee and Hye In follow in a car with backup right behind them.
Unsure of his identity, they start testing Jung Woo about certain people. Hye In is linked in to his ear piece so she tells him who each person is to correctly identify them. They mention Charlie Chung, but Hye In doesn't know anything updated regarding this person. They do a quick search and tell Jung Woo that Chung is in Taiwan.
The agents drop him off at a random location. He answered incorrectly – Chung is dead. One of the agents pulls a gun on Jung Woo but Hye In manages to shoot him first through the back car window. The agents drive off, and Jae Hee tries but loses them. NTS techies help locate them and they follow all the way to a building with SRT back up.
It's a warehouse like location, and NTS goes in on full offense, shooting down the guards. Sean Richard reports to Son Hyuk that they've been found out. Son Hyuk's team packs everything up but are caught by Jung Woo and Hye In. Jung Woo shoots down all of Hye In's former colleagues.
They can't find Son Hyuk, and it turns out he's in another place, watching via monitor feed Jung Woo and Hye In break into his operation cell.
Comments:
At this point, I'm getting tired of Director Kwon, and I wonder if the actor playing him is getting tired as well. He always has the same contemplative look on his face, as if he's searching for the answers on his agents' faces but never saying anything. He's like the most calm, collected, and benevolent-looking organization leaders ever.
I particularly enjoyed Jae Hee's mini mission to Shanghai because it required stealth and some spy work, instead of sitting behind a computer in an office typing away and doing research. I wish there were more missions like that because right now, all we get is NTS chasing Son Hyuk down for terrorist attack after terrorist attack.
Of course – there's only one thing that really sustained me for this episode. There's another reason why I'd call Kim So Yeon a Korean-Jennifer Garner-pre-marriage. She cries exactly like how Jennifer Garner did in the first episode of Alias when she finds her fiancee dead in the bathtub. Kim So Yeon had a compelling storyline that I wish were introduced earlier in the season. I would have loved to see her work with or against Jung Woo or Son Hyuk. That would have been a killer pairing.
RELATED POSTS
Tags: Athena: Goddess of War, Cha Seung-won, Choi Siwon, featured, Jung Woo-sung, Kim Min-jong, Lee Jia, Su Ae