ATHENA: Episode 18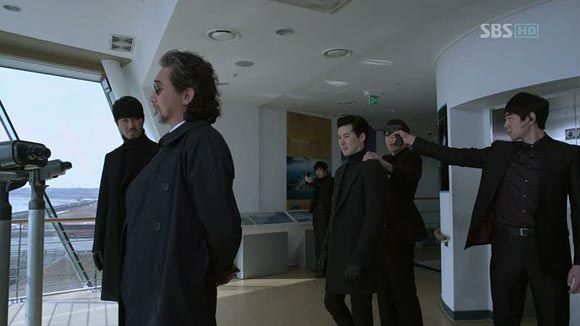 Mutiny!! Kinda. Sorta.
I thoroughly enjoyed Sean Richard's slo-mo action scene, despite it lasting only a few seconds. Hey – seeing him in action makes my day; at least he's not just standing around and shooting. I gotta find the small things to humor me. *Shrug*
Son Hyuk is pissed off – so he turns on the web cam and appears on the computer screens before Jung Woo and Hye In. Why, 'ello Fated Enemy and Little Traitor. I'm going to glare at you now through the screen with my laser eyes. Oh – so you're taking off your Clark Kent glasses now eh, Jung Woo? Well guess what I can do? I'm gonna whip out my gun, and shoot at you! Mwahaha! (Breaking my machines of course, but whatever – I can get new ones.)
He broods for a moment longer before reminding Sean Richard that they need to move forward with their plan more quickly now. Jung Woo reports back to NTS that Son Hyuk isn't present, and Joon Ho quickly suggests that he might be able to trace the origin of the web cam's feed. A little typing here and there, but they reach a dead end. Because Son Hyuk is now offline, they can't locate the source. Meanwhile Hye In goes to the next room and finds a whiskey bottle and a shattered glass – evidence of Son Hyuk's brooding.
Jung Woo is impatient for Sook Kyung and her team to find something out with all the things they got from the hideout. All she can determine (since she just started her analysis) was that they definitely had another location to prep their terrorist activities. They only have two days before the nuclear reactor's inauguration ceremony, so they need to catch Son Hyuk and Athena as quickly as possible.
Jae Hee is breaking down – slowly but surely. Her hands keep shaking from the memories of her father dying before her, the NTS takeover, the bomb scare. Joon Ho notices the symptoms as he himself endured it when he accidentally got a hostage killed before his eyes. He offers to help her get over these memories, as she had helped him hold a gun again, but Jae Hee knows her remedy. She needs to arrest Son Hyuk with her own hands.
Stand in line, girl, behind Jung Woo and Ki Soo.
Son Hyuk goes to meet another Athena commander named Philip; he's not too pleased to see him there, and refuses to say just exactly how hard of a time he's having to eliminate that little twat called Lee Jung Woo. He knows that the commander isn't there to tell him good news though – and it's because as they speak, a mutiny is occurring within Son Hyuk's team.
Philip knew that bringing Hye In onboard would spell trouble, so he's been waiting for this day ever since. He's going to take over the mission in destroying the nuclear reactor. He arrests Son Hyuk as sign of victory and tells the team that anyone who wishes to follow Son Hyuk should speak up now. Everyone looks at Sean Richard.
Sean Richard to Son Hyuk: "I'm sorry." And he goes to stand with the rest of the team. Imagine Son Hyuk and my shock! I mean really, after everything you've gone through, now you decide to just ditch him!?
The commander tells everyone to carry on with their work, and to have Hye In brought in. That unleashes the cat within Son Hyuk, and it takes several men to drag all 6-feet of him out of there and into a small room.
Hye In asks to accompany Jung Woo to investigate the bomb blast scene by the subway, thinking that she might be able to find a clue others missed. The location has been taped off and a mini shrine has been set up to commemorate the lost lives. A makeshift memorial wall shows pictures of the victims, and letters and flowers left by loved ones. Jung Woo didn't want Hye In to come, for fear that the number of lives would become a burden on her mind. But Hye In says she deserves it.
Jung Woo invites her out to tea, and they go to the cafe that I swear was the same place Joon Ho had his scarring experience with the hostage. They take some time to talk about their parents, and Hye In admits all she can remember about them is during their trip to New Zealand. It was the happiest time she ever had in her life, and so she wants to go back there (once she gets out of all this spy-mess).
At the same time, a black van pulls up with Athenians and Sean Richard. They barge into the cafe, pull out their guns, and start shooting. A waitress gets caught in the crossfire and Hye In drags the girl out of harm's way. She takes down an agent, but another one grabs the waitress as a hostage. Meanwhile Jung Woo is still struggling with the agent punching at his gut, and so they take the opportunity to take Hye In away. Despite being continually beaten, Jung Woo aims his gun at the Athenian holding the waitress, and accurately shoots his head, thus releasing the girl. He chases after the black van on foot.
Sean Richard drives the car further away and then stops. He opens the back door, aims his gun at Hye In, and says, "I'm sorry." (He likes that line a lot, huh?) And then he shoots the other Athenian. HA! I KNEW HE COULD NEVER HURT HIS MISTRESS!
He tells Hye In to run off – Son Hyuk is in confinement and Philip is in charge. He sees Jung Woo racing towards them, so he gets back in the car and drives off.
Philip goes to see Son Hyuk, who begs him to give Hye In a chance. She wasn't at fault for anything, having only been a loyal member to Athena. But Philip doesn't care; the Son Hyuk with the spotless record has finally failed. If he acts carefully from this point on, he could make a comeback to Athena – but not Hye In.
Outside of the room, Philip gives orders to his second-in-command: kill Son Hyuk the moment the cargo arrives. He then meets Sean Richard, who is empty handed. He gives a good punch across Sean Richard's face, and I go, "You better be happy that that punch didn't leave a mark, Mister, or I'd be reachin' across the screen and ocean to wring your neck."
Jae Hee and Jung Woo muse over why Son Hyuk would have wanted Hye In dead after today's attacks. They suspect that he's become more unstable than ever, or things are changing for him within Athena. Sook Kyung then presents the team with information that Son Hyuk is about to receive a large shipment (either weaponry or equipment). They've already prepared for such incoming shipment by arresting all Athena members working at customs or at the ports. Though they still don't know what the shipment is, they need to intercept it before Son Hyuk gets it.
Back at the Athena headquarters, Sean Richard requests to see Philip to show him some new intel. He is escorted to Philip, but once alone with his guard, he turns around, throws the papers in the air and punches the guy in the gut to submission. Yeah. That's my boy. He knocks out the guard in front of Son Hyuk's cell and gives his master a gun. Time to leave. And yes, Hye In is OK.
Sean Richard goes back to the control center alone, and gives a meaningful glance at a colleague. Philip then comes in and asks when the cargo will arrive. It's coming any minute now, so he tells his second-in-command to off Son Hyuk. Yeah – if only Son Hyuk didn't shoot him first.
The agents loyal to Son Hyuk all pull out their guns and aim it at Philip's head. Philip warns Son Hyuk not to do anything stupid, lest the heads of Athena get mad. But let's face it – Philip's only here as a temporary obstacle for Son Hyuk's grand plan, and so Son Hyuk shoots him down. Now what to do about the agents loyal to Philip?
Well – kill them.
His team sets sail at the dark of the night and wait for a signal from a submarine. And with that, they pull up their cargo from underwater.
With Sun Hwa on the run, Ki Soo is also in danger. A team of North Korean agents enter his empty gambling parlor, ready to arrest and kill him. Despite their stealth, Ki Soo already has a nail gun at hand, and he shoots one of them who enters his office. He uses the boy as his shield and takes on the rest of the team by himself. He even offers to let the guys go, but of course they want. Ki Soo throws down a couple, and shoots down most of them. One remaining agent corners him behind the bar, and Ki Soo grabs a knife to throw. When he gets up, the agent is already right in front of him.
A shot – and the agent is down. It turns out Chul Young has arrived with his men just in time. Chul Young wants Ki Soo to come with him – they'll leave until everything dies down. However, Ki Soo wants none of that. He addresses Chul Young as his Hyungnim to show how serious he is, and says that he wants to go home to North Korea freely. They can only do that though if they can free themselves from the Kim Ho Gyun assassination, and get rid of Athena altogether.
NTS control center has detected the submarine's frequency signals, and they report it to Director Kwon. They found the new Athena hideout, and it had equipment ready for twenty missiles. There was also a list of 20 buildings – all of them political or international buildings – that could be targets of the missiles. The nuclear plant is not mentioned at all, which throws them off a bit. No one is sure where the missiles have been transported, so Director Kwon orders them to release the list to the Ministry of Defense and up the security alert status.
Only Jung Woo thinks something is up. They got the information too easily, and Athena's target was always about the nuclear reactor. But Jae Hee reasons that if Son Hyuk killed his superior (they found Philip's body), then he might not be acting under Athena's orders. Hence, a wide scale terrorist attack might be right up Insane Son Hyuk's alley.
Jung Woo reviews the CCTV tapes of the missiles being transported and sees a hearse being driven out of the building. Though they have checkpoints set up, the funeral hearse manages to pass inspection. They meet up with Sean Richard further off and open the back. They pull out the coffin slowly and open it up. Son Hyuk stands up, gun in hand.
Joon Ho finds the abandoned hearse near Gyeongju, which is near the nuclear plant. Jung Woo wants a team to go after Son Hyuk, but Director Kwon can't give him many men. Most of security has been sent to the other 20 buildings, in case they really are the targets. It's a small team, but Jung Woo just needs to provide proof of Son Hyuk's presence and plans to get more men.
Tae Hyun goes to the scene where the hearse is and investigates. He reports to Joon Ho and Jung Woo that there was a man fitting Son Hyuk's description inside the coffin. There were no missile residue however, so they still don't know what happened to the weapons.
Son Hyuk goes to the new warehouse that houses their missiles. NTS is confused by the false information he leaked, and they won't be able to locate the trucks that (supposedly) transported the missiles. All is going well.
For now.
Comments:
Ki Soo! Why are you so mopey!? Every time he has a scene it's a damn flashback! I get it already! You want revenge! Now go for it! (And you know me and flashbacks – we just don't get along too well…)
I want to save most of my comments for the final recap, as I think they pertain to the entire series and show how flawed it is. But…I'll spill. I'm not entirely pleased with this episode, as I felt NTS was taking too long to locate a missile, because it's a cat-and-mouse game, but instead of seeing the chase, we're being told about the chase. Instead of seeing the NTS agents going into each new hideout and finding new clues, or having the audience find clues with them, we're being told that they discovered something new. And it gets kinda boring watching people sit around and talk. This whole series has been like this so far, even more so at the end than at the beginning. Perhaps the writers are feeling rushed and feel like there's still so much story to tell but not enough time to tell it?
A well done mystery/suspense thriller, Athena is not. Then again, what to expect with dramas that work on a live-shoot schedule rather than pre-producing it completely?
RELATED POSTS
Tags: Athena: Goddess of War, Cha Seung-won, Choi Siwon, featured, Jung Woo-sung, Kim Min-jong, Lee Jia, Su Ae