Do You Hear My Heart? premieres this weekend
Tomorrow is premiere day for MBC's new weekend drama, Do You Hear My Heart?, and here are its official posters. Not that you can tell much about a drama from its posters, but I think they're pretty and colorful — even if four of the five leads are practically sporting the same haircut.
(Okay, I'll stop harping on the hair now. It's just hard to see that mop and NOT comment on it, you know? I actually think that lead actress Hwang Jung-eum looks cute — but that's because she's cute in spite of her hair, not because it looks good. That goes for leading man Kim Jae-won, too.)
The drama features the love story between Dong-joo (Kim Jae-won) and Woo-ri (Hwang Jung-eum), a deaf man who pretends he can hear and a plucky daughter pretending to be dumb to spare the feelings of her dim-witted father (Jung Bo-seok, who's always great, whether he's being frighteningly evil like in Giant or funny like in High Kick Through the Roof).
In keeping with that premise, apparently the prop piano in the poster above is supposed to evoke the concept of wordless communication. Uhh, it's a nice thought, but unless there's an actual piano in the drama, I'm thinking it's a stretch.
So far I'm liking what I've been reading about this drama, as well as the resumés of its production team (Legend of Hyang Dan, Hon, Fantasy Couple, Last Scandal and Smile, You). I'm not expecting brilliance, but if it turns out to be a heartwarming, funny show, I'll be a happy blogger.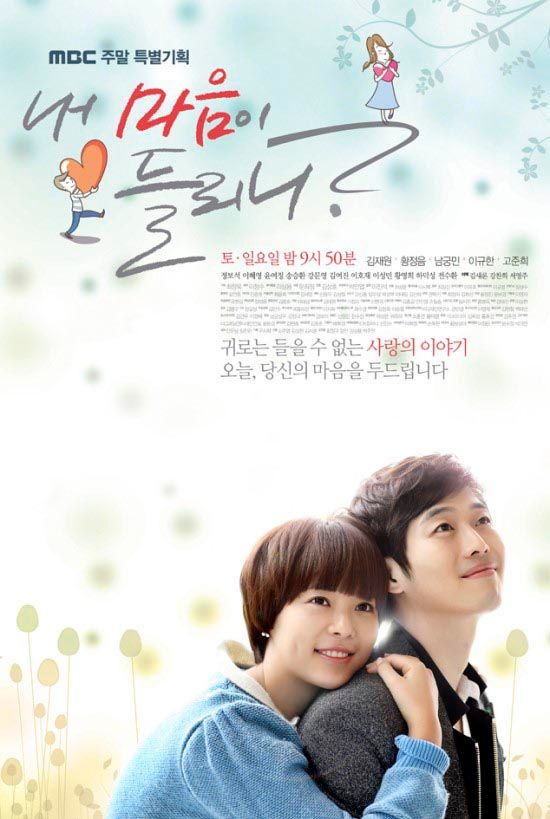 Via Asiae
RELATED POSTS
Tags: Go Jun-hee, Hwang Jung-eum, Kim Jae-won, Namgoong Min