Jo Hyun-jae sings for 49 Days
Kang-ahhhhh, singing for me? *Swoon*
Actor Jo Hyun-jae is contributing a track to the soundtrack for his current drama, 49 Days, following fellow castmate Jung Il-woo, aka our sassy Scheduler, who previously recorded a track. Jo's contribution is titled "Even If I Live Just One Day," and was released just today.
As you might guess, given the recent turn of events in the drama, it's something of a confession piece as Kang starts expressing more of his love for Ji-hyun, which has hitherto been massively repressed by his extreme awkwardness displaying any emotion at all. He's workin' on it.
SONG OF THE DAY
Jo Hyun-jae – "단 하루를 살아도" (Even If I Live Just One Day) [ Download ]
Audio clip: Adobe Flash Player (version 9 or above) is required to play this audio clip. Download the latest version here. You also need to have JavaScript enabled in your browser.
Lyrics:
I've waited for so long
I've hurt so much
As much as the traces left by that long time
I've longed for you

Tired footsteps have brought me to your side,
though I know there's nothing I can do

* (chorus)
Saying I love you
are words my heart has always shouted
Saying I love you
are words I've repeated, behind you
Saying I love you
are words I couldn't say, afraid you'd run away
I love you
so much that I'm afraid
I love you

Like the stars in the night sky,
always visible
but unable to be approached or touched
That must be my fate, to watch over you

Waiting for you every day, foolishly looking forward to it
I harbor hopes that have grown

* (chorus)

I'll confess, I love you as much as today
If I could only live one day, I'd want to be by your side
I'll confess
I'll say the words now
I love you
It's a lovely song, and I'd known that Jo Hyun-jae could sing; he's sung on soundtracks in the past. But I hadn't known that he'd actually gotten his start in the entertainment biz as a singer in a boy band back in 1998, back when he was 19 years old… along with fellow star Kim Kang-woo. The group was called Guardian, but they'd only made three television appearances — on cable — singing their song "Sad Fate" (슬픈인연) before fading away. Frankly, I love 'em both as actors, so I'll chalk it up to fate knowing what she was doing.
OMG:
First of all, there are the outfits. And the Sohn Ji-chang hair. And overall nineties flair. Not too bad, as far as idol fashions go — it's nothing compared to the wackiness of, say, H.O.T back in the day. But the dance moves are pretty anemic, and the lip-synching (back then a staple, which nobody batted an eyelash at) IS SO BAD.
Jo Hyun-jae is freakin' adorable, though, even when doing the backup-dance side-shuffle in the back row, but the thing that made me choke and almost injure myself? KIM KANG-WOO, RAPPING. Omg omg. The serious, somewhat dry, self-professed conservative actor of today, lip-synching to a soft R&B ballad-rap? Priceless.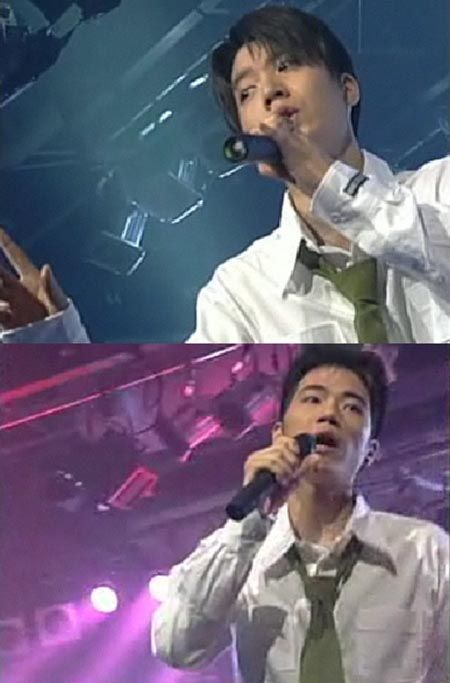 Via Mk.co.kr
RELATED POSTS
Tags: 49 Days, Jo Hyun-jae, Kim Kang-woo, old-school, song lyrics, soundtracks