The Housemaid follow-up stars Kim Kang-woo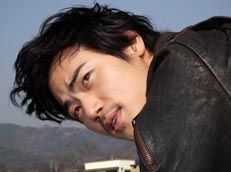 Okay, folks, I've got some bad news and some good news. First, the bad: Lee Jung-jae (Thieves) is no longer playing Mr. Housemaid as previously announced. The good: Kim Kang-woo (Story of a Man), whom I'd counted on seeing in Poseidon before that drama went into limbo, is now cast as the lead.
This movie is titled Taste of Money, and while it isn't related to the Jeon Do-yeon/Lee Jung-jae film The Housemaid, it comes from the same director, Im Sang-soo, and has definite correlations to it. Back when this project was first announced, it was touted as the male version, but it appears the reports were a bit off the mark.
Director Im calls it "an extension of The Housemaid," but it's not a sequel and it doesn't deal with the same characters. Nor does it deal with a houseboy/man in a reversal of the first film. Instead, he explains, "You can say that it's the story of the children of The Housmaid who've grown up." (By which he means children in a metaphorical sense, not literal kids.) Taste of Money is his exploration of the world outside the household portrayed in that movie — "What Hoon (Lee Jung-jae) does outside the home, what kind of parents he has, an expansion of the scope of The Housemaid."
Im admits that he'd felt disappointed in some aspects of The Housemaid ("there were limits to the realism"), but that movie gave him the idea of continuing that style with a new story. Ergo, Taste of Money, where the male lead is an ordinary salaryman, while the female lead is a woman who has returned to the chaebol fold after divorce.
Taste of Money has cast two fabulous veterans so far: Baek Yoon-shik (Jeon Woo Chi) and Yoon Yeo-jung, the latter of whom, by all reports, stole the show in The Housemaid.
And yes, the plot-in-a-nutshell description doesn't sound too exciting — it's a story of "money and chaebols" and involves suspense, ambition, sex, and murder — particularly with several current dramas dealing with similar themes, like Royal Family and Midas. However, in the hands of this director, I'm sure style will play a huge factor. Also: Does this mean we can have nekkid Kim Kang-woo? O_O
RELATED POSTS
Tags: Kim Kang-woo