What's up, What's Up?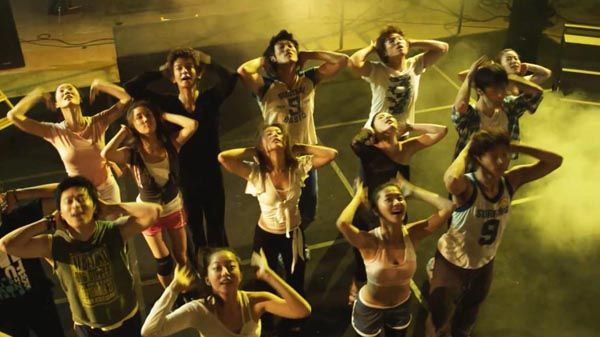 Time to check in on several dramas-on-hold, although info is scarce: There's been a noted lack of updates on the futures of What's Up and Poseidon, which continue to languish in limbo. It doesn't exactly bode well for their fates, especially considering that The Musical and Birdie Buddy are both in the same position, with no sign of being picked up.
One source with What's Up's production company, Zero Plus, explained that they've been talking with MBC and SBS for a possible broadcast. The drama had initially been given a place on SBS's Monday-Tuesday 9pm schedule, but lost that when that timeslot was cancelled. What's Up began filming last July and was to have premiered in March; the cast and crew even held a wrap party in late February when filming was completed.
The production company took an optimistic view, saying, "The drama is good, so it'll be able to get scheduled somewhere."
Birdie Buddy, The Musical, and What's Up have opted to go the 100% pre-produced route, meaning that they've continued with filming despite the lack of commitment from broadcasters. That's great if they eventually get aired (like Paradise Ranch after being stuck in limbo for a year), since they can use the time to polish up the product and make it glisten. (Speaking of which: Have you seen the extended Birdie Buddy trailer? It actually looks kinda awesome.) But on the other hand, if these dramas never get picked up, they've just invested tons of time and money into a very expensive dead weight.
Poseidon has gone the opposite route; rather than proceeding with shoots, it has stopped production entirely. That's also a consequence of the troubles that have plagued the drama that have kept delaying filming in the first place.
(Putting my tinfoil hat on: I find it curious and suspicious that the drama keeps citing "unusually cold weather" as the big culprit for their repeated shooting delays. Yes, this production involves shoots at sea, but weather as the reason to throw away a big-budget production? Pfft. If I've learned anything about the K-entertainment system, it's that these productions would sell their time, their souls, their grandmas and more in the name of churning out product with which to buy more time, souls, and grandmas.)
That's despite a relatively strong lineup of stars, idols, and producers onboard the various projects. We're not dealing with no-name, wild-card entries: There are name stars and hot up-and-comers involved (Eric, Kim Kang-woo, Gu Hye-sun, Daniel Choi, Daesung, Im Joo-hwan, UEE), as well as respected directors and writers (Song Ji-nah of Sandglass, Yoo Chul-yong of All In).
A source at SBS's drama department said regarding Poseidon, "Even with flashy casting and star directors, it wasn't able to earn a consensus [internally] regarding its plot and development. Even if they were to make it pre-produced and turn out a higher-quality result, these days the drama trends are constantly changing, so making a drama in advance isn't always a good thing."
Too bad the alternative — live-shooting — is plagued with its own set of pitfalls. Ya just can't win, either way.
All in all, it seems like Poseidon is dead — just awaiting the final declaration — and its cast members are either gone or looking for new projects while waiting out their contracts. Likewise Birdie Buddy. The Musical seems to be heading in that direction, while What's Up producers seem to carry a bit of hope. As do I — but I'm not holding my breath.
RELATED POSTS
Tags: Birdie Buddy, drama production, Eric, Poseidon, The Musical, What's Up