47th Baeksang Arts Awards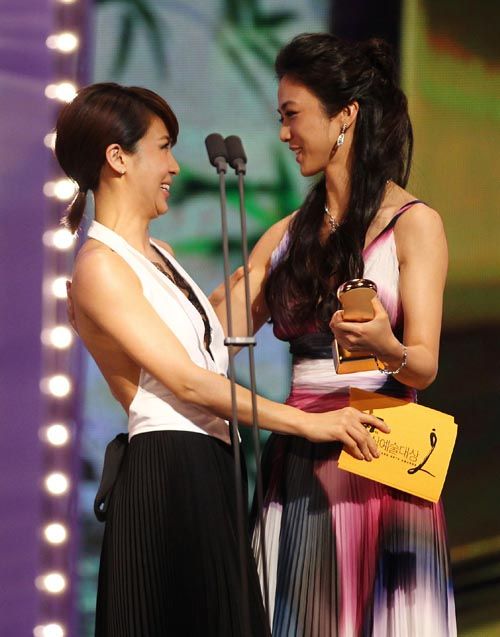 It's too bad that Hyun Bin was missing from the 47th Baeksang Arts Awards, since he and his drama picked up a bunch of awards. (Alas, there's that whole mandatory military thing.)
Not only did he grab a Daesang in the TV portion (film Daesang went to Lee Byung-heon for his thriller I Saw the Devil), both his projects won awards as well: Tang Wei for film Late Autumn, who's pictured above with Ha Ji-won, his co-star in Secret Garden, which won top honors for the drama category. Looks like he's on a roll, even in absentia. Do the Marines allow celebratory Baeksang parties for their celeb enlistees? Surely he earned a drink or two, at least.
The awards were held on the evening of May 26 in Seoul, and hosted by actors Ryu Shi-won (Style) and Kim Ah-joong (Sign).
WINNERS LIST
FILM SECTION
Daesang: Lee Byung-heon (I Saw the Devil)
Best Picture: Ajusshi (The Man From Nowhere)
Director: Lee Chang-dong (Poetry)
Top Excellence, Actor: Ha Jung-woo (The Yellow Sea)
Top Excellence, Actress: Tang Wei (Late Autumn)
New Actor: Choi Seung-hyun (TOP) (Into the Fire)
New Actress: Shin Hyun-bin (He's On Duty)
New Director: Kim Young-taek (Hello Ghost)
Screenplay: Yook Sang-hyo (He's On Duty)
Popularity Award, Actor: Choi Seung-hyun (TOP) (Into the Fire)
Popularity Award, Actress: Park Shin-hye (Cyrano Dating Agency)
TV SECTION
Daesang: Hyun Bin (Secret Garden)
Best Drama: Secret Garden
Educational Program: EBS Special Project What Is School
Variety Program: Come To Play
Directing: Lee Jung-seob (Baker King Kim Tak-gu)
Top Excellence, Actor: Jung Bo-seok (Giant)
Top Excellence, Actress: Han Hyo-joo (Dong Yi)
New Actor: Park Yoo-chun (Sungkyunkwan Scandal)
New Actress: Yoo Inna (Secret Garden)
New Director: Kim Won-seok (Sungkyunkwan Scandal)
Scriptwriting: Kim Eun-sook (Secret Garden)
Variety, Male Performer: Lee Su-geun (1 Night 2 Days)
Variety, Female Performer: Kim Won-hee (Come To Play)
Popularity Award, Actor: Park Yoo-chun (Sungkyunkwan Scandal)
Popularity Award, Actress: Moon Geun-young (Cinderella's Sister)
OTHER
In Style Fashionista Award: Lee Min-jung
Lifetime Achievement Award: Shin Sung-il
And now for the fun stuff…
Is Daesang winner and perennial cool movie star Lee Byung-heon (I Saw the Devil) actually giving the camera a dorky wink? I love it.

It was a night of ladies dressed predominantly solid darks, whites, and reds, so Tang Wei's is a welcome change. Springy and gorgeous.

Two Has together: That's Ha Jung-woo winning for his film The Yellow Sea, while Ha Ji-won waits with him to present. I love that her dress is something different (you can see it better up top), mixing sharp angles with the black lace. Ha Ji-won also gives me serious arm envy. *flexes bicep pitifully*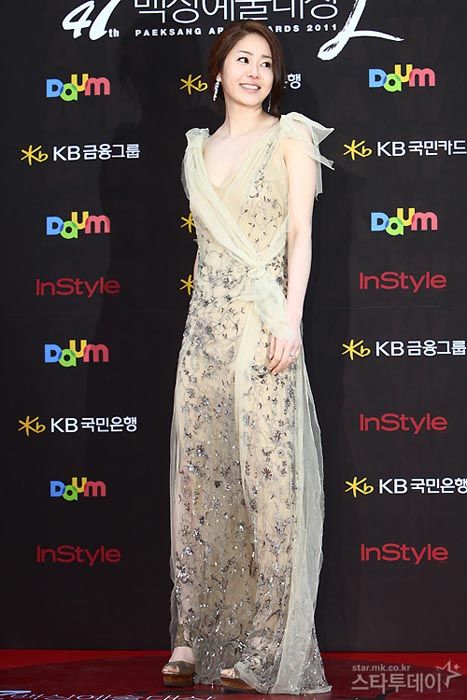 Go Hyun-jung, NOT wearing black? Fantastic. Don't get me wrong, she looks good wearing black, but I love seeing her in something light and ethereal. This is probably my favorite gown of the night, and the look is totally enhanced by the way she carries it confidently. Love.

On the other hand, here's a case of the gown wearing the girl, rather than the other way around. I'm not a fan of Han Hyo-joo's overly fussy lace number, although I totally see where the design is going — but she looks awkward in it, like she'd walked out of the house in a simple lace frock and realized to her horror that the doilies have been breeding along the way. Maybe that also explains her pale face, though not the orangey lipstick. Not my favorite look of hers. Below, she poses with her statuette with Jung Bo-seok, who won for his villainous turn in Giant.

Not gon' lie, I was eagerly anticipating Kim Sae-ron's outfit perhaps more than anybody else, and she doesn't disappoint. What a way to cap off an awards cycle — every outfit this season has managed to mix equal parts little princess with cutting-edge fashionista, which makes me think this girl's mother must have killer style. ('Cause, let's be real now, when I was that age it would have been an achievement to make it out of the house wearing coordinating socks.) (A brief refresher: sweet pink frills, fur 'n hearts, and perfectly trimmed black-n-white extravaganza.) Alas, she's missing the Won Bin arm candy this time — but the sharp wee hat! The braided hair! The polka-dotted knee socks! Ahhh, why am I jealous of a ten-year-old's wardrobe?

As for adult fashionistas, here's Lee Min-jung (Cyrano Dating Agency) picking up an award for her own fashionable style. I'm a bit ho-hum about the style of the dress, but I love that it's a bold color in a sea of white, so yay for that.

But, I suppose if one must wear white, it never hurts to look as fresh and happy as Moon Geun-young does here, wearing an asymmetrical, vaguely Grecian style gown. She's already picked up a bunch of acting awards for her roles in Cinderella's Sister and Mary Stayed Out All Night, and this one's a popularity trophy for the former.

More white on Shin Hyun-bin, who's a new name and face; she won the newcomer award for the movie He's On Duty.

Park Min-young also follows the white trend, and she looks curiously happy for someone who just lost a tug-of-war with the curtains, which managed to shred its top half before giving up its life unceremoniously to become an ill-fitting gown. Or maybe it's what happens when a bridal gown spits out its underlayer and you're out of time to shop for a new dress, so you just tie the bust into a knot and call it fashion. ("I'm sure nobody will notice!" Oh, we notice.) On the upside, her new drama City Hunter seems promising.

To be fair, I think Jo Ahn (Everybody Cha Cha Cha) may be wearing a very light pinkish color, but ultimately it blends into the sea of white. Plus it's a mermaid cut: two strikes.

Dream High's Suzy goes short for her white dress, and punctuates it with cute electric blue shoes. I dig the effect, which makes it young and flirty. She arrives with co-stars Taecyeon and Park Jin-young, and I love that the latter's wearing harem pants to an awards event. (They're black! They're formal!)

And here's their other co-star, Kim Soo-hyun, looking adorable. Gah! So cute. Want to pinch cheeks.

I'm digging the haircut on Park Shin-hye, but not so much the voluminous dress, which makes her look like she's swimming in fabric. But she gets a popularity award for Cyrano, just in time to add some buzz as she's readying for her new drama, You've Fallen For Me…

…in which she stars with Jung Yong-hwa. Is it me, or has he slimmed WAY down all of a sudden? Eep!

Cha Tae-hyun always looks so happy. His comedy Hello Ghost was a winner in the new director category.

Park Yoo-chun gets more love for his first drama, Sungkyunkwan Scandal, just as he's about to launch his second, Miss Ripley. Will the ajummas love him as much in a contemporary melo as they did in an upbeat fusion sageuk? Ah, it's Micky Yoochun, they'll love him in anything, won't they?

Red was the other trend at the awards, which Yoo Inna wears while picking up a new actress trophy for Secret Garden. She didn't have that much screentime in that drama so I'm a little surprised, but I thought she was adorable so no complaints on that front.

Red again: Here's Kim Nam-joo (Queen of Reversals) rocking the pantsuit. How she looks chic in that is a wonder; I'm imagining myself trying it out and somehow looking more like that wall-destroying Kool-Aid pitcher or an '80s soap queen than a style maven.

…and Kim Ah-joong (Sign) does red as well, here with her co-host, Ryu Shi-won (Style). Meh.

Kang-ahhhh! Er, I mean, Jo Hyun-jae. (Reality, woman! Remember reality — it's that thing outside of dramas!) True, your drama (49 Days) sort of left a bittersweet taste in my mouth, and you appear to have been attacked by a hole puncher with an aversion for ties, but it's nice to see you smiley, instead of morosely contemplating the death of your beloved. Speaking of whom, there's Nam Gyuri with him below, who may have been attacked by the same bit of destructive office machinery. (What is with all the shredded/loose/flapping fabric? Hers does flow prettily, though.)

Jung Il-woo, we need to have a talk. I love you, I really do. But that hair — it was acceptable (barely) as an unruly bird's nest for your drama, but in the real world, that pile of frizzies sorta maybe makes you look like a bobblehead from some angles. Especially with tight pants. I say this out of love.

Song Joong-ki (Sungkyunkwan Scandal), so cute, despite the navy-on-black, shiny-matte combo of his tux. (It's weird, right?)

Lee Shi-young (Birth of the Rich). Gorgeous. I am jealous.

I don't love the mop of curls on Ji Chang-wook (Smile, Dong-hae), but he gets a pass because he's prepping for upcoming fusion sageuk Warrior Baek Dong-soo… and we know what fusion sageuk means. Mane of Glory time!

I do quite like this, though, on Min Hyo-rin (Sunny), with its interesting layering and the flattering fit. Maybe it's because it's a dress I'd totally wear. Well, if I were a movie star. With a killer wardrobe. And looked like Min Hyo-rin.

LOVE hanbok fashions at formal events! Whether it's a modernized look, or full-on traditional. Park Ha-sun, who played the queen in Dong Yi, goes more traditional in hers, but the fabrics and colors dress it up.

Jo Yeo-jung goes simple in a solid dark gown. Maybe she's getting into character for her upcoming cable drama I Need Romance, where she plays a modern city woman looking for love a la Sex and the City?

I like the flow of the gown on Seo Young-hee (Bedevilled), but she has a tendency to stick her arm in that weird hip pose in a majority of her shots, making her look like Barbie on Oscar night.

Okay. So normally I'd have a lot more problems with an asymmetrical, one-shouldered, pink-and-brown-tinged, cheetah-print, formal gown…and I'm not saying that I don't take issue with any of the above or even the clunky bunching of the fabric in her midriff region…but let's just say that it's nice to have something different to look at, and Ji Sung-won (Bedevilled) does that.

Oy, Yoon Shi-yoon, Mr. Baker King himself! Hey, I'm not against a little manly application of the guyliner…but he appears to have gone whole hog with the liner and the smoky eyeshadow. And here I thought he already looked pretty enough before he curled his hair and slapped on the makeup.

Whenever I see Hwang Jung-eum's (Giant) get-up, I keep thinking, in Michael Scott voice, I hate…so much…about the things…that you choose to be… with this outfit. Like the plain material that looks like it's cut from an old sweatsuit. And the '70s jazzercize flair it evokes. And the bowl hair. Killer abs notwithstanding.

Last but not least, thank you, TOP, for your consistently bold fashion choices and your love of purple brocade curtains. You liven up any event, and many an award show red carpet could use livening up.
Via Newsen
RELATED POSTS
Tags: awards, Cha Tae-hyun, Go Hyun-jung, Ha Ji-won, Ha Jung-woo, Han Hyo-joo, Hong Su-ah, Hwang Jung-eum, Hyun Bin, Ji Chang-wook, Jo Ahn, Jo Hyun-jae, Jo Yeo-jung, Jung Bo-seok, Jung Il-woo, Jung Yong-hwa, JYP, Kim Ah-joong, Kim Nam-joo, Kim Sae-ron, Kim Soo-hyun, Lee Byung-heon, Lee Min-jung, Lee Shi-young, Lee Su-geun, Micky Yoochun, Min Hyo-rin, Moon Geun-young, Nam Gyuri, Park Ha-sun, Park Min-young, Park Shin-hye, Ryu Shi-won, Seo Young-hee, Shin Hyun-bin, Song Joong-ki, Suzy, Taecyeon, TOP, Yoo Inna, Yoon Shi-yoon