Best Love: Episode 1
So fun! You didn't think I'd miss this one, right? It's the Hong sisters. I'm 6 for 6.
Best Love is maybe not their zaniest, funniest drama, but it makes up for that with a hilariously tongue-in-cheek look into their own industry. Write what you know, right? And if they're going to skewer the entertainment biz this delightfully, this oughtta be a treat.
It takes a little while to hit its groove — it's amusing at first, but I didn't find it immediately addicting. But when the pace finally kicks in, you feel that tug of excitement that gets you in the gut. Woot woot.
SONG OF THE DAY
Best Love OST – "Real Love Song" by K.Will [ Download ]
Audio clip: Adobe Flash Player (version 9 or above) is required to play this audio clip. Download the latest version here. You also need to have JavaScript enabled in your browser.

EPISODE 1 RECAP
Oh, man, this brings back memories. Right away we start off with comedy gold: Old-school girl group, modeled obviously after the sweet, innocent images of the FinKL girls back in the day. The group name is Kukbo Sonyeo — or should we just call them KBSN? — which means "girls who are national treasures."
They've got the youthful innocence, the schoolgirl outfits, and the cute images still associated with the top girl groups today, but which was much more prominent about a decade ago when idols were less overtly sexualized, and more idealized as good girls. KBSN is so popular that they win Number 1 on the live music programs, and are household names.
And then, ten years later…
The industry's a bit different now — B-boys and tartlets dominate the pop scene — and KBSN's former leader is now a has-been who's trying to remain in the game despite her declining status. This is GU AE-JUNG (Gong Hyo-jin), who is making the usual television and promotional rounds to keep her profile afloat.
Ae-jung is presented as an "original idol," akin to a Eugene or a Sung Yuri in the real world, and pitted against a present-day idol in a series of games. She loses each one.
Next is a Running Man-like challenge: If she can eat a whole bowl of jajangmyun while on a roller coaster, she gets to come back on the show. Oh, my stomach lurches for you in a sympathy-heave. Maybe she needs some tips from Kim Jong-min.
What's hilarious about this is that you know that's actually Gong Hyo-jin…on a roller coaster…eating jajangmyun. It's so absurd, and that's why it's funny.
Understandably enough, Ae-jung doesn't feel so great after failing to complete the eating task. Her brother-manager Ae-hwan offers to cancel her schedule for the day, but she wants to power through. When she moves to buy herself a soda from the convenience store, Ae-hwan reminds her that she's a star, so she corrects herself — he can get it for her. It's cute that she doesn't have star airs, so he has to remind her to maintain appearances.
Elsewhere, super top Hallyu star DOKKO JIN (Cha Seung-won) sits in a darkened theater at a screening of his newest action flick, Fighter, feeling pretty damn pleased with himself while the theatergoers ooh and ahh. Between Jin, his manager, and the director, it's a surfeit of smug "Atta boy"s.
But that only lasts about fifteen seconds. Soon, the audience tires of the endless fight reel, stretching boredly in their seats. His manager falls asleep.
Jin remains in his seat when he's called up to take his bow, glaring at the director for ruining the movie. He mimes punching him in the face, which the host plays off as a tie-in to the movie…but Jin is mindful of his public image enough to resume his gracious exterior and bask in the fan love. (Aw, I love this setup already, with the leads being total opposites. Ae-jung is a misunderstood sweetie, while Jin's a pompous prick beloved by the public.)
Ha! Afterward, Jin sits in his car, watching Kim Nam-gil in all his bloody sageuk glory (Queen Seon-deok). He's dissatisfied because it looks cool, and he'd passed it up to do Fighter. He's pleased, therefore, when his manager assures him that the drama tanked, netting less than 5% viewership ratings (har, meta joke — Seon-deok was a runaway hit). It even dragged down its lead actor with it.
Jin's sniffs at the prospect of doing a drama next, because he's set on making his Hollywood entry with famed director Peter Jackson Jason (har). That makes manager JAE-SEOK look nervous, but Jin's arrogance is a force to be reckoned with. (I love that the Hongs are poking fun that actors' tendencies to overhype their Hollywood potential. Hee!)
Jin's van pulls into the gas station, next to Ae-jung's car. Noting the sleek van, she wonders if a celebrity is inside, and when a few passers-by recognize her, she can't help but pose next to it, like a star.
From inside, Jin sees the weirdo leaning against his car, and pokes her through the window with a rolled-up poster. Not bothering to show his face, he rudely talks down to her and treats her like a servant, handing her trash to throw away. Ae-jung tries at first to be civil, greeting him as one celebrity to another, but soon grows upset at his high-handedness.
Hilariously, the thing he takes most issue with is when she says incredulously, "Just look at this ajusshi!" She tries to look inside the car to find out who he is, fighting to slide his window open, which leads to a slap-happy round of childishness. It's great.
Finally he grabs her arm, twists it…and autographs it. He tells her to find out who he is if she wants to know so badly.
Then it's on to a PR opportunity with top star KANG SE-RI (Yoo Inna), Ae-jung's former groupmate from KBSN, also Jin's former real girlfriend and current contract girlfriend. What that means is, they broke up a year ago, but have been maintaining appearances for their image's sake.
This date is really a photo op to quiet more rumors of their breakup, and they pose for the cameras and act the part of a loving couple. Their agreement is to remain publicly together until his Hollywood debut, at which point they can state that they drifted apart due to their busy schedules.
Se-ri would prefer to carry on the ruse for a bit longer, but Jin isn't interested, telling her there's no use in dragging it out.
At a nearby table, another couple is out on a date: This is YOON PIL-JOO, on a blind date. (Yoon Kye-sang!! Why are you so cuuuute?? He just brings a smile to my face — I would have squealed out loud, but I'm on a plane and I'm forced to contain my glee.) Pil-joo is an Oriental medicine doctor who's rather focused on his work, to the exclusion, sometimes, of social grace.
For instance: His dinner date recognizes Se-ri, but he just says modestly that he doesn't keep up with the entertainment biz. (Oh boy, is he about to get his world flipped turned upside down or what?) His date sighs at how pretty Se-ri is, to which he answers in a strictly clinical sense that her killer heels are bad for her figure — she'll end up with an uneven butt. HA.
But his detailed, uh, examination of potential health problems offends his dinner date. It's flipping hysterical how he explains the properties of a lopsided buttock with a completely straight face, unaware of how his words are getting misinterpreted.
Omg. This is the Best. Thing. EVER:
At home, Ae-jung's nephew asks Grandpa why his celebrity auntie doesn't do CFs like the oh-so-cool Dokko Jin. Gramps explains that it's not that she doesn't, but that she can't due to her negative image.
(Omigod. Is Grandpa wearing a Hyun Bin tracksuit? Er, a Kim Joo-won one, I should say?)
Of course, the nephew doesn't understand the nuances of that, so when Ae-jung comes home, he asks plainly, "Aunt, how come you aren't liked much and can't do CFs like that?"
They live a modest life, downsized from the luxury Ae-jung had provided when her career was doing great. It's a combination of her career stalling, as well as Ae-hwan's and father's careless use of their funds, that have led them to this state.
Contrast that to Jin's state-of-the art bachelor pad, outfitted with top-shelf products. He has all of life's luxuries, fancy furnishings, and so on. He also wears a top-of-the-line monitor to check his heart rate.
It's hilarious how Jin lives like he's shooting a CF at all times. This is a guy who totally buys into his own hype — he certainly spends enough time googling himself. Today he's disgruntled over the negative fan reviews of his "boring, tiresome" movie.
The answer to this setback? His Peter Jason movie, Ninja Assault. (Lol! Ninja Assassin much? I LOVE THIS DRAMA.)
Ae-jung shows up to the radio station for a guest appearance, where she sees a young idol group and greets them. They barely even spare her a glance, and she gently advises them to keep a positive attitude toward their sunbaes.
(This is an issue entertainers have commented on before, and it's considered poor etiquette for the hoobae — industry junior — to put on airs or refuse to greet a sunbae. Even if the hoobae is the much bigger star. That just doesn't fly in an elders-first, Confucian-values-steeped Korea.)
Now we get a glimpse of the reason for Ae-jung's status as persona non grata, which involves the opinion that she broke up the band. (More meta: Though the public never knows the full story, fans often blame the first member to go off and do other projects when a group breaks up. It's not so much an issue these days, since all idols are spreading themselves thin trying to get as much exposure as possible — like their idol status is only a temporary springboard to an acting career anyway — but back in the day it was a bigger deal, like when Yoon Eun-hye left Baby VOX to do Goong. Even more meta: I wonder if Yoon Kye-sang has any opinions on this, because he always seemed to me to be the odd one out in G.O.D, when he veered off to pursue acting.)
Today's schedule is pretty sparse, but Ae-jung has a good attitude about it, saying she'll do her lone assignment perfectly. Aw, I love her already. Why do you hate her, fictional Korea? What's wrong with you?? She's so positive and awesome!
She's proud of her one statement piece, an expensive designer scarf on loan, since radio appearances are visually important these days. Which is when she bumps into Jin…wearing the same scarf. HAHAHAHA.
Not realizing that he's the gas station jackass, she's starstruck and asks tentatively for a handshake. He walks away without acknowledging her. I love how Ae-jung's pleased that they've got matching fashion senses, while he dissatisfactorily covers his up, and flings it off once in the green room and throws it back at his stylist.
On the other hand, Ae-jung has dropped hers…in the toilet. She worries that she'll be held responsible for its cost, since she's not a big enough star that they'd let her off the hook. On the other hand, if someone of Jin's stature were to confess to a similar mistake…
Light bulb moment!
Team Bro & Sis skulk outside Jin's green room, and she swaps the scarves. She feels a pang of guilt, but assures herself that since Jin is so famous, the mistake will be easily forgiven. But she doesn't have enough time to escape safely, as Jin returns to the room unexpectedly.
Ae-jung has seconds to hide herself while her brother stalls him, and therefore witnesses Jin dropping his fan-friendly facade and dipping into his usual sneering tone. He admits that he fakes being nice, but doesn't want to talk about his movie injury in his guest appearance, although his manager Jae-seok thinks that'd be great for stirring sympathy.
Jae-seok hedges again when Jin asks about his audition status with Peter Jason, but finally admits that Jin lost out. And Jin's reaction is absolutely precious: It's a mix of bluster, ego, and hurt: "I really got rejected by Peter Jason? W-why? And a-a-after I sent him that expensive wine?" Apparently his lack of English fluency cost him the job to another Asian actor — a Chinese star who's also American. (Is this the Kwon Sang-woo/Green Hornet story? Have I mentioned I love the Hong sisters?)
Let's just say that the big-time star does not take rejection well. He fumes, and imagines that people mock him for failing after bragging about his big Hollywood break. He pictures the gossip printed on paper towels, which fly at him as though attacking his hubris.
Ae-jung feels sympathetic for Jin's bad news, and takes back her soiled scarf…except that she's caught by Jin, coming out of the bathroom. She comes up with an excuse about being a fan and hurriedly tries to leave. But Jin can't turn down a request for an autgraph — his Achilles heel has been pinpointed! — and offers one anyway.
Problem is, he signs on the scarf without waiting for her say-so — her very expensive, loaner scarf — and that freaks her out. She wails about the expense, so Jin shoves his pristine scarf her way, saying that he's not about to wear it now. Not after a nobody like her has been seen in it.
They're about to end this unsavory transaction when Jin's gruff speech pattern triggers Ae-jung's memory, bringing to mind the rude bastard from the gas station. She compares the autograph he wrote on her hand to the one on her scarf, and confronts him about it.
She wants an apology, and he has no problem delivering one, all polite words and demeanor. Not that he means it, of course. But his immediate compliance takes the wind out of her sails, and she accepts his apology.
Only, now that he's sufficiently appeased her, he wants his scarf back. And she's reluctant to give it up, and clings to it. So Jin drags her close, warning that refusing to let her go will land her in some "danger," speaking with a weirdly slurry tone that makes him sound like a 100-year-old drunk grandpa. He whirls the scarf out of her grip with some fast maneuvering and wrests it free.
Jin walks off with the scarf, literally kicking his heels in glee. So. Immature.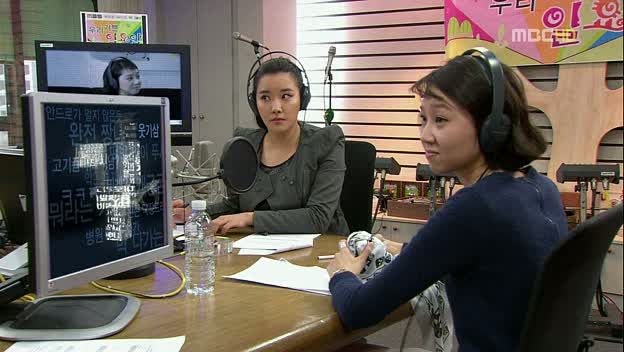 On to the radio broadcast, and who should be hosting it but Horan — who cheekily cuts to a song she should be intimately familiar with: Ibadi's "Chococat." Heh.
During the break, Ae-jung looks at her ruined scarf and pouts, which Horan notices. And when they go back on the air, Horan asks about the signature, which she's recognized as Jin's. How are they acquainted? For appearance's sake, Ae-jung invents a story about getting the autograph for an unni who loves him. But Horan senses more of a story and comments that they seem close, and asks what he's like.
Ae-jung answers that he's not quite like the image he projects, and calls him rude, imperious, and demanding. "In short, he's a rude jackass." Immediately, she imagines the words of offended netizens appearing on the nearby computer screen, which form a clever visual metaphor by arranging themselves in the shape of a gun, and shooting word-bullets back at her. Unsurprisingly, this is a figment of her imagination, warning her to stay on track.
So Ae-jung says confidingly that Jin recently ruptured an eardrum filming his last movie (the story his manager had wanted to circulate), but that because Jin was (supposedly) afraid his fans would worry, he kept it a secret. Hence: "He's someone who can't be honest that way."
Everyone falls even more in love with Jin at this disclosure, and captions onscreen show us that "Dokko Jin injury" now shoots to the top of the search engine hits.
And so does Gu Ae-jung. Her brother exults after the show ends, because Jin's fans are all praising her now. Furthermore, he was with the PD of (real-life) variety show World Changing Quiz (SeBaKwi) during her broadcast, and managed to score her an appearance on it tomorrow.
Except for the fact that it's contingent on her including Jin. Gulp.
Se-ri meets with producers in planning Season 3 of a popular variety show, Couple Making, which is sort of like a cross between We Got Married and The Bachelor. With the first two seasons being successes with their perfect bachelors — a lawyer, a fund manager — they need to match that with their Season 3 pick. But who could be that perfect mix of looks, background, education, and status?
I WONDER. Cue Pil-joo, who's visited by his mother at his Oriental medicine hospital. She's a doting mom, but has more ambitious designs for his future than he does. He's the kind of down-to-earth doctor who likes making house calls, but she wants him to live up to his status as well-regarded hospital director. She therefore refuses to consider his desire to leave the hospital for a less prestigious career path.
Jin decides that the best way to save face from losing the Hollywood debut is to put out the story that he quit the movie, instead of lost it. ("You can't fire me, I quit!") Now what they need is to get a new hot project lined up for him, quick, so people will believe that he took it over Ninja Assault.
His manager suggests he blame it on his injury, since Ae-jung already put out the story. Jin has no idea who Ae-jung is until he's shown her photo, but insists she's nothing to him — hardly the "close sunbae-hoobae relationship" everyone's assuming. He hasn't even heard of Kukbo Sonyeo, even though Se-ri was in it. Talk about a self-absorbed boyfriend, eh?
Jae-seok explains KBSN's story: The foursome were popular back in 2001, with Ae-jung being the most popular and Se-ri being the maknae (youngest). But at the height of their fame, they broke up amidst lots of ugly rumors — in-group fighting, exclusion, bad blood. Ae-jung went solo afterward but crashed, and had a scandal linking her romantically to an actor — who was engaged. There was a drunk fighting scandal as well, and her reputation is still stained by those memories today.
But if Jin didn't tell Ae-jung about his injury, how did she know? He remembers her lurking near his dressing area, and wonders with dread if she also heard about the Peter Jason movie.
Currently, Ae-jung is juggling two problems, which she discusses with former KBSN teammate Jenny (Lee Hee-jin, former Baby VOX member — get it?). The first problem is manageable, as Jenny promises to sell the ruined scarf online. But the second is worse — how to get Jin to agree to being her SeBaKwi partner, or to escape being called a liar if she can't?
Just then he calls (wanting to know how much she overheard), giving her the opportunity to appeal to him. She tries to soften him up before making her request, but he flatly denies it — she's so far beneath his level that just asking him to be her phone-a-friend on the variety show is shameless. She replies that she's desperate, which he should understand if he sent Peter Jason that fancy wine as a bribe.
She admits that she overheard him in the dressing room, which infuriates him — but what can he do? She's got him by the balls. He threatens to sue her if she spills the story, and she agrees that she couldn't do that: "How could I tell people that you got passed over for the other actor, that you sent Peter Jason wine as a bribe, and that you got rejected?" Hee.
She advises him to just fess up before he looks more a fool later, but he turns those words back on her, asking if the gossip about her being sponsored by a yakuza are true. "Why don't you tell the truth before you look more foolish later? Ohh right — you already look plenty foolish now! HA HA HA!"
That old gossip scrapes old wounds, and she bursts out that she yes, the story's true. She's clearly lying, but warns him that if he messes with her, her connections will put him in his place. With that, she leaves angrily and sticks him with the bill.
At home, Jin looks up Ae-jung and KBSN, reading post-scandal articles about her losing her fans' trust. As he thinks of his mean question and registers that he hurt her feelings, his watch suddenly acts up — his heart rate is increasing. Puzzled, he wonders why. Hee. Gee, I wonder!
Time for the SeBaKwi shoot. Ae-jung tries to offer up Jenny as her phone-a-friend buddy instead, but the PD isn't having it, and Ae-jung can't admit she lied. So she works up the nerve to call him one last time, and pleads for his generosity.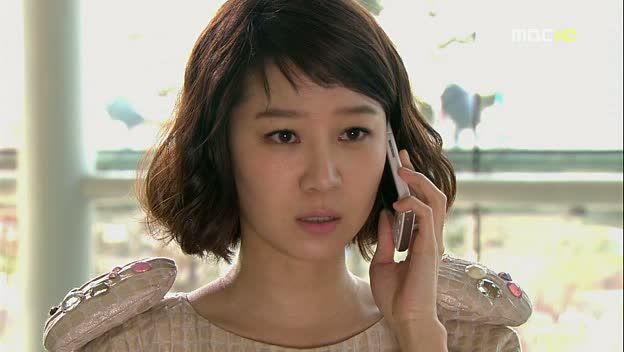 Ae-jung tells Jin that she's hoping to appeal to his sense of sympathy for their similar plights: "The way I feel right now about being ditched by you for this quiz is how you feel about being ditched by Peter Jason for the Hollywood movie. I hope that you understand my desperation."
And maybe he does see the similarity, because that rejection is the one thing constantly on his mind right now, the thing he can't get over, the thing he keeps wondering if he ought to try begging the director for. So while he tosses the phone aside in dismissal, he doesn't dismiss her entirely from his mind.
The show begins filming, and Ae-jung waits nervously while the hosts hype up her planned contact — Jin's the biggest star they'll ever have had on the show. She sits in anxious fear while they put the call through, hoping this won't end badly.
All the while, Jin keeps eyeing his phone, waiting for it to ring. When it finally does, he jumps — but lets it keep ringing. And ringing. And ringing. It's awkward, and everyone in the studio wonders why he's not answering.
Elsewhere in the broadcast station, in a planning session for the Couple Matching show, Se-ri catches cameras showing the taping, then heads to the studio to see for herself. She's curious and a little jealous that her old frenemy supposedly is chummy with her ex, and the longer the phone keeps ringing, the more smug she gets.
The silence grows in the studio as everyone waits, and Se-ri smirks as the hosts declare this a failure…and then, Jin's voice booms through the speakers: "Hello?"
Ae-jung's totally shocked, but the studio suddenly livens up with excitement. The hosts prod Ae-jung to proceed with the quiz, since time is ticking: She has 90 seconds to describe objects, and he has to guess them.
Starting cautiously at first, Jin actually gets pretty into the competitive spirit, pumping his fists when he guesses correctly, all wound up with tension. Jin not only matches every one of her clues, he gets so worked up that his bewildered managers look at him in wonder.
The last word is "grapes," and Ae-jung fumbles for a clue with ten seconds on the clock. Finally, she lands on: "Bribe!" Everyone else is puzzled, but she adds, "The thing you gave Peter Jason!"
Jin's so caught up in the game that he doesn't even register the implications, and guesses excitedly, "Ah, wine!" Ae-jung prods him to say what it's made of, and he declares, "Grapes!"
He's so thrilled that shouts happily and does a victory chant, pleased to hear that he's the first guest to have guessed every term correctly.
Only…the hosts then ask what that last question was about, and it's only now that they realize what the heck they've just done. Oopsie!

COMMENTS
So cute! It started off a bit laid-back, but the more we got into it, the more the pace amped up until I was squealing in the end. I'm always amazed at how much plot the Hong sisters can cram into an hour, and it's no different here. I love that about them; they keep things moving, and keep you on your toes.
I'm excited for Best Love in that it's probably the Hongs' best drama in terms of talented actors. That's not a slight on the others, because they've had some damn appealing leads before, but here's a case where all four main leads are not only funny, charismatic, and good-looking, but strong actors. Plus, I'm starting to really believe that all good actors really need to take on a strong rom-com role at least once — you can be a fantastic actor, but even in a light fluffball drama, it can open up your image and range in a way that you don't get from doing strictly solid "actorly" projects. That can be as valuable as acting creds.
For example, woo Cha Seung-won! I know he's not a total stranger to comedy, but I haven't seen him doing it and he certainly has pursued a different path in recent years — Athena, City Hall, Eye For an Eye. Cold, hard, badass dudes. And yet here, he's like an insecure Narcissus, and it's fabulous. He does affect this weird drawl that I can't decide yet if I like or abhor — it's drunk grandpa, seriously — but either way, it's interesting. I love that he's going for the unlikable guy, rather than holding back and trying to still be likable. We'll have plenty of time to fall for him later.
And Yoon Kye-sang! Sigh…I think this one's gonna hurt, guys. I think this is the Hong sisters drama that may finally get me on the second lead's side. Or, barring that, at least produce a credible love triangle. (I don't see Se-ri putting up much of a fight, even though I think Yoo Inna is great.) But that in itself is a thing to rejoice. He is adorable, and like Cha Seung-won, he takes a familiar character type (haughty on Cha's end, the familiar nice guy on his own) and tweaks it a little, adding that hilarious comic bent of being a nerd about his work.
Gong Hyo-jin is, as usual, lively and winning and charming. I love that her Ae-jung isn't actually a bitch, although initially I thought that could have been fun too. Instead, she's the sweet girl with the misfortune to be dogged by her bad image for years. Just the fact that she maintains a sunny attitude despite her down-in-the-dumps career makes me feel for her and admire her pluck. She has a luminous quality that brings a geniune spirit to her characters, and that shines through here as well. Love. Her.
I have a good feeling about this one! *crosses fingers* *hopes I didn't just jinx things for us all* *hides from mob if things take a turn*
RELATED POSTS
Tags: Best Love, Cha Seung-won, featured, first episodes, Gong Hyo-jin, Yoo Inna, Yoon Kye-sang