Best Love: Episode 7
So much cuteness, I can't even stand it. But better yet — character growth! Relationship evolution! Hilaaaaarious oneupmanship of the best, most ridiculous kind! Ahh, it's SO GOOD to have a Hong sisters drama on the air.
SONG OF THE DAY
Lim Jeong-hee – "니가 떠나고 나도" (Even after you leave) [ Download ]
Audio clip: Adobe Flash Player (version 9 or above) is required to play this audio clip. Download the latest version here. You also need to have JavaScript enabled in your browser.

EPISODE 7 RECAP
So Jin totally wrecks the budding truce he has with Ae-jung by acting like an ass and propositioning her, calling her "easy," and sends her straight into the arms of the good doctor.
He slaps his face away to avoid looking, and finds his body turning back of its own accord, and grabs his sweater to whirl himself back around. He staggers off like some kind of impaired robot, half of him trying to turn back and the other half forcing him away. How can such a poignant moment be so ridiculously wacky? Oh, right. We're in a Hong sisters drama!
At home, he's confronted with the spilled potatoes, which Ae-jung had been intending to turn into curry. Revenge is a dish best served alone?
Dad chides Ae-hwan for meddling about the music video and reminds Ae-hwan about the actor Ae-jung had dated back in the day. That had led to the scandal about her using the star as a launchpad for her own acting career; what if history repeats?
Ae-hwan protests that this time it's different — he's sure Jin likes Ae-jung, and that the Se-ri thing is over — but Dad barks at him to remember the last time, when Other Dude also liked Ae-jung, but backstabbed her in the end anyway and turned her into a man-stealer.
Ae-jung admits to Pil-joo that she was crying out of embarrassment. She can usually handle being thought of as easy and dirty because she knows she isn't, "But today, I felt like I really did come off as easy and dirty, which made me feel ashamed."
Pil-joo reminds her of her initial outburst when she'd called herself a national treasure (kukbo) that couldn't be bought with 10 billion won, and says, "I couldn't do anything when our nation's number 1 treasure was hurt, but when the national treasure in front of me is hurt, I promised I'd heal her." (He refers to Sungnyemun, the Namdaemun gate listed as Korea's top national treasure that was destroyed by arson in 2008.)
Ae-jung jokes that she was actually Kukbo number 2, in terms of age, which he turns into more punning: "Ah, you must've been the tahb." She misinterprets, saying that they were popular so yes, they were at the top. He corrects her — he meant the Wongaksa Pagoda (stone pagoda = seok-tahb) that's listed as treasure number 2.
Ae-jung: "Wasn't that Dong…dae…mun?" Pil-joo: "You'll have to study more." Cute.
Jin eats his sad little curry at home alone, noting, "Curry without potatoes is disgustingly untasty." But he eats anyway, the potatoes untouched beside him, which is pretty heart-tugging either way you interpret it: Either he's stubbornly convincing himself he doesn't want them, or he can't bear to cut 'em up and eat them alone.
The next day, Jin has lunch with President Moon, who asks if he'd agreed to appear in Ae-jung's music video. Jin barks that no, he hasn't made any agreements.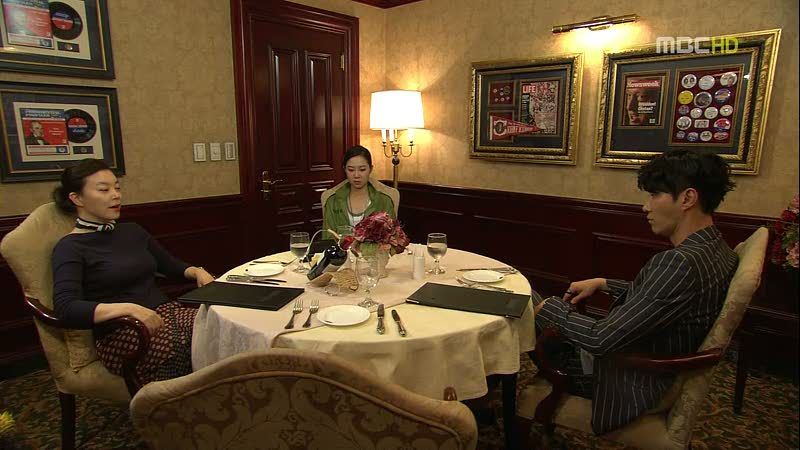 The mood turns strained when Ae-jung joins the party, having been called so that they can clear out the air after the A-B-C fight, since they're all in the same management family. Jin retorts that she's not family, she's a dependent (i.e., moocher), and says pointedly that she's so shameless that saying this to her face isn't likely to embarrass her.
Ae-jung agrees, saying that she won't be embarrassed when she can just blatantly ignore him — a prospect that alarms Jin. Like a little boy with his pride nettled, he has to strike back, and when Ae-jung declines to order the expensive A Course, he mocks her about picking cheaply to please the president. (And then looks worried when she doesn't respond to the insult.)
President Moon steps out for a moment and is puzzled at the atmosphere — she'd actually called this lunch to observe them together and confirm her suspicions, and here they are being all chilly.
When Jin tries to excuse himself, Ae-jung tells him that he can't — not when he has to promote her album and appear in her video. Or is he going to refuse, since he didn't get the sex he so wanted last night? While he gapes at her incredulously, she tells him she'd assumed he was "writing an innocent novel" with all his blathering about Camellia, but given his recent behavior, she's downgraded him to 뽕, the name of an adult movie. HAHAHA.
She says ominously that he'd better do her video: "You've got a butthole for a mouth so when you open it, we know what comes out. But I've got a bomb for a mouth: When I open it, things explode." (Erm…just as long as we're not combining the two…) She continues: "So about last night's events — shall I open my mouth and write a book about it, or shall I sell an album with you appearing in my music video?" She advises him to choose the expensive route, "not the cheap one, if you want to look good to me."
She stalks out muttering to herself that she can ridicule him just as much as he ridicules her — which is when he chases her down and wrist-grabs her around the corner to ask what she's doing. Is she threatening him into doing her video, or lashing back from injured pride? "Whichever it is, just pick one, instead of confusing a person."
(Note: The word "confuse" refers to feelings, as though he doesn't know how to draw the lines to identify which emotions go where. In dramas, we're almost always talking about a person being confused with romantic feelings.)
Ae-jung: "What's there to confuse? Think whatever you want. You do that anyway. I treated you like a person to use and mock, didn't I? Then consider yourself used and mocked by me." He grabs her and says, "Fine, I'll become someone you can really laugh at, so use me. But do it properly, so you don't confuse me."
With that, he tells President Moon that he'll help with the album, and wants all the best people assembled. When she presents the plans to the Gu siblings, they're stunned at the all-star lineup, who are so beyond their level as to be burdensome.
At home, Jin regards his potatoes with the gravity of a general about to leap into battle, telling them that their existence will be decided based on Ae-jung's actions: If she signs that contract, that means she was just going to use him for her career and potatoes become meaningless. With a sideways glance, we see the pot of water boiling on the stove, awaiting use. LMAO.
Ae-jung, however, is feeling torn and knows that she's being tested. Her brother pleads with her to think carefully, because while he agrees that it's a difficult place for her to be in, if they can score a hit with this one song, they can position themselves for a more successful future.
She signs, and Jin takes his potatoes to meet their demise. In goes one, then two, but curiously he's got tears in his eyes and he can't drop the third, which sets off his heart monitor. Deciding that the shock may do him in, he puts it back into its bowl, telling it, "Consider yourself in prison." HAHAHA. Oh, why so cute?
President Moon is shrewd enough to know that this is a pride battle between her clients, and asks Ae-jung if signing has hurt hers: "If you stuck to your pride and didn't sign, you'd have lost your chance but been able to capture his heart." Ae-jung says she has no intention of claiming his feelings, and is in no position to give up this opportunity.
President Moon tells her she did the right thing — because if she'd stuck to her pride and continued to rattle Jin's feelings, she would have cast Ae-jung aside: "You're quite realistic. Maintain that."
Trust the Hong sisters to draw the parallel before we can: Jenny says that the president's just like all those hard-nosed mothers-in-law in dramas who refuse to give up their precious sons to the heroines. Ae-jung points out that this makes her a non-heroine, because she accepted the deal that heroines always reject. Jenny assures her she did the right thing, and that she shouldn't see Jin anymore anyway since he's treating her like a gold digger. Besides, she doesn't like him anyway, right?
Ae-jung agrees, consoling herself with that thought. Until she steps on Pororo accidentally, who chides her not to lie.
Se-ri visits Pil-joo to ask about the anti-bloating medicine he'd given her earlier, asking if she could double up to lose more weight. He advises against it, and assures her that she's thin and beautiful already. She fishes for a few more compliments, gratified when he calls her one of the country's most beautiful.
She demurely says, "I am called a national treasure." Remembering his kukbo conversation, Pil-joo calls her number 4 (keke), which she takes the wrong way. Pil-joo clarifies that he meant by age, but nods understandingly, "Ah, so were you also fourth in popularity?"
Se-ri happily notes that Pil-joo is very interested in national treasures, and he replies that he's developed quite the interest lately. She drops the tidbit that she'll be breaking up with Jin soon (which is why she wants to slim down more, to elicit sympathy), yunno, just in case that should interest him.
Ae-jung's father has decided to end the ruse that he's Se-ri's father and return the expensive Oriental medicine balls. He's eaten three of the ten, but figures it's better late than never, right? Only, when he calls Pil-joo's mother to return the box, he finds her at a grand opening for a barbecue restaurant, and can't resist the pull of free, high-quality meat. Oy! Talk about bringing new meaning to selling your daughter for a cow.
Jae-seok notices that Jin's feeling down because of Ae-jung, but saying that aloud is his folly: Ominously, Jin motions Jae-seok close and says in his best Mi-shil voice (accompanied by eerie Mi-shil theme song!) that managers are human and can make mistakes, "But my manager can't."
Jae-seok is invited along to celebrate Ae-jung's album, which is a conversation that draws Jin's interest; he's particularly gratified to hear that they're trying to lift Ae-jung's depressed mood. He figures, "At least she has a conscience."
Jenny urges Ae-jung to perk up and sing a song, but when she stands, she steps in a wad of gum, just as they notice a fly buzzing in the air. So there she is, stomping awkwardly and flailing at the air — and this weird "dance" is what Jin sees when he arrives with Jae-seok, which stings his pride.
Miffed, he drops a cake box on the table and sulkily takes a seat. Jae-seok makes the monumentally bad call of choosing G-Dragon's "Heartbreaker" to sing, because Jin chafes at the lyrics that (hee!) hit too close to home:
"I don't give in, I've still got uses
My body was wrecked because of you, dreams destroyed, heart burned
For you, I could fly, I'd run to where you are
But you said goodbye again and again
What's the reason you don't want me?
Your annoyed expressions tell me everything and make me sad
But I still like you, still ask for a chance
I hate your heart that's turned away, your cold gaze"
Jin tries to contain his irritation, but finally jumps up with a roar…and joins in the chorus:
"Yo ma heart heart heart heart heart breaker
What did I do wrong?
You're ma heart heart heart heart heart breaker
no way no way"
Oh my god. I'm dying. And with that, Jin clutches his heart (Get it? Heartbreaker emotionally AND literally?), overdoing it. He steps out for a break, and Ae-jung follows him to check on him.
He admits to saying some harsh things that day, and suggests that if she were to say that she didn't come to his house just to ask for a favor — if she intended to also make him curry — he'll be understanding. Oof, it's so sweet when you're grasping at straws.
She tells him, "You don't have to understand," mumbling that she's just thankful to him, and turns to leave. Jin grabs her shoulder, just as her heart starts to thump.
Asking for a minute of her time, Jin takes off his heart monitor and puts it on her wrist: "If for one minute you don't go outside the safety zone between 60 and 90, I'll just keep being that person you're thankful to." (Meaning: I'll back off.)
They stand there watching as the numbers climb, hitting 90, then 100. Unnerved, she breaks free and asks pleadingly for him to leave her be: "If I want to continue earning my keep, I can't let myself tremble because of someone like you. Please leave me alone so I can live between 60 and 90."
There's a logic to that (his very own, in fact) and Jin accepts it resignedly, taking back the monitor without looking. He pulls out the pen and gives it to her, explaining that that's why he'd gotten angry — because he found the pen in the ball pit, but she'd lied to impress the doctor.
Jin: "Are you embarrassed now that your lie has been exposed? But I'll understand you anyway, because you have your own circumstances. It's impressive, that a thing like you has turned Dokko Jin into a laughingstock. Don't go spreading rumors." He starts to say something about the cake, but stops himself and goes, looking pained.
When Ae-jung opens the cake box, she finds her lost shoe. The other three in the party guess that Pil-joo bought the replacement so Ae-jung wouldn't worry, which makes Jenny ooh over his consideration. Ae-hwan argues for Jin instead, while Jae-seok points out that while Jin has the bad personality, women are always drawn to the bad guy.
Jenny retorts that she's not like that, which perks both men up in interest, who then scramble to offer her refreshment. She picks both their beverages, saying, "I want both."
Pil-joo apologizes for the lie, perceiving that he's made Ae-jung feel even worse, and wants to fix it. She admits that the pen caused a "frustrating misunderstanding" but it doesn't seem fixable — not when she's already taken the bite (the contract) and isn't in a position to give it back. Ruefully, she tells Pil-joo that the only thing to do in response to the bite is to wake from the pain.
At home, Jin sighs — he wanted Ae-jung to try to explain her actions. It's sadly sweet that he's looking for any excuse to forgive her, but she feels so bad that she can't even offer that up. Awww. So there he goes fondling that potato again, deciding sadly, "However I torment or grab or test her, there's only one answer — I have to admit it. I've… fallen into a shameful one-sided love."
And then! He notices something on the potato — a sprout. And since potato sprouts are poisonous, he declares that he must cut it out.
Except that… instead, Jin puts the potato into a wineglass with water. OH MY GOD that's so silly and sweet.
Ae-jung contemplates her shoe, practicing a few lines: "Dokko Jin-sshi, I didn't lie to you. I came to cancel my words about never, ever liking you." Alas, she decides against actually saying them.
Next we see, Jin is dressing in a sharp suit, telling himself that to keep from betraying that he's fallen into a pathetic one-sided love, he has to look even better than usual. He waters his potato, figuring, "Whether it's poisonous or not, it's grown this much, might as well keep raising it."
Ae-jung readies for another TV appearance, and tells her brother that she wants to talk to President Moon about cutting back their excessive album production budget. Ae-hwan cheers her up with news of a star auction for Couple Making, which will be including one of her personal items: her sneakers. That makes her hesitate, but she agrees to let them go.
Only, she has second thoughts and decides to retrieve the shoes — except she runs right into Jin on her way, who's at the station to discuss a documentary special. After a brief greeting, Jin leaves without attempting conversation.
Ae-jung's disappointed but continues on her way, only to be rebuffed by the automatic turnstile because of her frog suit padding. She decides to hop (snerk) the barrier but struggles because of the unwieldy costume — which is when she's swept off her feet (literally) by Jin, who reappears to carry her over.
They have a brief, polite conversation about her TV spot, and he's actually quite mellow and restrained, even wishing her well. When he walks off, Ae-jung frets, "I wish he'd gotten angry instead — why's he acting so cool?"
She decides she'd better not retrieve the sneakers after all, because she'd be tempted to keep wearing them: "And if I wear them, I'll want to run to him."
Pil-joo asks Se-ri to clearly define her relationship with Jin, not realizing how she (mis)interprets that question. She explains that a celebrity breakup carries extra complications, and that they have to take care of image and contract factors as well. Pil-joo guesses that if one side finds a new love interest, that third party can end up hurt. Se-ri warns him to be very careful, assuming he refers to himself, because in her mind it's all about her, her, her.
Jin and Jae-seok run into the youngest writer on the Couple Making team, who explains that she's readying the site for auction. Jin recognizes the shoes she holds, and muses glumly that Ae-jung's getting rid of them after he returned them to her.
Pil-joo comes along and also sees the shoes, which the writer accidentally drops. When he moves to pick up one, Jin steps in and claims it. They have a silent showdown as Pil-joo says pleasantly, "I think you should entrust that to me." Ooh, fight! Fight! Fight! Jin hands it back to the writer instead, advising her to be careful with it, because "If you drop it, anybody can claim it's his." Pil-joo comes right back with: "Please entrust it to me. I'm not just anyone, am I?"
Both men check out the auction site, where Ae-jung's sneakers have the lowest bid by far. Jenny and Ae-jung are aware of the situation (they're at a mere 30,000 won, or about $25) and Jenny wants to put in a bid herself, but is stopped by Ae-jung. Which is when they notice that the price shoots up to 500,000 — Pil-joo's bid.
Jin sees the update and refuses to let the shoes go to "just anybody" — not when "the very special me found them." Boom! 1 million won it is.
Pil-joo sees the price jump, suspects that Jin is behind it, and has a moment of manly pique. 2 million won!
Jin tells himself to butt out and not turn himself into a laughingstock…but then has the fantasy of Pil-joo romantically returning the sneakers to Ae-jung. 3 million won!
Pil-joo guesses, "He must really not want me to take them. Then…I'll have to take them!" The writers watch the climbing prices with shock — 7 million! 8 million! Oh lordy, I love these two grown men acting like children. Mine's bigger than yours, indeed! (Bank accounts, I mean! Naturally.)
Just as Pil-joo enters his bid of 10 million, a client enters the office, whose child trips over the power strip, shutting his computer off. So what does he do? Races to his receptionist's computer for this "emergency" — only to find the auction has ended.
Jin congratulates himself: "The special Dokko Jin has won over the just-anybody doctor. HAHAHA!"
And then he comes to his senses, and turns his victory fingers accusingly against himself: "Why'd you do that?!" Jin pleads for forgiveness with himself, just as his hand attacks his face. OMG. Giggle fits all around.
Se-ri's curious about the auction winner, who checks out to be some guy in his mid-twenties. But the bigger problem, which the writer confides to her, is that the other bidder was Pil-joo. Se-ri realizes, "Then the Kukbo Sonyeo he was interested in…was Ae-jung unni?"
Pride wounded, Se-ri gets the idea for her petty little revenge when a reporter comes by asking for info on the auction. She tells him that nobody knows who the winner is, in this age of internet ID's. Why, it could have even been Ae-jung herself.
That's the story that breaks, and suddenly Ae-jung is under suspicion for boosting the auction to promote herself. She confirms with the producers that she didn't do it, and they worry that if the real buyer doesn't reveal himself before their shoot tomorrow, where reporters are sure to crowd, it'll be assumed she did it.
Jae-seok offers to step forward, since the shoes were bought with his ID. Jin shoots that down, because it'll still look bad — he's a manager from Ae-jung's agency, so the effect will be just as bad.
Ae-jung tries to assure her family that it'll be okay, and they encourage her to ride out the false rumors, that she can hold her head up because she knows she didn't do it. But Hyung-kyu asks innocently, "What's a sponsor?" because people have been saying that Ae-jung bought her own sneakers with her sponsor's cash. And then, "Why do they call Aunt a rag?"
Ouch. Ae-jung gently tells Hyung-kyu not to use those words, and also reminds him not to tell people at school that she's his aunt, which is kinda heartbreaking. And when she washes out a rag that night, she looks at it sadly with its frayed edges.
The next day, the broadcasting building is knee-deep in reporters. Ae-jung apologizes to the producers for the disturbance, while fielding nasty looks from the other cast members. The PD tells her to address the mob before the shoot, which rather seems like throwing a lamb to the wolves to spare himself, in an effort to tamp down the chaos.
Pil-joo arrives, having read the articles and seen the crowd, and watches Ae-jung apologizing to everyone, feeling for her. On the other hand, Se-ri pushes to have Ae-jung cut from the show, saying that whenever other variety shows have issues with cast members, they cut them before the matter is even settled. (Ouch, but true.) The writer counters that they know Ae-jung didn't do it, and says that they'll decide after seeing the press's reaction.
It's not bound to be pretty: As soon as Ae-jung steps out to address them, she's swarmed with cameras. Overwhelmed, all she can say is that she doesn't know, and tries to work her way out of the crowd.
In the jostling, she loses a shoe, and the reporters pounce to get their shot. Pil-joo grows angry on her behalf and starts to step forward, but Se-ri stops him by saying that his involvement will only make things worse for Ae-jung.
Just as things hit their frenzied peak, another figure steps forward and announces, "They're here!" It's Jin, holding up the sneakers, and the reporters rush to get their photos.
Jin joins Ae-jung and poses with the shoes, declaring, "The person who bought Gu Ae-jung's shoes is me, Dokko Jin!"
The audience oohs at this dramatic turn, and that's before Jin actually kneels before her to put the shoe on her foot.
The reporters marvel, Ae-jung stares at him wide-eyed, and Jin…winks. Ahh, you sexy bastard!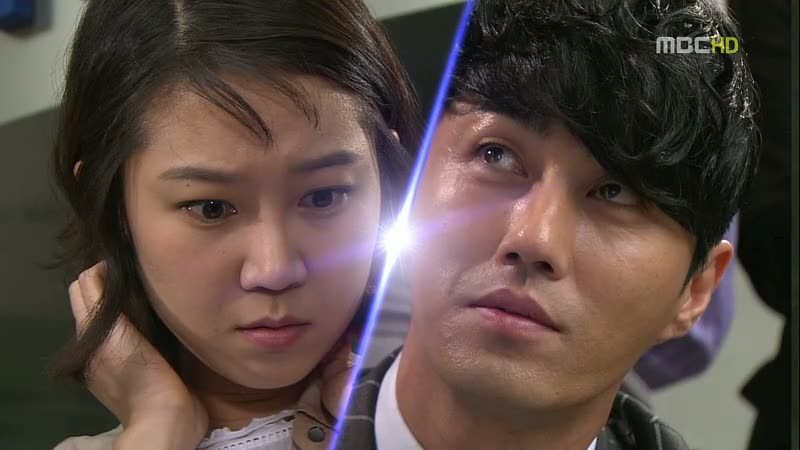 COMMENTS
I love that the story is moving so swiftly, with both parties having acknowledged their feelings to each other (hers are coded in the heartbeat, but the essence of the moment is understood by both). So now, at less than halfway through, we have plenty of time to mine the other stuff that often gets left out of dramas of this ilk.
We flirted briefly with the fandom/fame aspect of a public relationship in You're Beautiful (and Last Scandal, and My Princess, and Mary Stayed Out All Night), but aside from the concept of the Magical Press Conference That Clears Up All Misunderstandings, we didn't get to explore a lot of the other side of the romance — the part where the party has to deal with the fallout of being together. It's one aspect I liked about A Star's Lover, except that in that drama, everything was so drearily melodramatic and grim that I had a hard time enjoying the romance once it went public.
I love the idea of Jin possibly being brought down low because of his association with the Queen of Unliked Celebs, and while I'm not positive that's where the show is going, I look forward to it if it is. Can you imagine, Se-ri getting all the sympathy and our couple dealing with the all that other stuff — reputation, image, netizens — tearing at them? Plus there's the crafty agency president, who's already made her stance clear. This is a show about showbiz — so let's really get into it and integrate that showbiz aspect, rather than using it as mere window dressing to make them celebs in name only. So many dramas incorporate chaebols, stars, and other famous people, but don't really do much with it other than said Magical Press Conference That Clears Up All Misunderstandings.
I'm looking forward to a rom-com's angsty moments being something other than (1) denial about feelings or (2) meddling others jealousy stepping in, so this should be interesting. Ooh, things are about to get good.
RELATED POSTS
Tags: Best Love, Cha Seung-won, featured, Gong Hyo-jin, Yoo Inna, Yoon Kye-sang