Cha Seung-won: I am Dokko Jin
Six episodes in, Best Love is doing strong, and it looks poised to do even better with one competitor bowing out of the ratings race (true, City Hunter takes 49 Days' place next week, but it's always nice to have a definite rival out of the picture). At the heart of the drama's success: The Hong sisters' trademark brand of tight plotting and fast-flying laughs, as well as the strong chemistry of the leads, played by Gong Hyo-jin and Cha Seung-won.
The following interview with the latter is on the short side, but something's better than nothing, right?
What's the reason for people loving Best Love?

"The scripts are good, and I have a good rapport with [Gong] Hyo-jin. Hyo-jin goes after a natural, realistic acting style and I'm a technical actor, but together our different styles match remarkably well."

What are the basic qualities a romantic comedy leading man must possess?

"There's a flow to a romantic comedy hero. In the past, gentlemanly and pure men were emphasized, but these days they're mostly 'bad guy' types. But Dokko Jin is different from the romantic comedy leading men we've seen so far. He's laughable, but also cool. He's entertaining and sometimes mischievous like a child, but on the other hand I wanted to show that he's a romantic."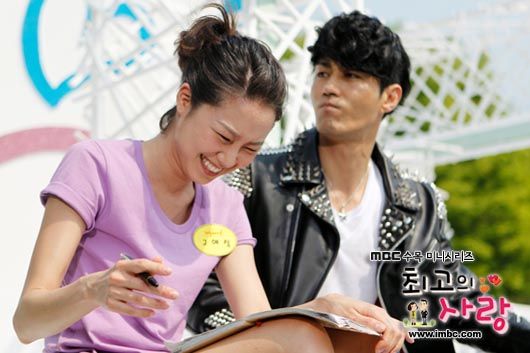 There was a notable scene where you shouted at Ae-jung, 'Give me my panties!' What do you keep in mind while you're acting?

"On top of being a romantic comedy, there are a lot of manhwa-like elements, and Dokko Jin has a prankish side, but I'm trying not to cross the line. Overexaggerating the laughs turns faces to frowns, and overdoing the melodrama makes people shrink away. There are scenes where the feeling and expressions can turn a total 180 degrees. Simply put, I try to keep my acting in halfway between starring and supporting level."

Why do you suppose top star Dokko Jin falls for the unliked singer Gu Ae-jung?

"At first, I think it's sympathy. After seeing Ae-jung trying to work hard at something, without realizing it he feels pity for her. That leads to interest, and that leads him to seeing her positive traits, and that leads him to see her as a woman, which develops into romantic feelings. At first he really disliked her, but after several encounters, she doesn't seem like a bad person, and the sight of her working as diligently and sincerely as she can stirs his feelings."

How would you feel if you met Gu Ae-jung in real life?

"I think I'd like her. [Laughs]"
What kind of feeling should a romantic-comedy drama give its viewers?

"Watching the drama should make them feel aflutter with excitement. In particular, when men watch, it should make make them think, 'Ah, so that's what women like, I should do that for them.' I'm learning a lot through this drama, too. When Ae-jung is sleeping in her car outside the nightclub, Dokko Jin sees her from outside the window but holds his hand up to the glass as though to prop up her face. Seeing how much the women viewers like that scene, I learned something. [Laughs]"

In real life?

"I wouldn't do that. [Laughs]"
Best Love didn't grab me as quickly as some of the Hongs' other dramas — I definitely laughed through the earlier episodes, but wasn't invested in the relationships or characters right off the bat — but with this past week, I've felt the familiar heart-tug back in full effect. I think it's the balance Cha mentions; he had shown us glimpses of that inner romanticism from time to time (the window, the movie theater, the potatoes) through Episode 5, but Jin was also way too wacky for my taste.
I'd argue that Cha did cross that line a few times with the exaggerated drunk crankypants drawl and the wild gesticulations, and there were moments I felt alarmed at his crazy. (Like, full-on "Call the cops!" crazy.) But with Episode 6, he toned down the deranged egotist persona and got me pulling for his character.
It was also the first time I rooted more for Jin than for the still-adorable Pil-joo (I know!), although I'm still pretty sure I'll weep for the poor doctor at a later date. It doesn't hurt that Cha is totally turning on the sex appeal — phew!, that man is pure charisma. He and Gong are both actors you really have to see in action to feel the effect of their pull — hers is natural and genuine, while his magnetic enough that I swear he's generated his own gravity.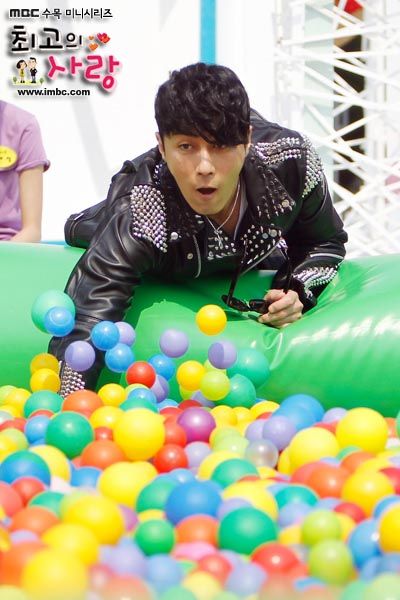 Via Hankyoreh
RELATED POSTS
Tags: Best Love, Cha Seung-won, interviews