Gong Yoo, Jung Yumi's Crucible wraps filming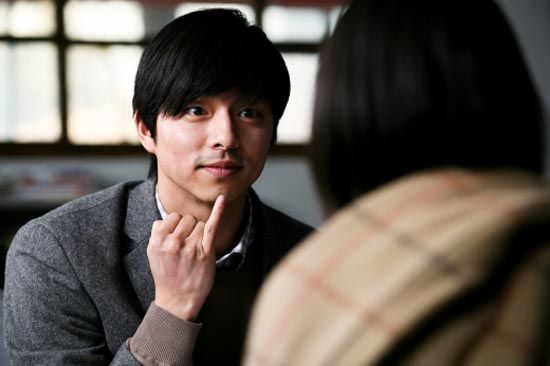 Filming has wrapped on Crucible and now we get our first look with these stills, featuring leads Gong Yoo (Coffee Prince) and Jung Yumi (Oki's Movie, Come Closer).
The movie was announced several months ago and stirred my interest because I love both actors, and also because of the weighty subject material, which is based on a true story. The movie is an adaptation of a bestselling novel by respected writer Gong Ji-young, which is in turn inspired by the story of a rape at a school for the deaf.
It's the kind of movie that I can easily picture Jung in — she plays a human rights activist with a strong sense of justice, and can embody passion and vulnerability like nobody's business. But it's Gong Yoo I'm curious and a little intrigued about, since his most known projects have been in solid rom-com territory, with Coffee Prince, Finding Kim Jong-wook, and Biscuit Teacher and Star Candy. This project just screams "transition to Serious Actor," and I'll be interested to see how he fares, playing a teacher at the school.
After wrapping up his last scene in Daejeon earlier this month, Gong Yoo said, "With the filming over, I feel relieved and also saddened. I felt a lot of various emotions living as In-ho, which I hope the audiences will be able to sympathize with." Jung Yumi said, "There was so much that I felt while filming the movie, and I learned a lot from watching our outstanding child actors."
Crucible plans to release later this year.
Via Osen
RELATED POSTS