Lee Min-ho gets down and dirty (literally) for City Hunter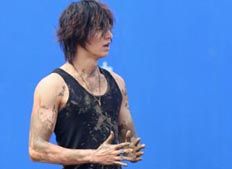 First I was pumped about the Korean drama version of City Hunter, then I was puzzled, and after that I was disinterested (the more it became clear this would be no true City Hunter adaptation). They cast some actors who were okay — not exciting, but whatever — and it was looking like it would slide to the back burner once May's more interesting offerings started.
And then you rumpled up lead actor Lee Min-ho, then cleaned him up, and now you bare some of his skin, smear him in mud, and pit him against against a bunch of thugs for a wet, dirty, fierce mudfight? My interest is back. (Partially.) What can I say, my affections are cheaply bought.
In these stills, Lee's character shows off his physical prowess against twelve attackers, and handily holds his own. Just like all the other MIT Ph.D.s we know, right?
The action scene was filmed in Paju, Kyeonggi-do, and successfully wrapped without any NGs. I'll be curious to see what kind of fancy background they'll put in place of that bluescreen, since what could you put there to jazz up a field of mud? A bigger field of mud?
City Hunter premieres on SBS on May 25. It'll air opposite Best Love and Romance Town, which I think is a pretty competitive timeslot, although at least City Hunter is a different genre than the others, setting it apart from the two rom-coms. So while its later premiere date may cut into its potential audience, it has decent odds of siphoning viewers who aren't in the mood for light fluff. (Although: Who isn't? It's spring! The sun's out! Time to lighten up and fill up on the cute!)
Via Seoul.co.kr
RELATED POSTS
Tags: City Hunter, Lee Min-ho