Miss Ripley: Episode 2
I like. It's definitely not going to be everyone's cup of tea, since it's a melodrama through and through. But I find the premise highly addictive—and strangely, easy to identify with, despite the dramatics. I find myself rooting for a heroine to lie, cheat, and steal, which is ODD, to say the least. It's what I hope this drama will do successfully throughout its run—make us feel for a character who makes the wrong choices at every turn. It's curious, that. And I'm intrigued enough to follow her down the rabbit hole.
Today's Episode 2 clocked in at 14.3%, up one percent from its premiere, followed by Baby-Faced Beauty at 12.5%, and Lie To Me at 10.5%.

EPISODE 2 RECAP
Hee-joo cheerily gets ready for work, and heads to Hotel A where she works as a maid. We see a photo on her nightstand of her and Miri as children, from the orphanage.
Yoo-hyun starts his research into the hotel biz, and finds that Jang Myung-hoon of Hotel A is his biggest competition. (I seriously want to smack the person who named the hotels. Hotel A? Like Point A to Point B? Or A Hotel, like A Key, A Nose, A Barrel of Monkeys?)
He takes his friend Chul-jin home with him to visit his parents. I like that the hero is actually a nice guy with good parental relations (though I suspect that Mother is his stepmother, they seem to have a good relationship).
He tells Dad that Jang Myung-hoon is the first person he ought to meet and learn from in this business, and that he could just as well become an ally as well as an enemy; it remains to be seen. The thing he respects is Myung-hoon's work ethic—though born of privilege, it seems our hero doesn't take most things for granted.
Dad seems satisfied with his son's goals for work. But what about love? He reminds his son that he's no spring chicken, and wants to see Yoo-hyun married soon. Yoo-hyun betrays a smile, so Dad suspects that he's got someone in his life. He cops to having someone in mind, but is still in wait-and-see mode. Um, don't you mean trying-to-get-her-to-know-I-exist mode?
Dad adds the importance of finding the right lifelong partner. He says that after sending his mother (so birth mother must've died fairly young), he wouldn't have survived without his stepmother.
We backtrack to Miri's meeting with Myung-hoon, where she flippantly makes the remark that it would hardly matter if she had graduated from Tokyo University—he's clearly not just going to hire some stranger off the street.
But it's enough to give him pause, and he stops her. To her utter shock, he tells her that those aren't qualifications that he could turn down, and neither could anyone else. The fear sets in on her face. These aren't words she can take back now, when he's about to solve all her problems in one fell swoop…
She sits outside his office nervously while he discusses the matter with Director Kang, who is vehemently opposed to hiring some random person, no matter what her qualifications are. Myung-hoon starts to make his case for hiring outside the box, when they get paged: Nakamura has arrived two days earlier than anticipated, and he's entering the hotel Right. Now.
That seals it. No time to waste over debating the merits of street casting. Myung-hoon puts Miri to work straightaway, with a mile-a-minute rundown of hotel procedure and Nakamura's insanely particular habits. My god, he's not the sultan of Brunei. These people sure take their VVVVVWXYZIPs seriously.
Miri gets a crash course in what is essentially an extension of concierge services, and then takes a deep breath on the elevator ride up. Myung-hoon introduces her to Nakamura, who is instantly pleased to hear his own dialect. Phew. Crisis averted.
Yoo-hyun arrives at Hotel A to check out the competition for himself. Myung-hoon gets word that Mondo Hotel's second generation has shown up, unannounced. He considers it curiously and just tells them to keep him informed. You should probably read up on him, because he's definitely doing his homework on you.
Yoo-hyun surveys the hotel, and runs into Hee-joo, who works there as a maid. She accidentally spills something on his shirt in the hallway, looking up at him, horrified. He very sweetly just puts his jacket on to cover it up, and smiles that it's no biggie. She watches him walk away in awe.
Director Kang tells Miri to bring her resume and diplomas to human resources, to file for official employment, after which they'll apply for her work visa. Oh crap. The reality of the situation finally starts to sink in, as she panics—how is she supposed to prove this outrageous lie?
She scours the internet for ways to forge the documents, and starts going to printing presses to ask if they can replicate the diplomas. They turn her down one by one, and one man simply tells her to forge them herself, with the throwaway line, "Everyone does it these days." Oh, if you only knew the real world drama this kind of thing has caused, sir.
Meanwhile, Myung-hoon skips his wife's concert and his absence is noted pointedly by all. He gets a call from his sister that his mother has collapsed after hearing that he and Gwi-yeon are on the brink of divorce. He rushes to his very humble country home, just in time to hop in the ambulance that's about to take Mom to the hospital.
Miri comes back to the hotel late that night, having decided that forging the papers herself is the only way to go about this. She turns on the computer in the dark, her hands shaking, and starts to rewrite her resume.
A security guard enters the room, nearly making her jump out of her skin. She's a nervous wreck from the guilt and fear of almost getting caught, not realizing that he's just the security guard and doesn't know or care what she's doing.
She jumps again when the phone rings. It's an emergency call from the front desk, where Gwi-yeon has arrived with her man-toy and created a scene in the lobby. Miri comes out to find the woman insisting that she get a room for the night.
What? She be crazy, yo. Who goes to her father's/husband's hotel with her lover to get a room for the night?
Miri tries to intervene, but just gets belittled and pushed aside by Gwi-yeon, who mocks her for being new and clearly not knowing who she is. Do YOU know who you are? Because that would predicate your not behaving in this manner, if yunno, SANITY were to dictate your actions. Just sayin'.
Director Kang shows up in time to try and talk some sense into Gwi-yeon, but she's already off the rails tonight, and she starts screaming for the room and pitching a total fit. So Miri runs back out to try and pacify the situation, only she gets knocked to the ground for her troubles. And into a glass vase, no less.
The sight of blood is enough to stop everyone in their tracks, which is right when Myung-hoon enters, having returned from the hospital. Dude, I'm sorry your life sucks right now. Yeesh. Can I get you a drink?
He tells Miri to go to the emergency room, but she says that she's fine. Now that her husband is here, Gwi-yeon turns it up a notch, for his benefit. She bitterly remarks that he's fine skipping her concert, but wants to maintain appearances at his hotel (clearly she cares way more than she'd like to admit).
She starts demanding a room again, so he finally drags her home. Myung-hoon: "What are you doing?" Gwi-yeon: "Are you really asking because you don't know? I'm doing this to annoy you. You're dumber than I thought, if you're asking me what I'm doing." Well, at least she's not hiding her motivations. Not that she's not utterly transparent to everyone but him.
Problem is, he reacts exactly the wrong way. Clearly she wants him to get as upset as she is, so that even if they're fighting, they're doing so passionately. But he's calm and detached, which is exactly the problem.
There's another message from his sister: Mom needs surgery and it's critical. Gwi-yeon bitterly remarks that it must be time for her to die.
He asks what she really wants. She announces that she's long become sick of him. She's in love with what's-his-name (honestly, I bet SHE doesn't even know) and she wants to cook for him and have his children. She declares that she won't leave Myung-hoon with anything—no car, no house, no hotel, no inheritance, nothing.
And then, to her utter shock, he gives in, "Okay, do it that way. I'll do what you want. Let's stop this. This… isn't it." Her eyes betray the bluff—this was her attempt to get him to cling to her, but instead he's giving up and packing his bags.
He takes off and stops by the river for a bout of angst. He flashes back to when he first met Gwi-yeon in the hospital. He was a doctor then, and she'd been rushed into the emergency room after an accident.
She was smitten with him from day one (who could blame her), and by the time she had recovered, she was asking him for kisses. Rawr. Ack, Kim Seung-woo, why you so hot?
Miri heads out for the night and sees Myung-hoon back in the hotel parking lot, lost in his thoughts. She heads over to say goodnight, and he apologizes for involving her in personal matters earlier.
She smiles and says that it's fine, and then asks if he's okay. He looks surprised at being asked, and just replies that he is. She starts to turn back to say something else, but then stops mid-sentence, and drops it.
Myung-hoon returns to work at the hotel the next morning as if nothing happened, though he's on edge from the rumor mill and well, he's probably just waiting for the other shoe to drop.
He runs into Miri at the service entrance, where her key card has been denied access. He lets her through and notices her bandaged hand, and asks if she's okay. She says it's all healed and nervously tells him that everything is fine.
Human resources tells her that without her official documentation, they can't stop the immigration office from putting a block on her employment. (It's certainly a stretch that the immigration office is this micro-managed, but the point is, she's on her last leg, visa-wise.) Myung-hoon gets updated on Miri's situation, and is told that if he files a personal request, she can get an extension for up to a week, which he does.
She buys time with the fact that the papers have to be sent from Japan, but he asks that she find a way to fax them within the day. She gets a text from one of the people she had contacted about forging paperwork, and heads out to meet him…
But when she reaches the lobby, she hears a familiar voice that stops her in her tracks. It's Hirayama, who has come all the way from Japan in an effort to find her. He flashes a picture of her at the front desk, but gets no help. Miri freezes in panic, and then hides just in time to see him walk out.
Over at Mondo, Yoo-hyun arrives for his first day of work, and is greeted by a line of staffers. He takes the elevator up, and Hee-joo runs in, blabbering to no one in particular that she's pitching an architectural design today.
He recognizes her and smiles to himself, and she finally turns and notices him. She asks if he doesn't remember her, from the spill in Hotel A, and he greets her with a smile. She asks if he managed to get the stain out, and he insists that it's no big deal. But she offers to buy him dinner instead, which is great because if she had any idea who he was, she'd never have made a peep.
He tells her that it's fine, and notices that she's already passed her stop on the elevator. She gets off on the wrong floor anyway, embarrassed, and awkwardly just says that she meant to get some exercise. He laughs to himself, and then picks up a cell phone charm that she's dropped on her way out.
He attends his first board meeting by his stepmother's side, and gives a speech to the room (in English, for the life of me I don't know why). Mother looks on proudly and Yoo-hyun makes a good impression on his first day.
Miri goes to meet the man who offered to forge her diploma, and he leads her down a shady alley into a basement where another man is already working on it.
Myung-hoon and Gwi-yeon show up to file for their divorce, which is handled speedily, with no children and no battle over assets to speak of. Gwi-yeon asks the lawyers to clear the room, and asks Myung-hoon to say something, expecting him to plead for the hotel or ask for money.
But he does neither, and instead apologizes: "I'm sorry. More than I can say. I'm sorry… that I couldn't make you happy. No matter what, I should've made you happy. But I think I made you lonely."
He tells her that in an effort to counter the fact that he was an unworthy suitor marrying into a big house, he focused on the wrong thing. "I'm sorry. I thought that was love." (As in: I thought that was the best way to love you.)
Both of them start welling up with tears, though hers are angry and his are contrite. He adds, "Be happy. I mean it." Aw, sad. It's strange how sad it is, despite the fact that she's a lunatic. It's probably the burst of sincerity from the gruff man. Gah. I'm such a sucker. To top it off, Myung-hoon sits outside and watches a happy family and broods over the life he's never going to have.
Miri gets word that she's got a week extension due to the paperwork that Myung-hoon signed, and she seeks him out to thank him. He wonders if it's that big a deal, but she explains that something that small to him means a great deal to her.
He figures that getting documents from Japan might take longer than usual, and she just looks away guiltily. He brings up something she had mentioned when he hired her—that she ended up in Japan because of her adoption. He wistfully says that he had considered adopting once.
Miri says that he'd make a great father, but he confirms that his wife had opposed it. "Not that it would've made a difference in the end…" He tells her that they've split up, something that everyone will find out eventually, so he's telling her himself.
She tells him that he'd be a really good dad, because he's a good person, and it makes him smile. He wonders aloud how long it's been since anyone's praised him. She asks if he's sad, and he sighs that he's not happy, not today. But he thanks her for cheering him up anyway.
Yoo-hyun comes home with snacks in hand and offers them to the manager of the gosiwon as a housewarming gift of sorts. He asks very sweetly about the girl who lives across the hall, and finds out her name. "Jang Miri? I don't know anything about her, but she has really pretty eyes." That's so cute.
He stands outside her door with an ice cream cone, debating whether or not to knock, but finally decides against it.
Miri runs into another roadblock with her diploma—the forger isn't exactly first-rate, and tells her that he can't manage to create an exact copy from scratch. He tells her that if she could get a real version, he'd be able to make a replica. Hm… wonder who might have one of those?
Myung-hoon gets called up with an emergency in Nakamura's room, where a maid used his restroom in the middle of cleaning it, because uh, nature called. Nakamura threw a fit and trashed the bathroom, and Miri is nowhere to speak of.
Myung-hoon goes in to try and appease him, but he's all worked up and demanding to be moved to another hotel. Myung-hoon rushes into the bathroom himself and starts cleaning up, on his hands and knees.
Nakamura sees this and is satisfied with this level of RVIP treatment, and tells him to shape up before he brings Japanese representatives with him next time. They manage to scrape by, but at the mention of his future visit, they start to plan for an entire Japanese staff. Director Kang asks what to do about Jang Miri.
Miri returns to find a notice posted—she's on probation, not to mention that she's nearing the end of her visa deadline on top of it all. She doesn't understand why she should be held responsible and exchanges tense words with Director Kang, but thinks better of causing a ruckus and apologizes.
On her way out, Hee-joo knocks into her in a rush to get on the elevator, and Miri recognizes her in a flash. And then it dawns on her that she DOES know someone who went to Tokyo University…
She takes the stairwell to try and catch up to Hee-joo, as she flashes back to Japan, when she had visited the university with Hirayama. Hee-joo recognized her and Miri had lied that she attended the same school.
She sneaks a peek and watches as Hee-joo meets with Director Kang, who's on familiar terms with her. Hee-joo turns down the job offer (probably for Miri's job) because she's busy trying to land the architectural design competition over at Mondo.
Miri follows her all the way out, debating what to do. She follows her onto the bus, and then sees her opportunity to run into her 'coincidentally.' She bumps into the man next to her, and then Hee-joo calls out, "Jang Miri? Miri-ya!"

COMMENTS
Oooh, interesting. I like the development of her past with Hee-joo (and I much prefer that they have already crossed paths as adults once before, thus eliminating the backstory-mystery game). She's clearly going to be crossing over to the dark side – the temptation to All-About-Eve Hee-joo's life is going to be too tempting to resist.
For a drama like this, I'm a fan of taking the heroine to the dark side because that's the point of the setup (and this drama's appeal as something different), and I can feel the conflicting morality of the story emerge—I'm already rooting for her to get the forged diploma, despite clearly knowing that it's wrong. I'm excited to see how dark they take her, and how far down into hell we go along with her.
The minutiae of the hotel business does not interest me (and I find the dramatics of it quite laughable, really) but the characters are great so far, and I'm excited to see all the different connections start to emerge. The chemistry between Myung-hoon and Miri is already smoldering, and I can't wait till Yoo-hyun starts competing for her affections, my incurable ajusshi crush notwithstanding. I'm scared Yoo-hyun's going to get trampled like a helpless bunny, but I suppose we already see that roadkill from a mile away. The twist will be to see which way HER heart goes, and how much, if at all, she'll allow herself to love either man, or both.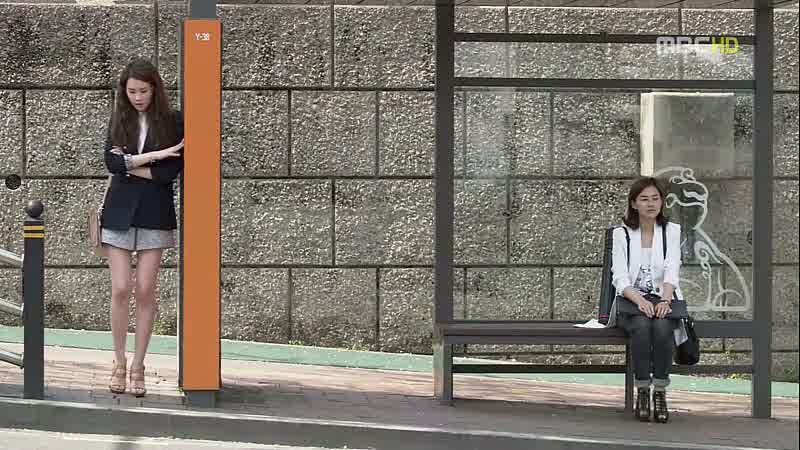 RELATED POSTS
Tags: featured, Kang Hye-jung, Kim Seung-woo, Lee Da-hae, Micky Yoochun, Miss Ripley