Ratings report: 49 Days, Best Love, Romance Town
All right, now that the recap frenzy has lulled, I can take a moment to look at how the ratings are shaping up for the new May trendies, specifically the Wednesday-Thursday shows. I haven't been following the numbers too closely because they'd been fairly static for a while, but with one just about to end and two new ones entering the fray, it's time for some shakeup.
SBS's 49 Days has enjoyed the first spot for a few episodes now, and this week welcomed its highest numbers to date: a 14.8% on Wednesday and a 15.4% for Thursday. [SPOILERS] Things are heating up with only one week to go and the conflicts coming to a head as Ji-hyun and Kang recognize their feelings for each other, angst about her 49 days ending, thwart the baddies from destroying her father's company, and worry about how to keep Ji-hyun alive. [/END SPOILERS] Good stuff there.
Also heating up is the Hong sisters rom-com on MBC, Best Love, which is quickly catching up and will probably leap into first place once 49 Days takes its bow.

Best Love
Last week, Best Love premiered in third place with an 8.4% while 49 Days and Thorn Birds both scored 13.2% ratings. It improved but remained in last place with Episode 2 with a 9.7%, as Thorn Birds aired its finale (14.2%) and 49 Days pulled up with a 14.7%.
So this week's movement up to 12.1% and 13.9% bodes well for its future, as the Hong sisters keep delivering the funny and the actors keep delivering hilarious and endearing performances. (Seriously? So cute and wacky. "GIVE ME BACK MY PANTIES!")
Last but not least (well, it IS the least, but only in a strictly numbers sense) is Romance Town on KBS, which premiered its first two episodes this week. Its first drew an 8.6%, and its second recorded an 8.2%. Not bad, and it still has room to move up if 49 Days' successor drama isn't up to snuff — that'll be something to watch for when City Hunter also joins the lineup in two weeks. On one hand, that drama looks terrible. On the other, its tone is different from the other two rom-coms, so it has a shot at drawing an audience in the mood for something more action-filled. Or crazily — and schizophrenically — plotted. Or just chock full of Lee Min-ho.
I haven't seen Romance Town yet but I hear it's got an interesting tone that's a little bit different from the standard romantic comedy vibe, so I'm holding out hope for it. Although the part of my brain dying for some sleep is hoping it tanks, frankly. But who says you need sleep to be able to function? Or recap properly? Fair warning: If the next recap comes out unintelligible or sorely lacking crucial words and/or logic, you'll know what happened.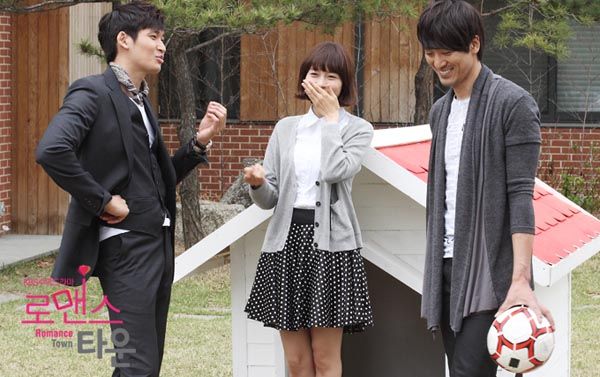 Romance Town
Via Hankyung
RELATED POSTS
Tags: 49 Days, Best Love, drama ratings, Romance Town