Romance Town: Episode 2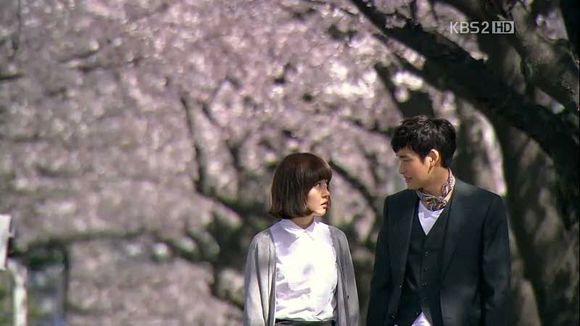 Oh. My. God. Episode 2 just gets better. Let me clarify that when I said it would be a bumpy ride, it was because I didn't know where this drama was going. I was afraid that this drama might be directionless, shuffling back and forth between good and bad. However, I'm going to put my trust in the writer.
There are a lot of nuggets of information in these episodes, so bear with me if it seems long!
We go back one week. (This writer doesn't mind time jumps at all.) The maids are all a-flutter, quickly making the best seafood dishes they can. At the Kang Residence, Soon Geum is making a shrimp dish with a citrus garnish. Yoon Joo is impressed and asks Soon Geum to grab a wine bottle. Soon Geum picks red wine, instead of white, and Yoon Joo tsks-tsks at her – she sent Soon Geum to Italian culinary school already; perhaps Soon Geum would like to go to wine school? While Yoon Joo is actually willing to send her maid to school, Soon Geum gives a non-committal smile.
At the Kim Residence, Da Kyum is making scallops over asparagus. When Young Hee comes around to sample it, she pouts as if she's annoyed by his presence. But I think she's just putting up a front, and secretly enjoyed his compliment on her dish.
At the Hwang Residence, Zar Lin is picking the lettuce for the vegetable bedding of her lobster dish. As she drizzles dressing over it, Hwang Yong comes around to tell her to do it delicately – his daughter's reputation is at stake! So Zar Lin just slaps the steamed lobster on top.
At the Jang Residence, Hyun Joo is making salmon rolls / canapes, and refers to the mistress asking about whether she can put sauce on it or not. The mistress refers to the wife for the response. (I love this hierarchy.)
The result of all this cooking is for a garden party hosted by Yoon Joo. Hwang Joo Won (Hwang Yong's daughter) carries over the lobster dish, and meets Young Hee on the way. He's happy to see her back in the neighborhood and once again single (after calling off her engagement). Joo Won on the other hand is excited at the prospect of seeing Gun Woo when he returns from America. Methinks the three of them were good friends growing up together. Young Hee is the only male at the table, sitting along with Soon Ok (the wife) and Boon Ja (the mistress).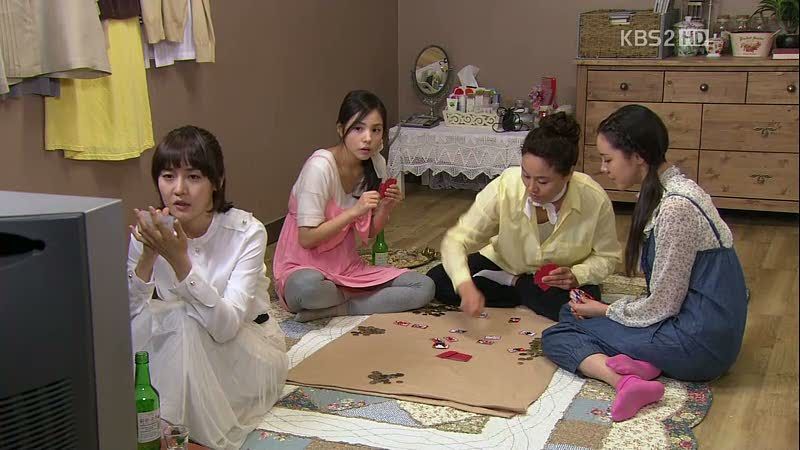 We get a good look of all the security cameras in place around the houses, both outside and inside. It turns out Soo Jung is a maid for an empty house, and it's at her room that everyone gathers to play go-stop and watch the lottery (they all lost again, by the way). Her masters are away in America, and the reason why all the cameras are turned on in her house is because the masters want to make sure she's not taking anything.
Back at the garden party, Soon Ok and Boon Ja marvel over the shrimp, and how amazing it is that the head is standing upright. They compliment the maid, and that's when Yoon Joo swoops in: "What are you talking about? Our maid can't do this."
Everyone is impressed, and Joo Won innocently asks how Yoon Joo knows which seafood is fresh? Soon Ok and Boon Ja want to know the secret to making shrimp stand so upright, and Yoon Joo fidgets uncomfortably, unable to answer. She later calls Soon Geum to ask how the shrimp was done.
Soon Geum is annoyed that Yoon Joo has to ask her for these things; the two of them attended the Italian culinary school together, but Yoon Joo had just become Soon Geum's shadow, relying on her to master the art of Italian cooking.
The others all then ask Zar Lin to bring in some organic salad, and she admits that they're really not organic. Since the masters of the house are too busy to grow the garden, she takes care of it instead. And because it's so tedious to get rid of all the bugs, she really just sprays pesticides on it. Every so often, she picks at the vegetables to make it look like they were eaten by earthworms, thus fooling her masters that they're really organic. Oh the tricks these maids play!
They begin to wonder where on earth Hyun Joo is, and Da Kyum notes that lately Hyun Joo acts like "a dog in heat." Soo Jung starts yelling at her for being so insolent and rude… but Da Kyum is right.
Hyun Joo is back at home, and with his wives away, Jang Chi Gook sneaks downstairs to her room for some tomfoolery. Aha! Now we know exactly with whom he sleeps at night!
The next morning, as Hyun Joo serves up the dishes to all of them, Soon Ok mentions that it's too bad Choon Jak is now gone. They wonder if they should replace Hyun Joo, but Jang Chi Gook starts slurping up the soup with a satisfying "Ahhhhh~." He likes the food; therefore, Hyun Joo stays.
Soon Geum cleans the house, clearing out the study and Gun Woo's room. She opens the desk drawer slowly and opens a small gift box lying next to her number. It's a new wallet, with enough money inside to pay for the alcohol. Soon Geum knows it's for her, but she can't just take it. On the desk is a huge stack of letters – all from Gun Woo while he was in New York.
When Soon Geum had first started, she had noticed Choon Jak visiting the mailbox outside every day, just waiting for Gun Woo's letters. Soon Geum finally approached her, and she immediately felt guilty when she realized that she had replaced Choon Jak. But Choon Jak was OK with it – Soon Geum can repay her by replying to Gun Woo's letters for her, and never let him know that she had left the house. She also tells Soon Geum that the baby is really Tae Won's, not Gun Woo's.
At first, Soon Geum was uncomfortable with lying about it, but she finally gave in after Gun Woo's numerous letters, begging for some sort of correspondence. He's happy to finally receive her letter (and we get glimpses of fat Gun Woo before he slims down), and Soon Geum finds particular comfort in responding to him. She sends him Choon Jak's gochujang (spicy sauce), and he sends her a headband in return.
It's finally three years later – and my heart stops at the sight of Gun Woo returning from America – and he makes a call to the home. No one picks up. He wanders around the neighborhood (where he sort of bumps into Soon Geum buying the lotto ticket at the quick mart, but doesn't see her), and purchases a phone.
Meanwhile, Young Hee goes to an art gallery and is annoyed to find that Hwang Yong is once again purchasing paintings frivolously. He embarrasses Hwang Yong in front of another artist, saying that Hwang Yong doesn't know how to appreciate art since he switches it out every 6 months.
Gun Woo makes a call home with his new phone and this time Soon Geum picks up. He asks for Choon Jak, saying that the call is from New York, but Soon Geum hears a Korean loudspeaker in the background. He's back! She stutters a lie that Choon Jak will be home soon, and they hang up.
Soon Geum freaks out – what to do when he finds out Choon Jak's no longer there?! She runs out of the house wearing red heels, and trips and falls, splaying out on the ground. That's exactly how Gun Woo finds her – on the floor, her heel broken.
He asks if she's OK, and Soon Geum waves at him to go away. She can't get up and see his face, so she just relies on hoping that he really did walk away, before moaning in pain. Gun Woo just flips her over on the ground; she has a scratch on her knee. He immediately recognizes her, but she doesn't. (Who would!?)
She replies that even if she did recognize him, she wouldn't acknowledge him being in this embarrassing situation. (Haha!) When she realizes her heel broke, she freaks out – it's the mistress' shoes! He laughs, and offers to take her to the hospital. She's all, "Whatever for?! I don't need it!" so he notes that nothing about her spunk has changed.
They walk down a cherry blossomed-path (signal for love birds!!) with Soon Geum's bare foot on Gun Woo's shoe. He complains about her being so heavy, and she tells him to deal with it. (Hah!) He could have walked away when she told him to, but he says how could he, especially when she tripped so spectacularly in front of him. He had to try really hard not to laugh.
Miffed, Soon Geum takes her foot of his shoe and starts hopping her way down the path. Gun Woo tries to get her back to walking on his shoe – he won't charge her for it! – but she's too pissed. So… he starts hopping alongside her! CUTE COUPLE ACK!
He insists he didn't laugh, and she finally breaks into a smile at the ridiculousness of it all. He introduces himself as Gun Woo, and that stops her in her tracks. He's the last person she wants to see right now!! He smoothly slides his foot underneath as her bare foot comes down to the ground.
She sits outside a shoe repair shop, and Gun Woo brings out the fixed shoe. She's still shell-shocked, and asks if he's really Gun Woo. He promises to call her, clearly not forgetting their exchange from three years ago.
As Gun Woo walks into his neighborhood (and I wonder – where the hell is his luggage?!), Young Hee slowly drives by him in his sports car, playing and joking around. He's like an overgrown kid and it's impossible to hate him. He doesn't recognize Gun Woo at all.
Gun Woo enters the house excitedly, calling for Grandma Choon Jak. There's no reply, so he goes up to her room. Or, what was her room; the furnishings have been completely changed. He yells angrily inside the house, "Grandma!!" and Soon Geum freaks out from listening outside the door. She decides to go hide in the dog house for now, which Young Hee sees.
Young Hee comes up to her and asks what she's doing in there. She tries to shoo him away, but he says, "Should I come in there too?"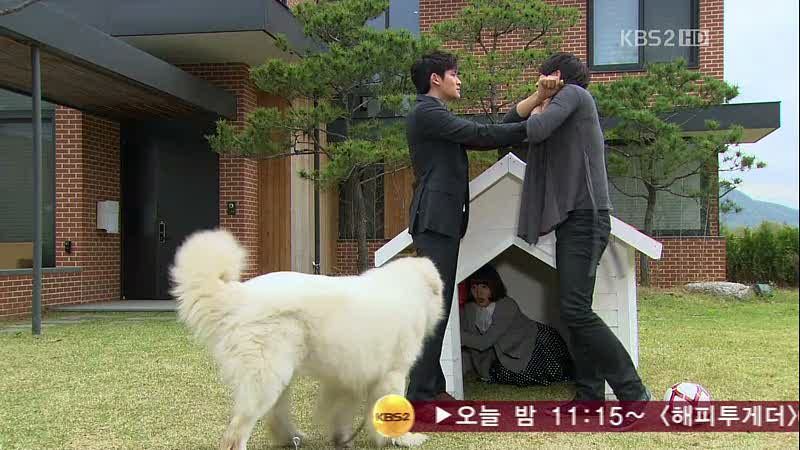 Gun Woo comes up to him, "What the hell is going on, Hyung?" It takes Young Hee a while to realize it's Gun Woo, and he's so excited that his friend lost so much weight. ("Hey Gun Woo – did you leave your fat behind in the States? Or is it coming on the plane tomorrow, flying business class?") He opens his arms to hug him, but Gun Woo grabs him by the collar. The dog starts barking, and Gun Woo finally spots Soon Geum in the dog house. He's surprised, but he's starting to understand…
He grabs Young Hee – if he was gone, Young Hee should have worked harder to protect Choon Jak. She was an old woman with no home to go to – what if she got sick and died? Who the hell replaced Choon Jak? Young Hee nods his head towards Soon Geum, making the situation that much worse.
Tae Won and Yoon Joo arrive home in the nick of time, and both are amazed to see Gun Woo looking so slim. They also were expecting him tomorrow. Yoon Joo notices Soon Geum in the dog house, so Gun Woo tells her to come out. While everyone else goes inside, Gun Woo stares angrily at Soon Geum. The two of them have too much history.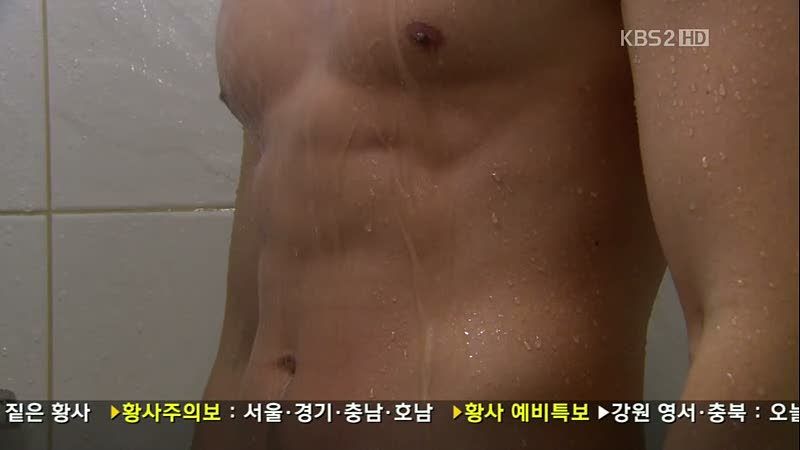 You're welcome. Oh – you want plot point? He's just brooding in the shower, as all K-drama heroes with a body do.
That evening at dinner, Soon Geum prepares an array of fine dishes for the whole family, but Gun Woo can't stomach any of it. Instead, he goes to the kitchen and cooks up some instant ramyun, and eats it straight out of the pot on the dining table. Yoon Joo is appalled, and Gun Woo notices San staring at him. "Do you want some?" he offers. "Son?" And almost cruelly, he continues to eat without giving any.
At the Hwang Residence, Hwang Yong admires his newly purchased painting. He takes it down to reveal his hidden safe, in which he stores a lot of cash and gold bars. He hears Zar Lin shuffling to his door, so he quickly pretends he's hanging the painting up just as she opens the door to announce dinner.
After dinner, Gun Woo asks his father and stepmother what happened to Choon Jak. Yoon Joo quickly says that Choon Jak left of her own accord after he left. Gun Woo asks if he can bring Choon Jak back then, and she flippantly tells him to do whatever he wants.
He goes to Soon Geum's room to get the whole story. (I love that he closes her door with his foot!) He wants her to start from the beginning, and she tells him that since she needed the money and had no place to stay, she accepted Yoon Joo's offer to work at his home. That's it. Gun Woo tries to get her to say that perhaps she made it hard for Choon Jak and ousted the grandmother. He gets up all on her face too, reversing their former situation back in the car.
Soon Geum insists she didn't, so he starts rifling through her closets. Out in the living room, he tosses out her bag. He's firing her from this moment, since he's bringing Choon Jak back home. This scene echoes exactly what Yoon Joo had done to Choon Jak, throwing out the old maid's belongings outside of the house after she returned from the airport three years ago. Yoon Joo is angry that Gun Woo is taking over matters of the home, which is supposed to be under her jurisdiction. Besides, who will take care of the kid?
No matter, Gun Woo says. The mom's here anyways.
Tae Won shouts at the two of them to stop fighting, and he orders Gun Woo to go back to America if he's just here to cause trouble. That's when San, standing at the foot of the stairs, starts crying. Everyone quiets, unsure what to do with a crying child. Soon Geum goes back to her room to pack, and San follows her, sobbing, "Ahjumma! Don't leave!" He follows her all the way to the door, and finally Soon Geum can't take it anymore.
She goes back to him and gives him a comforting hug. Gun Woo picks up the child gently, and orders her to leave. He then takes San up to his room, where the poor child cries himself to sleep.
Soon Geum goes to Soo Jung's room, where everyone is assembled for the lottery. She gives her vest to Zar Lin for them to take out the lottery ticket themselves. Though she tells them it's in the right pocket, they pick out the one in the left pocket (the one she bought with her cash). Hyun Joo also has a huge pearl and diamond ring on her finger, but no one mentions about it.
They didn't win, and that's when they finally pay enough attention to Soon Geum to find out that she's been fired by Gun Woo. They're all confused – Gun Woo was the "docile panda!" He fired her?! For the night, Soon Geum stays in Soo Jung's room, and she leaves the neighborhood at the crack of dawn.
Young Hee and Gun Woo are jogging around the neighborhood at that time, and only Young Hee looks at her long enough to acknowledge her. Gun Woo refuses to look at her; he still remembers that he owes her and has that gift for her in his desk, but he can't bring himself to give it to her.
The winning lottery numbers are displayed all over her town as Soon Geum trudges back to Shi Ah's home. She wants Shi Ah to make rice for her; for once, she'd like to be fed rather than feed someone else. San also wakes up that morning, and runs to the kitchen yelling, "Please give me some food!" Only – no one is there.
Gun Woo visits his father's home office and reminds Tae Won that he had promised to sort out the mess by the time he returned. Tae Won turns it back on him; it wouldn't be beneficial to Gun Woo if Tae Won claimed the son as his. After all, that would mean Gun Woo would now have to share his inheritance with a little boy.
But Gun Woo asks – should he care for his father that much to stick his neck out for him? Tae Won says he should. Gun Woo: "But that doesn't make your kid my kid." He gives his father a rebellious grin. Outside, Yoon Joo has overheard everything. She had gone to the office to ask Tae Won for assistance in putting on her necklace of pearls, but now, those pearls break off from their string and scatter across the floor.
None of the other maids want to go into the Kang Residence and help out Yoon Joo (aka Trophy Wife), so the family is resorted to eating jajangmyun for dinner. That evening, Yoon Joo stares at her husband in anger, now knowing the truth about his lies and San.
Shi Ah presents a humble meal for her daughter Ji Min and Soon Geum. Their home is modest, and Ji Min wears worn-out clothes. Soon Geum is disgusted – she's given so much of her earnings to Shi Ah so that she could provide better clothes and meals for Ji Min, but where is the evidence of that? Shi Ah cries that she couldn't possibly have spent the money Soon Geum gave her, especially after knowing how hard she had to work for it.
The next morning, Gun Woo heads out for his first day of work at his father's company. Lo and behold – Soon Geum's father is standing outside their house, asking to see his daughter.
Soon Geum heads out to find a new job. As she takes a lunch break eating jajangmyun, she rifles through the newspaper for a job. One of the headlines reads that this winner of the lottery will get the most yet, 14.2 billion Won. Though she doesn't believe it, she takes out the lottery ticket from her pocket, just to see.
The numbers match. The storekeeper asks if she wants more radish.
The scene is played out quite nicely – when Soon Geum realizes she's won, everything goes still and quiet. An eel swims by in its tank in front of her. She can only stare at the ticket, stunned into silence, as the store owner continues cleaning the other tables. Then the soundtrack slowly comes in and reaches its crescendo – she's won!!
Soon Geum rushes off to her mother's grave, plopping herself over the mound as if hugging it. She thanks her mother profusely, having bought the second ticket for her mother. She even proclaims she loves her father, and thanks the world and the other mounds next to her mother's grave.
The person witnessing her seemingly lunatic ways is Young Hee – who's a little ways off sitting by his grandfather and father's graves.
Comments:
I still don't know where this drama is going, but with that ending – the possibilities are endless.
There are plenty of hijinks that can come out of this winning lottery ticket. I can't wait to see Soon Geum have her moment to be a princess (and I hope it does happen), but I can foresee trouble with her fellow maids. First off, I think the lotto ticket that she won with was the one that was bought with the maids' pool of money. I'm pretty sure the maids used the wrong ticket when they were looking at the lotto numbers, so I wonder if this will be a plot point of contention in the near future. But – if it's really her lotto ticket, then so be it! I'm far happier with that because it's one less potential area of angst.
Nevertheless, there will definitely be tension with the fellow maids because she was one of them, and now no longer is.
The complex relationship between Gun Woo and Soon Geum is set up quite nicely. I got confused as to what they knew of each other, but I'm glad it's all out in the open now. It's not a typical rich boy meets poor girl scenario, because they've had a sort of friendship before they found themselves in their current social statuses. Gun Woo may now be a cold chaebol type, but he hates Soon Geum more for kicking out Choon Jak than for just being of a lower social standing. I really like that they're friends first, master-and-maid second, but unfortunately, whichever relationship is more convenient at the moment takes the forefront.
As for Kim Min Joon – gosh, I think I need to go back watching his old dramas. The guy is a riot – and I'm pretty sure he's relishing his role as the irresponsible rich boy. It's interesting that for all his spoiled tendencies, he is most aware of the maids. He notices Soon Geum more than his rich neighbors, and he even knows about their nightly meetups for go-stop in Soo Jung's room (as seen in episode 1). I can see him getting into a love triangle with Soon Geum and Gun Woo, but I think he'd just be causing more trouble for himself because…well, he's just a troublemaker.
Slice of life – as some of you have put it – is truly the best way to describe it. It does remind me a lot of Prosecutor Princess and Dr. Champ – Prosecutor Princess in the sense that it's not going to be a ratings hit, but I think it will be a solid story, and Dr. Champ in the atmosphere and tone of the drama. Plus, cherry blossom path, closing doors with feet – it's as if it is picking up the elements that I loved so much in Prosecutor Princess. I'm like their perfect target audience.
To note – Gun Woo supposedly goes to NYU, but if his home is meant to be a New York apartment, well, I have no idea where the hell anyone can get an apartment like that in New York (unless you're a billionaire). And I swear to God no NYU dorm ever looks anything like that!
Wednesday – come more quickly!!!!!
RELATED POSTS
Tags: featured, Jung Kyeo-woon, Kim Min-joon, Min Hyo-rin, Romance Town, Sung Yuri