Sunny breaks 2 million tickets in two weeks
Looks like hit-maker Kang Hyung-chul is out to break his own record. Sunny has already sold over 2 million tickets in fifteen days, breaking Speed Scandal's 2 million mark by one day. That film went on to sell 8.3 million tickets in its theatrical run in 2008-9. Is Sunny poised to do the same?
Above is a photo that Min Hyo-rin posted online with a congratulations sign when the news broke, with the message that she wants to do the same for its 3, 4, and 5 million tickets sales. It seems likely that the film will continue on its streak, with great reviews and word of mouth building its momentum, even against Hollywood summer blockbusters.
Sunny is a coming-of-age tale set in 1980, about a ragtag group of girls who rule the school. The story spans thirty years as they meet up again in the present as adults, and reminisce about their unforgettable friendship.
Here's a different trailer, that introduces each of the girls as a familiar type, as in: Does this describe the friend sitting next to you? There's 1) the "Reversal Type: Nami" (Shim Eun-kyung), 2) the "Loyal Type: Choon-hwa" (Kang So-ra), 3) the "Escapes Reality Type: Jang-mi (Kim Min-young), 4) the "Potty Mouth Type: Jin-hee (Park Jin-joo), 5) the "Protection Professor Type: Geum-ok" (Nam Bora), 6) the "4-D Type: Bok-hee" (Kim Bomi), and 7) the "Uljjang Type: Suzy" (Min Hyo-rin).
Dying to see this. RIGHT. NOW.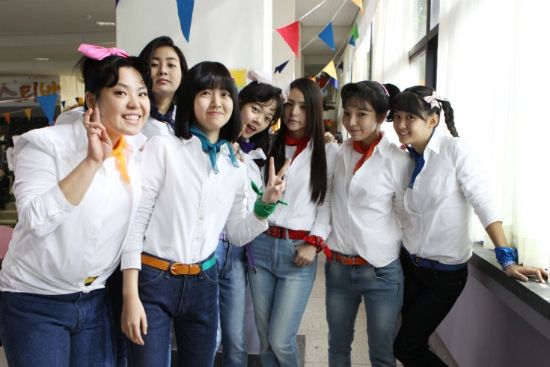 Via NoCut News
RELATED POSTS
Tags: Kang So-ra, Min Hyo-rin, Shim Eun-kyung