Yoon Kye-sang in Phungsan Dog
Fans of Yoon Kye-sang, particularly those in love with his adorably nerdy doctor in current rom-com Best Love, may be interested in seeing a wholly different side to him in his upcoming movie Phungsan Dog. It comes from director Kim Ki-duk, who just won the top prize in Cannes International Film Festival's Un Certain Regard section for his movie Arirang.
He plays a mysterious man who travels from Seoul to Pyongyang, North Korea, delivering messages and packages from displaced North Korean refugees living in the South, or smuggling people from the North. The title of the movie comes from the name of a North Korean cigarette brand, which he smokes exclusively; it's how Yoon's character is referred, since he's unidentifiable by name or birth or any other details.
The movie's plot unfolds when he receives the order to extract the girlfriend (Kim Gyu-ri) of a high-ranking exiled North Korean official out of Pyongyang, all within a 3-hour time frame, leading to unforeseen complications. There's a line in the trailer where the official notes sarcastically upon their return, "You sure have grown attached within three hours."
Interestingly, Yoon Kye-sang doesn't speak a single word in the film — which isn't so surprising, I suppose, given that Kim Ki-duk's riveting 3-Iron was nearly wordless as well, with lead actors Jae Hee and Lee Seung-yeon going nearly silent for its entire running time. Though we don't see much of a dark side in Best Love, Yoon definitely has the ability to be fierce and intense when the occasion calls for it; I can see him commanding the screen without so much as a line of dialogue. (And that kiss! Eep, it's pretty damn hot.)
Phungsan Dog will open on June 23.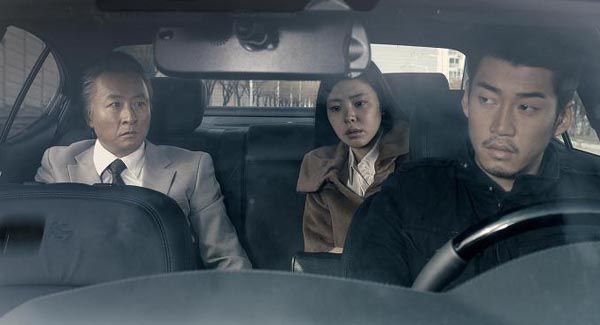 Via Mk.co.kr
RELATED POSTS
Tags: Kim Gyu-ri, Kim Ki-duk, Yoon Kye-sang