1 Night 2 Days: Episode 337
And with that, we conclude the delightfully amusing Actress Special of 1 Night 2 Days, which is a little sad because it totally whets my appetite for more. But on the other hand, the rarity of such an event is a large part of the reason why it's so entertaining when that blue moon swings around and we get such an unexpected burst of awesome. Well, the special may be over, but the memories last forever.

EPISODE 337. Broadcast on June 5, 2011.
javabeans: So Team Su-geun is caught red-handed by Na PD, eating out of a pot of ramen they're not allowed to have. Jung-ah's first words: "Honestly, I didn't even eat a bite." Su-geun laughs because it's a blatant lie, and points out, "Look at the sweat on your nose! You were gorging…" Meanwhile, Seo Woo is busy cramming what she can before the ramen is confiscated.
girlfriday: I love that she has to get that last spoonful in before he takes it away. Must! Have! Ramen!
javabeans: Na PD seems genuinely surprised at how they managed to sneak food, and Su-geun says they stole three packs from the food truck.
girlfriday: I think also Na PD is used to the boys complaining, but always following the rules. That's just the unspoken contract between the PDs and the boys. So when the girls blatantly break the rules, it actually surprises him.
javabeans: Team Ho-dong replays their water immersion, and Ji-woo explains that after seeing the guys dive in, she thought she'd be fine and had planned to come out looking glamorous, tossing her hair back (I'm thinking the Little Mermaid). But the moment she hit the water, it was so cold she lost all thought and froze.
girlfriday: I love that she admits that.
javabeans: It's funnier with Hye-young, because she admits that she'd been unimpressed with Ji-woo's move, thinking she'd look so much cooler… and then ended up flailing.
girlfriday: Heh. She entered as a mermaid and came out as a drenched poodle.
javabeans: Methinks Ho-dong is still harboring some resentment over losing, because even as he's MC'ing the dinner bok-bul-bok game, he introduces Team Su-geun as "The Bad Team."
girlfriday: The thing about Ho-dong that's endearing is that his pettiness is so transparent.
javabeans: SO petty. Sumi manages to somehow take over the proceedings by bringing up her team's efforts to link Ji-woo and Seung-gi, and Su-geun reveals the Tae-woong/Haneul connection. Which totally makes Tae-woong blush, again.
girlfriday: Seriously, what's with the schoolboy blushing? How can someone his age be so… unfamiliar with girls?
javabeans: Sumi proposes a "game" wherein each member picks their ideal actress partner, and if the actress reciprocates, "You have to marry." As in, your two options are to "marry" that actress, or if actress says no, then you're locked up life in prison. (As the game progresses, she revises it to the death penalty. She's a bloodthirsty one.) It's totally "for real" — only forget if they're currently married, and erase their pasts. So, not for real then.
girlfriday: Yeah… what, now? This game makes no sense, and everyone knows it, but they play along because popularity contests are always fun. Sumi also slays them with her Ji-woo/Seung-gi matchmaking: "Seung-gi-ya! Just get engaged before you go to the army!"
javabeans: It's hilarious, because Sumi's basically got the game imagination of a 6-year-old, but with the authority of a 60-year-old. And what purpose does this game have? Absolutely none, except to be totally entertaining. Ho-dong is given three seconds to make his choice — not his ideal woman, but the one he'd want to live with — and he calls out Ji-woo's name. So then it's Ji-woo's turn to answer, and she picks… Lee Su-geun!
girlfriday: Man, she really likes Su-geun. She picked him first that morning too, at the coffee shop.
javabeans: Then it's Haneul's turn, and everyone waits for her to make her choice…and when she picks Ho-dong, Tae-woong actually falls to the ground in mock (?) disappointment. Su-geun points out, "Anybody could tell that was a lie…"
girlfriday: Tae-woong seems so sad…
javabeans: Then it's Tae-woong's turn, and I love that the camera makes it a point to keep Haneul in the two-shot, tracking her reaction. Ji-won suggests he pick Ho-dong, and Sumi pipes up to give her consent: "Men can choose men!"
girlfriday: HELL YES! God, I love her. Bring on the bromance pairs!
javabeans: Sumi picks Jong-min, adding, "Even though I'm shorter than Hyun Young." Aw. (Jong-min was dating Hyun Young for a while, and I always felt sad about their breakup.)
girlfriday: Aw, me too. Their noona-dongseng romance seemed so cute.
javabeans: The dinner at stake consists of dishes everyone loves: kimchi jjigae and samgyupsal (pork belly), which is basically like the Korean equivalent of…pizza and hamburgers? What's different about this round of bok-bul-bok is, rather than playing to win the foods for everyone, the two teams are playing against each other. Meaning, only one team gets kimchi, or samgyupsal, or whatnot. Ooh. Way to spark the competitive spirit.
girlfriday: Also, it occurs to me that one team could end up with side dishes like garlic and chives, while the other wins all the kimchi and pork belly. That'd be sad.
javabeans: First battle is for kimchi.
girlfriday: The Human Zero Game: Everyone sits down, and the opposing team calls out a number (from zero up to the number of people there are). If the playing team stands up to match the exact number that gets called out, they lose. It's the same principle as mook-jji-ppa, in a sense — you have to play anything EXCEPT the number that gets called out.
javabeans: Question: Jung-ah called 5, and only 3 stood. Is it because two of them were half-standing?
girlfriday: If you raise your butt, that's standing.
javabeans: I love how much Team Su-geun celebrates, almost unsportingly happy to have beaten their opponents, singing and huddling while Team Ho-dong blames Jong-min for not standing. Tuna is the next prize, won via telephone-charades. I love this game, because you have the humiliation of charades, mixed with the confusion of telephone. And if the first person gesturing is doing something totally weird or embarrassing, the next person has to replicate it anyway because otherwise the clue gets lost. Which is the case with Su-geun, who pulls the term "dirty dancing." Oh my god.
girlfriday: HAHAHAHA. That is the funniest interpretation of Dirty Dancing ever.
javabeans: Jung-ah can't even begin to replicate that. Or rather, she won't. It's too shameful.
girlfriday: Haneul: "But that's TOO DIRTY." Ha.
javabeans: Seung-gi: "You're my opponent, but I respect you!" And then, Su-geun has to run to the bathroom as a result of all that gyrating. Caption: "The result of such intensely dirty dancing." Brings new meaning? (Ew.)
girlfriday: Everything Su-geun leads to toilet humor. Why do I know so much about this man's gastrointestinal functions?
javabeans: Ramen noodles are the next prize. The game: Each teammate has to provide an answer to the prompt, such as "One-syllabled animal name." Or "three-syllabled food ending in tang." Jung-ah fails that one right away, and I think I'm starting to love her the most. She's so delightfully…immature?
girlfriday: She's hilarious. Birth of a new cho-ding.
javabeans: Time for the multiplication tables. This, by the way, spawns a hysterical freestyle rap between Ji-won and Su-geun. Their rap v.1 is hilarious for its spontaneity, but their v.2 makes me giggle aloud because they're doing double-duty: rapping AND insulting Ho-dong! Su-geun: "Kang Ho-dong! You…can't rap!" Ji-won: "You're just fat!" Su-geun: "That's why you lose!" Okay, maybe it's funnier in Korean because it rhymes and has rhythm.
girlfriday: It's HYSTERICAL in korean. The funny gets lost in translation, but I was dying.
javabeans: I love how Haneul can't contain her glee. She's like, "Ah, so THIS is what it's like" (in real life). All throughout dinner bok-bul-bok, I feel like Team Su-geun is totally bringing the funny, and Team Ho-dong is sorta stuck in reaction mode.
girlfriday: It's pretty much The Su-geun Show.
javabeans: With the help of lovely assistant Ji-won.
girlfriday: He's seriously cracking me up lately. I mean, I've always loved Ji-won, but he's totally upping his game. The final round is rock-paper-scissors for the pork belly, and they send Ji-woo up against Seo Woo. Haneul turns gangster all of a sudden, whispering in Seo Woo's ear, "It's samgyupsal." As in: Get your head in the game, or die.
javabeans: No pressure. Ji-woo ends up winning the rock-scissors-paper, and at least each team ends up with something decent — it's kimchi fried rice on one side, samgyupsal on the other.
girlfriday: Ji-woo points out how stressful these games are, and takes it out on Na PD's pointy finger stick. "I don't like that finger. What's that pink finger about?" Hahaha.
javabeans: In the end, they do sorta bend the rules by sharing the meat with the other team, capping off dinner with Ji-woo's morning watermelon. And then, it's time for the game to determine who sleeps in or out. Every member is responsible for his/her own fate: Everyone crouches, and one by one, they have to count off as each member stands. The problem is, if two people stand at the same time, they're both out. So you have everyone crouching there, trying to decide when it's safe to get up, trying to anticipate everyone else's moves.
girlfriday: This is one of those genius-simple games that I love. It creates tension but is no-frills.
javabeans: Everyone laughs at Jung-ah's old-lady attempt to stand up — it's her disc again — and she says she can't do this game well because of it. But there are no freebies in 1N2D, and Su-geun says, "You'll be happy sleeping outside then…"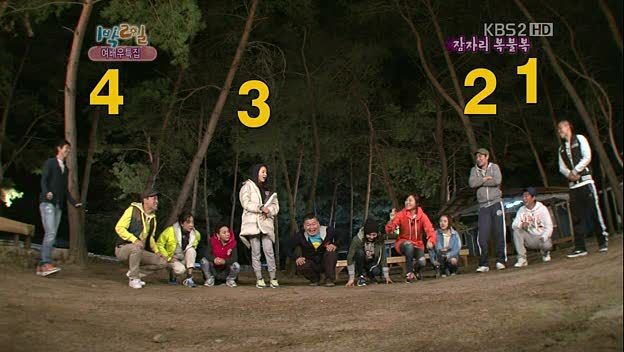 girlfriday: And then, wouldn't you know… they get up at the same time, and both of them have to sleep outside. Heh. Next round, Seung-gi and Ji-woo are out, and then finally Haneul and Seo Woo. Everyone gets ready for bed, and the girls wonder if they should shower or just sleep with their makeup on, knowing that they have to be on camera first thing in the morning. SO not a question ever asked on this show. They decide that showering is out (apparently the majority of them have curly-fro hair, which is probably an exaggeration, but cute nonetheless).
javabeans: Haneul: "If you watch my dramas, whenever it rains, my hair suddenly turns into a perm!"
girlfriday: Heh. Girls are girls, no matter how famous they are for being pretty.
javabeans: Then the beauty regimen begins. It's blowing Haneul's mind, this fixation with watching her wash her face and brush her teeth. It's like when Tae-woong started the show, when there was this fascination with how he took care of himself, in a way that totally isn't there with the other members.
girlfriday: Besides Seung-gi, who's gone through his fair share of man-beauty regimen on this show over the years. It's so cute how Haneul is both fascinated and totally self-conscious. She bursts into laughter every few minutes, wondering if it's okay to show all this on camera. Over and over, "Is this okay?"
javabeans: The four ladies sleeping outside — Jung-ah, Ji-woo, Haneul, Seo Woo — settle into their tent for the night, and here's a case where I think it's actually a good thing — they get to bond, laugh at how absurd this is, and stick it out together. And while Sumi and Hye-young enjoy the warm indoors, it's just not as interesting to watch them sitting there being comfortable. I feel like in the long run they'll totally be friends because of it. It's cute how Jung-ah, as the eldest, announces that the unnis will sleep in the middle where it's warmer (and camera-free), and the young'uns have to sleep on the outside. Hee.
girlfriday: Oh, totally. It's suffering that builds bonds. At least on this show.
javabeans: Outside, before calling it a night, Seung-gi sings the ladies a lullaby, which is supposed to be this cool, swoony gesture…except that girls burst out giggling instead.
girlfriday: HA. Epic Swoon Fail.
javabeans: Seung-gi: "You can't laugh! I was getting into the emotion!"
girlfriday: Pffffft. Inside, the other boys confer over the day's festivities. The main topic of conversation: Who Haneul REALLY meant to pick in the matchmaking game earlier. How much do I love that boys do exactly what girls do, when left alone? To the disbelief of everyone in the room, Ho-dong insists that she could totally be into him.
javabeans: Is it just me, or does everyone expect that she really meant Tae-woong, and is just dancing around the subject?
girlfriday: Yeah, that's what they all expect, although Tae-woong does support the theory that women do find Ho-dong sexy. "My noona thinks you're sexy." What the…?
javabeans: Hilariously, nobody believes Tae-woong until he pulls out the Uhm Jung-hwa name, and then it's like, "I guess it's true…but HOW in the hell is that true?!"
girlfriday: I love that no matter how ridiculous it seems, Ho-dong is convinced that Haneul could have chosen him. It's like his childish jealousy over women loving Seung-gi earlier that day.
javabeans: Ji-won: "But she didn't say anything about you, THE WHOLE TIME we were coming here." And then Jong-min bursts his bubble with an idea that carries some weight: That Haneul used Ho-dong's name to cast off suspicion from her real answer. Of course, he totally ruins that moment of insight by suggesting that the guy for whom she harbored secret interest is himself. HAHA.
girlfriday: OMG, these guys crack me up.
javabeans: The guilty-scared looks on their faces when Haneul suddenly appears at the door makes me die laughing. She actually happens to be here by coincidence, but couldn't have picked more incriminating timing, and they're all panicking that she overheard.
girlfriday: The timing is SO PERFECT. Now they're all of a sudden squirming, two seconds after all that ego-boosting male posturing.
javabeans: "She was totally checking me out." "No, it was ME!" "Omg its her hidehidehide!" What's awesome is that they invite her in and ask her about it directly, and Ho-dong can't wait to ask why she picked him, all ready to puff up with his newfound sexy pride. But she answers plainly that she said his name because she felt weird answering honestly.
girlfriday: It's a one-swing KO. They die laughing at Ho-dong's expense, which is warranted, because seriously. Dude. Seriously.
javabeans: This is so junior high school, I'm giggling.
girlfriday: It's like passing her a note: "Who do you like? Check one…"
javabeans: So then it's Tae-woong's turn to suggest they had a little something brewing on the trip over, although he can't manage it without reddening again. Ho-dong, still smarting, says with "concern" that Tae-woong should really be focusing on his entertainment career right now, not his love life.
girlfriday: Heh. Buuuuuurn. And then he asks Haneul what she thought about Su-geun (if he made things fun for their team), and she waves her finger, "He was the least fun of all!"
javabeans: She does admit Tae-woong was the most fun. Then it's time for them to get to the crux of it all: Which guy does she find most attractive? "For realsies!" (They are such babies.) She starts to consider it seriously — you can tell because she gets all embarrassed — and says there are two she has in mind, but they insist she can only pick one name. And then they all sit up in anticipation, not even trying to hide their interest, like a dog waiting for a treat.
girlfriday: It's so juvenile. And SO cute. And then… after an endless build-up… she picks… EUN JI-WON!
javabeans: HEE! I love that it's the one guy who wasn't posturing, who totally didn't expect it. The guys are flummoxed, most of all Ji-won himself. "Who, me?"
girlfriday: Omg, I'm squeeing right now.
javabeans: Haneul runs away immediately, and then explains to the cameras that she was being honest, although yes, Tae-woong was her other choice. Alas, she saw the recent episode where he was texting Su Ae, and wags her finger at the camera, "So that wouldn't do." AHAHAHAH. Does petard-hoisting apply in this scenario? Foiled by his own popularity? (Although, all this conscious avoiding of attempts to link her to Tae-woong make my suspicious mind whirl… Is she trying too hard?)
girlfriday: Haha. Actually I think it's pretty honest (and hilarious). Besides, it was Tae-woong who was blushing all day long because of her, while she was splitting her sides laughing at his dorkdom.
girlfriday: The morning mission: each member gets paired with an actress, and they have to wake up and hold hands. Once they start, they can't let go until the game is over. They search for flags, and the first three teams who find the flags win breakfast, made by Sumi herself.
javabeans: Am I the only one who saw that Ji-won and Haneul had been paired and thought, "Oh, they're gonna crush it"?
girlfriday: Totally. Love that the PDs went with her confession from the night before, and paired them up. Also, Tae-woong and Ji-woo hold hands to romantic music, which is overkill, but I have to admit, they look pretty together. I love the way that Ji-won is just such a normal guy, an oppa. The way he calls her "Haneul-ah" is just so normal, it's weird. If that makes sense.
javabeans: How much does it tickle my fancy that all the flags were spotted by the ladies? Sumi sees the flag in the water, Hye-young sees the one posted outside (which ends up counting even though it was just supposed to be a spare), Ji-woo sees the one inside, and Seo Woo finds the one in the tree…although Cheater Duo Haneul and Ji-won swoop in, and meddle enough to cause the other team to drop hands for a second.
girlfriday: And with that team out of the way, Ji-won picks Haneul up by the shoulders and she plucks the flag from the tree. Sumi makes breakfast for the winners, and the two maknaes, Seung-gi and Seo Woo, do their jobs properly and help out, like well-raised children. God, sometimes it sucks to be the maknae. I'm having flashbacks to family gatherings. It particularly sucks to be in Seo Woo's position — the youngest girl of the bunch. It means she has to do everything. Sigh. I'm having sympathy pangs for some reason, watching her haul ass because of birth order. It's just the Korean way.
javabeans: As she's cleaning, one crew member points out what he thinks is a clever reference: "Look, it's The Housemaid!" Seo Woo laughs: "I was the owner's wife in that! You obviously haven't seen it!"
girlfriday: Hahaha. That was cute. At breakfast, Sumi convinces Na PD to at least let all the actresses eat, so he relents. They share a happy meal with song and dance, and then do the closing and say goodbye. It's adorable how nobody wants to leave. It's just like the last day of summer camp.
javabeans: I like that they had a little epilogue after everyone had separated, and after the first episode had aired. The crew catches up to each actress in her daily life (Ji-woo doing a CF in Japan, Sumi doing a musical, Haneul at a press conference for her movie, and so on) and gives her a photo taken on the last day. It does seem like they've formed some friendships that may carry through, with Ji-woo and Haneul going out for brunch together and everyone seeming game to do it again, were they asked to.
girlfriday: It's great to show the actresses back in their element, the way we're so used to seeing them — all glammed up for the cameras. But it intentionally feels different, now that we've seen them fight for a bite of food and stuff their faces and cheat their way around the system for a packet of ramen. Sumi confesses that she thought the boys would eat off-camera on the show, and was surprised to find how strictly they stick to the rules. "Because it's honest, I like 1 Night 2 Days. They attack those games so frightfully because they're hungry." So true. 'Tis the not-so-secret secret of the show.
RELATED POSTS
Tags: 1N2D, Choi Ji-woo, Eun Ji-won, featured, Kang Ho-dong, Kim Haneul, Kim Jong-min, Kim Sumi, Lee Hye-young (2), Lee Seung-gi, Lee Su-geun, Seo Woo, Uhm Tae-woong, Yeom Jung-ah