Best Love: Episode 10
It's just the way I like it: Superheroes Over Flowers, as the boys step up their game and leave us all spun around in the process. Will Iron Man get a new heart? Will Spiderman sell his friend up the river for pastries? Will this drama ever stop being awesome?
Best Love hit a series ratings high with today's episode at 18.4%, followed by City Hunter 12.8% and Romance Town 10.3%.

EPISODE 10 RECAP
Ae-jung takes Pil-joo's hand and the fireworks go off, to the great dismay of Se-ri and Jin, who both watch with long faces. Jin clutches his heart in pain and Se-ri can't hide her disappointment, though she has to continue her MC duties for the happy couple.
Ae-jung quietly tells Pil-joo that it must be awkward to continue holding her hand like this, and tells him to try and pretend like no one else is here. Pil-joo: "I already am. Because that's how I made up my mind from the beginning. I told you that this was real for me. What I'm holding now is Gu Ae-jung's heart, who came to me." Oh, swoon. How can a guy be this perfect? It's downright unnatural.
She tells him that she's sorry for making him jump into such a crazy mess, and he tells her, "Now that I've jumped in and grabbed hold, I'm not going to let go easily."
The shoot ends and everyone starts packing it up, but Pil-joo and Ae-jung stand off to the side, still holding hands. Ae-jung tells him that the shoot's done, so he can let go now, so he does… only to switch to interlocking fingers as he holds on tighter. Omo!
Pil-joo: "I don't think it's a shoot. I think it's for real. So I'm just going to keep holding." Eeeeeeeeeee! He says it with this totally dry look, and then breaks into his trademark dorky smile. Seriously, I think I love him.
Ae-hwan purposely ditches her at the shoot so that she'll have to get a ride from Pil-joo, and calls to lie that the whole family is out, so she can take her precious time getting home. She's embarrassed by the blatant lie, but Pil-joo feels bolstered by the Gu family being P-line (as in, Pil-joo Line, aka Team Pil-joo).
He tells her that she ought to get onboard too, and she asks what the benefits of P-line are. He names: "Safety, comfort, and knowing you won't be shaken." Oh, honey. I already want to give you a consolation hug. Those things are all true, but damn are they unsexy.
Jin sits outside Ae-jung's house, wondering what he could possibly say, and cursing at his heart rate monitor (as if it's the inanimate object's fault for not correctly deducing human emotion, heh).
Hyung-kyu finds him there, having run out of Jenny's, and when Jin tells him that he's hurting, Ding Dong invites him in. It just occurred to me that this grown man's only friend is Ding Dong. I would say that's sad, except they seem to be on par, maturity-wise, so… match made in heaven?
Ae-jung comes home to find Jin sitting in her living room, sipping tea out of a Pororo mug. That visual is just so wrong. He totally overplays the heart trouble to gain sympathy, which doesn't work, so then Hyung-kyu plays the "He's MY guest" angle. Ae-jung treats him like a playdate then, and tells Hyung-kyu that his friend can play till his bedtime.
Hyung-kyu asks why Jin's always getting scolded by his aunt, and he explains that he's wronged her, but doesn't know how to apologize. Ding Dong thinks it's easy—you just say, "I was wrong. I'm sorry." But Jin says that what's easy for a seven-year old to say is not so easy for a thirty-seven-year old.
That's when Ding Dong passes over his notebook, which has a box at the bottom of the page: "The Things I Did Wrong Today." Jin scoffs, "You want me to write an apology in a children's notebook? … … … Ding Dong, you're a genius!" Heh.
He makes a bunch of false starts, clearly very new at this apology thing. Ae-jung makes kimbap for Hyung-kyu's class picnic tomorrow, and tells him to pick out what to wear. He shows up in his Spiderman costume, and Jin can't contain his laughter, making Hyung-kyu self-conscious.
Ae-jung scolds him, so he turns to Hyung-kyu and says as Dokko Jin the Fashionista, that confidence makes the outfit. He tells him that he always wanted to be Iron Man when he was little (because of the man-made heart), which is Totally. Adorable.
Jin keeps trying to stall Hyung-kyu from falling asleep because he hasn't found his window of opportunity yet, but he's run out of time. As a last ditch effort, he tells Ae-jung that he never got to go on picnics when he was a kid, and asks her to go on a picnic with him tomorrow. "Pleeeee-aaaaaase?"
Ae-jung: "No. Dream on. I will never go on a picnic with you, because between us, there will always be rain." Jin: "Then I'll wait, until the rain clears. Then there'll be a rainbow. THIS BIG." Hahaha.
The next morning, it actually does rain, and Ae-jung comforts a totally deflated Hyung-kyu. The doorbell rings, and she grumbles thinking that it's Jin, and opens the door at the height of her annoyance.
Only it's Pil-joo, here with the digital camera, as a gift to thank her for showing up last night. Hyung-kyu asks if Pil-joo liked superheroes when he was a kid, and he says that he liked detective comics more. He sees the kimbap that Ae-jung made for his picnic, and offers him a trade—anything he wants in exchange for his lunchbox.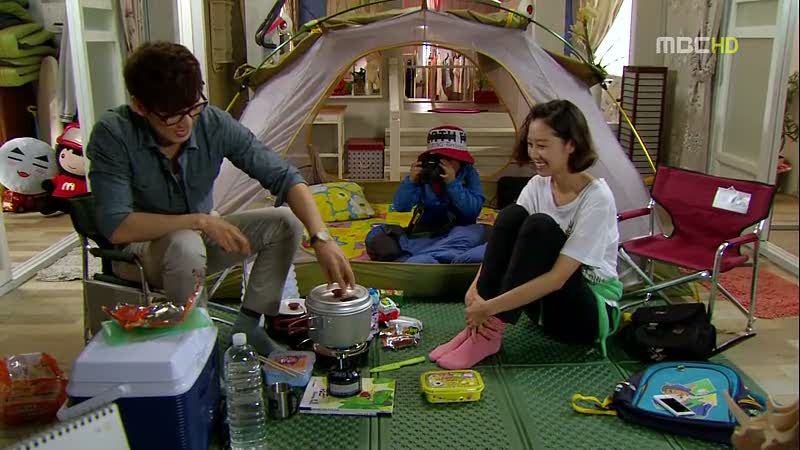 Pil-joo takes him to the doughnut shop, and tells him to get whatever he wants. Hyung-kyu hesitates, and then blurts, "Iron Man, I'm sorry!" Pwahahaha! I love that this kid is old enough to know that he's selling his friend out for a bucket of doughnuts. Love it.
And then? Pil-joo pitches a tent in the middle of their living room, and they have a picnic anyway, which is just the sweetest thing on earth. I love that both men know that getting in good with Hyung-kyu is the way to Ae-jung's heart, and that they're both so blatant about it.
Jin calls, his number saved today as "Proper [or Perfectly Mannered]," and he happily announces that he's prepared something for Hyung-kyu's picnic because of the rain. He's outside her house, with an RV parked behind him. Aw. It's just kind of perfect that Pil-joo shows up with low-rent tent and Jin shows up with flashy RV.
She tells him that there's someone already here, and he heartbreakingly guesses that it's Pil-joo. She mentions what he told her last night—that people always forgave him when he behaved badly because he was sick, and adds, "But even if you're sick enough to die, it won't matter to me." Oooof. He just sits outside her house in the rain like that, still stinging from her words.
The proposal episode of Couple Making airs, and Jin watches it for a while, finally turning it off angrily. He clutches his heart in pain, deducing that with CG and background music, it's extra heartbreaking. HA.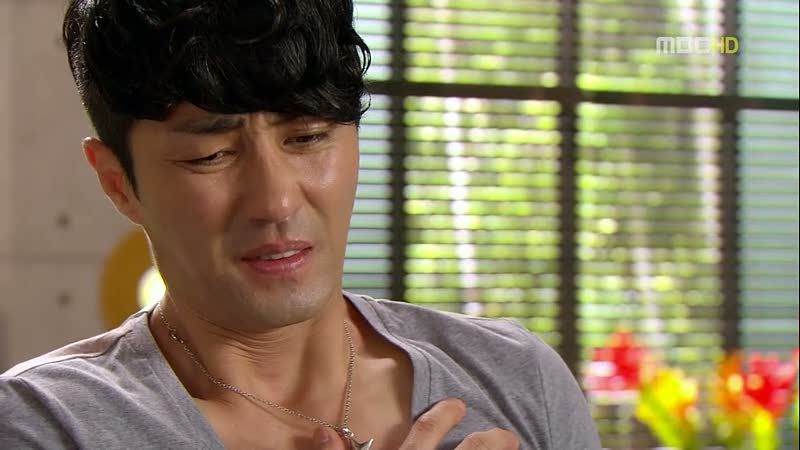 I'm beginning to suspect that just as he had confused rapid heartbeat as causing love, he's confusing real heart pain for heartbreak. Stop clutching your heart. It's worrisome!
The new segment of Couple Making is a big hit, and Se-ri whines at her MC role now reduced to useless opening/closing and commentary on the happy couple, which is secondary to the real rub—losing the man she wants to Ae-jung. She whines that it's just like their KBSN days, playing fourth fiddle and losing everything to Ae-jung.
Pil-joo finds her and asks why she said that she liked him the other night, and she gets defensive, saying that if he thinks she was joking, he can take it however he pleases. He tells her that she must've been joking, to say something like that, at a time like that.
She says that it's because she doesn't like Ae-jung, which is neither true nor false. That's part of it, sure, but I do think that she really likes him, on his own merits, outside of the fact that she always wants what Ae-jung has, or doesn't want her to have him.
He tells her that she's a bad person, almost scolding her like a little girl. He obtusely just tells her not to play pranks like that anymore. Se-ri cries in the bathroom, amazed at Pil-joo's complete obliviousness toward her feelings.
She overhears a girl group member (the one managed by her old KBSN manager) sneaking in a phone call to her boyfriend in the next stall over, and muses that idol stars are still dating secretly, same as ever. She flashes back to her idol days, when she was busy crushing on an idol boy (cameo by Brian Joo).
Ae-jung had helped her try to sneak him a secret love note, but when they were almost caught by their manager, Ae-jung had run over and chewed it up, to cover for her. She got an ink-stained tongue in the process, and they had a good laugh over it.
She thinks of it fondly now, wondering if she had offered to help Ae-jung date Dokko Jin secretly like the old days, then she might have had a chance with Pil-joo. She finds Manager Jang scolding the idol star as expected, and he complains to her that managing idol stars' love lives is the hardest part of his job.
He compliments her for never giving him that kind of trouble, and she just smoothly says that she never got CAUGHT is all. Heh. He says that Mina was the real trouble back then, 'cause she was dating the hottest idol boy of the day, and their agency was basically at war with his agency, to manage the situation.
He recalls that Ae-jung played a big part in all that, and Se-ri wonders if Ae-jung helped Mina date secretly too. Hm. Interesting.
Pil-joo's mom decides to visit Ae-jung's house to see how she lives for herself, and meets her family, discovering that Ae-jung basically supports her father, brother, and nephew. Mother is so not pleased.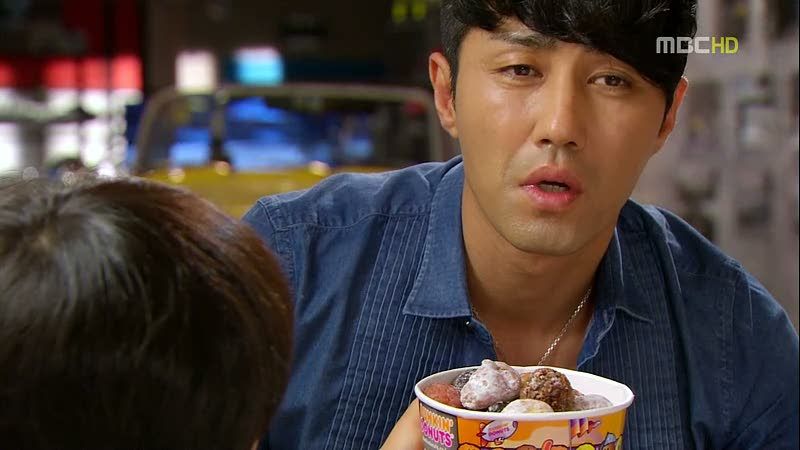 Jin's agent tells him that Jerry Heimer (Pfft. As in Bruckheimer?) is doing a new superhero movie and wants to cast him. Looks like he might be going to Hollywood after all. Jae-seok tells Ae-jung and Jenny the news, that he'll be meeting the director and making his decision soon. Ae-jung muses to herself, "He'll really get to be like Iron Man."
Hyung-kyu goes over to offer Jin some doughnuts, apologizing for accepting them in a moment of weakness. Ha. Jin sweetly tells him that he's only seven, and therefore needn't feel such guilt over snack foods.
He tells Ding Dong to eat up, and then exercise, and then wonders how much he'll grow while he's away. Hyung-kyu asks if he's going somewhere, and he says, "I'm going to be a superhero."
Ae-jung cleans up Hyung-kyu's room, and discovers Jin's apology, written under "The Things I Did Wrong Today":
Saying that I made the mistake of thinking that my heart beating caused me to like you… was a mistake. I'm sorry. –Dokko Jin ♥
She sighs, and begs him (aloud, to herself) to leave her alone and go to Hollywood and protect the earth. Aw.
Jin picks up his potato plant, tears welling up in his eyes. "If I leave you here like this, I suppose you'll naturally wither and die…"
Jae-seok comes to pick him up the next day for his meeting with Jerry Heimer, except his heart starts racing and he clutches it in pain. "Jae-seok… Hospital…" Finally! Gah, does it take a full-on heart attack for you to go see a doctor?
Jae-seok rushes him to the hospital in a panic, Jin clutching his heart in pain the whole way. The doctor examines him and the verdict is in: "You're broken." Why does everyone speak of him like he's the Dokko-Bot?
The doc tells him that he's rejecting the pacemaker, and Jin asks if he's back to square one health-wise, like he was ten years ago. The doc confirms that he is, and that it's a good thing he's been monitoring his heart rate as closely as he's been lately (thanks to the KBSN song)—otherwise he could've gotten much worse and just collapsed out of nowhere.
He needs surgery, and soon. Jin asks what his chance of survival is. Doc says 50-50. At home, the potato plant withers, as if magically linked to his heart. Jin sits in a daze, musing, "My heart really WAS breaking." He struggles to hold back his tears.
People start recognizing him in the hospital lobby, and as he hears their whispers, "It's Dokko Jin!" He takes a deep breath and puts his star persona back on, which sort of breaks my heart. He puts his sunglasses on like armor, and greets the growing crowd with smiles and signs autographs.
Ae-jung goes to Pil-joo's house to shoot a housewarming date, and as they cook dinner together, she encounters a potato with a frown. Pil-joo asks if she likes them, and she says she "Really really really doesn't," so he puts it aside. Aw, poor potato.
Jin accepts the movie deal, and tells his agent that he'll go to Hollywood after the MBS Daesangs, where he's up for a Best Actor award. He declares, "I will remain at the height of coolness." Implication being that he'd like to die leaving behind the best version of himself. Gah, now I'M broken!
His agent then meets with the Couple Making PDs, who tell her that they managed to get Ae-jung onto the Daesangs as a presenter, to bolster their show and improve her image. They ask for the agency's help in glamming her up for the event.
They also add that they'd like her to switch cell phones to a new brand so that she and Pil-joo have matching couple phones, and President Moon notes that it's the same one that Dokko does the CF for, while pointing out its features, and the meta-on-meta product placement in this show just about kills me. It's smart to hang a lantern on it because it's so blatant (and best to acknowledge that you're selling your airtime rather than pretending that we're dumb and don't notice, like most shows) but damn, it's getting ridiculous.
It's time to pick out awards show couture, and Ae-jung runs into Jin, literally gobsmacked by his be-tuxed hotness. He chases after her and notes that she cleans up nicely too, though gotta say, nothing beats Cha Seung-won in a tux. Siiiigh.
He tells her that he heard she was presenting at the awards, and asks if it isn't the Best Actor category. Ae-jung: "No, as if. Best Child Actor. You're not… going to win in that category, are you?" HA.
She worries about tripping on the red carpet, and he takes her by the shoulders and raises her chin. Jin: "You walk the red carpet by confidence." Aw. He tells her to think of herself as the best in all the world as she walks.
She says that she doesn't look cheap today, so she'll have to pretend to be all that, and he looks at her sincerely, "You didn't when you were wearing the frog either. Of all the frogs I've ever seen, you were the most luxurious. Keep running hard."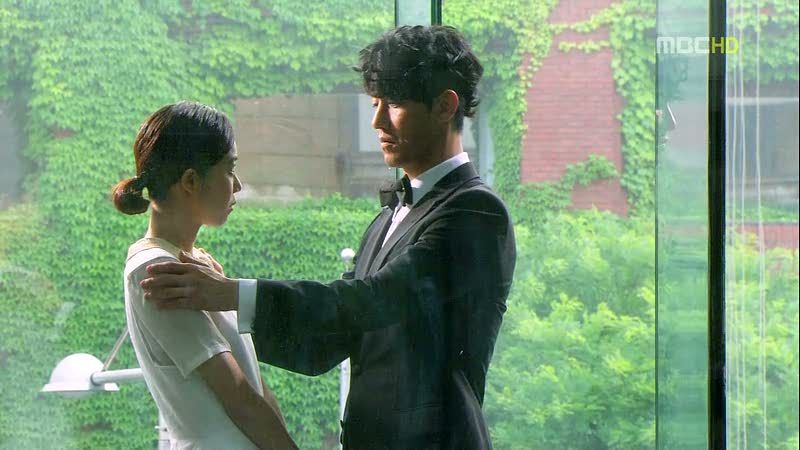 He stops to ask how he looks, since he's got to look the best, today of all days. She looks him up and down and says that he looks handsome, adding that even when he was petty and clingy Butthole Jin, he was still handsome.
Jin: "Remember me that way."
Waaaaah. No dying! No remembering, no leaving, and no dying!
It's awards show time, and Jin walks the red carpet with flair. He joins Se-ri in her dressing room and tells her that he'll be announcing his Hollywood movie as he accepts his award.
Ae-jung arrives and Pil-joo stops in to cheer her on and calm down her nerves. She and Jenny run into Manager Jang with his idol girls, and when she offers up a nice greeting for them to perform well today, he sneers that she's telling the girl who got booted off of Couple Making because of her, to do well.
He belittles her for overstepping, and says that she's not at the level where she can do anything and be forgiven for it. Ae-jung takes Jin's advice to heart, and says, "Today, I won't hang my head for no reason," and walks away, head held high.
But Manager Jang is a petty rat bastard, so he decides that he's going to get his revenge. He purposely spills his coffee all over her white dress, and chides her for being dirty, and playing dress-up.
A PD scrambles into Se-ri's dressing room to ask her to fill in and present the Child Actor award, and Jin perks up at that, realizing that something's wrong with Ae-jung. He sees Jenny arguing with Manager Jang, and then finds Ae-jung sitting at the bottom of the stairs, alone.
He looks at her tenderly and sees that her arm is burnt from the spill. She just puts up a brave front, saying that dressing up like this doesn't suit her, and that she should just stick to frogs. That just kills me even more, when she's all stiff-upper-lippy that way.
The awards show gets underway (with footage from the actual Korea Film Awards, with Song Yoon-ah as MC, and the likes of Won Bin, Kim Tae-hee, and Song Ye-jin giving unwitting cameos).
Jin walks out and discovers Manager Jang laughing about his evil petty victory over the phone, and follows him into the stairwell with a determined look. Once no one else is around, he socks him with a punch, and Manager Jang goes down. Damn, that's satisfying.
Ae-jung comes home and Pil-joo tends to her wound, wrapping it in a bandage. They come out to see breaking news, that Dokko Jin did not attend the awards, and now speculation over bad blood between him and the director of Fighter is blowing up.
Jae-seok gets bombarded at the agency, and President Moon tells him to fend them off, while she takes care of the real problem…
She's at the hospital, where Manager Jang is being treated in the emergency room. Holy crap. He beat the bloody hell out of him. Oh, dear. This is bad. Bad, bad, bad. I thought it was just one punch, but it looks like he went to town in a rage, and we all know how Manager Jang is going to twist this whole thing around. Eek!
Jin is holed up at home but unreachable, so the agency asks Ae-hwan to sneak him out while he can. He tells Ae-jung that Jin hit somebody, and worries if he'll listen to him, if he goes over there. Ae-jung offers to go instead, because there's something she needs to confirm.
She heads over to his house, and finds the lock code the same. He comes out, weary but looking perfectly fine (looks like he did all the hitting, which is kind of worse, if you think about how the press is going to spin this).
She asks what happened, but he tells her that he has no interest in having a press conference with her, and says he's tired. She chastises him for messing up, reminding him that he's supposed to go to Hollywood and fulfill his lifelong dream to be a superhero and protect the earth.
Jin: I'm not going. Instead of the earth, which spins fine without my protection, the thing I have to protect, while looking totally cool and awesome, is right here.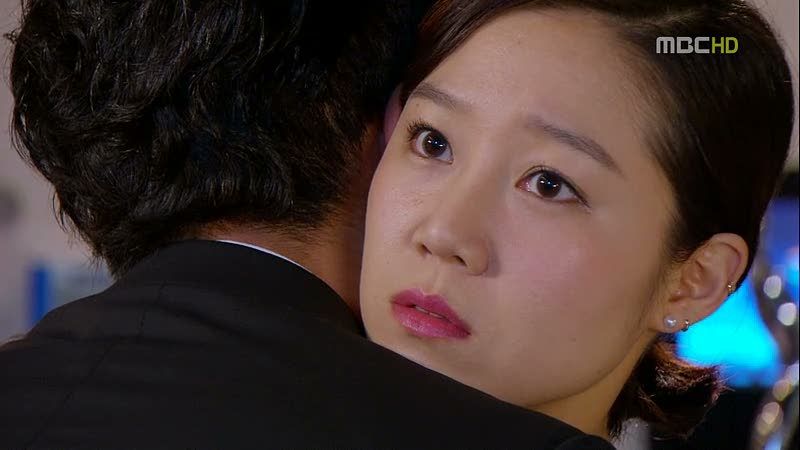 SPLAT. *jumps ship, hangs head for being so wishy-washy.*
He takes a step closer to her and adds, "I was so severely awesome today, that I'm tired." Ha.
He leans into her for a hug, almost propping up his tired body on hers. She asks what he's doing, and he holds on, "Stay still. So I can keep being awesome." HA. He sighs with his chin resting on her shoulder, "I need strength. Rechaaaaarge."

COMMENTS
Oh, I ADORE the superhero metaphor for this episode. It's so fitting, not only in the hero-protects-the-heroine way, but because the grown men in this drama really are like seven-year old boys, playing Spidey and Iron Man, thinking that the world spins because of them.
This is a heroine who doesn't need protecting, but I love what it means for him to TRY. He's finally putting something on the line, not to win her, but for her benefit alone.
I like that something's finally putting Jin's stardom in jeopardy because I actually want to see him lose something to love her. Otherwise it's too easy and it's just a Cinderella tale with nothing at stake for him. Now he's actively putting his career on the line to be by her side, not just losing popularity, but in a real, all-in, rock-bottom kind of way.
In fiercely protecting her pride, he's about to lose everything that makes him… Dokko Jin, and that, to him is everything. I love watching a character grow up in the course of a drama, and though Jin's got miles to go before he sheds the bedspread cape and superhero underoos, he's definitely winning my heart in the process.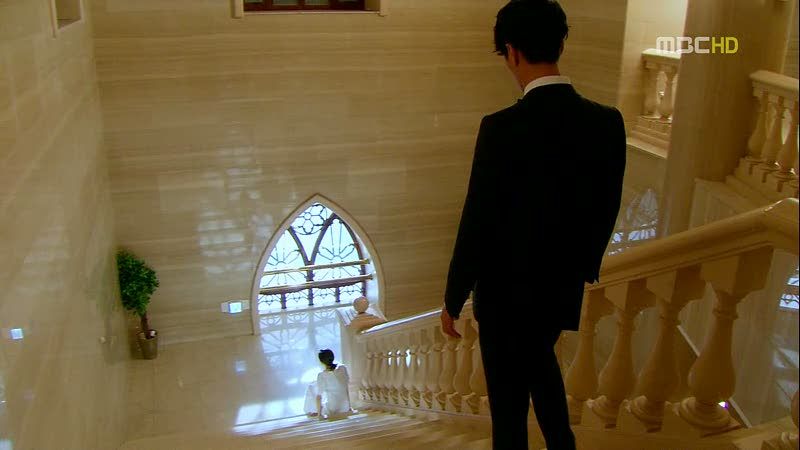 RELATED POSTS
Tags: Best Love, Cha Seung-won, featured, Gong Hyo-jin, Yoo Inna, Yoon Kye-sang