Best Love: Episode 13
I'm sort of in love with how the metaphors have blossomed (ooh, metaphor!) by this point. Rather than just sprouting up in haphazard patterns, they've actually managed to work their way together and grown into a whole new thing, proving that the sum is indeed greater than the sum of its parts.
SONG OF THE DAY
Baek Ji-young – "아이캔`t 드링크" (I Can't Drink) [ Download ]
Audio clip: Adobe Flash Player (version 9 or above) is required to play this audio clip. Download the latest version here. You also need to have JavaScript enabled in your browser.

EPISODE 13 RECAP
Ae-jung is about to go to Jin, and potentially straight into the showdown currently in progress between the two men. (Pil-joo asks if Jin might die; Jin warns him not to say a word to Ae-jung.) However, she finds Mina in front of her house, who asks her, "Please save me."
Flashback: Mina had met with Manager Jang to keep him from making good on his veiled threat to spill the beans to her husband. He'd asked for the reason behind KBSN's breakup, because if not for Ae-jung's insistence, they could have recovered and continued. What's Ae-jung's secret? Was she in a sponsor relationship?
Mina had kept up the cool, detached act and said she's forgotten everything from her former life, but Manager Jang had rattled her nerves by asking, "Then was the problem with you?" He'd warned that even with a new life and name, one story could bring her back into the spotlight.
Mina asks Ae-jung to keep her secret, apologizing for hiding behind her again but afraid of ruining her current happiness. Ae-jung is torn, telling her "I have something I want to protect too," and sighs that she wishes she were Superwoman so she could protect everybody.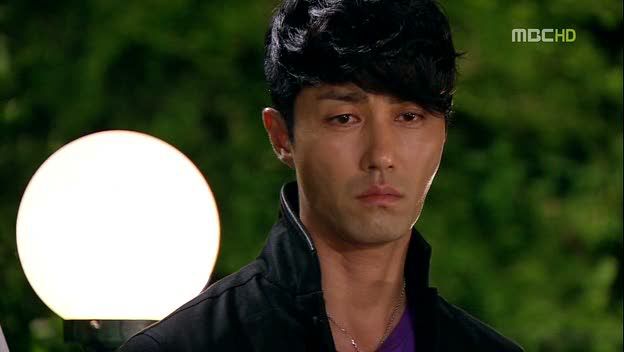 Jin comes by to find Ae-jung feeling down after that conversation. He requests that she sing her old song for him, but she says she's done singing that one, because she's putting those days behind her. Her new song has come out, though, and they sit there cutely listening to it.
They note that the demo singer's pretty awesome (Baek Ji-young, singing "I Can't Drink," posted above), even better than Ae-jung. She teases she was never known for her vocals anyway; it was her looks and body: "Don't you like me because I'm pretty?" He joke-grumps back at her, "Forget it, I'd rather not see you."
By which he really means, I'd rather by lying down with you on top of me, and no that is not a euphemism but quite literally what happens.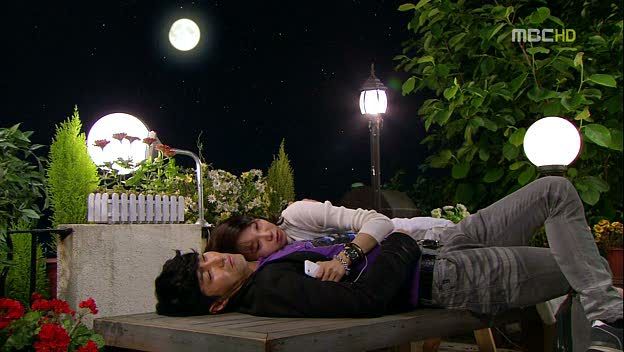 She says lightly that if he's so broken, shouldn't his broken mouth follow suit by telling her she's pretty? (Meaning, as long as you're broken, you may as well stay out of character and shoot me a little praise.) But he lies there with tears in his eyes, agreeing, "Yes, I'm broken."
He thinks back to his conversation with Pil-joo, who had told him the kind thing to do for Ae-jung is to cut her loose, so she's hurt less and can recover quicker. I'm mightily relieved that it's Mr. Second Lead who says this, because this has been a favored tactic in a few early Hong sisters dramas — I'll leave you now to spare you greater hurt later — and while the cliche has been effective in its day, I'm happy to see it fade away.
Jin had countered by telling Pil-joo that because he's a star, he can't disappear quietly, nor will he be easily forgotten even if he dies: "Through Dokko Jin's image, I'll remain in the public eye and continue to hurt her." I do love that this is spoken without ego because it's totally true — it's the fate of the star whose image surpasses the reach of his physical life.
Now, Jin complies with her joking request, and tells her, "Gu Ae-jung, my eyes are broken so you appear as the most beautiful woman to me, and my mouth is broken so these words just spill out. I adore you to death!"
Ae-jung loves it, and says contentedly that he must've spilled some oil, and "Because you're so greasy, I'm about to slip." (The word for greasy also means cheesy, as in dialogue.) He asks, "Since I'm already greasy, should we spark a fire?" She considers it: "Should we play with fire and set off some fireworks?" Ahhh, more metaphor mating! And it's about actual mating! My inner word nerd is ecstatic.
Even more than the metaphor play, I love the double entendres built into the conversation: Ae-jung decides against playing with fire, because she can't "take responsibility" for him through the end (taking responsibility is used as a euphemism for lots of things, and in this case suggests a man marrying a woman after sleeping with her, rather than leaving her after sex). So rather than loving and leaving, she decides, "I have to protect you."
Thinking of the other meaning (heh, boys!), Jin says, "You don't exactly have to protect me…" But she promises, "I'm definitely going to protect you." And neither of them is immune to the serious turn of the moment, tears springing to both their eyes.
Ae-jung tells him that once he's "fixed" and therefore zooms past her, she won't grab onto him — so if one day she wakes up and comes to her senses, don't grab onto her, either. She asks for a pinky-swear, and he obliges.
It's so sadly sweet that they're both talking about the same thing, and yet completely different things: He's thinking of his potential death, and she's thinking of him leaving her, and both are just torn up about it but putting on a brave front. Aggggh, this kills me.
As Pil-joo drives home, he thinks of his conversation with Jin, who had declared that pulling back to spare Ae-jung pain isn't possible — but what he can do "Is to give her more love to help the recovery. That's why I have to stick by her side for every minute, every second that I can, and to see her just one more minute, one more second. This may be the last of my time — just leave it be."
When Se-ri apologizes, Pil-joo says she was right (that he wasn't over Ae-jung). He feels like he's just come back from a strange land, and asks if Se-ri is familiar with the manhwa Paul's Miraculous Adventure (whose Korean title includes the words "strange land").
He explains the story of Paul, who finds a portal to a land of wonders and meets its evil ruler, who kidnaps his friend Nina. He tries to rescue her, but is unsuccessful. Se-ri: "All manhwas are like that. If he saves Nina, the story's over." But Pil-joo says no, because there was one time that he succeeded in saving her — only to have Nina say that she felt sorry for the ruler, and she returned to his land.
Pil-joo wonders, "Let's say Paul were to go argue with the ruler to ask him to let go of Nina, but was told that Nina was happy here so he shouldn't interfere. Then Paul wouldn't return to the land of wonders again to save her, would he? And if he were to keep going back to save her, Paul would be…a really strange kid, wouldn't he?"
Se-ri knows he's talking about himself, and asks who she is in this story. He thinks, and names the character who'd initially been with the ruler, who ends up friends with Paul. She likes that.
Ae-jung is surprised to hear that Pil-joo has requested an end to the Couple Making program, and admits to the producers that Pil-joo had made up an excuse to spare her, but that she was who ended things with him.
Manager Jang informs Se-ri that Mina who wouldn't say a thing, but figures that a good shake-up will get her to open her mouth. Se-ri asks uneasily if Manager Jang means to mess with her as well, and is told that if Mina reveals the truth about why Ae-jung slapped her, Se-ri's bound for trouble, too. He insinuates that Se-ri can stay on his good side if she does one thing for him: Say that Ae-jung was the cause of her breakup with Jin.
Se-ri tries to find Mina, but she has skipped out on her latest appointment and changed her phone number. At the clinic, she runs into Pil-joo's mother, turning all sweetness and light when she realizes who this is, and this gives her an idea.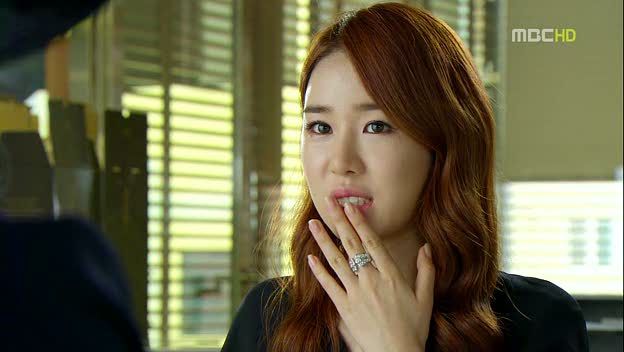 Se-ri sighs about the demise of Pil-joo's show, saying with mock regret that the producers were partially to blame, because Ae-jung already had another man — and since he's also a celebrity, the relationship was kept secret. She feigns innocence and does the whole "Oops, I shared too much. You'll keep this a secret, won't you?" trick designed to get the news spread as far and wide as possible.
All things considered, it's a shrewd move on Se-ri's part, because she's managed to oblige Manager Jang's demand, yet kept her name out of it, to keep Pil-joo from getting angry with her.
As it is, Mom storms into the producers' office to berate them for putting Ae-jung on the show when she was already dating someone. A reporter overhears (not too hard, with Mom's shrill voice), and approaches for an interview, smelling a scoop.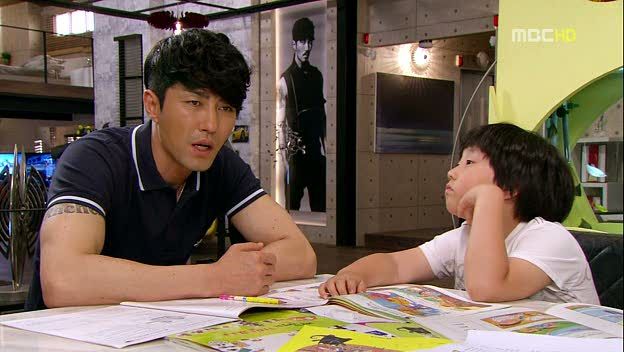 Jin helps Hyung-kyu with his homework, to clear his schedule for a family picnic — where his role will be "fire extinguisher." Haha. If you don't trust yourself not to burst into flames, I guess it's wise to keep a damper nearby. He instructs Hyung-kyu in a signal that means he is to leave him alone with Ae-jung, which is a combination of hand gesture and verbal cue.
The two parties arrive separately at a rest stop, Jin with his manager and Ae-jung with her nephew. The couple talks on the phone while picking up lunch, and they send Ding-Dong back and forth as errand boy. Ha. That's not conspicuous AT ALL, the boy scuttling back and forth between the tables of two famous celebrities.
(I know it's not intentional since the song playing is a frequent player in the background music rotation, but I do love that it sings "Hold my hand" as they look at each other sweetly, totally unable to touch.)
Trouble brews when news hits the internet — thanks to meddling Mom's interview — about Ae-jung's secret boyfriend, painting Ae-jung as a lying seducer who hoodwinked Perfect Man Pil-joo in the name of scoring airtime for herself.
Ae-jung is unaware of this latest development as a couple of women from the next table recognize her, and speculate that she's here to meet her boyfriend. Thankfully, Jin is no longer sitting nearby as he's gone to the store to pick up snacks, and Jae-seok manages to find him in time to caution him to go home quietly before people catch wind of his date.
However, Jin isn't swayed by the warning and tells Jae-seok not to tell Ae-jung the news, preferring to keep their date despite the situation. He gives Hyung-kyu their agreed-upon signal and continues on his picnic with Ae-jung.
Pil-joo's clinic is mobbed by reporters frothing at the mouth for juicy details. Unfortunately, his explanation actually adds fuel to the fire, despite his best intentions: He says that he and Ae-jung quit the show after mutual agreement, that he did have feelings for her but that she was entirely honest with him about the situation.
The media version twists this into: The poor doctor betrayed! Perfect Man confirms that he knew about the boyfriend!
Pil-joo asks the producers to fix this, feeling sick that his words have made things worse, but they can't do anything about it. He turns to Se-ri, who says the same thing, and asks him not to go running into that land of wonders. After all, Nina's got that ruler man to help her, right?
Speaking of whom… Jin confiscates Ae-jung's phone for the day, unintentionally reinforcing Pil-joo's own strange-land metaphor by telling her she's barred from "communicating with other worlds" until their picnic is over.
At the office, the team of managers works damage control, even as public opinion turns more strongly against Ae-jung. Speculation runs rampant over her famous boyfriend, with some wondering if she's in an adulterous relationship.
Jin drives out to the countryside, where they can escape people's prying eyes, and sets up their picnic by a rice paddy. The farm, the view, the conditions — all are less than ideal, but the couple doesn't really care.
There's a cow nearby, and Jin warns it jokingly to keep its mouth shut about their date, "Or I'll sue." Ae-jung says he should talk to it in cowspeak, not humanspeak, so Jin obliges her and moos the message absurdly and adorably.
He suggests taking a photo together, but Ae-jung thinks it would be unwise to leave any evidence. To which he says, "Just one photo. I want evidence, that we had a picnic here."
How much do I love that they take a photo with the cow? They set up a timer and get their poses ready…and at the last moment, Jin swoops in and kisses her instead.
Ae-jung remarks that despite the lack of ambiance, it's not so bad here after all, and suggests having more dates at rice paddies. He offers to call up Section TV to do another date interview in a place she likes, but she says that would be too obvious. That's his point, so he asks, "Then should I do an interview with Section TV and tell them I'm Gu Ae-jung's man?" At least then, they could have proper dates rather than hiding out on farms.
Ae-jung knows he's partly serious about this, but she dismisses his offer as joking, then stops by a store to buy him a cool drink. While she's gone Jin gets caught by an excited grandma who recognizes him and asks for a photo — she can show all her friends and send it to her relatives in Seoul — which makes his pride die a little on the inside, yet his star nature can't squelch that impulse to smile prettily for the camera anyway.
I love that he can't turn that switch off in his brain, to not be the cool top star. It's funny, but more importantly it's clever; it fits right in with our recurring motif about the value, both monetary and otherwise, of image.
In Jin's momentary absence, Ae-jung sneaks a look at her phone, and discovers the storm brewing in Seoul. She calls Jenny, who fills her in and warns her that if she's seen with Jin, the news will explode.
Ae-jung guesses that Jin knew about the scandal all day, and while she's not upset with him for hiding it (he says he didn't want to ruin their picnic), she does declare the picnic over and decides they'll return to Seoul right away. She also tells him firmly that his crazy idea to announce their relationship is out of the question.
Jin muses to himself, "If you want to protect Gu Ae-jung, you'll have to talk about this," indicating his heart.
Thankfully they make it back to Seoul without further incident, and Ae-jung tells Jenny that Jin wants to go public. Jenny says that unless the announcement is accompanied by Big News — say, wedding plans — it won't help much to just say they're dating, given the circumstances.
Ae-jung's used to scandals, but Jenny warns her that this time feels different — and of course it would be, with Se-ri and Manager Jang both actively working against her. Manager Jang spreads entirely invented stories to reporters, saying Ae-jung had betrayed her KBSN sisters back in the day by trying to ditch them to go solo.
He also points out how well she's been doing all of a sudden, planting the idea that Ae-jung has a sponsor, like she allegedly did ten years ago. To cap that off this round of mischief-making, he advises them to look into the reason for KBSN's breakup, just for funsies.
To stanch the bleeding and reverse the tide of public opinion, President Moon sets up an interview for Ae-jung, since they can stop the sponsor speculation if they "lay everything bare" to the audience. Meaning: Show them her shabby house, where she lives with her family, and explain that they got there through her father's failed business venture. Put on camera how hard she and her brother work going from event to event, and set the record straight about the nephew rumored to be her secret child, when in fact she's raising him after his mother left. Explain the reason she slapped Se-ri, and reveal whatever it is she's hiding for Mina.
Ae-jung understands that doing this may rehabilitate her image, but would invite scorn on her family: "Are you telling me to sell my family and friends?" President Moon tells her calmly that she has to do it to survive, but if she doesn't, "This is where it ends."
I'm pretty sure that President Moon knows Ae-jung won't do it, so she has one last request: "If you choose to end things here, don't drag Dokko with you. This one isn't a request, I'm begging you."
With the surgery date approaching, Jin meets with his doctor, who assures him that preparations are going well. The doc has also been following the news about Ae-jung, and warns that if Jin is linked to her scandal, he'll take a fall too.
Jin answers that he's trying to find a way to protect her regardless of his surgery results, which is to say, a solution that will not depend on either his survival or death. (Which, phew! All that talk about his death lifting her up was not the most reassuring stuff.)
He reminds the doctor of the saying, "Even if we have to roll in dog shit, this world is a better place." He says, "These days, I've been rolling around in shit enough with that woman to make me insane, but I want to live." Meaning: no matter what hardships we have to encounter, I want to live here with her, rather than leave for the afterlife.
The effects of the gossip are quick and severe, though. Hyung-kyu overhears neighborhood ajummas talking scornfully about Ae-jung and sobs (while clutching his superhero-themed snacks, aw), and Ae-hwan reports the bad news that Ae-jung will have to take a break, and her album put on hold.
Ae-jung feels the indignity and asks her family tearfully, "What did I do wrong that the whole country hates me? Did I do something that despicable? I was just doing my work diligently, smiling even when I felt hurt, and keeping that smile on my face. Is that a crime?"
Oh, this is breaking my heart. Se-ri, I hope you're happy, and after this stunt I'm revoking any thoughts of possibly, maybe, wishing you well with the sweet doctor. BOO, you.
Pil-joo tracks Mina down to deliver a semi-satisfying smackdown (which is only semi-satisfying because Pil-joo is a reasonable and nice human being who's above coarse words, even if they may be deserved). He reminds her that she'd called Ae-jung her savior. How can she ignore Ae-jung now, and only focus on her own happiness?
Mina answers that she can't do a thing, other than ask Ae-jung to continue keeping her promise not to talk about the events of a decade past. Pil-joo isn't satisfied with that: "How can everybody be so selfish? Why are you all standing in the background while she gets hurt alone? Do none of you have anywhere else to hide?"
Ack, and here I thought my love for Pil-joo couldn't be any stronger. That's my lesson of the day: Never underestimate the power of love. (For hot fictional characters. But who says that the imaginary nature of the object means it can't be love?)
Ae-jung sits with Jenny at the cafe when two reporters come by, and slips away to evade notice. Jenny shoos her away, but ruins her escape by mouthing oh-so-conspicuously at her to run. Naturally the reporters notice Ae-jung and descend upon her eagerly, ignoring the fact that their pursuit causes Ae-jung to fall to the gravel.
She's so caught off-guard that all she can do is mumble, "I don't know," and this is the scene Pil-joo sees when he arrives. Angrily, he steps in and tells them she has nothing to tell them, not caring that they recognize him, and escorts her away.
As he treats her scraped knee, he tells her that she shouldn't just leave it alone. Either she misunderstands his meaning or she deliberately responds that way, because she says she'll just let the scrape heal on its own. Pil-joo can't contain his frustration, telling her that she always leaves things alone and tries to heal on her own: "That's why you end up with scars that stay with you for years!"
Ae-jung goes with the metaphor although they clearly aren't talking about her scrape anymore: "But what else can I do? If I dig deeper, it'll get infected and my leg will become useless." Pil-joo entreats, "Come out. Leave this strange land that only hurts you. Dokko Jin and entertainment industry may have moved you to excitement, but you were always hurt — it hurt you — and you're always preparing yourself to be hurt! If you need, use me to escape it. I'll help you run far away."
Awwww. I LOVE that the strange land metaphor has seemingly, out of nowhere, meshed with his earlier wish to carry Ae-jung out of this crazy, mixed-up, backwards showbiz world.
Ae-jung tells him, "If I leave now, I can't protect it. Even though I'm hurt, there are things I have to protect. If I run away, I can't protect anything." (In Korean, the first sentence doesn't need a pronoun so she doesn't specify what she's protecting, but we understand that she really means "I can't protect him.")
That night, Jin sends her the photos of the kiss on the farm, with the subject title "Promise for the next picnic," and she decides, "Let's protect [him]."
With that, Ae-jung gives her decision to President Moon: She can't hurt the ones she loves, so it would be best to end things (i.e., her career) now. President Moon urges her to reconsider, because it's not like she can just get another job in the real world, but Ae-jung won't sell out her family.
With the furor over Ae-jung turning to the old KBSN breakup, the Couple Making writer sighs in relief that their show has been spared, since the arrow struck a different target. Se-ri seems to be feeling pangs of a woefully undersized conscience, saying, "Ae-jung unni always gets hit by the arrows." And while Mina reads the articles with a heavy heart, she can only say, "I'm sorry, Ae-jung unni." Yeah, how's that happiness when it's been bought with the tears of your long-suffering unni?
At the agency, Ae-jung prepares to make her official statement — which is that she can't make any statement about the scandal. She fights angry, hurt, sad tears while rehearsing the words announcing her withdrawal from the industry.
Jin arrives at the agency intent on taking the fall alongside Ae-jung, which President Moon urges him not to do. Yet he declares that he's doing this "So I can live."
He tells Ae-jung to forget about the other stuff in the scandal, and talk only about him: "Just talk about you and me. To everyone."
She thanks him for the thought but assumes he's not being serious about it. He counters:
Jin: "What I said isn't a joke. Telling you to reveal that we're dating isn't a joke. And being prepared to beg you to marry me right away isn't a joke."
Ae-jung: "Thank you for not joking."
Jin: "And this is the most serious one: I might die and disappear. That's not a joke, either. Gu Ae-jung, I'm severely broken. I may not be fixable."
Interpreting his words in a slightly skewed way, she asks if the reason he's okay with going public is because he might die. He just tells her, to her growing disbelief:
Jin: "The saying about this world being better even if you're rolling around in dog crap — right now, I can feel it down deep to my bones. But even if I have to leave this world, I can't leave you to struggle in that crap alone."
Ae-jung: "Tell me you're joking."
Jin: "You have nothing else to sell. Sell me. Dokko Jin is tremendously expensive enough to cover up anything, and I'm giving him to you. Sell him."
Ae-jung: "Tell me you're joking."
Jin: "And to do that, make me your man."
Ae-jung: "I said, tell me you're joking!"

COMMENTS
I suspect that Mina's going to have to come out at some point, because otherwise what's the point of her being a character, right? I'm holding out hope that she does the right thing, although I think it'll probably be at a non-critical moment, so as not to undercut the huge freakin' deal that is Jin's grand gesture (more on that in a sec). I look forward to that, 'cause I'm hating her a little bit right now.
Ae-jung's the kind of woman who makes decisions based on what she can live with, so if she had to do everything over again I'm pretty sure she'd pick the same path. But knowing it's the right thing doesn't make it any easier to have taken that road, and I liked seeing her reluctance to continue shielding Mina — not that she would ever have gone back on her word, but that she acknowledges that Mina's asking a lot of her. 'Cause she is, and it takes a leetle bit of the aggravation off of Ae-jung being so quietly suffering.
Which is why I LOVE Pil-joo in this episode, even more than previously, because he actually got mad and yelled and was a great wonderful horn of common sense. His exasperation was so satisfying when he basically asked, incredulously, What is wrong with you people?! I love his angst about wanting to help Ae-jung and being utterly unequipped to do so — not just because she loves Jin, but because she's actually IN this strange land where he doesn't understand the rules and he's in danger of doing more harm than good, and he can't help her until she's back in his world, but he can't force her out, and that manhwa metaphor was just so perfect for this conflict, even as it came totally out of nowhere. This is what good writing does — if a drama makes sense along every step of the way, even new introductions will work into the story with logical clarity, fitting it even more tightly together rather than feeling like jigsaw pieces jammed into the wrong puzzle.
We've mentioned before the way this drama, which on the surface is so lightly comical about a crazy couple in love, actually manages to work in some deeper insights. Sure, you've got your low-brow sight gags and such, but there's also a level of cultural commentary that we don't get in a lot of trendies, or even dramas in general.
The idea that image is worth something tangible, when the very nature of image is so inchoate and ephemeral — that's kinda deep, man. And that in their strange land within the showbiz bubble, it's a commodity traded regularly, bartered between parties and assigned numerical value. It's fascinating, and it's weird, and it's entirely moving that Jin's offer in this last scene is honestly the most valuable thing that he could ever offer her — not his physical body but his image. It's worth big bucks, but more importantly, it wields great power, and he's vesting it into her hands. GAH, that's so cerebrally sweet that it kills me, in a good way.
RELATED POSTS
Tags: Best Love, Cha Seung-won, featured, Gong Hyo-jin, Yoo Inna, Yoon Kye-sang