Best Love: Episode 9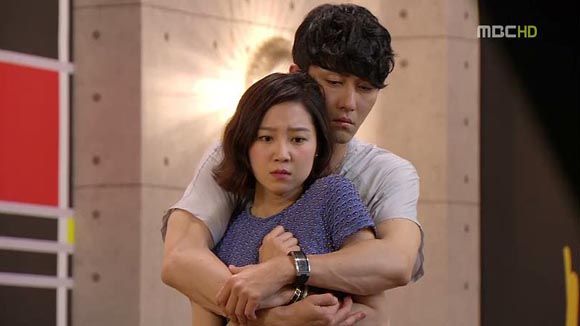 Did they switch the cameras all of a sudden? Because this episode is GORGEOUS. As if I didn't love this drama enough already.
Angst can sometimes be frustrating, sometimes satisfying. This is my favorite kind, when it moves the plot — and the emotions, and the character development — swiftly along and gives rise to lots of satisfying moments. Plus! For once a Hong sisters cameo is hilarious AND adds to the drama. I love that they continue to improve their skills and keep surprising viewers, even when we've watched all of their work and know all their old tricks.
SONG OF THE DAY
Best Love OST – "나를 잊지 말아요" (Don't Forget Me) [ Download ]
Audio clip: Adobe Flash Player (version 9 or above) is required to play this audio clip. Download the latest version here. You also need to have JavaScript enabled in your browser.

EPISODE 9 RECAP
Jin announces that he's totally over Ae-jung, proud to have conquered what he calls aftereffects from the surgery: "The moment I realized it was because of that song, my heart came out of its hypnosis."
Disbelieving, Ae-jung has to check for herself, pressing her ear to his chest: "See, it's beating!" Jin: "If it doesn't beat, I die." Ha, true. He adds, "It's beating kong-dak-kong-dak like normal, it's not pounding all woo-lung-woo-lung~♥~! like before." HAHAHA.
Then the realization hits him: "Are you…disappointed?" He gloats at this delicious reversal, and she mutters that she was worried about his "sickly azalea." Since it's back to normal, well, bully for him.
Ae-jung points out that it's odd that his heart would act up ten years after surgery, but he declares that it's not weird, but unjust. (The word he uses doesn't have a direct translation, but is used when you feel like you've been treated unfairly. Shortchanged by somebody, or fate.) In Jin's case, he feels the injustice of mistaking his heart's pounding for love and shaving off his cow mustache.
Looks like both Ae-jung and the cardiologist are smarter than Jin (not surprising, if his IQ is on par with his EQ), as the doctor also notes the oddity of a heart acting up ten years later because of a song. He wonders if the song, used initially to revive a dying heart, has now become necessary to that heart. Okay, maybe not so smart then. (Unless…OH HONG SISTERS. Are you gonna give us gumiho bead v.2.0, except nonsensical-er?)
Ae-jung asks Pil-joo for his medical opinion on a hypothetical scenario: If a person's heart pounds while the person happens to be looking at a certain other person, could he fool oneself into thinking it's love when it's not? She's eager for him to agree that it's silly, but Pil-joo supposes it's possible, and refers to studies about roller coasters causing speeding heart rates that translate into spikes of emotional attachment. If the stimulus repeats, it may be possible for someone to confuse the physical feeling with love.
Just then, Ae-jung's cell phone rings, and the sound of her ringtone clicks the theory into place — that every time it rang, Jin connected it with her. Now she's the one to think bitterly, "I feel really wronged."
Jin meets with Se-ri to declare the CF back on, assuring her that there'll be no need for more "injustice" to arise, as he is now free of the "weakness" Ae-jung had been holding onto. Se-ri asks if this means it's untrue that he likes Ae-jung, and immediately he asks, "Who's saying that? I'll sue."
He overhears Jae-seok telling President Moon that Jin was dumped by Ae-jung and is pleased that she says she'll sue any rumormongers, until she admits she's a leetle bit satisfied to see Jin brought low. Jae-seok agrees, since they've both been on the receiving end of his difficult behavior. President Moon claps: "Gu Ae-jung — good job!"
Pouring salt on that wound, Jae-seok confides that even Ae-jung's family isn't that keen on Jin. So what does he do? Bribes Hyung-kyu with ice cream, of course! He assures Ding-Dong that he can speak frankly about what his family says about him.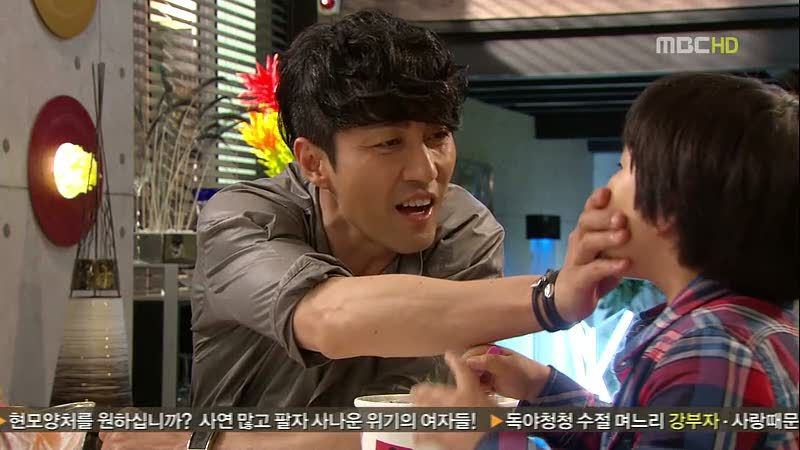 But the moment the boy says, "Dokko Jin is a butthole—" he shuts him up with a firm, "That's enough!"
Hyung-kyu holds up a strip of magnetic toys and asks, "Do you want to be stuck together like this with my aunt?" Jin replies, "I thought I did, but I don't now." Separating the two blocks, he explains, "I thought I was drawn to her by some incredible force, but that's disappeared." Flipping the magnet so the poles repel each other, he demonstrates, "See, it doesn't stick!" I love that his mode of communication with a 7-year-old is via toy metaphors. How appropriate.
Hyung-kyu takes his magnet and holds it up to Jin's necklace, which reacts to it, and says, "It sticks!" Jin jerks his neck back and says he won't be pulled along anymore.
When Ae-jung comes to pick up her nephew, Jin pulls her aside for a chat. Showing her the magnets, he demonstrates his point: "According to rumors, I was chasing you, who didn't like me, and you ran away." The magnet with the stick figure of a girl whirls around and "rejects" his boy magnet. Turning the boy magnet around, he continues, "My situation has reversed. I'm going to go on my way." Click! Now the girl magnet sticks to the boy magnet. "But look, Gu Ae-jung is pulled along."
He asks if she's drawn to him, and guesses from her reaction that she is. She protests that she's not the magnet, and Jin pulls off his heart monitor, eager to see for himself if she's telling the truth. She refuses, and he gloats that this means she is totally attracted to him.
What they don't see is that the heart-rate counter, bereft of a wrist to monitor, starts to blink oddly. When Hyung-kyu takes the magnets away, the blinking stops.
Pil-joo's mother withdraws her objections to his plans to study in China, because it's the lesser of two evils, and tells him to quit the broadcast. He tells her he'll stay, which makes her burst out that she hasn't been able to show her face around after his grand TV gesture with Ae-jung.
I love Pil-joo's responses, which are kind but firm — he says, "Since you're so sincere in your opposition, my feelings must have come across sincere, too." And when she moans about being turned into a loner, he offers, "Then I'll hang out with you." Such a good boy, but smart too — 'cause what can Mom say to that?
So Mom goes to Ae-jung's house, intending to find "proof" of her real situation to kill Pil-joo's liking for Ae-jung. She puzzles over the address: "A yakuza's girlfriend is supposed to live in a palace." (Ha, Ae-jung lives on Dandelion Road. Hee! What new flower metaphors will that bring?)
Here she runs into Dad, who confirms that Ae-jung lives here with her family, not in some separate (more lavish) residence. She turns around, worrying, "This isn't right. It's much easier to get rid of a girl with secrets. The hardest is the shabby kind."
Jin tells his managers that his behavior was spurred by his heart surgery, and President Moon welcomes his return. He tells her to hand off the sneaker donation project to Ae-jung — may as well compensate for hassling her, and improve her negative image while he's at it.
Jin generously adds the use of his van to the deal, and Jae-seok eyes him suspiciously, testing him: "She'll ride that van to go film herself on dates with that doctor." Jin nods approvingly: "If needed, tell them to drive it around together."
Ae-hwan confirms Ae-jung's acceptance of the reality show with producers, so thankful for this opportunity that he cries. He explains that she'd suffered people's curses for ten years and finally has landed her first solo show: "As her manager, this is important to me, but as her brother, our Ae-jung is such a good person, please help her do a good job." Aw, it's sweet. It almost makes up for his babbling foolishness at other times.
Jenny has come with him and offers to accompany Ae-jung on events from now on — it'll give her a chance to keep Se-ri in line. Ooh, I like this idea. Ae-jung's too sweet to put Se-ri down, but I love Jenny's sassiness, so this could make for some entertaining clashes.
Ae-hwan says eagerly, "Then after we're married, will we trade places and I'll watch the cafe?" At which point an indignant Jae-seok bursts out, "No! I'M going to watch noona's store!"
Jenny enjoys this attention, and cheers Ae-jung's good fortune: "She's putting out an album, and doing a variety show. All she needs is to act, and she'll be a triple crown!" Ae-hwan: "Who do you think she is, Lee Seung-gi?" HAHA.
Cue: Lee Seung-gi!
Jenny rushes over with stars in her eyes and asks for a handshake. Seung-gi receives her praise graciously, but then Ae-hwan notices that they're both wearing the same scarf. Jenny beams (just as Ae-jung once had), while Seung-gi laughs awkwardly and pulls his sweater over the scarf self-consciously (as Jin once had). HAHA!
Jenny, Ae-hwan, and Jae-seok watch Seung-gi walk off, marveling at how polite and well-mannered he is — just like his image! Jae-seok sighs that he's the complete opposite of Jin; choking on a sob, he cries, "To think, when I first met hyungnim, I thought he was just like [Seung-gi]!"
Little do they know that as soon as Seung-gi is safely out of sight, he yanks off the scarf with a grimace and thrusts it at his stylist. His voice even changes into that drunk grandpa drawl: "Is this something any old dog or fish could wear?"
Heehee. This may be my favoritest Hong sisters cameo ever. Lee Seung-gi playing Lee Seung-gi, whose real-life image is just like Dokko Jin's golden boy image, whose supposed "true" backstage personality is just like Dokko Jin's… Plus, there's the fact that Seung-gi was originally cast in this role, and now affects a Cha Seung-won-esque nasally growl. AHHH I'm in meta heaven.
It gets even better when Jin steps out of the elevator, and Seung-gi whips his good-boy persona back into place, bowing respectfully to his "sunbae-nim." Jin mentions the program Seung-gi is MC-ing these days, Steel Heart. (Pwahaha! Kang Chul Shim Jang = Steel Heart. Kang Shim Jang = Strong Heart, Seung-gi's real-life show.) He suggests that Seung-gi invite Ae-jung to the show, which Seung-gi smoothly deflects, saying it's up to the writers and producers.
Jin is not to be outdone at his own game, and says that stars like them have pull — "Or are you not at that level yet?" Seung-gi agrees to broach the topic but adds, "Is that so important that it needs my efforts?" Jin counters that if Seung-gi does this, he won't steal away his refrigerator CF.
That raises Seung-gi's hackles, and he declares, "I'm Lee Seung-gi! Even you're not somebody who can just steal my CF so easily!" In that sneer, he orders Jin, "Don't enter my safety zone!"
Just as they're going back and forth with the "You'll do it"s and "No I won't"s, a crowd gathers to gush over their two favorite stars together. Jin gives the 1-2-3 count, and the men turn on the charm in a flash.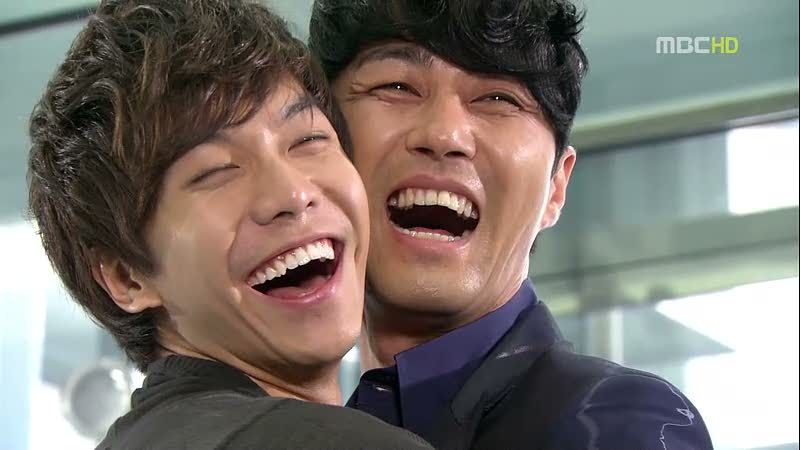 OMG I love this. I can hear a pouty girlfriday stomping her feet from miles away, cursing the manager who scheduled Seung-gi for an odd-numbered episode.
At the bookstore, Pil-joo's eye is caught by instructional titles like How To Win Her Heart and Dating Techniques. Oh, you adorable nerd, you. He hunkers down to read tips like "Show her an activity you want to do together using a gift." He thinks of possible activities to do together, a little surprised to catch himself looking at a red bra. Hee! The innocent doc isn't that innocent.
But no, he opts for a camera instead, thinking they can take pictures together.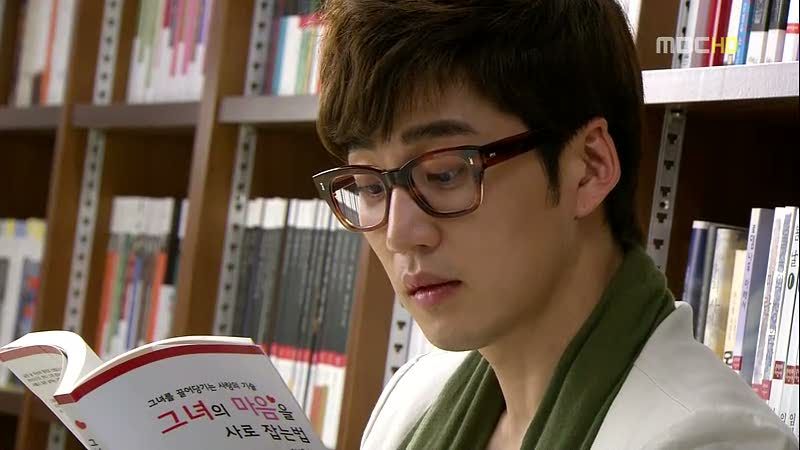 Team Ae-jung has received the Steel Heart invite, plus other promo activities and Jin's van offer. They surmise that Jin must still be clinging to Ae-jung, and she sighs (hiding her smile) that this is soooo annoying, but she'll have to meet him in person to deal with this.
Too bad Pororo knows when she's lying, and declares her annoyed act a fake.
The doctor calls Jin in over worries that his heart isn't working properly, only to have Jin announce that he's perfectly fine. Smart Doctor counters, "Rather than liking her because heart pounded, isn't it possible your heart pounded because you like her?" Or to rephrase: Is he sure the chicken came before the egg?
At home, Jin takes a refreshing drink of Vitamin Water and rubs his face against the cool bottle…upon which he imagines Ae-jung's face. He jumps in shock, but a quick glance at his monitor shows he's still at a safe 87 heart rate.
He sits down for some "mind control time," and hums a meditative tune, which soon turns into the lyrics for Ae-jung's "Thumping Heartbeat."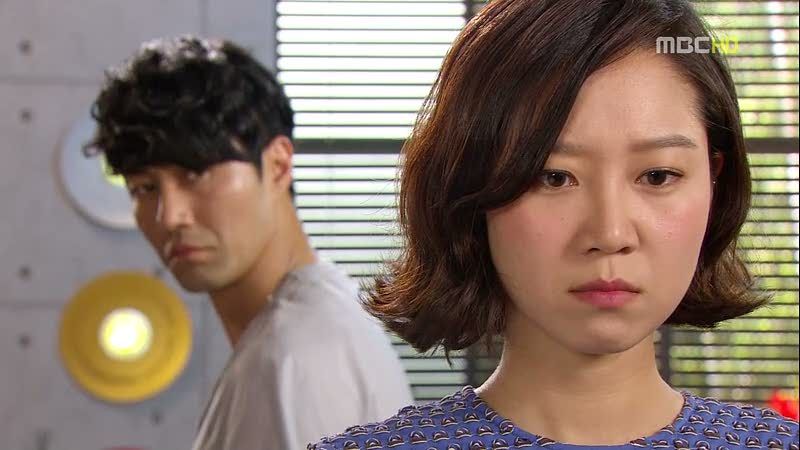 Ae-jung comes to confront him about his motives for helping her — is he being capricious with his affections again? He says no: "I felt awkward, thankful, and sorry. Awkward for making advances to you, thankful that you turned me down, and sorry for you for liking me after the fact. The things Loser Ddong-ko [butthole] Jin did, the Proper Dokko Jin is straightening out."
Ae-jung turns to go in disappointment, but changes her mind, frankly telling him that her disappointment and attraction keep her from leaving: "You were right — now that the Loser Ddong-ko Jin who liked me is gone, I'm disappointed, and now that I see the Proper Dokko Jin, I admit I'm attracted." She asks for ten seconds to confirm that he'll remain in his safety zone, and clings to his chest.
Going along with it, he holds her tightly. Then he turns her around to back-hug her, while directing her steps toward the stairs that lead to his bedroom.
Panicking, Ae-jung puts a foot out to halt them — so he turns her around and pushes her toward the door, telling her that she can't even throw herself at him properly.
She asks, "When you were clinging to me, were you intending to stay with me properly? Did you mean to stick with me through the end, without leaving?" He considers this, and she deduces that his heart turned away of its own accord, "without the need for those complicated, realistic thoughts."
She goes…and his heart thumps. He thinks to himself that he was so busy he didn't have time for those complicated thoughts.
Jenny hears from Jae-seok about Jin's change of heart (har), and decides she'll help Pil-joo in earnest, inviting him to the cafe that night.
Se-ri comes in for an appointment looking tired, dropping hints about the reason for her depression. She reminds Pil-joo that Ae-jung has a bad image and likes somebody else, to which Pil-joo says, "I'm thinking that if I like her even more, it may work out."
All together now: Awwwww. You are in for a world of hurt.
Se-ri says dispiritedly that it hurts seeing him liking somebody else, which I suppose may be true, but sounds suspiciously false coming from her. That's the problem with being the manipulating brat who cried wolf; it's hard to know when you're not being that.
As Se-ri leaves, she recognizes another patient — Mina, whose smile turns sour the instant she recognizes Se-ri. From Se-ri's own half-fearful, half-curious response, it's apparent that she feels lingering guilt, and she slowly approaches Mina. But Mina turns her back, and Se-ri falters.
Even Jin is surprised at how unresponsive his heart is to Ae-jung, and taps it curiously, wondering why he's not reacting. Perplexed, he asks, "Why do I feel ashamed that it's behaving so properly?" He decides he has to restore everything to its original state, and takes out the wine bribe returned by Peter Jason, calling it the origin of all this trouble.
He arrives at the cafe, where Ae-jung sits with Jenny and Jae-seok, awaiting Pil-joo. Still stung from earlier, Ae-jung regards him with crossed arms, asking if he's here to offer more compensation.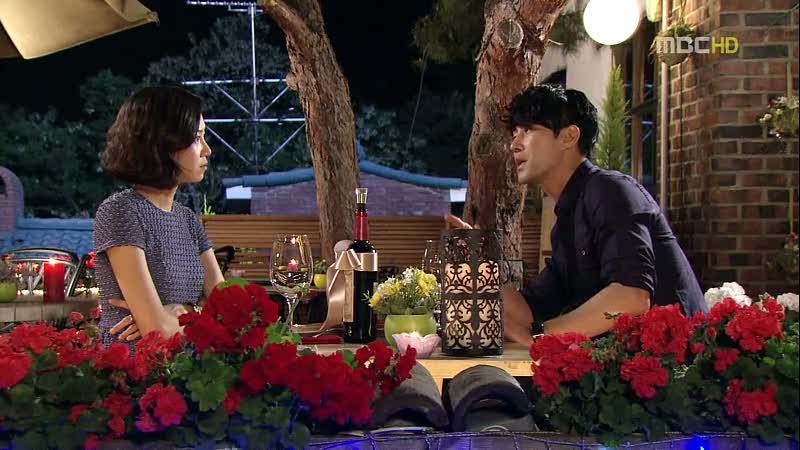 He says that he forgot one thing, and announces, "Sorry." He repeats it loudly and the word echoes in the air — she pointedly ignores it — and he tells her that he hopes she can recover from her hypnosis, as he did. He snaps his fingers, saying he can end it with a count to 25. I'm guessing Jin never played a doctor in a movie. Or a hypnotist.
Instead, Ae-jung pulls the stopper out of the wine bottle and chugs it defiantly. She finishes off the whole bottle in one go, announcing, "I'm all recovered now."
He worries that she'll spew it right back out, but she says, "I won't throw it up. I'll eat up everything that happened with you, digest it all, and turn it into crap."
Stumbling, she leaves his table while Jin gapes in concern. Jenny tells him with disdain that he'd better leave, since Pil-joo is on his way: "He's a truly good man who cares for Ae-jung. Even though Ae-jung lost something precious to him, he was afraid she'd feel upset and bought a new one, lying that he found it. That's how much he cares for her."
Now he realizes, "She didn't buy the pen and lie about finding it?" Jenny informs him that that assumption was all his own.
Pil-joo is still at his clinic, tending to Se-ri, and mentions her comment about watching somebody like someone else. She thinks he finally understands her hint, but deflates when he guesses she's having a hard time watching Jin liking another woman.
He says that her wan appearance suggests her feelings are genuine, and she sighs, "Yes, they are. I didn't know they were to this extent, but if I keep looking at him, I keep liking him." He encourages her to cheer up, and says he's in the same position.
Jenny loses track of Ae-jung at the cafe, worrying that she's wandered off in a drunken state. Jin overhears and recognizes the telltale ringtone when Jenny calls Ae-jung, following it to a bench, where he finds her swaying unsteadily. He asks if she's okay, only to have her repeat his words back at him like a taunting child.
Jenny frets that Ae-jung's drinking habit will emerge, which would be a Very Bad Thing. Her old scandal about a drunken fight occurred when she had the bad luck to get stuck repeating the words of an easily offended ajumma, who'd spoken rudely to Ae-jung — and when Ae-jung repeated the words back (without malice), the ajumma had created a huge scene.
Thankfully, Jin understands this is just her drunken habit, and asks, "Why didn't you explain about the pen?" Her drunken garble spouts back, "…didn't explain."
Jin: "You didn't trust me, did you?"
Ae-jung: "Di'n't trust you."
Jin: "Then those words about not liking me back — you were really going to cancel them."
Ae-jung: "…wassss gonna cancel it."
Jin: "And you brought those potatoes to give to me."
Ae-jung: "Brought to give you."
Jin: "And you came to feed the fish."
Ae-jung: "I came."
Jin: "I'm sorry."
Oh, this is so sweet it hurts a little. He knows she's just parroting after him, but at the same time he also understands that it's the truth. He's purposely wording his questions so she'll confirm his suspicions, but he can recognize the truth of the words, which only serve to emphasize that he was an ass.
He holds her to him, and checks his monitor again — which stays firmly in the safe zone.
When Pil-joo arrives at the cafe, Jenny tells him that they've lost a drunk Ae-jung. Pil-joo steps out to join the search, and finds Ae-jung hunched over on the front stoop.
Jin keeps out of sight as Pil-joo attends to her, and quietly walks away looking miserable.
She falls asleep on Pil-joo's shoulder, and he asks her, "Tomorrow, you'll take hold of my hand, won't you?" He sees her hand resting in her lap, and links his pinky with hers to seal their pinky-promise. Awwwww. How can I want so much for one guy to get the girl, and then a second later want so much for his rival to get the girl instead? My heart, SO TORN. Between two fictional men.
Jin goes home to his fish, realizing Ae-jung had fed them after all, and says, "I should've raised pets who can talk." Haha. He says that a dog would've barked a response, but accuses them of not making a peep, actually sounding wounded at their betrayal.
Se-ri asks Manager Jang why, ten years ago, he'd readily agreed to Ae-jung's decision to break up KBSN. Manager Jang is convinced Ae-jung had been backed by somebody, who'd bribed the production company president to agree without a fight. Se-ri's surprised to hear this, but not even Manager Jang knows who it is.
Se-ri tests out a new budding suspicion, asking whether Mina would know. Manager Jang says that he has a lot of things he'd like to ask her, and that if Se-ri can find her, he wants to be in the loop, promising to make sure that Se-ri's protected.
Jenny brings a hungover Ae-jung medicine in the morning, left by Pil-joo. She says that she knows why Ae-jung's feeling conflicted, but she wants to see her happy from now on, and will therefore pretend not to know about that source of conflict. Which…seems woefully backwards to me, but whatever. Jenny's adorable and loyal, but maybe not the sharpest tack.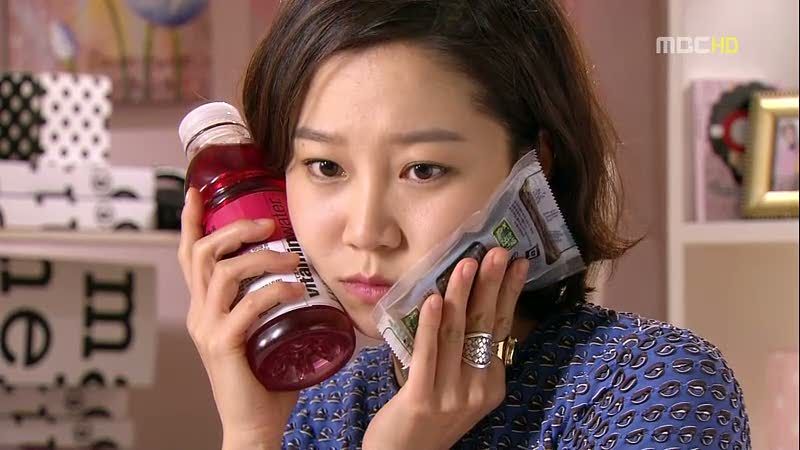 Ae-jung sees the Vitamin Water at her bedside and picks it up, holding the bottle to her cheek. She notes, "It's cold," and then picks up the packet of medicine, saying, "It's warm." OH THE METAPHORS, they are endless.
Her Couple Making shoot is today, and as she's leaving the house, she stops short to see that Jin has arrived. Concluding that he's here because he feels uncomfortable after her drunkenness yesterday, she decides that she'll have to put a clean end to everything. She tells her brother to go without her, and he tells her anxiously that he trusts her to show up for the filming. She nods.
Ae-jung tells Jin that she's still hungover from his wine, and asks him to help cure it. That's done with hangover soup, and Ae-jung says that with this meal, she'll treat all of her physical and mental pains.
He muses that they've never just sat together like this before, and she reminds him that it's because he's always chased her out. She tells him it was good that he did; if he'd stuck with her, they'd have ended up in the gossip rags. He agrees, saying that the popularity drop wouldn't have been so bad for her — not like it would for him.
Ae-jung: "If you knew that so well, why didn't you hold back and not let on that you liked me?"
Jin: "I liked you so much that it didn't work."
Ae-jung: "Did you even really like me?"
Jin: "Yes. You saw me, being Ddong-ko Jin in my pathetic one-sided love. I can say this honestly because that's not the case anymore, but if I hadn't come to my senses, I would've really hit rock bottom and broken my heart."
She chuckles, and assures him she's not laughing at him: "It's just — you turned away not because I was pathetic, and you did like me that much. That feels good."
He shows her his wrist monitor, saying, "Even if you smile like that, it doesn't affect me at all." After all, he's a master of mind control. Amused, she says jokingly that his heart's so very proper that she hates it a little, and playfully bites his hand — "I'm just checking to see how good your mind control is. I've confirmed that you're not affected at all."
With that, she turns her attention to breakfast, saying, "I should eat this and get all better so I'm not affected at all, either."
Gah, I simultaneously love Jin for the way he looks at her with tenderness, and want to hit him over the head for always checking his monitor, like that hunk of metal has more power than what he suspects his heart is actually feeling. Oh, you stupid, silly man-child-robot.
The romantic scene is set for today's shoot, wherein Ae-jung is to give Pil-joo her answer. Se-ri tells Pil-joo she doesn't think Ae-jung will show, and he tells her that he's nervous enough already without her making jokes.
She says, "You were flustered at first, and now you're feeling angry, aren't you? Don't forget that — be sure to remember how it feels, to make the explanation easy later."
Jin drops Ae-jung off near the set, and she hesitates before saying:
Ae-jung: "Just as you spoke honestly to me before, I'll be honest with you now. To be honest, you made me feel aflutter. After meeting you, cherry blossoms bloomed in my heart, and camellias, and even azaleas. But whenever flowers bloom, they also fall at some point. So even though I was excited and happy, I was afraid to hold out my hand. I could only approach you one step at a time, but fortunately the flowers fell on their own. For showing me some really beautiful flowers on a nice spring night, I thank you."
Throughout this speech, Jin looks completely gobsmacked, and steals several glances at his stubbornly static heart monitor. He can't understand it: "It's strange — my heart's palpitating…"
She turns to leave, but he grabs her wrist and says urgently, "I think something went wrong. I have to confirm it for myself, too."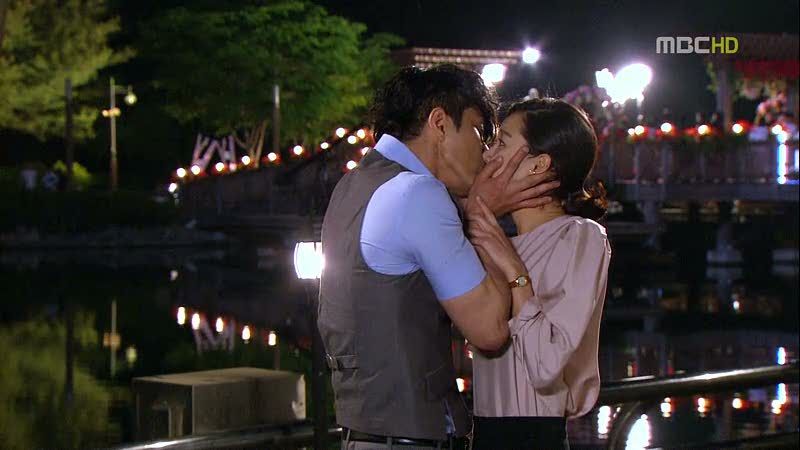 He surprises her — and even himself, I think — with the kiss. Yet when he pulls back, his monitor is still stuck at 88.
He can't believe it, and says disbelievingly, "It didn't have any effect." He disagrees with that assessment, but to Ae-jung's vulnerable heart, those words hurt. She tells him with an edge to her voice, "Thank you for confirming that you don't feel anything."
She walks away. Jin can't accept it, and takes off the monitor — finally, like a sane person. Running the stopwatch, he starts a manual count of his pulse.
And by the time his minute beeps its end, he's at 130 heartbeats.
Filming commences, and Se-ri introduces the question of the day: whether Ae-jung will show. Then she turns to Pil-joo, addressing him without her words being caught on the microphone.
Se-ri: "You're feeling nervous and excited at starting a relationship with Ae-jung unni, aren't you? But I don't want to stand by and watch, so I'll have to tell you. The feeling I told you to remember — that's how I feel right now. Because I like you."
Shocker! But that's the moment when Ae-jung appears at the end of the bridge, kicking off the show. Se-ri resumes her MC duties, posing the question of whether Ae-jung is here to accept, or reject.
Ae-jung walks slowly toward Pil-joo, but at the last minute stops, turning around to look back…
She doesn't see Jin, who's on his way, and turns back to face Pil-joo. While she stands there in place, he looks at her with a serious, tense expression. Finally, she resumes her steps and meets him in the middle of the stage. He steps forward and holds out his hand to her, as Se-ri narrates, "Gu Ae-jung, please make your decision."
Ae-jung takes his hand tentatively, almost reluctantly, and joins him inside the heart-shaped wreath, the moment commemorated with a bright burst of fireworks.
Se-ri watches unhappily, MC-ing in a flat voice, while Pil-joo breaks into a smile.
Jin arrives at the edge of the bridge, just about to call out Ae-jung's name when the fireworks explode. He clutches his chest painfully just as the background song (posted at top) narrates, "Goodbye, goodbye, goodbye."
He gasps out, "Gu Ae-jung, it hurts so much. It feels like I'm dying."

COMMENTS
Muahahaha! I LOVE angst like this. The kind where you feel for the hero, especially when he emotes his pain so well, but also find it satisfying because he deserves to stew after his punkass behavior. When you've got a cocky bastard treating our awesome heroine so poorly on so many occasions, you can't just have her forgive everything in the blink of an eye, and it's gratifying to make him experience a little self-inflicted misery.
Especially when he was so dumb as to believe his stupid monitor, of all things, instead of his actual feelings! Heh. It's like he's so out of touch with human emotions that he'd rather trust science than himself — it's a wee bit absurd that he's so firmly in denial that he'd override his feelings based on some numbers spouted by a machine. But I guess it's fittingly backward, for the man who thought pounding heart leads to love, rather than the other way around.
In fact, I'd have thought the heartrate-denial eye-rollingly fantastical, except for the fact that it gave us the chance to see Jin entertain growing suspicions that his scientific method, so to speak, is deeply flawed. What starts as puzzled speculation (Why is my heart not responding?) turns to increasing doubt, and Cha Seung-won plays those moments so well that you feel like you're actually watching someone experience an epiphany in slow motion. A sharper tool — hehe — might not have been so slow about that motion, but this is our sexy dim bastard we're talking about.
Can't WAIT to watch him suffer in Episode 10. Does that make me sadistic? Wait, don't answer that.
RELATED POSTS
Tags: Best Love, Cha Seung-won, featured, Gong Hyo-jin, Yoo Inna, Yoon Kye-sang