Best Love / Pasta mash-up, birth of a new power couple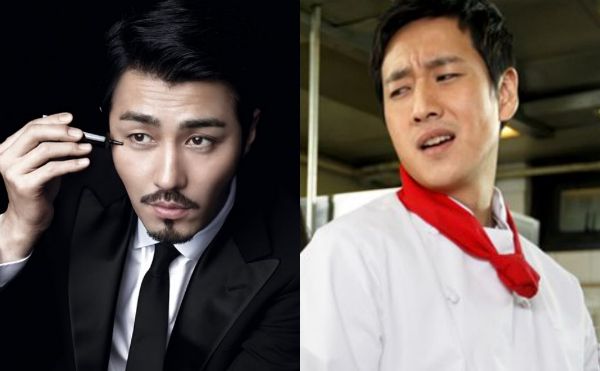 OMG. Seriously, you guys have to watch this. It has got to be the best parody mash-up ever. At least the funniest. It's Best Pasta, a combination of Best Love and Pasta, using Gong Hyo-jin of course as the connecting thread… only what starts as a macho contest between Dokko Jin (Cha Seung-won) and Chef (Lee Seon-kyun) ends up as a burgeoning love between the two heroes. LOVE IT. They are officially my favorite new couple.
The alternaverse starts out as both guys realize the existence of the other in Gu Ae-jung's life, asking who the other guy is and throwing childish tantrums, as both men are known for doing. So then Dokko Jin starts researching this Chef guy to see what the competition is like, only his heart starts racing, and he doesn't know why. Chef moons over losing the girl, and meanwhile Dokko Jin shows up to La Sfera and starts stalking him, even though he's told to get lost.
Chef sees an announcement in the paper that Gu Ae-jung is now dating Ryu Seung-beom (Her real-life boyfriend. HA.) and finally throws in the towel. He goes to see Dokko Jin, and starts warming to him, saying that he likes his persistence. Finally he shows up to ask Dokko Jin out on a date, adding his cheeky trademark, "You're supposed to reject me the first time."
They meet for their date in that crosswalk from Pasta, and Chef watches as Dokko Jin races through the cars to run to him (using scenes from City Hall). It's as awesome as it sounds. He gets to the other side, and Chef scoffs, "You've never dated a man before, have you? Let's. With me." HAhahaha. Best re-purposing of a drama line ever.
The mash-up was created by blogger demere, a "Cha-Seung-won-holic," and is getting a lot of positive attention in the press and online. I never considered the similarities between Chef and Dokko Jin before, but now they seem fated for each other. Who needs girls when bromance is in bloom?
Via Xports News, demere.blog.me
RELATED POSTS
Tags: Best Love, Cha Seung-won, Gong Hyo-jin, Lee Seon-kyun, Pasta