City Hunter: Episode 3
Ahh, my initial liking for City Hunter just bloomed into love. It's slickly packaged, yet manages to keep a sense of heart. That's not easy to accomplish — and to make that feel so effortless on top of it all is impressive.
On top of that, I'm in love with the tone of this drama. Somehow, its dramatic moments manage to be dramatic without going too far, and that's key. When a drama overdoes the grand, stately moments, it can often seem bombastic or, worse, cheesy. City Hunter manages to walk that line skillfully.
SONG OF THE DAY
Mate – "Run" [ Download ]
Audio clip: Adobe Flash Player (version 9 or above) is required to play this audio clip. Download the latest version here. You also need to have JavaScript enabled in your browser.

EPISODE 3 RECAP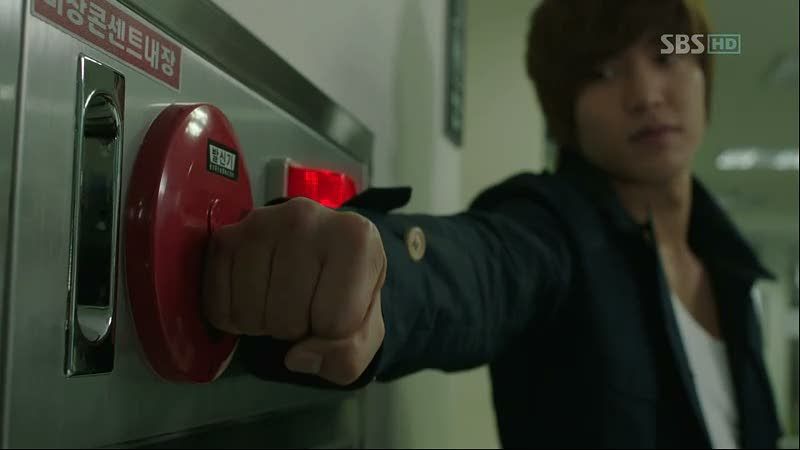 At the welfare building, Yoon-sung sees the nervous employee, Shim Jae-dong, shredding documents and makes note of the building's layout and security. He sets a fire in a trash can in the bathroom, positioned near a vent to send its smoke through the cubicle farm, and hits the fire alarm.
Chaos reigns as people rush out of the building. Nana looks around for Yoon-sung, but she can't find him since he's busy being Spiderman, sidling along the railing several floors above ground level.
I kind of love this about Yoon-sung — admittedly, some of his methods are simplistic for what we'd expect of a trained hit man (a magic whistle to calm attack dogs? o…kay), but the low-techiness has a simple, functional beauty to it. For instance, here he's at the right angle to avoid being seen on security cameras, allowing him to slip inside the appropriate cubicle to find the register for the food assistance program. A few snapshots and a trip to the shredder bin later, he's done, and finds Nana outside.
She takes Yoon-sung to task for ditching her, only thinking to save himself. He scoffs that he had enough dignity not to barge into the ladies' restroom (what a comforting thought, in your hour of hypothetical life-or-death urgency), and carries a plastic bag containing the paper shreds, which he says he grabbed to block the smoke. Shim Jae-dong spots Yoon-sung carrying it away, though he can't do anything about it.
At home, Yoon-sung painstakingly goes through the strips, taping the documents back together. Like I said, it's low-tech — but effective, for all that. (Mind you, I'm hoping we get some cool action/intrigue sequences in this drama, but I don't think you need fancy hypothetical gadgetry to magically all solve problems, either.)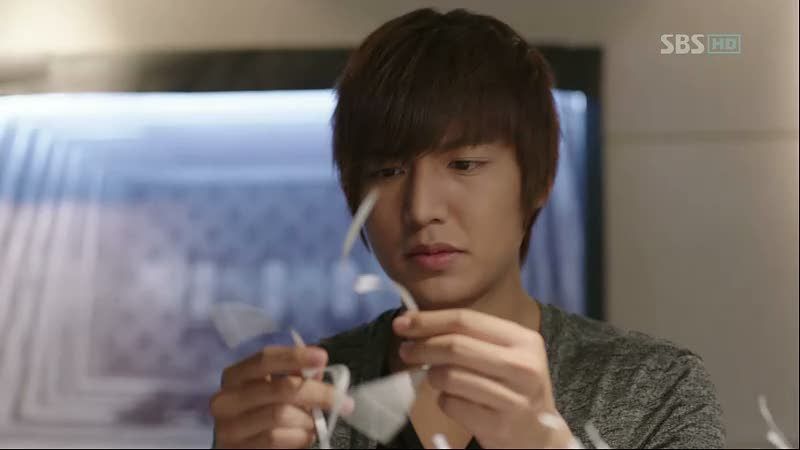 It takes him all night, and when he's completed the task, he notes that the two abandoned kids, Mi-jin and Do-jin, are in one roster but not the ledger. Simple deduction: The kids starve, and someone else takes the money.
Yoon-sung listens in on a wiretapped call between Shim Jae-dong and Target No. 1, Senator Lee Kyung-wan. Shim reports that the 200 million won siphoned away from welfare funds for children and the elderly have been distributed to five accounts in false names, and is sending over the bank cards and PINs.
Yoon-sung arrives as Shim Jae-dong is leaving for the hand-off, oh-so-casually saunters up from behind, and grabs the pouch containing the documents. He doesn't even make a break for it, but swiftly takes out his attackers with cool efficiency.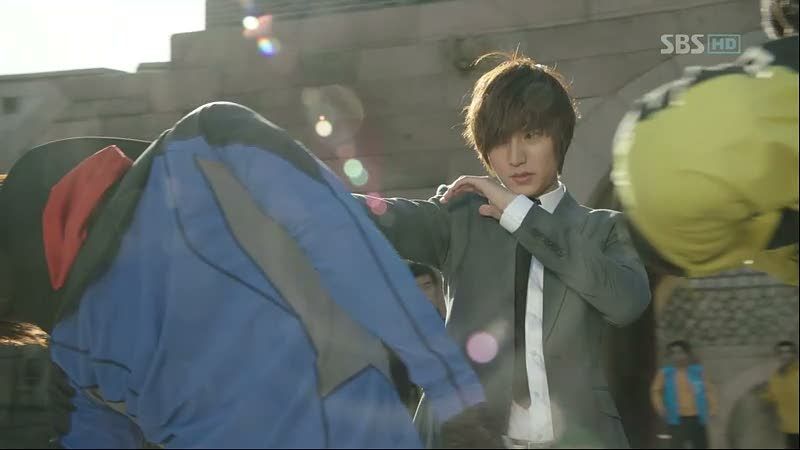 In the DA's office, prosecutor Young-ju is frustrated that none of Senator Lee's ledgers match his actual receipts. Clearly these are forged books drawn up hastily to thwart the investigation. Problem is, even if Young-ju's right, it's a delicate matter to accuse someone so powerful and his boss shuts him down, warning him not to do anything crazy. I say, define crazy.
Young-ju receives an anonymous delivery, containing the taped-up ledger pages, photos of Lee Kyung-wan meeting with Shim Jae-dong, bank books…and the wiretapped phone conversation.
Ooh, I LOVE this partnership. It's so Batman-and-Commissioner-Gordon. Working on the same side anonymously by night, fighting over a girl by day. What's not to love?
Young-ju and his fellow prosecutors must obtain agreement of the National Assembly in order to arrest a sitting parliamentarian (given that the accused wasn't caught red-handed). Lee Kyung-wan delivers a speech to his fellow assemblymen about being unfairly targeted, vehemently insisting that in his two-plus decades of faithful service, he has not received one penny of dirty money.
Young-ju listens anxiously in a separate room, while Yoon-sung sits in the press box, muttering, "Not one penny? And how much is your one penny?"
Then the vote, which turns out to be a landslide: only 11 vote to arrest, 267 against.
Lee Kyung-wan exults in his victory, while Young-ju positively seethes in fury at the injustice of it all. Equally furious is Jin-pyo, watching the vote from his lair at home, shattering the glass in his hand. Yoon-sung clenches his fist thinking of the two hungry kids.
Senator Lee basks in his moment in front of the press, and turns to tell Young-ju patronizingly to earn his salary catching real criminals. He insinuates that Young-ju will soon be out of a job for using illegally obtained evidence. That's the rub: because of the dubious sources of the evidence, the prosecution can't release it to the public, so for now Lee walks away clean.
Senator Lee hears Shim Jae-dong's accounting of the Tall Dark 'N Handsome who stole the bank docs. Shim racks his brains — a relatively quick process — and recalls the stranger at the welfare office asking about the children and his tax dollars.
It's the senator's face, superimposed over the hungry children's, that Yoon-sung thinks of as he nails shot after shot on the firing range — so accurately that there's only one hole in his target. The other Blue Housers brag about how many holes puncture their targets — the more, the better — so it's with misplaced pride that geeky Ki-joon exults over beating their American PhD. He wonders smugly if he needs to give him pointers.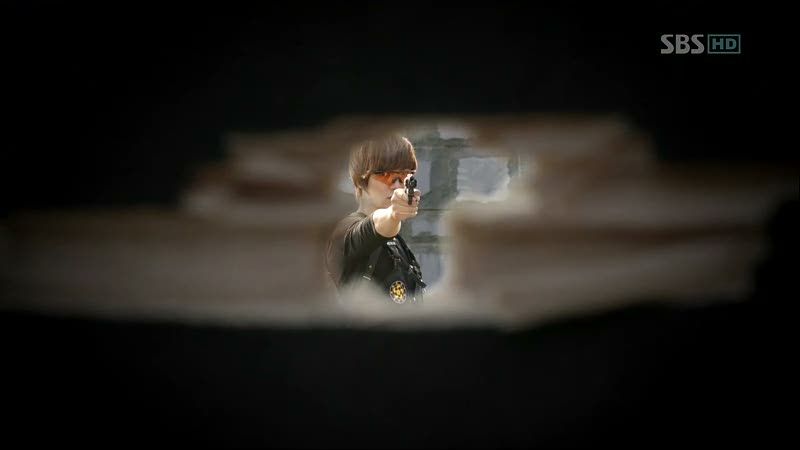 Nana calls Yoon-sung over for dinner with the kids, and he adorably eats the fish from the sushi before giving the kids the rice. Nana yells at him for eating all the good stuff, until Mi-jin assures her that it's because they don't eat raw fish.
There's an abrupt change in atmosphere when Yoon-sung compliments her jjigae, and she asks proudly, "Isn't it just like your mom's cooking?" That's something he wouldn't know.
As they enjoy coffee on the rooftop, Nana sighs contentedly, saying that people like Lee Kyung-wan won't understand this kind of satisfaction. Yoon-sung feigns ignorance at her mention of the embezzling scandal, playing up his image as a careless playboy.
Time to introduce another potential love interest, though it's just a tease: After his dispiriting day, a weary Young-ju arrives at the office of a vet who greets him like an old friend, though with some coolness. This is JIN SAE-HEE (Hwang Sun-hee), who works in the vicinity of the Blue House and whom Young-ju says he came to see because she'd understand how he feels today.
Interestingly, they both know Nana, and seemingly not just from their nightclub encounter, since he works with her aunt.
Later that night, Yoon-sung eats in his dining room alone, the humbleness of his ramen in discord with the lavish room. It's cute and a little sad when he calls out a random "Ahhh" just to hear the echo in the room. His conversation with Nana has put him in a homesick mood, and he calls ajusshi Shik-joong in Thailand to say hi. When he reports on Nana's financially strapped situation, Shik-joong asks him earnestly to help her out.
Yoon-sung asks if Shik-joong's ever been hungry, like a curious child who's familiar with words but not the experience of them. Shik-joong says being hungry is the saddest thing in the world, and makes you despair of life. Yoon-sung says that he wishes he could eat Shik-joong's food, because "To me, that's what mom's cooking tastes like."
Jin-pyo decides that it's time to send Shik-joong to Korea, and instructs him to join Yoon-sung. Hesitantly, Shik-joong asks if it's possible to quit the revenge plan, having watched from the sidelines for years, but lets it drop when he sees that Jin-pyo's not about to entertain that idea. He also recognizes a photo on the desk as Yoon-sung's mother — he's keeping tabs on her — but doesn't press the issue.
The Council of Five convenes in the president's office, and the divide that existed 28 years ago becomes more apparent: President Choi on the side of the idealists, and the Corrupted Four out to protect Number 1. (Naturally, in a group of shrewd opportunists like this, there are four Number 1's.)
Smug now, Lee Kyung-wan chuckles about the hot-blooded prosecutor's "mistake," but President Choi muses that perhaps there was something backing his charges. He accepts Lee's declaration of innocence, but tells the council that he believes that any corruption among them deserves justice.
The statement doesn't go over well with the others, and one of the four (name: Chun Jae-man) notes that those who don't bend will break. Lee Kyung-wan vows to forge ahead and destroy those who oppose them. To that end, he intends to draw out the mystery avenger using the two children, whom he will summon to present a token gift at his upcoming book launch event.
Da-hae finds the president in his woodshop (a sign that he's troubled), and cajoles Dad for a new tutor. She's got just the guy in mind! He happens to be employed at the Blue House, so it's convenient, and he's smart. Also really, really hot. Though I suppose the last part is just in her head. (Okay, also mine.)
As Nana runs to work that morning, Yoon-sung pulls over and she bounds up to the car for a ride. I love that she's already treating him as her buddy, although he locks his door and tells her he isn't about to drive to work together and feed the rumor mill. Telling her to keep running, he drives off, the cheeky bastard.
By the time she gets to work, Da-hae is pouting by Yoon-sung's car, demanding he tutor her. He gets out (knocking her down without apology) and tells her no, but she keeps nagging, promising that if he does, her father may even give him…*thinking*…an award! Ha. Yeah, that's just what the hottie PhD with truckloads of cash wants: a token award, an extra job, and a brat to babysit.
Ki-joon overhears and offers his own services, which go roundly ignored. Yoon-sung calls Da-hae a child, despite her protests that she becomes an adult in two days (i.e., turns 20), and laughs when she offers, "I'll date you!" Like she's some prize. (Ki-joon offers himself again, and goes ignored again.)
Yoon-sung tells her she's not his type, and Nana suggests Da-hae find a different tutor: "That guy's dangerous." Suuure, that's gonna make him less appealing to the teenage princess. Perchance it would be more effective to shoo Da-hae away with warnings that he's criminally boring. Or geeky. Or gay. (Oh right, that one doesn't work.)
At lunchtime, Nana finds Yoon-sung to deliver the message the that First Lady wants to see him. Too bad he's already got a lunch date, with "someone I just have to see every day, or else I go crazy."
Nana scoffs at his playboyish ways, but if only she knew the truth: It's Shik-joong he's so eager to see. She's totally not jealous (totally in denial, more like) that night as she sends Yoon-sung an oh-so-casual text about how he's not making much use of his designated driver/errand girl.
His dismissive reply raises her hackles, so she writes back testily that she, Mi-jin, and Do-jin are making decorations for Lee Kyung-wan's book launch, and that he'd better not to come looking for them. Lol at her inept jealousy management. ("I SO don't want to see you!…Here's my address.")
Mention of the kids being involved in Senator Lee's book launch piques Yoon-sung's curiosity, and gives him the idea for the next phase of his plan.
At the event, fellow council member Chun Jae-man warns Senator Lee that there's still a lot of talk about him in the general public opinion. He's much warier than the overconfident Lee, concerned because he's on the hook too, for falsifying the ledgers. Furthermore, the more Lee's scandal draws media attention, the more people ask for Chun's opinion, and that makes him uneasy. He orders his henchman to watch Lee and keep him in line.
Also here is Young-ju, who greets Chun politely but with an undertone of Don't-fuck-with-me, saying that he will root out the truth. A fellow Council of Five-r is also present, Kim Jong-shik, who appears to be Young-ju's father. (Not positive, but I'm thinking yes.) Ooh, that'll be a juicy revelation further down the line — righteous prosecutor son destroys corrupt politician father unknowingly. Innnteresting.
Young-ju runs into Nana outside, who has accompanied Mi-jin and Do-jin here to deliver their token gift and meet the senator. (The gift gets tossed into the trash immediately, which is particularly dickish of the aide since he does it in front of the kids, in full view of anybody.)
Nana tells Young-ju that she saw him on the news and encourages him to fight for the people, not caring that such a statement runs counter to the general sentiment here, amongst Senator Lee's faction.
From outside the building, Yoon-sung monitors the scene via a planted camera, while Shik-joong gains entrée dressed as a maintenance man.
Mi-jin and Do-jin are brought to Senator Lee, who asks about the tall ajusshi they've seen around. The older Mi-jin is rightfully wary, though Do-jin lets slip "How do you know hyung—?" before his sister cuts him off.
But no matter, because Lee's next call comes from Yoon-sung himself, who says, "You must be looking for me." He offers to show himself once the children are dismissed, and Lee takes the deal. Yoon-sung is swiftly apprehended by bodyguards and taken to the back kitchen, where he faces the indignant senator with a shrug and a smile, identifying himself merely as an unemployed guy who hates seeing kids go hungry. Unlike Lee, whom he calls a thief.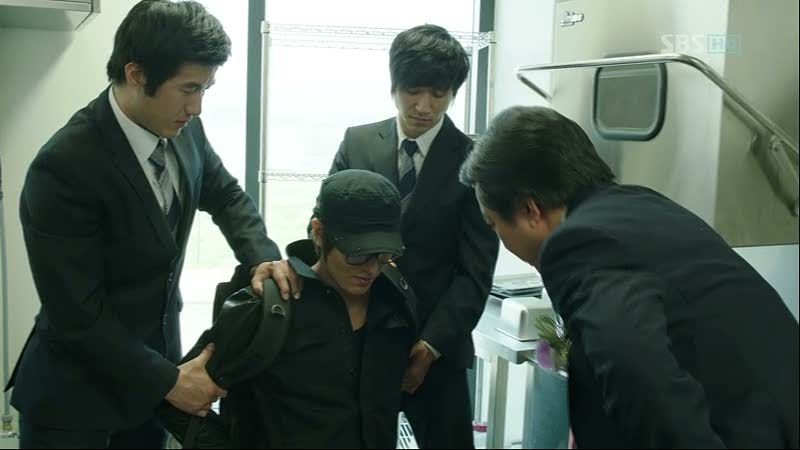 Lee Kyung-wan: "Thief? Is the country an orphanage? Why does the country have to take responsibility for children whose parents neglect them? The citizens' taxes? So what if I help myself to a bit of it? If not me, some other guy's going to take his cut. In that case, isn't it a hundred times better if I take it, since I work hard for the people? I'm a champion for the people, through and through."
Dude, maybe you wanna think twice before spewing all that honesty at a stranger. Have you never seen Scooby Doo? But I suppose this is in keeping with the megalomaniac power trip that he confuses for invincibility. What Lee doesn't realize is that Yoon-sung's glasses are more than mere fashion statement, and are recording his declaration. With Shik-joong nearby manning his own tech gadgetry, he's able to upload this transmission immediately.
Lee leaves Yoon-sung in the care of his thugs while he takes his place at the podium and addresses his partygoers…only to have his own face cut in on the screen. Not only does this play at the book launch, the video — routed through the Blue House — transmits over the internet, overriding any attempts to shut it off…to the entire fucking country. Ahhh, this is great.
Now everyone gets to hear his incriminating speech to Yoon-sung, and I freaking love this effect, because the speech is directed at Yoon-sung, but because of the perspective of the camera, it's like the senator is talking to the people directly as he says, "The law makes allowances for me, because I have power you don't. That's what power is, and that's why everyone wants it. I eat up guys like you."
Lee tries to order the video to be cut, while his Council cohorts, Chun and Kim, look on in dismay. Chun orders his minion to escort Lee away, while Young-ju gets on the phone to request an arrest warrant, now that Lee has confessed.
Yoon-sung easily fights off his captors, but the burly chef is another story; he throws Yoon-sung to the ground like a rag doll and reaches for his butcher knife. Thinking fast, Yoon-sung grabs a spoon, digs it into the guy's shoe, then twirls it around and wields it like a lethal weapon. How resourceful — give the guy an inch, and he'll scoop up the opportunity. (Ba-dum-ching! Couldn't resist.)
Spotting Lee about to escape via boat, Yoon-sung uses his backpack to zipline himself down to the dock — gah, why so cool? — which just tickles my fancy, given that his line is a string of national flags. Like he's a crusader riding the line of public sentiment on his way to mete justice. I bet it's not even intentional, but I love it anyway.
He leaps off the dock to land quietly on the yacht as it pulls away, just in time to stop the aide from strangling the senator, on Chun's orders. Yoon-sung tosses the aide overboard, then whips out a gun and levels it coldly at Lee. And shoots —
— a tranq dart.
Disguised as delivery men, Yoon-sung and Shik-joong drop off a package on the steps of the DA's office, addressed to prosecutor Kim Young-ju. Reporters crowd round, having received an anonymous tip that a trip to the DA's office would yield "something interesting."
And inside the slightly moving box? A bound and gagged Lee Kyung-wan, wearing a sash that reads — sarcastically now — "In Korea I trust."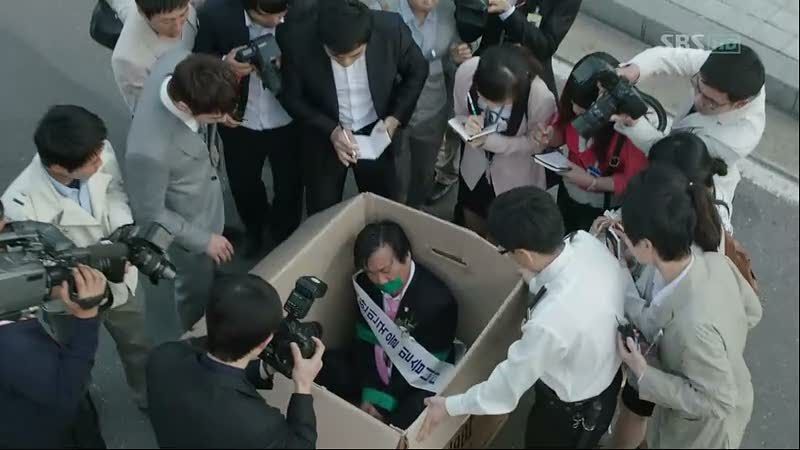 Lee blusters about being wrongfully accused, but Young-ju points out that he confessed. Curiously, the senator is wearing a bunch of dog tags around his neck, which he knows nothing about. He bursts out, "I didn't even go to the army—!" before catching himself. Hee! Not the thing to say to restore you to public favor.
Young-ju answers a call from an unknown source — Yoon-sung — who tells him, "I'm leaving that trash Lee Kyung-wan to you." Then Yoon-sung tosses his phone into the river, mindful of erasing his tracks.
Shik-joong wonders if he got permission from "the boss" to act like this, since he knows Jin-pyo wouldn't like it. Yoon-sung tells him, "Killing isn't my way. I go for total destruction."
As though seeking comfort after his own brush with corruption, Yoon-sung calls Nana for an "errand" — to bring him coffee. In an earlier scene, he'd grimaced at the taste of Shik-joong's coffee, once his favorite, saying he's grown used to someone else's. Now he decline's Shik-joong's suggestion to go celebrate, saying, "I'm in the mood for someone else's coffee."
He meets Nana and the children at a courtyard and splashes in the fountains like a free-spirited boy. I do love these flashes of the youthful spirit in him, because it shows that his father hasn't stamped out his real self. These glimpses at that side of him set the stage for what will clearly become a conflict later on — his sense of justice and capacity to love, warring with his revenge mission.
Yoon-sung invites the children to join him, but Mi-jin is particularly bitter with today's events, telling him that she doesn't want to live in Korea when she grows up, which is full of fake, untrustworthy adults. Yoon-sung playfully ushers them into the water anyway and, spurred by his energy, the gloom lifts as they play in the water together. Aw, there's something so sweet about all these people without a family, forming a surrogate one. *tear*
Afterward, Nana brings him coffee and sits back in satisfaction, saying she feels good now that the kids are feeling better.
Young-ju questions Senator Lee, asking him why he was given the dog tags, which currently turn up no information when investigated. Lee blusters that Young-ju ought to catch the guy who did this to him, and Young-ju replies that he will — but for now, he's more curious to know why the mystery man delivered Lee to his doorstep.
Lee warns, "Do you know that this could happen to your father, too?" Young-ju's response ("Don't insult my father") forebodes that his discovery of the truth is sure to be a doozy.
Yoon-sung drops off the sleepy kids at home, and then declares himself cold and hurries into Nana's apartment, ignoring her protests. He helps himself to some food, making himself quite at home and even wearing a judo uniform, which I find hilarious since I suppose it's the only dry clothing Nana would have to offer him.
Jin-pyo sees news of Senator Lee's arrest and angrily wonders what the hell Yoon-sung is up to. He calls, only to have Yoon-sung ignore the phone.
Nana figures it's another of his many women, but Yoon-sung just busies himself with dinner, picking all those pesky vegetables out from his food. He whines for some meat, saying he needs it after all the hard work he did today, which makes her scoff. She spots Young-ju on the news and says admiringly that there's a guy who did good work today — not like somebody who just complains about his food.
The news broadcasts people's angry, disillusioned reactions to Senator Lee's corruption scandal. One salaryman declares the need for a person who will hunt down all those corrupt officials — like a modern-day City Hunter. Nana likes this idea, and wonders who could have delivered Lee to the prosecutor, while Yoon-sung keeps up his ignorant front. Ooh, I think I'm gonna love these Clark Kent moments, once Nana starts gushing about the awesome City Hunter…
When Dad calls again, he steels himself and answers. Jin-pyo rails at him for his weak move, saying that they can't trust the police to punish the criminals, not when Korea's police kowtow to those in power. Yoon-sung says he'd like to trust them anyway, which Jin-pyo calls foolish trust, saying he should have killed him. Yoon-sung counters that this is the only way to have turned Lee into someone unable to receive forgiveness.
When Yoon-sung comes home, he finds a mountain of kitchenware in his living room, presided over by an excitable Shik-joong, who declares Korea heaven: "Just one phone call, and they deliver!" Haha, looks like somebody caught the home shopping bug.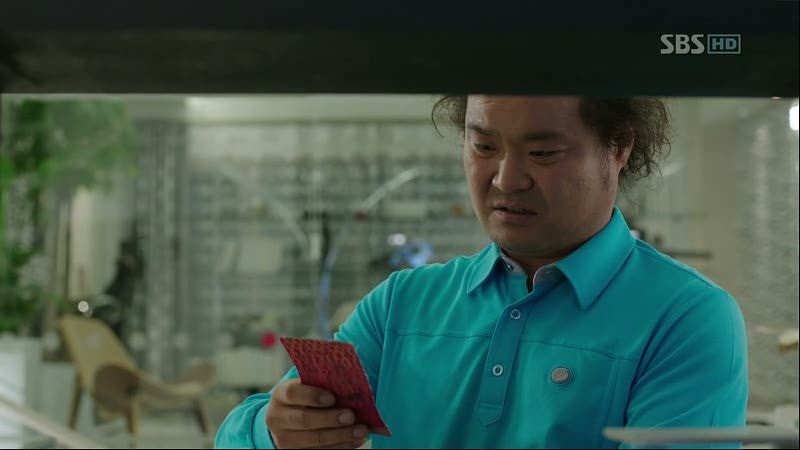 The mood takes a turn when Shik-joong asks if Yoon-sung's looked for his mother yet, and gets back the cavalier reply, "Why bother? She's the woman who ditched me to live happily on her own." Oooh, interesting. So Daddy Vengeance wasn't entirely honest about his origins, which goes a long ways toward explaining Yoon-sung's participation in the revenge plan.
Despite those words, Yoon-sung still has that taped-together photo of his mother (notably missing the face of President Choi — Jin-pyo's playing that one close to the vest for now). Shik-joong understands that soft-hearted Yoon-sung still cares, and takes it upon himself to start looking, particularly since he thinks he recognizes the building in the background.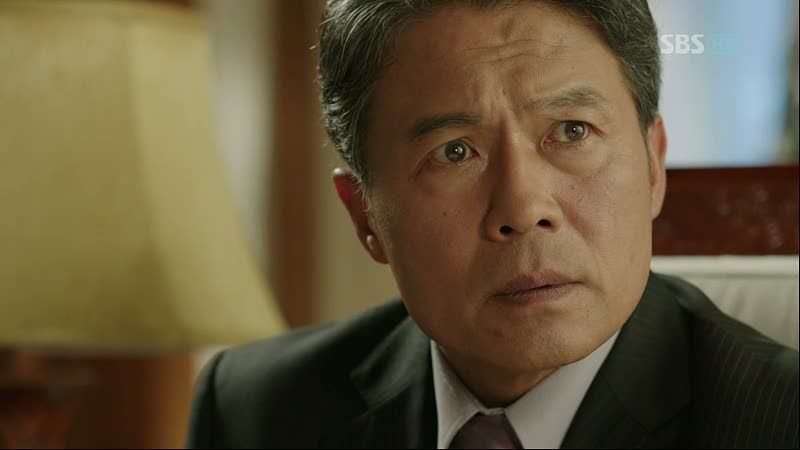 The communications team reports to the president that they've been unable to source the hacker behind the hijacked internet broadcast, as the trail points back to the Blue House. (I love that they assume that means the transmission must've been routed there to confuse people, rather than thinking it originated from within.) The president is more worried about the tax embezzlement, and tells his advisor that he wants to use this opportunity to set an example and punish Lee Kyung-wan justly, to jolt all officials out of complacency.
The president is told of the dog tags, which have been traced back to special agents who went MIA on the same day in 1983. Though the true story is only known by our Council of Five, the advisor has nevertheless made sure that information on the men is blocked.
Shik-joong takes the photo of Yoon-sung's parents and manages to track down the restaurant where it was taken, which leads him to a woman who recognizes her as Kyung-hee.
He rushes home to share the exciting news with Yoon-sung, who doesn't take it as expected. Yoon-sung asks in a hard voice, "Whose mother is that? I don't have a mother. Don't go around doing these things. I'm not free enough with my time to go looking for someone who threw me away."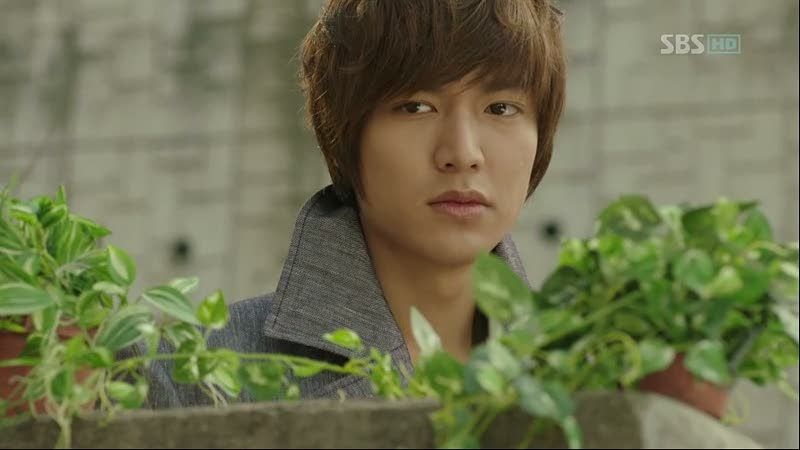 Shik-joong leaves her address anyway, suspecting that Yoon-sung doesn't mean that, which goes to show how well he knows him. Yoon-sung can't ignore this chance to see his mother, and finds her working at a snack shop.
He watches from a distance, struggling to keep his emotions in check. Kyung-hee is approached by a man in a suit who says that there's somebody who wants to speak with her, and leads her to a car parked nearby.
She starts at the sight of President Choi sitting there waiting for her — clearly not pleased — but joins him in the car nonetheless.
Yoon-sung hasn't noted anything particularly odd about this scene and turns to leave…only to see Jin-pyo standing there. Ohhh, shit.

COMMENTS
I know some commenters have had trouble buying Yoon-sung's motivation in the revenge, which is a point that never bothered me. I thought it made sense, actually, that he'd want to avenge his father's death once he learned of it. Yes, we can accuse Jin-pyo of stealing his life from him in the name of his vendetta — he sees Yoon-sung as a tool, a means to his end — but you can argue that Yoon-sung would put the blame on the Council of Five more than on Jin-pyo.
And that's before we take into account what we learn in this episode, which is that he was told his mother didn't want him. Ahh, now that makes sense. If Jin-pyo positioned himself as the loving best friend who cared for his friend's child as his own, it follows that Yoon-sung would feel allegiance to his surrogate father, not his supposedly unloving mother.
I love the conflict that's brewing between father and son, which I had no clue would emerge so soon. I'm always excited when things happen faster than expected because that keeps us on our toes, and why drag out the point when you can get there right away? We've seen that Yoon-sung knows how to manage his father — sort of, as much as Jin-pyo can be managed (which isn't much). I don't think he's ever seen himself as capable of being a cold-blooded assassin, no matter his upbringing. Instead, he's been shrewdly laying groundwork for this philosophical defection, asking his father for permission in advance to carry out the mission using his own methods. And he's plain about his stance to Shik-joong, saying he opts for total destruction rather than death.
That fits, because Jin-pyo's out for a personal revenge — death to those who wronged me and mine. But Yoon-sung is out to set right bigger injustices, and for that he needs the destruction to stick. He can't just wipe out the lives and be satisfied — I'd argue that what he wants is a more complete revenge than Jin-pyo's bloodlust. So I see Yoon-sung harboring and cultivating an entirely different set of motives than his father, but he's going along with the plan for now, since both their goals involve the same baddies.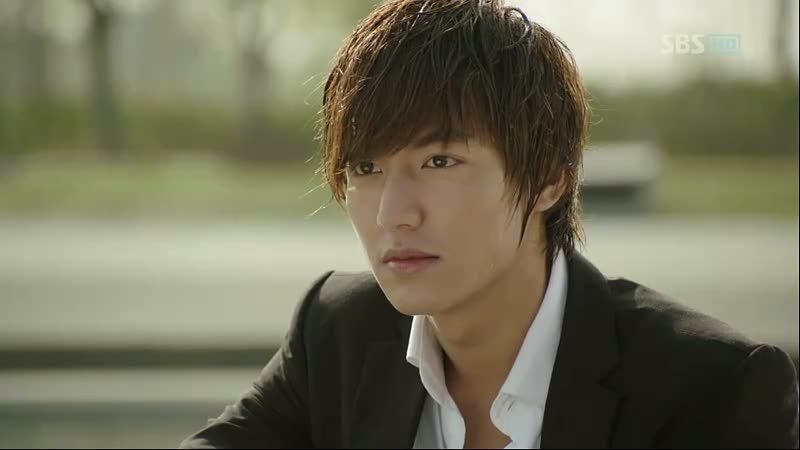 I love the Batman/Clark Kent/Secret Superhero dichotomy Yoon-sung is playing out, because that duality is reflected in multiple levels. There's the day/night metaphor with his cover job and his City Hunter exploits, and his status as double agent who infiltrates the presidential residence in order to kill the president. We also have the light/dark aspects of his personality, and it's nice to see that his lighter side is still intact when he's "off the clock," usually with Nana. If his father's the one driving him to the dark side, it's Nana who'll pull him back from the brink. (One hopes. Considering the melancholy, moody tone this drama has established, I'm hopeful, but not certain, of a happy ending.)
There's also the playboy/assassin duality, which is a clever way to twist the original Ryo character, the obvious perv who also fights crime. Here, Yoon-sung adopts the false persona of a playboy to cover his crime-fighting secret identity, like Bruce Wayne — if we must update the premise, it's nice that it works on a symbolic level.
Then there's the alliance of our two leading men, which is another thing I love. Young-ju is the lawful one, who's upright and uncorrupted, but finds that that very sense of justice ties his hands. On the other hand, Yoon-sung has no such qualms about bending the law to obtain his justice by whatever means necessary, like a dark avenger. That makes them the perfect partners…or eventual foes.
What I want to see from here on out, though, is Young-ju stepping up to put in his contribution. It's satisfying to watch our Batman do all the dirty work and disappearing into the shadows like a cool cipher, but I'd love to see more of a two-sided dynamic emerge between the men — with all its attendant conflicts if/when they start to clash.
So while City Hunter has got the style of Bad Guy (cool, lush, moody), I'm actually getting some Story of a Man vibes with its plotting structure, which excites me. This is a case where the arc/mini-arc structure really works to build and keep momentum going within each hour, and also from episode to episode. Every hour has a mini-mission, keeping the goals tangible and delivering payoffs on a regular basis, but they're built into the Bigger Bad.
RELATED POSTS
Tags: City Hunter, featured, Lee Min-ho, Park Min-young