Miss Ripley: Episode 5
Never have I watched such cute, romantic moments with such a sense of dread. The cuter the scenes, the more I shrank back thinking of the fallout that is inevitably in the books for our intrepid anti-heroine, who's doing whatever she has to do to climb herself out of her dire straits. But in clawing at the hole she finds herself in, it's unclear whether she's actually getting any purchase on its walls to drag herself out, or if she's just widening and deepening her own grave.
Okay, maybe that's a little dramatic. It's not totally clear that she's headed for doom and destruction. But she is definitely digging some sort of Pit of Despair for herself.
SONG OF THE DAY
Miss Ripley OST – "입버릇처럼" (You always said) by Miru [ Download ]
Audio clip: Adobe Flash Player (version 9 or above) is required to play this audio clip. Download the latest version here. You also need to have JavaScript enabled in your browser.

EPISODE 5 RECAP
In the car ride following the kiss, Miri gets to work sealing the deal with Myung-hoon, acting like she's afraid HE didn't mean it, while she did. Seriously, this girl = the true queen of reversals. She's perfected the art of anticipating trouble, then stepping in to cut it off at the knees before it can turn on her. It's the shrewdest way of creating a distraction to escape from being pegged as the culprit. And sure enough, Myung-hoon assures her that he meant it, too.
(Side note: I appreciate the thematic musical relevance, but I do wish this drama would dial down this whole Carmen excess. We get it. Lady is playing him. And if we don't get it, then blaring the same bit of music over and over isn't going to help any.)
After the baseball game, Yoo-hyun drops Hee-joo off at her door and says he had a good time. She surprises him by giving him a gift — a key chain marked with the Pisces sign (hers as well), as she happened to see his birthday on the ticket.
He appreciates the gift, but it's Miri's phone number that makes him smile like a giddy schoolboy. (Right hand = Hee-joo's keychain. Left hand = Miri's number.) Agh, it's so cute, but the cuter it is, the more foreboding I feel for future events. Either this boy is gonna get crushed, or he's going to surprise me by being tougher than he looks — and if that's the case, he'll lose that boyish charm that makes him so endearing now.
Miri asks Myung-hoon to drop her off at a distance, stating demurely that she doesn't want to be seen entering the hotel together and get people gossiping that she's out to kiss his ass in the name of career advancement. Again she sees the bomb and defuses it before people even have a chance to think the idea that would spark it.
Myung-hoon heads back to his office to await his confirmation faxes, where sure enough, the latest one comes in from Tokyo University stating that they were unable to confirm Miri's graduation. She drops by his office with the pretext of bringing Myung-hoon food, and scores — he's stepped aside, leaving the fax machine unattended.
Seizing this opportunity, Miri rifles through his folder, then finds the letter about her still in the printer (therefore unread). Thinking quickly when Myung-hoon enters, she stashes the letter inside a newspaper.
Thankfully, he's tickled at their great-minds-think-alike moment — they've both bought dinner for each other — so he doesn't press about her presence here. They sit down to eat and Miri uses the newspaper as tablecloth, so she can pack it away with the trash afterward.
Then, it's cut-and-paste time: She doctors the fax, re-conjugating the predicate so it now confirms her graduation status. Apparently she can reprogram her machine's outgoing fax number to appear as the Tokyo U number (which I didn't realize was possible, but it's nice and convenient) and uses that to send the forged letter to Myung-hoon's office.
Myung-hoon gives a press conference announcing that Hotel A has investigated their employees' educational backgrounds in response to the forgery scandal, and that everyone checked out. He states that the Mondo deal is being worked out, just as the reporters all start getting called away with breaking news that Mondo is about to announce their relinquishment of the takeover.
Lee Hwa makes this announcement over at Mondo Group, stating that problems with Hotel A's management led to their decision. Yoo-hyun isn't happy, and looks into a way to handle this.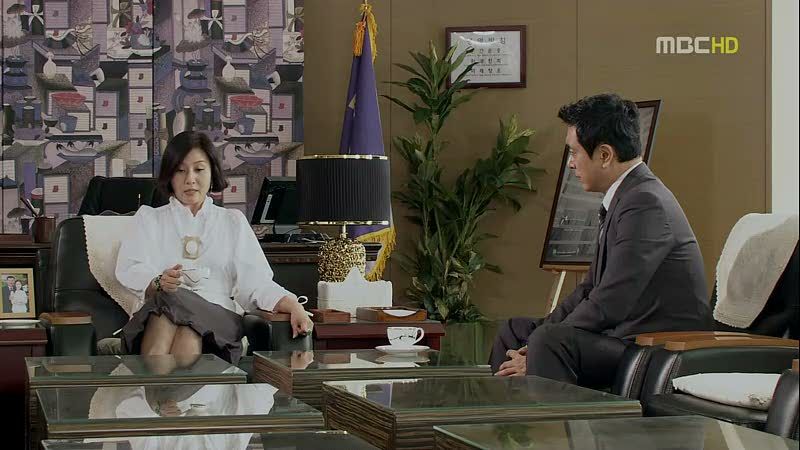 Myung-hoon heads straight for Lee Hwa to demand the reason for her ambush announcement, pointing out that using the forgery scandal as an excuse won't wash, since Mondo's plenty powerful enough to withstand it. She answers that the merger was never attractive to her; it was all Yoo-hyun's doing.
Speak of the devil; Yoo-hyun joins them to declare that he hasn't yet given up on the merger, overriding Stepmom by pointing out a way to move forward, with the intervention of a new investor. He smoothly undercuts Lee Hwa's protests, saying that his 2% of Mondo should be plenty to back his investment. That is, if both Mom and Myung-hoon agree to it.
Put on the spot, Mom grudgingly tells him to go ahead. I like that Yoo-hyun's very politeness becomes his weapon in business dealings, which is an interesting facet of his business persona given how very naive and sweet he seems in his personal life. He maneuvers this situation deftly, and while everyone understands that he's in charge of this discussion, they can have no complaints that he was impolite about it.
Papers are signed and with that, the alliance is complete.
The first thing Yoo-hyun does to "celebrate"? He visits the grave of his mother, where he thinks back to his childhood when she was still alive, praising him with motherly affection. He imagines that she's here with him now, still comforting his childhood self, wishing he could hear her words of encouragement.
His father, President Song, guesses as much and asks if that woman Yoo-hyun is interested in resembles his mother. He's unsurprised at the confirmation.
At work, Miri perks up to hear employees speculating about Hotel A's plans to shoot a commercial — particularly when they note that the VP of Mondo Group (Lee Hwa) started as a hotel employee who then became their promotional model.
Time to get the new plan in motion: Miri sends sad eyes at Myung-hoon, saying that she's been waiting for him to call. He apologizes for being busy, but assures her that she's been in his thoughts all this while. She plays up the whole "Poor lovelorn me, afraid you'll leave me without a care" angle, acting disheartened and worried in order to secure his assurance that she need not worry.
Then she works in the promotional video into the conversation, in a way that plants the idea into his head without outright saying she wants to be cast in it. She hangs her head in dismay, acting ashamed of herself for not even knowing about it, like she's berating herself for being a bad employee.
Her heavy sighs prompt Myung-hoon to tell her that she's important to the hotel and to him. Miri she says that she can tell she isn't, not yet, and that's tearing her up.
Turns out he doesn't even have to do much to get her name in the mix for the promo video casting, because the employee in charge has already decided she'd be perfect for it. The Mondo employees prefer going with a Hallyu star, but the Hotel A side would prefer a fresh face to represent their brand. Thus when Miri is presented as the prospect, neither Myung-hoon nor Yoo-hyun have any objections.
Miri tapes the commercial, all beauty pageant smiles and Asiana model perfection. I'm amazed at how much this woman can accomplish through purely the power of suggestion, given that she never pushed for it. It must be her secret superpower.
Hee-joo finds out that she would have been the winner of the design competition, but for her pending case for abetting the forgery of documents. The contest director doesn't believe she's guilty either, but the facts of the case prevent him from picking her.
She calls Yoo-hyun in a funk, who comes to the bar where she's well on her way to drunkytown. His description of their relationship as "friends" puts an obvious damper on the mood, which is pretty dampened already.
With self-loathing, Hee-joo calls herself a fool for being unable to do anything properly, but more importantly, for inviting scorn upon her dear deceased dad. It turns out Yoo-hyun knew her father, which surprises her — particularly when Yoo-hyun calls Hotel A her father's sole failure.
Miri picks at her dinner, saying listlessly that she hasn't had much of an appetite lately. She looks out the window and affects a display of existential pain, wondering if all those cars on the road know where they're headed, or how lonely that road is. "If they knew that loving somebody could be this painful… Sigh."
Gah, your poor-little-waif act is kind of making me nuts. As a manipulative tactic it's quite effective (and impressive), but what really kills me is seeing how smart, successful men fall for it so easily, with one bat of a doe-eye or a pretty word spoken in false sincerity.
She tells him she doesn't want to go home and face the loneliness, not when she's wondering what he's doing at home — where he sleeps, if he's lonely, whether it would have been better to go with him. Oh, lady, you are good. You've basically given him the go-ahead to invite you home, but stripping it of any sleazy overtones because it's been cloaked in this caring, emo facade. As a result, Myung-hoon's gone from nibbling at the bait to swallowing it hook, line, and sinker, and he asks tentatively if she'd like to go home with him.
Speaking of smooth operators, so is Yoo-hyun, actually. By framing Hee-joo's father's work in terms of failure, he's piqued her curiosity and also provoked her desire to right that supposed deficiency. Yoo-hyun explains that architects are usually involved at the very beginning phases of planning, but Dad had been too busy with Hotel A.
Clever, clever. Yoo-hyun's straightforward methods to recruit Hee-joo have not met with favorable response, so he uses a backhanded method. With the seeds planted thusly, he admits that he'd told Chul-jin he'd try to persuade her to their planning team, where she can step in where her father left off. She'd previously declined the job on grounds that she wants to design rather than plan, but now with her father's memory invoked…
Myung-hoon and Miri arrive at his place, and he's visibly nervous, which I find adorable. Miri takes the lead in backhugging him, sighing that she feels better now, and with the mood established, let the sexy times roll.
(I guess it's a good thing girlfriday and her Kim Seung-woo ajusshi-crush aren't recapping this episode, or the words would stop here and you'd just get lots of nekkid screencaps. Not that there are many. So maybe just the same one, over and over. Amirite? Or are you too busy rewinding and rewatching to bother answering? *crickets*)
Their conversation afterwards touches on their childhoods, as Myung-hoon admits that he'd harbored no dreams growing up. He explains that they were so poor that he was afraid to dare dream, which would have cast his father's poverty into even more extreme relief, and is why he hadn't accepted her gift of a fountain pen. That was the first gift his mother had given him after he'd become a doctor.
Miri says, "It makes me think we're quite similar, while being quite different." She, on the other hand, had so many dreams — president, Miss Korea — and he understands even before her explanation that her poverty motivated her to do whatever it took to live differently.
She starts getting pretty honest, admitting that she wanted to be able to do work that she wasn't ashamed of. This scene is such an interesting collection of sincerity and facade, because even though I believe her when she tells Myung-hoon that this is the first time she's ever said these things to another person, I see her as wielding her words as a carefully chosen weapon, or at least a tool.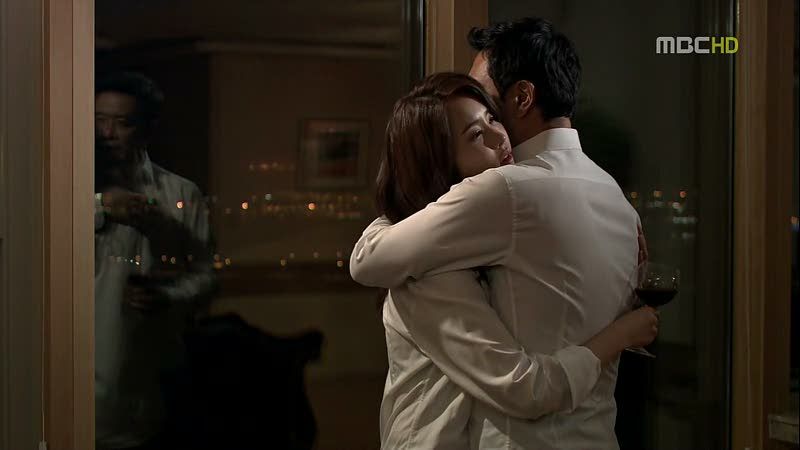 In the morning, Hee-joo asks Miri for her advice on what job to pursue next. What does she think about her working for a planning department?
Miri assumes that Hee-joo is speaking purely hypothetically and puts on condescending airs about how Hee-joo is hardly qualified: "Could you even do that kind of work?" She's totally patronizing about it, but I suppose we are talking about the girl who keeps turning down a solid position at a prestigious company to be a chambermaid, so Tokyo U degree or no, Hee-joo hasn't exactly demonstrated the soundest display of logical thinking.
When Hee-joo mentions Mondo Group and starts to explain about Chul-jin and Yoo-hyun's pitch to her, Miri cuts her off, saying that those low-on-the-totem-pole boys know nothing, and that she's aiming way too high if she think she can work for Mondo.
I sort of enjoy how big a bitch Miri is being, because it makes me anticipate the look on her face when she realizes that (1) Hee-joo's actually being aggressively scouted, (2) Yoo-hyun is a director at Mondo, and (3) Oh crap I put my eggs in the wrong basket, wait, can I have two baskets?
Hee-joo is hurt, but more significantly, she keeps the truth to herself and drops the subject. I like that she's starting to clue into Miri's real attitude, and that she's just letting the truth rest for now, rather than hurrying to give Miri an out or to explain it away. Something tells me Miri may be creating her own worst rival, when she could have found in Hee-joo her biggest fan.
On her way out, Yoo-hyun greets her. Miri tosses out the cryptic, condescending comment, "If you're going to help, you should do your research first," insinuating that he's being totally clueless about Mondo and Hee-joo. Oh, honey, if you only knew. And I can't wait for you to know.
Yoo-hyun is still so smitten by her personality character pretty looks that he shrugs it off as Miri being unhappy about something. Other than him, he means.
Both Yoo-hyun and Miri are invited (separately, of course) to a party that's strictly VVIP-only. Yoo-hyun doesn't want to go, but is obligated to put in a showing since all the major players in the merger will be there. In contrast, Miri is thrilled and honored to be invited as a company rep, and thanks Myung-hoon profusely. Already he's started taking her under his wing professionally (as well as, erm, unprofessionally?), and he's gratified to tell her that this will bring her one step further in broadening her horizons.
In the days that follow, Miri and Myung-hoon enjoy that early phase in relationships characterized by giddy flirting and adorable dates to the movie theater, bike riding, or just hanging out. We still know that Miri's working her position (and Myung-hoon) to her best advantage, but it's in these free, happy-go-lucky scenes that I begin to wonder just how much of it is an act, and how much of it is Miri allowing herself to enjoy this companionship.
Myung-hoon gifts Miri with a designer dress for the party, and she does that reverse-modesty again, saying that she was afraid she'd bring him down, in order to get him to assure her that's not the case.
They laugh a little as he drops her off, as she tells him to "speak comfortably" with her, which is her way of telling him it's okay to drop down to banmal. He does, a little awkwardly, and it's cute. (She, on the other hand, retains the jondaemal for him because he's older, he's her boss, and he's a man. Yeah, that's just the way it works. Take it up with Confucius.)
She arrives home in grand spirits, and happily chatters about the party and the dress and how her life finally seems like it's on the right track. She doesn't notice that Hee-joo sits there in a dark mood, having found her diploma in Miri's things while cleaning the apartment.
Miri finally clues in to Hee-joo's mood and asks what's the matter. Hee-joo holds out the diploma, having recollected all the suspicious moments she'd overlooked with Miri and finally connected the dots.
Miri's eyes widen to recognize the diploma, though she quickly covers up by feigning ignorance. That doesn't last long and Hee-joo says she found it in her bag, to which Miri asks, offended, "Are you going through my things now?" Mayyyybe not the best line of defense when you've just been caught red-handed.
Hee-joo asks why she did it, and reminds her that she lost her job and went to the police over this. But she isn't after punishment: "Even if you did it, I don't care — I just want to know the truth."
Miri drops the denial and admits that yes, she did it to survive. Hee-joo says she could have just used her own diploma, uncomprehending, and Miri scoffs at Hee-joo's naivete:
Miri: "This is so like you. You came from a good family and were able to go to school — how could you possibly know the feelings of someone like me?"
Hee-joo: "Did you…"
Miri: "You're right. I didn't graduate from Tokyo University. Not even that — I couldn't even approach its gates. Got it now?"
Hee-joo: "You…"
Miri: "It's because of you. Why did I have to live like this? If you just hadn't drunk that spoiled milk that day, if you just hadn't been sick, I wouldn't have turned out this way."
Hee-joo asks disbelievingly, "That's what this is about?" Miri: "Yes. You don't know what happened in my life. Do you know how I lived in that house you were supposed to live in?" She describes washing 50 blankets a day, hands chapped from washing, knees scraped from scrubbing floors, for years. Then there were the debts of a drunkard father she had to repay.
But Miri cuts herself off, saying Hee-joo won't understand. Bitterly, she notes how differently she's being treated now because of that one piece of paper, which nobody suspects is a fake. And that makes it even worse, that that piece of paper was so vital to her, yet matters so little to everyone else.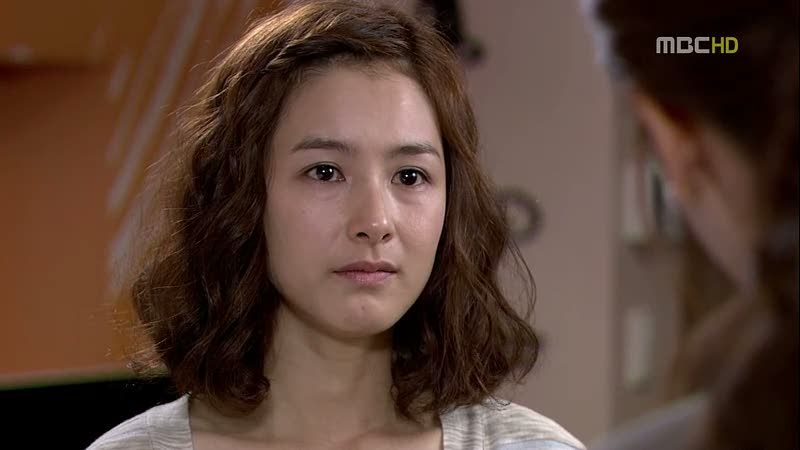 Hee-joo asks, without judgment, "Are you happy?" Miri chokes on a sob and says, "Yes. I'm so happy."
It's incredible, but maybe Hee-joo really just is that good-hearted — or maybe she buys into Miri's flawed logic about being the reason for her crappy life. So she tells Miri gently that it's okay — that she'll count this as recompense for the years Miri spent in misery because of her.
And Hee-joo lets it drop. Wow. I'm a little impressed, a little disappointed, and yet also a little excited at what this means for the girls' relationship. Because, despite Hee-joo's willingness to let it go, there definitely is a change after the lie comes out. I don't know that Miri would sacrifice any of her newfound gains for Hee-joo's sake, but she does feel something — an indebtedness, perhaps, or guilt or gratefulness or any mix of all those things.
Hee-joo's not so above it all that it doesn't affect her at all, though, and she later calls Chul-jin to accept his job offer with Mondo after all.
Miri runs into Yoo-hyun on her way out, who is miraculously undaunted even after the numerous set-downs she's delivered. He's not just an eager puppy, he's like the energizer puppy, who takes a lickin' and keeps on tickin'. Oh wait. I think that's Timex. You get the point. He's got the heart of a puppy, but the body of an indestructible steel robot machine that just won't stay down.
Miri asks scathingly, "Don't you have any pride, as a man?" and leaves. Apparently not. Or perhaps he's lived such a charmed life, which he appreciates and whose burden he feels daily, and therefore he won't get bent out of shape over things like this? Or maybe she's just pretty and he can't help himself.
President Song senses that his wife isn't entirely thrilled about the party tonight, which marks a big step forward for his beloved son — her resentment of that is understood. It's an interesting dynamic here, where it's an open secret that there's tension between Stepmom and Son, enough that they can refer to it in passing or through oblique references, but which all parties for the most part pretend doesn't exist.
At the event, Yoo-hyun greets Myung-hoon and Hotel A's President Lee, the warmth restored between them now that Yoo-hyun has proven his honorable nature. They congratulate each other and smile adorably. Aw, the bromance is alive and kickin' after all.
Miri arrives looking radiant in her new gown, and greets a smitten Myung-hoon. He takes her with him as he greets Mondo's President Song and Lee Hwa, introducing Miri as his employee. He guides her through the room, giving her tips on how to remember everyone she's meeting.
And then he spots "the most important person" — the Mondo Group heir — standing across the room in the white tux. He describes the man as a humble, down-to-earth type of guy who values personal life more than social ranking.
Myung-hoon advises Miri to wait for the right opportunity to make a good impression, since they'll be working together frequently. He starts to take her there for introductions but gets called away.
And it's then that Miri recognizes the guy in the tux.

COMMENTS
I like that the drama complicated the process of Miri's forgery, because as some commenters pointed out, it's a little far-fetched to suppose that in this day and internet age, an employer would trust a paper diploma but not bother to check with the institution itself. At least with the faxed confirmations, they addressed the issue, and while Miri's actual forgery wasn't too tough to pull off, it required a careful maneuvering of circumstances that Miri had to orchestrate.
I have to say that watching Miri in action with Myung-hoon is both fascinating and deeply uncomfortable. I cringe, but it's a cringe of appreciation at how the drama is showing her spinning her web and ensnaring Myung-hoon. It gets a little squicky when romance — and yes, sex — is involved because one could draw similarities between her miserable life in Japan bar-hostessing for money from men, and her using Myung-hoon for advancement. But what blurs the lines is the way that it's unclear just how much is fake and how much is the real Miri coming out. I still think the ratio is heavily skewed in favor of big fakey faker, but there are moments when she's quite honest, like her explanation of her dreams.
It's interesting that Miri is acting the opposite of his ex-wife Gwi-yeon, who, ironically enough, was actually in love with him. Gwi-yeon pushed him away in her hurt and misguided anger, hoping he'd grab her but getting nothing — but Miri has perfected the art of pulling back just enough to actually spur him to come closer.
But my favorite development is the outing of the lie to Hee-joo, because I had no idea (or expectation) that the bumbling clueless wonder would ever realize this about Miri — and certainly not this early. She seems to be kind and understanding, but Miri has pushed all her buttons, gleefully and purposely, and Hee-joo's still smarting from that sting. Perhaps she'll tap into her own dark side?
While Hee-joo offers to let the forgery issue go, hell if it's actually going to die here. Especially with Hee-joo taking up the job at Mondo, where she's already in good with the director and his BFF. She'll be a rookie there, but in the current hierarchy, Mondo > Hotel A — which puts her at a potential advantage over Miri. Now, that should be fun to watch.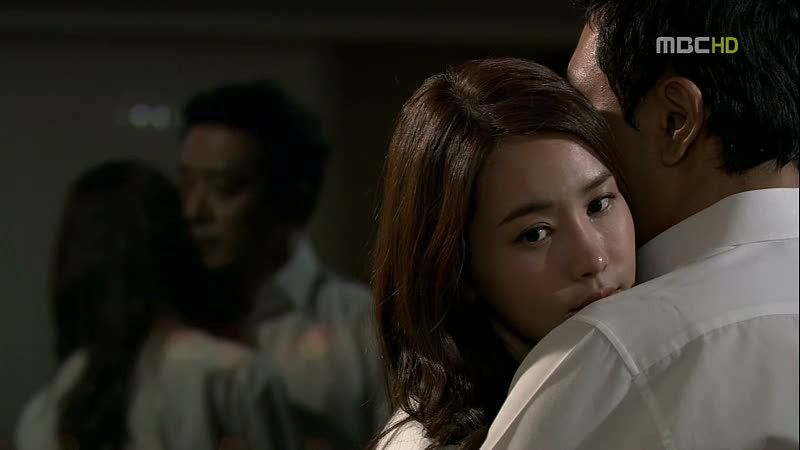 RELATED POSTS
Tags: featured, Kang Hye-jung, Kim Seung-woo, Lee Da-hae, Micky Yoochun, Miss Ripley