Miss Ripley: Episode 8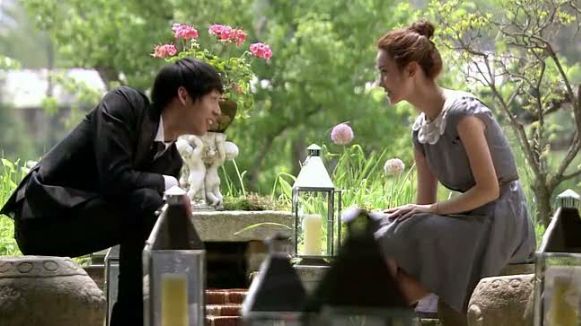 Love, tension, it's all getting so good, so complicated. Everyone learns a little more than they should about Miri, and the web starts to unravel, line by line. I sort of love how delightfully tense this show is, without any guns, explosions, or super secret spies. We've spent the first part of the series watching Miri build her web of lies, and now the real fun begins, in watching how she handles it when it all starts to come loose. And it turns out the thing that might do her in… is love.

EPISODE 8 RECAP
After the run-in in the bathroom, Hirayama makes his presence known again on his way out, purposely bumping into Miri while she's with Myung-hoon. It's a nice moment of tension for Miri standing between the two men, because it illustrates just how precarious her situation is. One false move in any direction and she's toast. How does she sleep at night? The stress alone would give me insomnia enough for a lifetime.
Hee-joo makes her first presentation post-merger for a plan to build a sand-beach pool. Both Myung-hoon and Yoo-hyun are excited and praise her, and she makes her first official introduction to Myung-hoon.
He's surprised to know that she used to work at Hotel A as a maid, and was actually the one fired over the diploma hullabaloo. But she bears no grudge because she's Hee-joo, and they greet each other warmly. She adds that her roommate works at his hotel—Jang Miri—and he's stunned, probably because he never stopped to think that he knows nothing about Miri's life outside of work.
He asks Hee-joo if she's okay, since he heard that she was sick recently. Hee-joo just innocently replies that she hasn't been sick. Uh-oh. Lies starting to unravel…
He contemplates Miri's blatant lie to avoid him (though in the grand scheme of things it's a harmless white lie, but for the seed of doubt it plants in his mind), and it doesn't help that she's not answering her phone at the moment.
That'd be because she's busy picking flowers with Yoo-hyun to go meet his parents. She asks if they should take a cab, still playing dumb, but he says that he called the car today. The look on her face says okay, here we go… today's the day.
He says nothing and they get in the car, but after a few minutes she asks to get out and wonders what all this is about. And then he finally confesses that he's Mondo's heir, and her boss' boss.
He tells her that he wanted to meet her as himself, not wrapped with pretty chaebol bows. She feigns hurt, that he thought she might be the kind of woman to only see him for his wealth and position. Ha.
Miri: "Did you not trust me? How can a person fool another so completely?" Wouldn't WE like to know, missy?
She plays it up perfectly, wondering if any of their interactions were real, if any of them was his true face. He can do nothing but apologize. She says she understands why he did it, but…
Yoo-hyun: I love you. I hate that I have to say it in this situation and in this way, but I mean it. I love you.
Eeeee! I don't know whether to be happy or horrified! This is so messed up, and yet her reaction is real shock, like she didn't expect it to go so far so fast. And well, he's so sincere that you can't help but want him to win her love. Maybe it'll be his sincerity that pushes her back from the brink. Just maybe?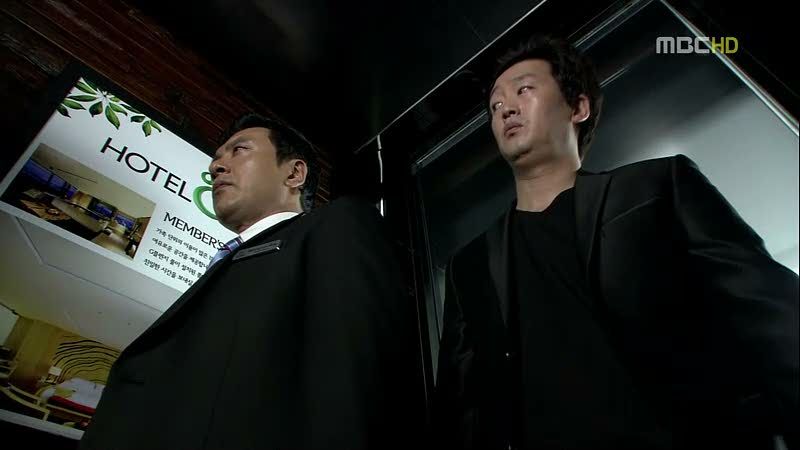 Meanwhile, Hirayama shows up at Hotel A, demanding to see Jang Miri. Myung-hoon discovers him and leads him to his office for a chat. Man, that's lie number two in one day that he's discovered…
Hirayama claims that he gave, and so now Miri owes. Myung-hoon guesses from his persistence that this is not mere money he's talking about. He does say that money is the first priority of things to get out of her, but continues to talk about her in thinly-veiled ex-boyfriend terms, like theirs is a relationship that can't be severed.
Myung-hoon takes it all in calmly, the wheels turning in his head. They exchange business cards and Hirayama leaves with a once-over of his large office, and a "I think we'll be seeing each other again." Creepy, this guy. Though now I'm seeing him as this guy too, which is cracking me up.
While Boyfriend No. 1 is busy cleaning up her mess, Miri goes to meet Boyfriend No. 2's family. Yoo-hyun's parents are surprised to have already met her, and Dad takes to her right away.
Mom isn't quite so easy, because for all of Miri's perfect daughter-in-law traits, she can't shake her instincts. Go with it. I find you scary, but as far as dramatic conflict goes, you are definitely going to be Miri's most well-matched opponent, that's for sure. C'mon, like you don't wanna see that showdown? You could sell tickets to that.
On their way back, Yoo-hyun asks if Miri's still mad at him, and she says she doesn't know, finally answering that the only thing that matters to her is his heart. Is that what we're calling the size of your bank account these days?
He's totally smitten, of course, and takes her hand as he says that his heart has decided, so there's no need to worry.
Myung-hoon spends the whole day unable to reach Miri, so he finally shows up at her apartment, growing bolder out of desperation. Hee-joo opens the door, floored to see Myung-hoon standing there.
She lets him in, apologizing for the mess (having just turned the place upside down looking for the drawings that Miri poached for her portfolio). She guesses that there must be something urgent at the hotel if he's here to find Miri.
But he totally answers truthfully, "I like Jang Miri a lot. We're seeing each other right now." OH HOLY CRAP! You're just gonna say it like that? Hee-joo's jaw drops.
If Hee-joo had even one evil bone in her body, she'd totally have Miri by the balls right now. She knows like 90% of everything. If she would juuuuuust put the pieces together….
And then Myung-hoon proceeds to confess like a lovesick schoolboy that he realized he knows nothing about Miri, and thus finds himself here, talking to Hee-joo.
At the same time, Yoo-hyun walks Miri to her door, telling her how happy he is right now. He grabs her in a hug, his love and sincerity totally palpable. It actually overwhelms her, and she really begins to feel a pang. Is that… your conscience I see?
Oh, man… it's happening… Yoo-hyun's totally unbridled sincere puppy love is getting to her. I love this, if he's what throws a wrench in the whole thing.
She walks up to her door just as Myung-hoon walks out with Hee-joo. Damn, these close encounters at every turn are just killing my nerves. She's shocked but he doesn't really say anything about the day's events, or what he told Hee-joo. He just says that seeing her face is enough and goes.
Hee-joo asks what's going on, and Miri starts out being totally defensive, as always. She tells her not to imagine anything weird, not knowing that Myung-hoon has completely spilled Le Beans.
Hee-joo asks what she'll do if Yoo-hyun finds out, and Miri spits back, "Are you threatening me?!" If you learned to not overreact so much, you might stop revealing your hand to Hee-joo at every turn. The threats are going to backfire on you someday.
Quickly realizing that Hee-joo knows at least how Myung-hoon feels, she changes her tactic. She confesses that yes, Myung-hoon does like her, and that she feels indebted to him because she wouldn't be where she is without him. But her feelings for Yoo-hyun are true.
Hee-joo: "What you're doing right now isn't love." Miri just looks at her, completely sincere: "Love? What's love?"
She runs to the bathroom, sincerely contemplating, "Love…?"
It's so fascinating that the concept is foreign to her, and she hasn't thought twice about using the word not knowing the meaning… until now. Yoo-hyun's sincerity is throwing her for a loop, and it's a big one.
She shows up to his office the next day with a picnic lunch, that she of course buys and says that she made herself, while thinking of him. Ha. It makes him ridiculously happy.
She asks what his parents thought of her, and he says that Dad particularly liked her a lot, and told him to get married soon. She looks up at him with genuine shock. He tells her that he knows it's soon, but that they're not children, so if they're sure, why wait? I beg to differ on the "children" part, puppy, but you go with it.
He tells her to think it over. Dude, this girl now has TWO proposals sitting on her plate! That's crazy. I watched her do it, and I'm still like, what the hell just happened?
Hee-joo takes a fall at work, mostly due to her innate clumsiness, but also because her head is swirling with Yoo-hyun and Miri and her love triangle drama. Chul-jin rushes her to the hospital and Yoo-hyun heads there to meet them.
Back at work, Miri overhears the receptionist gossiping about a strange man, and asks if something happened. She tells Miri about the creepy man who came looking for her, and that Myung-hoon took him upstairs for a chat, adding that he asked her to keep it a secret.
Miri rushes upstairs to do damage control, but Myung-hoon isn't there. He's parked outside of Hirayama's club in fact, wondering if he should go inside. Miri calls Hirayama, freaking out, but he tells her that he thinks he needn't deal with her anymore, since the hotel boss is calling him right now…
Hee-joo gets cleared by the doctor with a wrist sprain, and Yoo-hyun worries after her and asks to take her home. She answers distantly, calling him by title instead of by name, and he wonders what's up with her. She's in love with you, doofus!
She tries to laugh it off and insists that she'll be fine with Chul-jin, so he goes ahead. The look on her face as she watches him go just about does me in.
Chul-jin notices it too, and asks if she still hasn't gotten over her feelings yet. He worries that she's just setting herself up for pain, which she knows. Chul-jin confesses to not liking Miri either, but tells her that Yoo-hyun really loves her, so what can anyone do?
Hee-joo wonders aloud, "Even if what he knows about her isn't all true?" He asks what she means, but then she shakes it off, just answering vaguely that she doesn't know what's right either.
Miri rushes to meet Hirayama, only to find that Myung-hoon has beaten her to the punch. She arrives, horrified to find Myung-hoon dealing with Hirayama directly, feeling exposed.
She ought to thank her lucky stars that he's got a savior complex and he's paying off her debt. Well for now, that is. Hirayama makes it clear that business is not yet settled between them.
Myung-hoon takes them to the river, and Miri trembles, not wanting to face up to it. I think that this part of her is true—that she's ashamed of her past, and despite the fact that he took care of her debt, she hates more than anything that he had to find out something bad about her.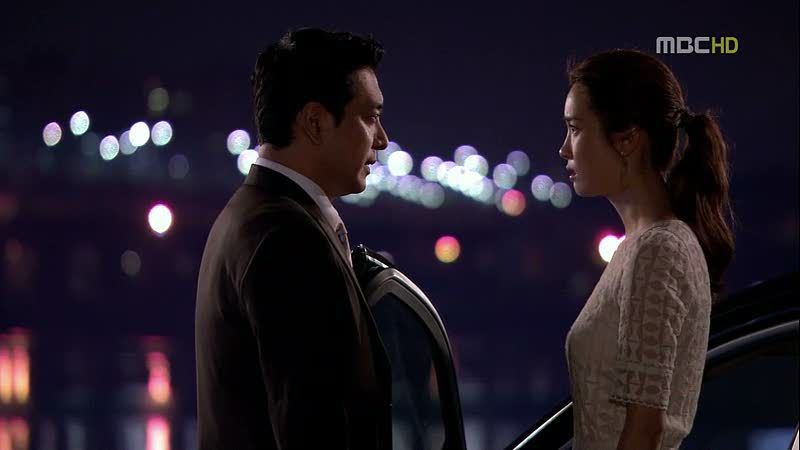 He doesn't know the full extent of it, of course, and she starts by confessing that with nowhere to lean and no one in her life, she borrowed from loan sharks to make her way in Japan. She continues to explain and apologize, but Myung-hoon cuts her off…
He tells her that he wanted to take care of it without her knowing, and sighs that today's supposed to be a good day. He says that her guest lecture spot has been approved and set up. She looks at him, stunned.
Myung-hoon: From now on there won't be anything to hurt you. Whatever you want, I want to do it all for you. No. I will do it for you.
Oh my god, the outpouring of love… it's too much. It's so heartfelt, so unconditional and safe. It's the kind of love she's never had, never believed in. I love how Myung-hoon embodies everything that she could need from a father and a man, all wrapped into one confusing package. It's such a great parallel to Yoo-hyun's earnest puppy love, and I love how this drama sets them up clearly as two very different kinds of men who show their love in different ways.
She's overwhelmed at his words, his grand gesture, and I can see why someone like her would feel drawn to a man who makes her feel so safe. (And it's not just my ajusshi crush talking, I swear.) She cries in his arms, twice now feeling moved by these men's confessions of love.
He helps her prepare for her first lecture, and then the big day comes. He heads out with a big bouquet of flowers.
Elsewhere, Yoo-hyun stops in at a jewelry store to shop for The Big Ring…
And then, Myung-hoon pulls up…
AT. THE. SAME. STORE.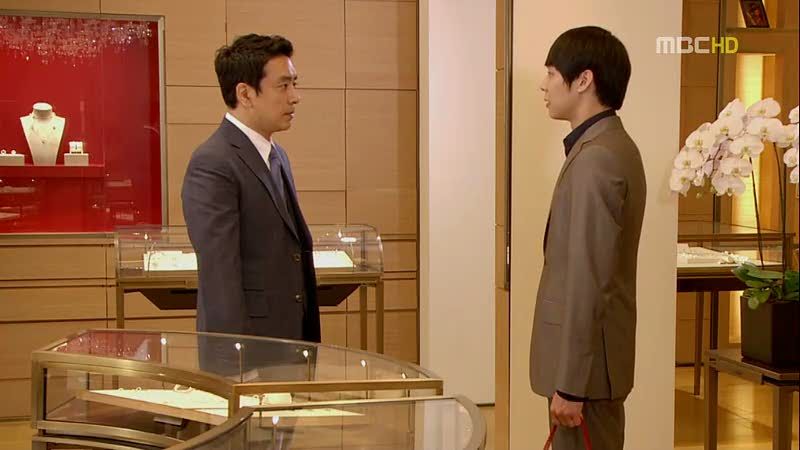 COMMENTS
Oh my god, the double proposal, two rings from the same store… it's so deliciously nerve-wracking! What will they do when they all find out? If I'M this torn between both men, how does Miri feel?
I love the idea that what might end up being the thing to ruin her in the end isn't some act of evil or revenge, or even justice, but plain and simple love. It's the perfect sort of irony. I sort of knew that both men would be duped to a certain degree, but this is even better than I imagined.
They're so sincere that it might actually change her—or at least change her course. In the very least they've made her question the fact that love might exist in the world, which is something that's never occurred to her until now.
I'm scared that Myung-hoon's gesture in this episode means that he's going to protect her until the bitter end, even if he finds out everything. I'm thinking it's now plausible that he'll go that far, which means he'll crash and burn along with her, rather than save her like he thinks he's doing.
Yoo-hyun is the X-factor because so far he's completely unaware of Miri's other side, and so blindingly in love at that. But he's also got a cutthroat business side to him that might make things interesting if he and Myung-hoon really do end up fighting for her in an outright battle.
I want the boys to become better friends first though, just to make it even more twisted. Muahahaha.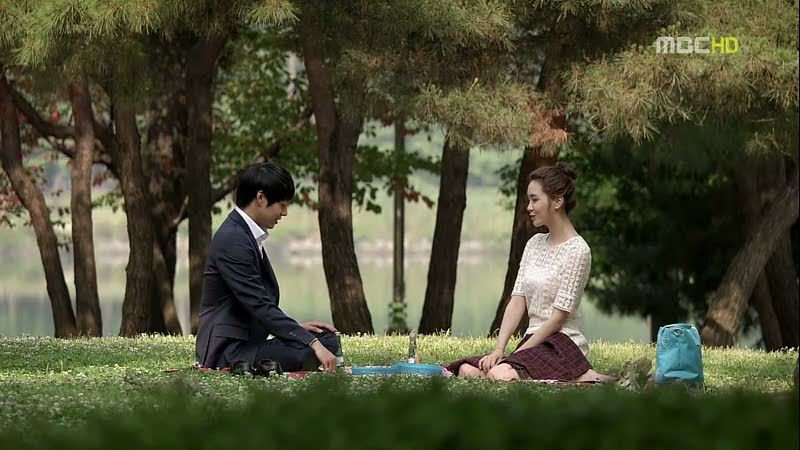 RELATED POSTS
Tags: featured, Kang Hye-jung, Kim Seung-woo, Lee Da-hae, Micky Yoochun, Miss Ripley