Miss Ripley: Episode 9
The secret's out?! Already? Granted, not all of Miri's covers are blown, but at least one of them is majorly exposed, with others possibly on the way. It's refreshing that after Miri's been managing her multiple lies for so many episodes like a precarious juggler with too any balls in the air, some finally start dropping from her grasp.
SONG OF THE DAY
Park Yoochun – "너를 위한 빈자리" from the Miss Ripley OST [ Download ]
Audio clip: Adobe Flash Player (version 9 or above) is required to play this audio clip. Download the latest version here. You also need to have JavaScript enabled in your browser.

EPISODE 9 RECAP
Both of Miri's boyfriends smile to recognize each other at the jewelry shop, and Yoo-hyun says, "It seems we're here for the same reason." Oh, if only you knew.
They sit down for coffee together, and Myung-hoon admits bashfully that he's met somebody. Yoo-hyun confides that he's in love with somebody, too, and describes her as "very pure" and open with her emotions. Well, I'll give you one of the two. Also, she feels like a real person to him, and makes him happy.
Myung-hoon describes his girlfriend as "ordinary, affectionate, honest." Are you sure you men aren't just blinded by her beauty? Because while Miri's put on a great act so far, some of these words seem so foreign to her being that I question your sanity. Or understanding of words.
Miri begins guest lecturing at the university, where she'll be talking about, of all things, architecture. (Specifically, hotel design and environments.) Miri borrows yet more of Hee-joo's life by telling her professor boss that her deceased father was an architect, and adds that she minored in architecture.
Then she goes into the lecture hall and introduces herself, but finds that nobody's very interested in her lecture. They chat, ogle her, and goof off like typical university students, and Miri sees that she's quickly losing ground.
So she gives up on the lesson plan, which is what gets their focus back on the lesson. Funny how things work like that. She says she doesn't blame them since she wasn't too keen on boring lectures when she was a student, and rips up her lesson. Instead, she'll distill the meaning of her intended lecture into a single point, which is that simple changes can drastically change an atmosphere. Like how the lecture hall has suddenly quieted and become attentive. We can extrapolate that to apply to hotel environments as well.
Her professor boss catches the end of her lecture as her students give her a surprise ovation, and he says the response to her is strong. Already she's online, which is a testament to how much she made an impression. (One point to keep us uneasy: Her lecture included mention of a man-made sand beach, which I'm thinking has got to come around and bite her in the ass since she stole the idea from Hee-joo. Now the proof of her lecture is on the internet, where things never die…)
Myung-hoon drops by the school with flowers to congratulate Miri's first day, only to be beaten to the punch by Yoo-hyun, who has sent his driver to fetch Miri. Myung-hoon calls her, and she somehow makes HIM feel apologetic for dropping by unannounced, and tells him she went out with her students. (That this is a pretty common practice in Korea, for students to follow a class with snacks or drinks with the professor.)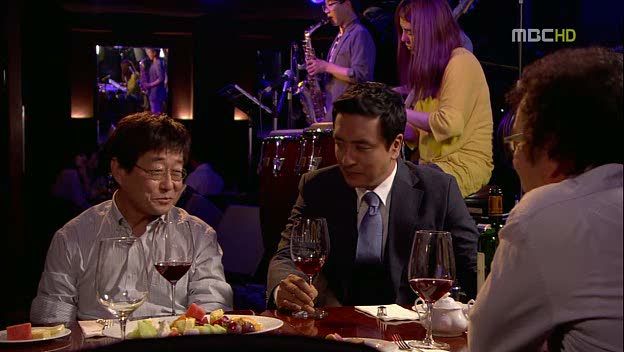 Myung-hoon runs into his sunbae, so they go out for drinks again with the professor. I do love that the old boys' club isn't blind to one of the key reasons for Miri's success: When a fourth man joins the wine party and comments on the lecture's success, Myung-hoon's sunbae points out, "Well, she's pretty." I'm both a little impressed that they acknowledge that point so baldly, and a little appalled that they're so easy.
Alas, she's getting a little careless with her lies, because a student drops off some papers for the professor, and says with puzzlement that there was no post-lecture gathering.
Now it's time for Yoo-hyun to make his grand gesture. Miri steps inside the room to find a spectacle awaiting: He's got the roses, the candles, the puppet show, the slide show, AND a serenade prepared.
The song is Yoochun's own track from the OST, posted above, which is sort of an odd choice for such a romantic moment, given that its words are all about anticipating a breakup. But I guess it's appropriate to his journey, with the title, "The Empty Space For You," which refers to reserving a space in his heart for her.
I wish it weren't love
It makes the approaching farewell hurt so much
If you can be happy, let's stop here
This is all I can do for you

My love,
This empty space is just for you, for you, for you
I smile and turn away so you won't catch on
I can't bear for you to be hurt
I can't bear saying goodbye
You shouldn't love me

I wish it weren't you
because you're the most precious person in the world to me
And so I pushed you away, made you cry, and turned you away
This is all I can do for you

My love,
This empty space is just for you, for you, for you
I smile and turn away so you won't catch on
I can't bear for you to be hurt
I can't bear saying goodbye
You shouldn't love me

Don't wait for me
Barely holding back my bitter tears
I turn my back and go, like this

I love you, I love you, I love you, I love you
My one and only love
My heart shouts these words,
but I can't say them aloud, because you're too precious to me
It's okay if I'm hurt, because I love you
I'll just cry like crazy on my own
I can't bear for you to be hurt, because I love you
I'll just end it here.
It's bad enough that Myung-hoon's getting pushed out unknowingly, but that Yoo-hyun upstages him at every point? Eek, heartbreaking.
Miri cries, moved at his expression of love. Yoo-hyun tells her, "Don't be lonely from now on. I won't let you be." Promising to turn her dreams into realities, he presents the simple ring he'd chosen for her and asks, "Will you marry me?"
Miri trips a little over her question, "Do you…l-l-love me?" It's like this is becoming realer for her by the minute, and she asks, "No matter what kind of person I am?" He points out that she doesn't know him very well, either — so they can get to know, love, and learn each other.
So she answers yes, "If you'll have me."
He sees her home with giddiness, but Miri's pretty heavy-hearted as she looks at herself in the mirror with self-recrimination.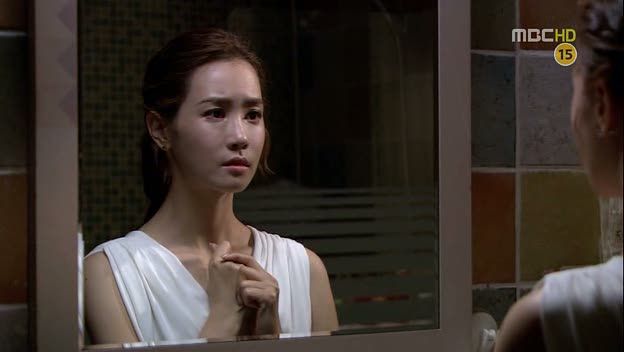 She hasn't shown much conscience until the last episode or so, but it's all starting to pile up on her, and fast. Now that she's passed the point of no return — as in, she can't string along both indefinitely, now that she's got two proposals and accepted one — she's got to let le shit hit le fan, and deal with the fallout.
Thinking of happier times while dating Myung-hoon, Miri cries while looking up at his window, while he broods inside, thinking of yet another lie he's caught her in.
Chul-jin marvels at the speed of Yoo-hyun's courtship, not convinced of Yoo-hyun's belief that he and Miri must be brought together by Fate, given all the turns that have constantly put them in each other's paths. You call it Fate, I'm gonna call it Miri's Indomitable Will, which is practically a force of nature of its own. I appreciate Chul-jin's skepticism as he points out that Fate sure comes around often for him, but there's no dampening Yoo-hyun's spirits.
Chul-jin steps in to prevent Hee-joo's heart from getting crushed (well, more crushed) when Yoo-hyun starts to make his happy announcement, and takes her aside to break news of the proposal to her gently. She says with effort that she'll have to get over him now, but then steps aside to mourn in private.
The receptionist at Hotel A notices Miri's ring, which you'd think is a pretty risky thing for her to wear, since it gets the employees gossiping that she must be about to marry Myung-hoon. It makes me wonder if she wants a little help breaking the news so she doesn't have to do it herself, like a subconscious act of self-sabotage, except for the fact that she continues to ignore his phone calls.
Myung-hoon catches her off-guard by calling her work phone and asking for a minute, but she pushes him aside with the excuse that she's too busy (for the boss?) and hangs up on him saying she'll call him back later. Eeep! That's called digging your grave deeper, missy.
The stress is getting to her, and she steps outside to cry, which I might feel more inclined to feel sympathetic about if this weren't all, you know, of her own making. Still, I'm feeling pretty torn between wanting her to succeed with everything and get caught spectacularly, so one can only imagine how torn she's feeling.
Myung-hoon takes Yoo-hyun and Chul-jin through the hotel, making their formal introductions to his awestruck staff. All but Miri, of course, who tenses up to see her two boyfriends standing next to each other. Awkward! She introduces herself to Yoo-hyun as though she's a stranger, and Yoo-hyun plays along smilingly.
Except…this is when Myung-hoon spots the ring on Miri's finger. The awkwardness between this trio does not go unnoticed by the staff, who speculate about their relationships. And yet, for once the gossip's actually a lot tamer than the truth.
Myung-hoon and Yoo-hyun conclude their tour and head to lunch together, with Yoo-hyun getting Myung-hoon's okay to bring a date. Uh-oh…
Miri gets to the restaurant first, but happens to be in the restroom when the men arrive. Yoo-hyun steps aside to wait for her, then escorts her to their dining room…where Myung-hoon turns to receive his friend/boss/dongsaeng's girlfriend.
Yesss! I'm so satisfied that they've actually done this, while simultaneously cringing for Miri. I was so expecting another fortuitous stroke of timing to save her that I'm excited that they didn't just pluck her out of danger once again, and instead shoved her right into the thick of it.
There's no lying her way out of this one, particularly when Yoo-hyun introduces her as "the person I love." Miri is terrified, and Myung-hoon looks positively shocked. Livid. Fearsome. EEEK! Don't get him mad! Haven't you seen IRIS?
Well, this is an awkward meal. How can Yoo-hyun be so smart and business-savvy, and yet not sense the horrible, cringe-inducing discomfort in the air? He even tells Myung-hoon that it's too bad he didn't bring his girlfriend as well, because it would have been nice to all meet together. Oh, you're already there, puppy boy, you just don't know it yet.
Yoo-hyun asks more about Myung-hoon's girlfriend, like how they met and what kind of work she does, which leads to the terse answer that they work together. And when Yoo-hyun comments that she must receive a lot of help from him (meaning: as a guide, as a sunbae), he says pointedly toward Miri, "Yes, that's right."
Ouch. In this light, it sure does make it look like she used him to social-climb, then traded up at the first opportunity. Wait, what do I mean "it looks like"? It's exactly what she did! See, that's the tricky thing about this show — it confuses you as to what's really going on, even as you know what's going on. It's amazing what a difference a person's motivation can make even when examining cold hard facts.
In her nervousness Miri spills wine over Yoo-hyun, who steps aside to clean up, leaving the couple alone for a minute. I can't wait for the clash, yet I dread it so.
Myung-hoon asks how long this has been going on, and she says she met Yoo-hyun right after arriving in Korea, but that they'd only started dating recently. She says she hadn't meant to lie to him, by which I'm sure she means, "At the very very very beginning," because I'm pretty sure she's been intentional about her lying for the past coupla episodes now.
She says, "I'm this kind of person. Just think that, and let's call it quits. I won't say I'm sorry. I just—"
And just before we get to hear what kind of wonderful explanation she has for why she can't offer up a simple apology, Yoo-hyun returns. Myung-hoon sits there and watches as Yoo-hyun dotes on Miri, and he's a much better human being than I am, on the basis that he doesn't expose Miri to her new boyfriend, dancing and shouting, "You lying liar who lies!" No, it's not dignified, but it sure would be satisfying.
On the ride home, Miri attributes her withdrawnness to nerves from dining with her boss. Yoo-hyun hadn't considered that, and says that he just wanted to introduce his girlfriend to the man "who's like a hyung to me."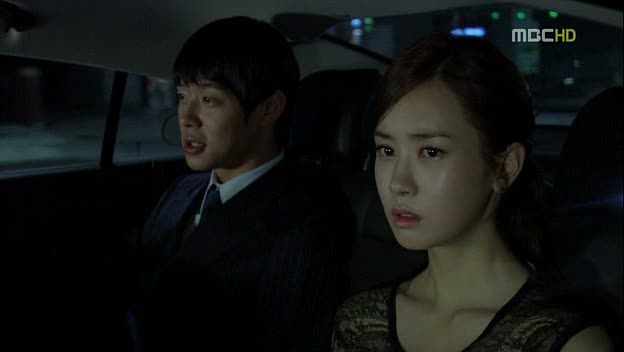 Oof. I don't think Miri's entirely without conscience — though she is entirely without shame — because she's pretty rattled, especially at Yoo-hyun's innocent remarks about wishing good things for Myung-hoon and his girlfriend, since his first marriage ended so poorly.
She eventually does take Myung-hoon's call and meets him, reconfirming the situation despite his disbelief. She tells him to think of her as a horrible bitch, and get over her. He asks how things came to this, and she replies, "I changed. You did nothing wrong."
She explains, "There are things I want more than love. That is what motivated me." Interesting — is she tacitly admitting that she loves (or could love) Myung-hoon, yet chose Yoo-hyun's truckloads of cash instead? Or is she merely admitting that she's moved in all things by reasons greater than love? It's probably the latter, but I appreciate that there's room to examine the former possibility.
She continues, "This is the kind of woman I am. I see something nicer, better, and I run toward it freely — I can't help the way I am." She tells him not to try to understand her, to think he got hit with a stroke of bad luck: "Think that, and leave me behind."
He asks, "Did you love me?" Miri answers with a tear in her eye, "I'm sorry. I didn't love you."
More honesty? Or twisted kindness to get him to move on? She has room to argue her defense here (however weakly), but the fact that she doesn't even try — when she's been such a master of words and glib explanations thus far — is telling. I wonder if this is the turning point for Miri, where she decides she's a bad person, and may as well go with it.
Once alone, she cries to herself that she's sorry, but that she can't stop her momentum. I guess that makes her like an evil train that's lost its brakes.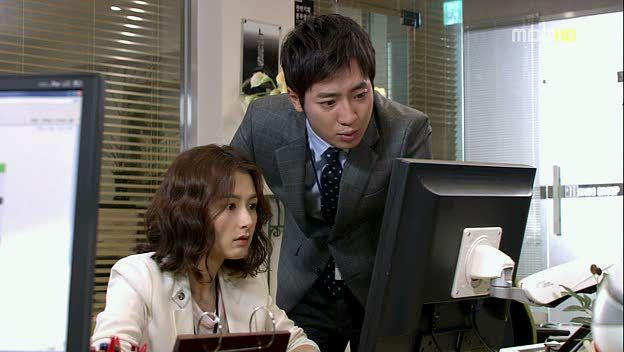 Mondo's planning team gets the shocking news that someone else has come out with the exact same design plan as they did. Gee, I wonder who. Hee-joo and Chul-jin do an internet search for the term "sand pool" and come up with a blueprint with Hotel A's name on it, but decide to confirm before taking this to the bosses.
Meanwhile, Miri's star continues to rise with an appearance on a television show — it's a program covering hot topics of the day, but more than that, it's another example of how connections get you everywhere, since one of the producers is friends with Myung-hoon's old boys' club. The men again marvel at how well she's doing ("She looks beautiful!") and toss around the idea of making her a regular.
Stepmom Lee Hwa has Miri researched, but all she gets is a copy of her resumé. Not satisfied with that, she instructs her man to get deeper into Miri's background, "From birth to now, how she lived, who her relatives are, how they live — everything you can find."
OOOH, things are about to get mighty interesting. It takes one social-climbing opportunist to recognize another, eh?
Yoo-hyun shows up at the broadcast station with flowers after Miri's TV appearance, and the sight of him with a woman gets the reporters milling around like sharks smelling blood. The couple runs for cover before they can be mobbed, and Yoo-hyun whisks her away in his helicopter. Now that his identity is out, he sure isn't holding back with all the rich-boy privileges, is he?
When they arrive at the mountainside, he explains that he's brought her here to greet his mother. She impresses him again by asking for a moment, and picking wildflowers to take to the grave.
Once at the grave, though, Miri turns away to hide her sudden tears, brought on by the thought of her own mother. Yoo-hyun asks if she misses her, and she replies, "Occasionally. But a lot." It sounds odd, but he understands.
She says she returned to Korea in hopes of meeting her mother, but at times she finds herself forgetting her entirely. They probably wouldn't even recognize each other: "Why would I miss a mother whose face I don't even know? I'm not a young child anymore, and I'm not living a hard life now."
He answers, "Because she's your mother. That's what mothers are to us."
She starts crying again, and he tells her earnestly that when she misses her mother, she can look at him: "I'll become your mother, and your mountain." And that they can be that for each other now. It may seem odd for your man to want to be your mom, but it's Yoo-hyun's way of offering to be her everything, and that's heartfelt and sweet.
Myung-hoon has been ignoring calls from his mother, who's busily making the customary wedding blankets in anticipation of her son's upcoming good news. So she takes the initiative, and gets on a bus. OH NO. He's been on a liquor and self-pity binge for the past few days and finally shows up at work, to Director's great relief and exasperation.
Myung-hoon and Director Kang meet with a businessman colleague who's opened up a branch office in Fukuoka, who sees Hotel A's promo spot playing featuring Miri. Furrowing his brow in recognition, he asks if she's from Fukuoka, and flips through a stack of business cards till he finds one featuring Red-Haired Miri. (It lists a Club Hana — hana meaning flower — and is Miri's personal card, which suggests that despite the desultory nature of her profession, she was sought-after enough to have her own clientele.)
Stunned, Myung-hoon looks through his own Rolodex and finds Hirayama's card, with the business name Flower Blossom. And finally, the pieces start to click…

COMMENTS
First Carmen and its Flower Song, and now all these references? Hmm, do you suppose there's just a little flower symbology involved in this drama, maybe a tiny bit?
Like girlfriday has said, I'm curiously of two minds about Miri, both wanting for her to be happy and at peace with herself for the first time in her life, and wanting her to suffer for the cold, callous way she has treated people. It's interesting because she's not a straight-up villainess, but neither is she wholly sympathetic. Every time she faces Hirayama or recalls her hardscrabble upbringing, you feel like she's earned her little bit of happiness and success…but then she's horribly smug and condescending to Hee-joo, or to the gosiwon version of Yoo-hyun, and you see her sizing up people based on what they're worth to her. It's a tense, suspenseful dichotomy.
I'm curious to see how Miri's character will change now that her big secret's out, and discovered by a man she just kicked to the curb. Yes, he loves her, but will her callous treatment of him spur him to revenge? Or will he take the Hee-joo route and continue to protect her, to his own detriment?
I like the question of whether Miri may be feeling the stirrings of love, but they're so fuzzy and newborn right now — if in fact it exists in her heart, if in fact she has a heart — that it's hard to tell. I'm actually skeptical that Miri loves either man, because I'm not sure she's figured out how to love yet in any capacity. I see her as acting out of self-preservation more than anything. In psychology you have your hierarchy of needs, where basic survival is at the bottom, and it's only after you've secured that need that you can move up to the next, with things like self-esteem and self-actualization at the top. And Miri's still stuck on the bottom levels (survival, security), so it's like she doesn't have the time or the mindspace to deal with upper-level concerns like love.
I'm happy that they exposed the lie so early — halfway through isn't super fast, but it leaves a lot of room for this story to twist and turn before its conclusion — particularly because the more Miri's worlds collide, the more easily her falsehoods can be revealed. Particularly when her success actually brings her fame — there's no hiding once you've achieved a certain level of public acknowledgement, which brings with it added scrutiny…
RELATED POSTS
Tags: featured, Kang Hye-jung, Kim Seung-woo, Lee Da-hae, Micky Yoochun, Miss Ripley