Myung-wol the Spy heads overseas for shoots
More stills are out of rom-com Myung-wol the Spy, which is looking like it just may be the perfect fluffy summer romance. (I hope, at least.)
And for some reason, the stills of Eric in particular make me giggle, though there's nothing intrinsically funny about it. I just always enjoy when actors play versions of themselves that have similarities to their real selves, but are skewed just enough to be an obvious twist on real life. (See: Choi Ji-woo playing a glamorous ditz in A Star's Lover, or Choi Siwon as a top star known for lousy acting in Oh My Lady, or everyone in Best Love.)
In Myung-wol the Spy, he plays a singer-actor Hallyu star, who seems to have a penchant for sharp suits and a flashy stage persona. And while I, like a lot of you, am not the biggest fan of his newly dyed hair, I guess we'll just have to chalk it up to verisimilitude: I mean, what k-pop singer actually sports — gasp! — a natural hair color?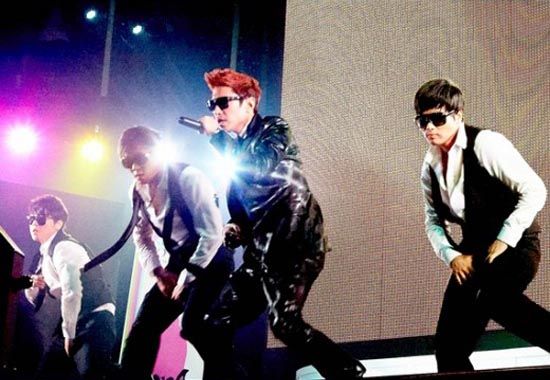 Some of these stills come from the drama's recent overseas shoot, which took place at Singapore's Sands resort hotel. The shoot included the drama's four main leads, which, aside from Eric playing Kang-woo, includes Han Ye-seul in the title role of North Korean spy Myung-wol, as well as her spy boss/partner Choi Ryu (Lee Jin-wook), and the woman in a one-sided love with Kang-woo (along with half the country, I'd bet), In-ah, played by Jang Hee-jin.
The Singapore scenes involve Kang-woo's overseas concert tour, during which he becomes entangled with the two spies for the first time. The shot of Han Ye-seul on the motorcycle was also filmed in Singapore, wherein she skillfully follows Kang-woo as he's being driven in a taxi.
By the way, Eric has a song on the drama's soundtrack, an uptempo track titled "Hands Up" that is performed in the drama by Kang-woo. Eric explained that the song features music and lyrics he wrote himself, and will be accompanied by "flashy choreography and performance to suit a character who's a Hallyu star." I've no doubt he's up to the task, since he's got over a decade of experience performing to huge crowds as part of Shinhwa. The man's got moves.
Myung-wol the Spy replaces the 20-episode Monday-Tuesday drama Baby-Faced Beauty, and premieres on July 11. Fun fun.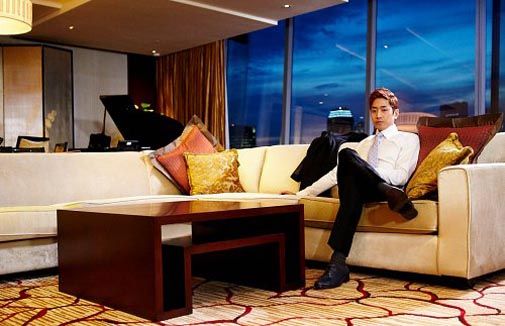 Via No Cut News, TV Report
RELATED POSTS
Tags: Eric, Han Ye-seul, Jang Hee-jin, Lee Jin-wook, Myung-wol the Spy