Romance Town: Episode 10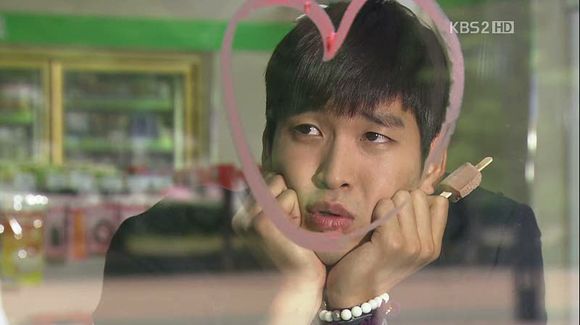 Oh, Show – you good. You REAL good. I am impressed you manage to stun me with something every episode.
Because the song shows up in one scene, and fits the series…
SONG OF THE DAY
"Price Tag" by Jessie J from "Who You Are" Album [download]
Audio clip: Adobe Flash Player (version 9 or above) is required to play this audio clip. Download the latest version here. You also need to have JavaScript enabled in your browser.
It's a tense stare-off between the two men, so Hwang Yong sends Soon Geum out by reminding her of the stew on the stove. Gun Woo approaches Hwang Yong, wanting to know what he has in his hand. Before Hwang Yong can say "Your Mom!" Soon Geum is back, calling him to eat.
She fibs that Hwang Yong only came over because he hadn't had dinner yet, even though she doesn't know the true reason of why he's here. Hwang Yong and Soon Geum leave the room, and Gun Woo checks behind the desk to see the drawer open.
Gun Woo sits in the living room, waiting for Hwang Yong to finish eating, before asking for a private chat with Hwang Yong outside. Soon Geum wants to go out too, but Hwang Yong tells her to stay behind.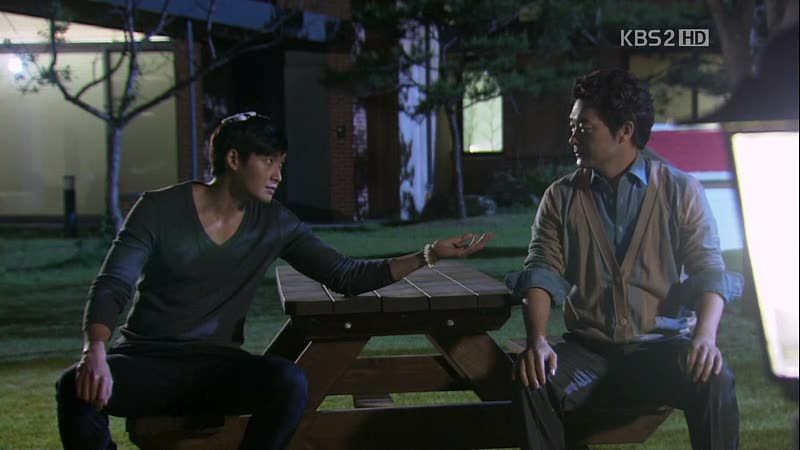 They sit on the picnic table outside, and without a word, Gun Woo holds out his hand to Hwang Yong.
Finally, Hwang Yong hands over the lottery ticket. He tells Gun Woo that it's probably his inheritance, as Tae Won had purchased it from him. The thieves were his former employees who overheard the sale and broke into the house, thus causing Gun Woo's injuries.
As if Gun Woo (and I) weren't shocked enough by this sudden tumble of truth, Hwang Yong gets on his knees and apologizes to Gun Woo. He was only trying to replace the ticket before anyone found out, or else it will look like the seller of the ticket was just trying to steal it back. He asks if it's possible for Gun Woo to turn a blind eye to this, as the inheritance would one day be his anyways. Gun Woo sits on the grass beside Hwang Yong. It's not going to be his inheritance, and Gun Woo doesn't even want it because it's his father's money.
Hwang Yong says all Gun Woo has to do is put the ticket back in the drawer for him, putting the ticket in Gun Woo's hand. He muses that the original winner must have been so happy. Hwang Yong's face reads, "IIIII don't know about that…"
Gun Woo returns to his father's office and looks at the ticket. He finds it funny that the last number wasn't circled, and flips it around. That's when he sees the number – the phone number he had written on the back of Soon Geum's ticket…
HE KNOWS IT'S SOON GEUM!!!!!!
That morning, Young Hee is awakened by his phone alarm. He feels around for it and then realizes that there's a girl sleeping next to him. But not just ANY girl – it's Da Kyum!
Young Hee: "You – what are you doing here? Did I do something last night?" Da Kyum shyly replies, "Take responsibility!"
Out the door Young Hee goes, screaming and flailing under his blanket covers, in front of the breakfasting Kang family and their guest Hwang Yong. Soon Geum tsks as she takes out a bowl of fruit for the family. Tae Won speculates the price of Young Hee's grandfather's paintings went up; Hwang Yong thinks it went down. I just think he's adorable.
A cherry tomato falls out of the plate and Soon Geum quickly picks it up, cleans it with her apron, and pops it into her mouth. (5 Second Rule!) Yoon Joo and Gun Woo stare disgustedly, but Soon Geum says it's too expensive to waste by just throwing it out. She can't give it to the dog either because he doesn't eat vegetables.
When Young Hee returns to his room, he refuses to take responsibility, because he would never have done something wrong with a girl he sees as a younger sister. No matter how drunk he was, he would never let his drunkenness cross the line of his sincere feelings for her.
Da Kyum scoffs – there's no way he would be able to stop himself if he desired her as a woman. (Keyword: IF.) Young Hee says that she definitely did this to him, as his turtleneck could not have been easy to pull off. If anyone is to take responsibility, she should for stretching out the neck of his expensive shirt.
Da Kyum retorts that he can pretend he just slept with a girl from a bar then. Young Hee slaps her on the cheek. (I take it back – Young Hee is NOT adorable.) With tears in her eyes, Da Kyum says that she's sincere as well. Her entire life revolves around him; she cooks, cleans, and washes for him. If he was never going to be interested in her, he should never have shown his kind heart to her. She's fallen for him, and she can't help it. It's not like they're related either, so why must he view her as a younger sister than a woman?"
Guilty, Young Hee looks away from her crying face.
Outside, Tae Won suggests Yoon Joo set Hwang Yong up with one of her friends. Yoon Joo scoffs – she has no friends. Oh yes you do – her name is Hyun Joo, and she's giving a jealous stare down the street from her yard. It doesn't help that Soo Jung comes by and encourages her to chase after Hwang Yong.
Da Kyum wallows in misery in her room while Young Hee whines for some food. When she finally comes out of her room, she's still wearing her thin camisole and shorts. Uncomfortable with it, Young Hee puts his cardigan around her and buttons it in the back. He even helps put her arms in the sleeves.
As soon as he's done, Da Kyum starts hitting him in the chest; he's doing it again – being nice to her. He apologizes for slapping her, and promises he'll trust her sincerity next time.
Gun Woo visits a doctor to look at his leg, which is healing but can't be stressed too much. He asks her for advice – if his "friend" had a girlfriend who didn't tell him how much money she had, does that mean she doesn't trust him? Doctor: "Of course." Gun Woo: "Because he might like her for her money?" Doctor: "Yup." Gun Woo: "Because I don't have money right now?" Doctor: "So this is your story then?"
The doctor says his girlfriend's just being smart, and so he just has to assure her that he's trustworthy. If he wants tips on how to do that, he can ask the doctor who checks his head – that guy has plenty of dating experience.
Bwahah – Doctor, you crack me up.
Gun Woo meets Soon Geum at the quick mart, where she purchases an ice cream bar and splits it with him. He pouts that she keeps buying things for him these days, and wishes they were more expensive – like a new car instead. He's being moody, thinking that she's being cheap, and Soon Geum doesn't understand what his deal is.
She gets a call and steps outside, waving at him through the glass. Looking at her, he says, "After promising you won't lie to me, you're fooling me now?" Soon Geum can't read lips or hear what he's saying, so she just decides to nod in response. "Do I look like a guy that will steal your money?" he asks. Soon Geum nods.
Gun Woo sighs. He sincerely congratulates her for winning the lottery, but of course, she has no idea what he's saying. She takes out her lipstick and draws a heart around his face, smiling at him lovingly as he wonders how he could ever gain her trust.
That evening, the maids, except for Soon Geum, gather at Da Kyum's for some Go-Stop. Soo Jung goads Zar Lin to bring Hwang Yong over to play with them, as she wants to play matchmaker. Despite her protests, Zar Lin ends up inviting him over with Soo Jung. Hwang Yong politely declines, but then Soo Jung drops a bit about how Soon Geum is coming over with Yoon Joo later on…
The girls return unsuccessful, and Hyun Joo points out that just because they drank together doesn't make them the best of friends. Suddenly there's a knock at the door – it's Hwang Yong! Guess the chance to see Yoon Joo was enough to convince him. Soo Jung gets him to sit next to Hyun Joo, who blushes like a school girl.
Hwang Yong's first question: "So, where's Soon Geum?" Oh whoops – turns out Soon Geum isn't going to make it. Hwang Yong gets up to leave, but Soo Jung immediately asks, "Are you leaving because Trophy Madame isn't here?" Caught but not wanting to be caught, he decides to stay for a bit.
The lottery broadcast comes on the TV, and the announcer states that the jackpot winner hasn't come forward yet. Soo Jung thinks a rich person won it, and that's why they haven't stepped forward to claim it. She's a bit bitter that poor people would save everything they have just to purchase a lottery ticket, and yet a rich person wins it. Hwang Yong shifts around, keeping his mouth shut.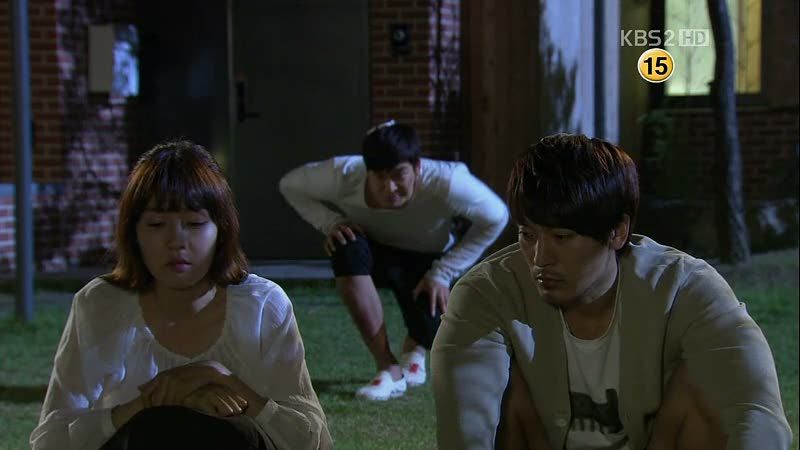 Soon Geum finds Young Hee sitting outside the dog house. He asks her if she felt less embarrassed after hiding in the dog house, and she tells him to go find out for himself. But Young Hee isn't getting the joke; instead, he thinks Soon Geum sees him as a dog, which completely bums him out.
Gun Woo steps out of the house to see them having a talk, and decides to creep up on them from behind.
Soon Geum tries to cheer him up, saying he's not a dog at all – personality wise – and that he's pretty cool for having proposed to her even though she was a housemaid. That stops Gun Woo in his creeping tracks. His friend… liked Soon Geum!? Gun Woo falls back on the grass in shock.
He goes back in the house, where Tae Won starts hassling him on when he'll start teaching English or Korean, especially after already paying him. Gun Woo doesn't want any of Tae Won's money, since it doesn't mean anything; "If money can buy love, money can also take away love. The people in this family who have money are really hateful." Yoon Joo reasons that if Gun Woo isn't asking, then Tae Won shouldn't offer him money. Gun Woo cries out, "Why can't the women in this house trust me?"
Women!? That sets off an alarm in Yoon Joo's head – what does he mean by 'women'?
Back outside, Young Hee asks Soon Geum what to do if he's stuck in a love triangle full of one-sided love. Soon Geum tells him that his position just sucks, and he ought to give everything up – give up loving the girl, and give up the girl that loves him. He'll just end up being hurt, and hurting others.
After several rounds of Go-Stop, Hwang Yong excuses himself to go to the restroom. Soo Jung takes the opportunity to ask Da Kyum and Zar Lin if Hyun Joo and he are a good match. But the two of them are like, "No. He doesn't like women anyways." Disappointed with their comments, Hyun Joo sends the two young ones out to make some kimchi pancakes.
Soo Jung spots Hwang Yong's phone and they start looking through his text messages to see what he said to Yoon Joo. They only find a text from Trophy Madame asking if he arrived home safely, but he never replied back. In fact, he hasn't texted her anything. Soo Jung stumbles upon a text from Soon Geum; she had told Hwang Yong that thieves had stolen 20 million Won from her. (So, her entire fortune isn't gone. And, this may have been how Hwang Yong was tipped off about the robbery.) Soo Jung keeps this information to herself.
Hwang Yong decides to leave for the night, but then Young Hee begs for Hwang Yong to stay for the night. Da Kyum harrumphs – Young Hee is just scared she'll jump him again. Hwang Yong: "Why would I sleep with you? Am I crazy?"
We've entered a new drama: Hwang Yong rejects him – he doesn't like boys – but Young Hee touches his arm: "I like you ahjusshi…" (HAHAHAA)
Hwang Yong wants an apology from Young Hee for being so disrespectful to him (for previous incidents) but Young Hee doesn't see why he should. OK then – let's fight this out outside!
Hyun Joo overhears this declaration of war and fusses on whether she should go out and watch or not. Soo Jung sends her out, so that she can think over Soon Geum's text uninterrupted. Memories of when Soon Geum mentioned losing her $18,000 outfit and seeing Gun Woo's "girlfriend" in the elevator come flooding back, making her seriously wonder if Soon Geum really won the lottery. What she's most amazed about is how Soon Geum just acted so normal after winning a lot of money.
Hwang Yong returns home, tired, but unscathed.
Young Hee arrives at Gun Woo's home in his pajamas and with his pillow, hiding a bruised face and bloodied nose. He makes up the excuse that Hwang Yong fights really well, but Soon Geum thinks he just can't fight, period. (Bwahaha.)
He goes up to his best friend's room to stay the night. (Sleepover time! Male version!) Gun Woo thinks it's ridiculous, but lets Young Hee stay until breakfast. He grills his best friend: he likes Soon Geum's food right? and does he like Soon Geum? Young Hee says yes without thinking, and then rectifies it to say that he likes Soon Geum just as much as he likes everyone else.
Soon Geum comes in with the first aid kit and takes him to task for being a grown man, and yet still fighting and making up excuses on why he lost. Gun Woo watches as she applies the ointment, and then, uncomfortable by her proximity to Young Hee, says he'll do it instead.
Soon Geum doesn't trust him. Gun Woo: "You don't trust me!? Then what do you trust me on!?" Soon Geum tells him to get out (of his own room) since he's been giving her the attitude all day. The two of them start fighting, which exasperates Young Hee. Soon Geum proclaims next time they can just spend money on themselves; Gun Woo calls her a lying two-timer; and Young Hee just takes the ointment for himself and dabs it on his cuts. (He's not picking up on the fact that Gun Woo and Soon Geum are dating?!)
The doorbell rings again – and this time it's Da Kyum, who wants to stay over with Soon Geum tonight. Soon Geum figures out quickly that Da Kyum and Young Hee must have fought. Da Kyum doesn't deny or confirm anything, and just wishes that she could be older, where she'd be more fearless and less ashamed than now. Soon Geum disagrees; it's when you're younger you're more fearless, because as you're older you know more, and have more to lose.
The next morning, Soo Jung is so bothered by what she found out that she decides to follow Soon Geum all day. She first targets Gun Woo, who's on his way to the office. She asks if Gun Woo is still dating the girl they met at the elevator, and Gun Woo says, "I'm two timing, so this woman thing is a secret." And he walks off.
Brilliant answer Gun Woo!
Unsatisfied, Soo Jung goes up to Soon Geum and asks whether the police found the 20 million Won. What 20 million Won? Oh, you know, the 20 million Won that was stolen from Gun Woo. Soon Geum nervously lies that nothing was stolen – at all. Soo Jung: "Ah…I guess the rumors were wrong then huh?"
Later that day she follows Soon Geum to a department store and watches her purchase a gift in the children's section. Soo Jung grabs the price tag before the sales lady throws it away, thinking she's caught Soon Geum splurging, only to discover that everything is on sale. She follows Soon Geum to a restaurant, where she presents Ji Min a birthday present. Soo Jung finally realizes that all this is ridiculous, and Soon Geum must have her own reasons if she's hiding anything. Good – I was getting tired of the nosy maid.
Meanwhile, Young Hee heads to a gallery where all his grandfather's works are displayed. He removes one of the small paintings from the wall and tells Joo Won (who is the curator) to help pack it for him. She doesn't want him to give away one of the most valuable paintings in the collection, but Young Hee doesn't care. He just wants to show his good side, and the painting would suit Da Kyum well.
He takes Da Kyum to a fancy restaurant and presents the gift. She is more offended than touched, thinking that Young Hee is trying to send her off with a painting. Young Hee tells her that he doesn't know if she's lying or not about that night, as he doesn't remember it, but if he did something then it was an accident. Da Kyum rejects the gift; she doesn't know how much it's worth but she knows that if she accepts it, it'll be the equivalent of selling herself.
She reproaches him for giving away paintings like it's nothing, when the only reason why he is rich is because of these paintings. She's mad that he's trying to settle things with money, when it's not going to help solve the problem. Young Hee tells her to do whatever she wants then, he's just going to stop being her traffic light.
That same night, Gun Woo also calls Sang Hoon – he wants to talk, man-to-man. At a cheaper restaurant, Gun Woo presents 1000 Won in an envelope; he's paying off his gambling debt to Sang Hoon.
Sang Hoon studies him – did he and Soon Geum fight? Or, better yet, did Soon Geum hit him? Gun Woo: "No. Does she hit people?" Sang Hoon warns him that Soon Geum knows how to use a lot of handy tools as weapons, and that when she's in a bad mood, she'll use whatever is at hand to hit people. Gun Woo nervously downs two shots of soju.
As the night wears on, a drunk Gun Woo asks if it's true that when two people become lovers, they should open up their hearts and trust each other. Sang Hoon says Soon Geum isn't the type to trust since she's been hurt too much before. Even if she knows a lot, she'll keep her mouth shut, and never tell her father where her mother hid some money. Gun Woo: "You and I are on the same boat – not to be trusted." He drunkenly admits that he's forgiven all of Soon Geum's lies already, and yet he's forced to continue believing her lies. Sang Hoon hits him on the head with a spoon – his daughter never lies! Except to her father, she never lies!
Gun Woo insists that she did lie, and Sang Hoon grabs him by the collar for dissing Soon Geum in front of him. If she did lie, then she must have had a good reason too. Good thing Soon Geum arrives at the restaurant just in time to break up the fight. Turns out, Sang Hoon had secretly asked Soon Geum to come along to this meeting. Gun Woo pours himself a shot of soju, annoyed at this little bit of backstabbing, but Soon Geum grabs it for herself.
She scolds her dad for cursing out the guy she likes; "Did you think he was like you, Dad?" She can't stand him anymore. Her father begs her to just trust in him a little more; he'll definitely make a lot of money for the two of them.
Soon Geum would rather just give up on her father; he's dragging down her life, and she'd rather just leave him be to squander his money however he'd like. She'd prefer to spend all her money on her boyfriend, and be the kind of girl who can match up to him and support him.
Sang Hoon: What money do you have?
Soon Geum: I have money!
Gun Woo: Soon Geum… Shi Ah… Ahjumma! *waves his hand over her mouth – don't say it!*
Sang Hoon: You have money? Where?
Soon Geum: Didn't you say that by seeing this man here, I would feel lonely, mistreated, and wouldn't be able to share ice cream with him in the summer? I've been saving up money. Just like you, I win at Go-Stop. I even bought a lottery ticket –!
Gun Woo clamps his hand over her mouth before she can say anymore, and suggests they all go home for the night. But Soon Geum pushes his hand away and screams, "I won the lottery! I got a lot of money! I am using cash payment and taking the risk. I have a lot of money! Me! Me!"
Gun Woo tries to overrule her by saying that she's just drunk, but Soon Geum won't stop, and so he kisses her in the mouth to shut her up.
It's an intensely long kiss. I mean, LOOOOOOOOOONG kiss, as her dad and all the other restaurant patrons stare at this drunk couple. Sang Hoon quietly gets up to leave the restaurant.
When Gun Woo finally stops, Soon Geum has been shocked back to sobriety. He asks if she has anything she wants to tell him, and Soon Geum says, "Sorry to trouble you, but I don't have money on me right now."
Gun Woo: You have something to say to me right? Now is the right time to say it.
Comments:
I'm a bit surprised that Gun Woo went from "ready to spill Soon Geum's secret to her dad", to "sober enough to try and shut her up." Gun Woo's mind works really fast to suit the situation; if the writer wants him to be outraged by her lies, he's outraged, but in the next minute he can become her biggest defender and try to stop her from telling the truth to her greedy father.
Either way, the cat is out of the bag, and I'm highly relieved by it. I do wonder what's going to happen to the rest of the money, as I don't think Soon Geum spent all 10 billion Won, and what her father's going to do to try and get his hands on it. It's also about time that the maids know about her winnings, even though Soo Jung can be annoyingly nosy about it. All these revelations in this episode made my head spin, and it wasn't until the end that I realized, "Well hey – it is the halfway point of the series – about time!"
Now it's Da Kyum and Young Hee's turn to experience the whole "money versus happiness" situation. I like the way that the situation eventually played out – how she confessed and put him in his place. However, I still feel like Da Kyum cheapened herself, and Young Hee's reaction was atrocious. Unless he steps up his act, I'd rather he not end up with Da Kyum. She needs to live her own life and be free from this psychotic wealthy society, just like how Jang Chi Gook feels suffocated by his two wives watching his every move like a hawk.
But one credit I'll give to this drama: it's one thing to be annoyed by the characters and give up on them, and another thing to be annoyed and want to see them change. I'm of the latter.
RELATED POSTS
Tags: featured, Jung Kyeo-woon, Kim Min-joon, Min Hyo-rin, Romance Town, Sung Yuri