Romance Town: Episode 11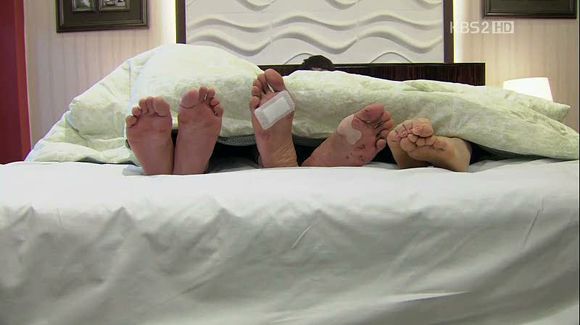 Threesome!!
I'm not going to lie – I don't think this episode was as amazing as the previous weeks'. There's a lot of moping and more love-triangle-drama, which doesn't grab my attention much. However, for as much as Young Hee is involved in the said-moping and love-triangle-drama, he sure does steal this episode – both in his acting and in his character's story.
After that long, awkward kiss, Gun Woo urges her to talk to him honestly, so Soon Geum looks at him shyly. "Didn't I already tell you I liked you?"
Gun Woo's face falls. TEEHEE.
Da Kyum angrily cries in her room after dinner with Young Hee. Then, she confronts him – who is this girl he likes so much? Da Kyum insists that telling her who she lost out to is the least he can do. She wants to know that he's choosing a better girl, and that she can't possibly beat her. Is it Joo Won?
Young Hee laughs, but admits "his girl" doesn't like him back. Da Kyum asks, is it Soon Geum? Young Hee doesn't respond, opting to spin around in his chair instead. She forces him to sit still, and so he admits it is Soon Geum. That only makes Da Kyum angrier; he likes another maid? Someone who doesn't even cook food for him or live with him?!
Young Hee stands up – "How many times do I have to tell you? You're family who eats with me. You're not a woman, but family!"
Sorry Da Kyum.
Gun Woo has taken Soon Geum to a ramen shop to help sober up, but she's the only one eating; he's just sitting and sulking. Soon Geum comments that she enjoyed the fat Gun Woo better – at least he ate anything and was OK with it, and she likes men who eat well. Jealously, he asks if Young Hee eats well too.
Not listening to him, Soon Geum continues: "It's sexy," which Gun Woo takes to mean as she thinks Young Hee is sexy. She becomes frustrated at him; all she wanted was a guy who will eat with her and blow on the noodles together, sharing ramen like newlyweds!
Gun Woo slowly picks up his chopsticks. "So… you shared ramen with Young Hee before?" (SO. DENSE.) Soon Geum slams her chopsticks on the table. "All I did with him was roast seaweed together! Because he made a mess in the kitchen I chased him out with a rolling pin!" She orders him to pay for the uneaten ramen and leaves.
Gun Woo looks at the ramen longingly, and tries to stuff a huge mouthful before Soon Geum yells at him to hurry up and come out.
At home, Hwang Yong admires a fancy pen that he's going to give as a gift. Joo Won sighs; another "someone" is very lucky, as she had just seen Young Hee give a small painting to a woman. She wonders if Young Hee thought the painting wasn't worth much because it was small. The painting has got to be worth ten times more than 30 million Won – it's part of a prized series of paintings, so it's practically priceless.
It's the same painting Da Kyum scoffs at and is ready to throw away. I find it interesting that it's a painting of one lone tree. Perhaps a foreboding about Da Kyum's future?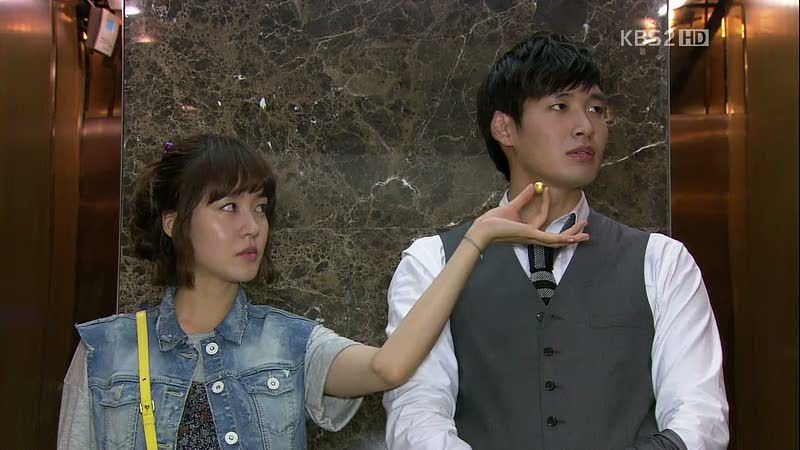 Soon Geum and Gun Woo get into a taxi, both of them very tired, but she soon redirects them to her apartment. (She's going to show Gun Woo how rich she is?!) As they go up the elevator, She offers him a piece of gum. Just like how she had rejected Hwang Yong, Gun Woo rejects her. They arrive on the 10th floor, and Soon Geum takes him to where the REAL Yoon Shi Ah lives.
In the middle of the living room are 12 boxes filled with her money. She had lied to Shi Ah, saying they belonged to her friend, and locked it up in another room. Gun Woo disrespectfully kicks it, wondering what could be oh-so-important in it. Slowly, Soon Geum slices through the tape of each box, and opens it up for him to see.
His jaw literally drops. Soon Geum blinks pretty doe eyes while hugging some money. She's rich. Beyond belief. Gun Woo is shocked that she has SO MUCH MONEY, and immediately grabs some bills – can he purchase stocks with it? And get a new car? They should both immediately quit their jobs and travel around the world! They can send a few boxes to her dad too, and he might double his money through gambling. Gun Woo is excited – with the money he can move out and live richly!
Soon Geum rolls her eyes – so this is Gun Woo in the face of money? She swats his hand away and reseals the boxes. Seriously, she tells him there is no money – for him, the money is going to just be poop! He grabs some of the money for himself, but Soon Geum grabs his hair, yelling him to let go.
But! She's actually in the taxi, and grabbing a sleeping-Gun Woo's head of hair! He finally wakes her up; they're home, and she just had a real bad dream about poop. The driver laughs; a dream about poop means a dream about money or winning the lottery! Gun Woo eyes Soon Geum carefully for her reaction, but she just says she has no money and jumps out of the taxi, leaving Gun Woo to pay.
The next morning, Joo Won gets a call during her jog about Young Hee's grandfather's paintings. Kim Yuk's paintings have been put on hold and won't be sent over; turns out, they've been forged.
Oblivious to this revelation, Young Hee goes to the kitchen for a bottle of water. He notices a note on the door: "Get a new maid. I don't need a traffic light. I'm going to go jaywalking." Her room is empty, and only her apron is left. A hot breakfast has been set out for him on the dining table.
Young Hee runs out of the house and starts searching the neighborhood. Soon Geum sees him as she picks up the mail and notices his bare feet. She runs back into the house to grab Gun Woo's sneakers, and chases after Young Hee.
Young Hee reaches the street Da Kyum had just crossed, but it's a red light for him. He looks around helplessly, in utter shock that she's gone. He feels extremely guilty for making her think he was sending her off with a painting. Soon Geum finally catches up to him and forces him to put on shoes, fussing over the scratches on his feet.
Gun Woo comes upon this scene, watching Soon Geum clean Young Hee's feet and put shoes on him. It's heartbreaking for him to watch his girl take care of another guy that likes her. However, back at home, he does defend her when Yoon Joo complains that Soon Geum is being frivolous for not preparing breakfast. Tae Won and Yoon Joo are shocked – why is Gun Woo suddenly taking Soon Geum's side? Didn't he hate her?
Learning of Da Kyum's departure, Soon Geum calls all the maids over to Young Hee's home. While they try to be optimistic, they all suspect Da Kyum ran away to a bar to be a hostess. Young Hee can hear this, and furiously swipes all of Da Kyum's dishes on the floor.
Soon Geum sneaks back home, but jumps when she bumps into Gun Woo heading for work. He asks if she did something wrong, but instead of telling him the truth, she hands him a lunch box that she specially prepared for him. She thought he might be sick of outside food, but if he's too embarrassed to eat it in the office, he can bring it back and she'll eat it. Gun Woo takes the lunch box.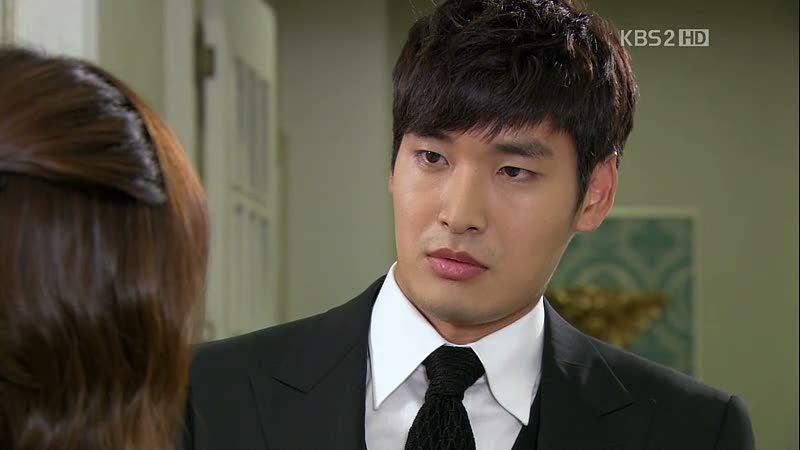 Gun Woo: Ahjumma… I'm nervous.
Soon Geum: That you might get caught while eating alone? That someone will take it away from you?
Gun Woo: Yeah. That it will be taken away.
Soon Geum: Don't let it be taken away by someone else.
I love how in this exchange she's referring to the lunch box, and he's referring to her love. Ack!
Joo Won frets in the gallery as she meets the lawyer. If the New York paintings are forged, there's a high probability that the Korean ones are forged too. They need to contact Young Hee; until then, there's only one painting that they know that is real – the painting Da Kyum has.
Soon Geum catches Young Hee heading out to find a new maid. She confides that it's possible Da Kyum went to her mother's home, as she has nowhere to go in Seoul. Young Hee drags Soon Geum along for this search, even if she might get fired for it. Meanwhile, Da Kyum arrives at the home of her best friend out of town, who's sleeping after a long night working at a bar.
They arrive at a train station to head over to where Da Kyum's mother lives. She thinks he shouldn't go, especially with the injuries on his feet, but he shrugs it off – without Da Kyum, he can't eat. He finds it strange entering an empty house with no one to nag him. Soon Geum notes that she saw Young Hee in a different light when he ran out barefoot, but she can't explain why. (Girl, stop messing with his feelings!)
Young Hee gets a call from Joo Won, and finally hears the bad news. He turns to Soon Geum – can she do one more favor for him? But then he rethinks it and takes it back. Soon Geum: "I am hugging you for being admirable and going barefoot. I am hugging you because I'm proud you're going to look for Da Kyum."
And with that, she hugs him. (GAH! Please don't take it the wrong way Young Hee!) He doesn't react to her hug, which only makes her hug him a little closer. Then she realizes that they're going to miss the train, and starts rushing down to the tracks. Young Hee stops her; if Da Kyum wants to come back, she can do so herself. He can't afford a maid anymore anyways.
At the cafeteria, Gun Woo protectively holds his lunch box and wishes his father a good meal. He then proudly opens it up and lines up all the dishes in front of everyone. One of them is an omelet rice with hearts drawn on it. Gun Woo happily takes a bite and smiles at his curious father across the room.
Joo Won meets Young Hee at the lobby of the hotel, where he's staring at the huge wall painting his grandfather, Kim Yuk, made. Apparently, the paintings were forgeries…made by his own father, Kim Hwan Hee. Far away, Da Kyum overhears a news broadcast about the forged paintings being sent back to Korea from New York, and worriedly looks at her own painting.
Boon Ja sends Hyun Joo out late at night to purchase some pain relieving ointment. As Hyun Joo walks out, Hwang Yong drives up to her. He thanks her for cleaning his car and then offers to give her a ride to wherever she needs to go to buy the ointment.
Hyun Joo thanks him and gets in, sitting on the encased gift. She hands it over, and he opens it to make sure the pen is still intact. He wonders if a woman would like it, as he hasn't been in love in a long time. Hyun Joo is amused that he's having a one-sided love at his age, which only embarrasses him further. He asks that she get out of the car; he's too embarrassed to drive her anywhere.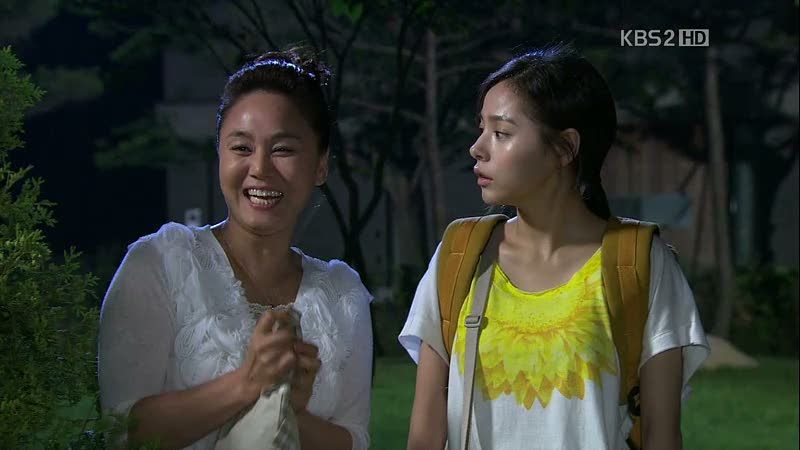 From afar, Soo Jung spies Hyun Joo in Hwang Yong's car. On top of that, she sees Yoon Joo waiting outside her driveway in the chilly night. Excitedly, she quietly goads Yoon Joo to approach the car and find Hyun Joo so that they can have a catfight over Hwang Yong. She's really got nothing better to do, huh? She's so full of glee that she doesn't realize Da Kyum is behind her, asking her what's going on.
Da Kyum came back – mainly because she couldn't help but wonder how Young Hee was doing.
Young Hee is just fine, thank you very much, sharing soju with Gun Woo at home. Though the art world is condemning his father, Young Hee can't help but pity him. His grandfather had the reputation and fame, he himself got money out of it, but his father got nothing by living in the shadows of the grandfather. Gun Woo is more understanding; he knows that Kim Hwan Hee meant no harm by forging, but had just wanted to surpass Kim Yuk. It's a situation that Gun Woo can identify with. Young Hee: "Yah..when did my Gun Woo grow up so much!? *Kissy face*" Gun Woo swivels around to avoid it but Young Hee kisses him on the cheek.
What I would give to see them actually kiss mouth to mouth. 😀
Just across them, Soon Geum cooks soup for the two hungry boys. She makes her exit, but Young Hee grabs her wrist and asks her to stay. AWKWARD. Gun Woo can't keep his eyes off the wrist grab, so he tells Soon Geum to just stay, in the hopes that Young Hee would let go.
He doesn't, and just as Gun Woo is about to pry off Young Hee's fingers, Da Kyum enters and breaks Young Hee's hold on Soon Geum's wrist. Looking at the dinner, she notes that Young Hee prefers cooked tuna when he drinks, and goes off to make some. Gun Woo and Soon Geum silently cheer, but Young Hee angrily tells her to get out.
He wants to know what she did with the painting too, and Da Kyum replies that she threw it out – not because it's fake, but because she didn't want to see it anymore. That's exactly Young Hee's point – he doesn't want to see her either. She has no reason to be in his house either, since he can no longer pay her. But all Da Kyum wanted was make soup for him; she may not know anything about paintings, but she thought he might be cheered up if she made him food. But since he doesn't want it, she picks up her bag and leaves the house.
Soo Jung heads to the dry cleaners to pick up her shoes; they've cleaned it for her, and one of them even puts the shoes on her, like Cinderella. She's pleased with their work, and agrees to help them drop off some dry clean at Yoon Joo's house. But – it's the white blazer, and Soo Jung recognizes it as the one "Shi Ah" wore in the department store elevator. The blazer confirms Soo Jung's suspicions that Soon Geum was the one in the elevator, and presumes that she stole her madame's clothes.
Da Kyum stays with Soo Jung that night, and we see that she did not throw away the painting Young Hee gave her. Soo Jung asks why she came back, and Da Kyum only sighs, "He's caught my heart." While the two of them turn away from each other, lost in their own thoughts, there's a threesome going on in Young Hee's house!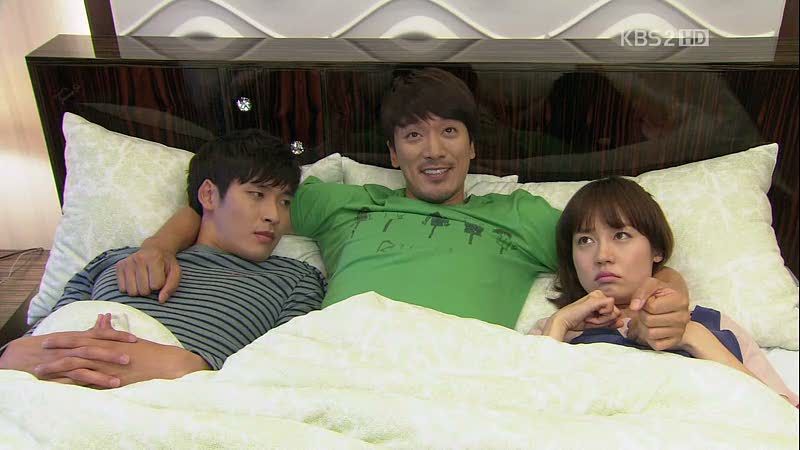 Young Hee has wedged himself between Gun Woo and Soon Geum, wanting to sleep with the two of them for the night. Gun Woo suggests they send Soon Geum away, but Young Hee would rather Gun Woo leave! He threatens them with death if both of them throw him out. Locked under his arm, Soon Geum and Gun Woo have no choice but to agree to stay the night. Young Hee: "I love you (guys)!"
Bwaha – so cute!
He whispers a special "I love you" to Soon Geum, which makes Gun Woo angry and Soon Geum feel awkward. They get up right away, and Young Hee cries, "You're leaving me? Someone who's been thrown away by this world?"
The pity act doesn't work on Gun Woo and he urges Soon Geum to leave. However, Soon Geum feels bad, so she chooses to stay. Her answer shocks Gun Woo, because it would just confirm his fears that she might like Young Hee more.
Soon Geum doesn't want to abandon Young Hee in this state, but she doesn't want Gun Woo to leave either. Young Hee's all "YAY! Now let's sleep!" but Gun Woo is having a bit of a crisis – she can't possibly like Young Hee more than him, does she?! Soon Geum doesn't reply, which aggravates me because it feels like she's stringing them along.
Once Young Hee falls asleep between the two of them, Gun Woo reaches over to hold Soon Geum's hand. It may be uncomfortable, but for this night, they'll sleep like this. With the big baby right in the middle. Gun Woo and Soon Geum close their eyes… and Young Hee's open.
The next morning, Joo Won finds Young Hee sleeping under some newspapers in the yard. She tells him to get it together – they only need the painting he gave Da Kyum to prove that some works aren't forgeries. They know that it's definitely real because Kim Hwan Hee hadn't started painting around the time that one was made. Young Hee sighs, and that's when lightning streaks across the sky, scaring the two of them. A storm is coming… literally and metaphorically.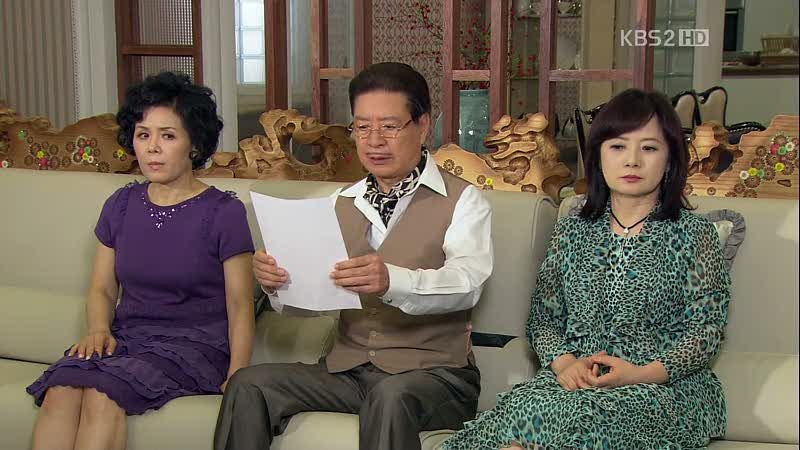 Meanwhile, Jang Chi Gook is writing up his last will and testament. Boon Ja catches him in the act, and she immediately calls for Soon Ok's attention. They force him to read the will out loud.
Jang Chi Gook: 1. One-fifth of my money will go to my children. 2. One-fifth of my money will go to the woman who didn't make me feel lonely.
Boon Ja: Is that me or Madame (Soon Ok)?
Jang Chi Gook: Because of you two, I'm lonely.
The wives argue that it's impossible for him to be lonely since he has two wives. Soon Ok thinks the clause means her since she lived with him longer, but Boon Ja says that Soon Ok never paid attention to him, so how could that count?
Jang Chi Gook: I don't know. When I die, figure it out.
Kaedejun: *Snerk.*
Jang Chi Gook: 3. One-fifth of my money will go to my best friend.
Again, the ladies are stumped, and Jang Chi Gook snaps – is it normal for them to not know who their husband's best friend is? Soon Ok retorts, "It's hard enough memorizing all the girls you meet!"
Jang Chi Gook: 4. Two-fifths of my money will go to the woman who made me the most food.
That's Hyun Joo! And the wives are outraged. However, Jang Chi Gook notes that he didn't name names, so the two of them can fight, argue, or reflect on it. They turn to Hyun Joo, who's fixing their dinner. Dun dun dun!
Meanwhile, Tae Won hands his wife an expensive pen that he gave VIPs at the party last time. It's a boring black one, without the diamonds or gold that Hwang Yong's pen has. Tae Won is fully satisfied with himself, but the thunder jolts him from his seat. Back in the privacy of her closet, Hyun Joo admires the pen that Hwang Yong gave her, and dumps Tae Won's pen in the trash.
It's already started to pour. Bored out of his mind, Young Hee cuts eye holes in the newspaper and watches Da Kyum collect some hanging laundry outside Soo Jung's home. He clearly misses her.
Da Kyum's bar friend visits the market where the mother works, handing over a bank account book. She forces it into Da Kyum's mother's hands, who is shocked at the amount Da Kyum had managed to save up being a maid.
Gun Woo visits Sang Hoon again, who's annoyed that he visits every day – alone – in an attempt to win him over. Gun Woo begs him not to tell Soon Geum that he's come to gamble with the father, as it would completely displease her. He asks how much he'd have to bring to make Sang Hoon stop playing go-stop, and Sang Hoon says ten billion Won would do the trick.
Gun Woo promises to come every single day and win against Sang Hoon. He'll do it so that Sang Hoon will hate playing go-stop and stop on his own, thus making Soon Geum happy. After all, that's all Gun Woo wants – to make Soon Geum happy.
Meanwhile, Soo Jung is highly suspicious of Soon Geum and camps out at the convenience store, eating instant ramen until Soon Geum comes by. She follows her to the apartment building, and then asks the realtor where Soon Geum lives, pretending to be her older sister. The realtor definitely knows Soon Geum – she bought a million-dollar house before! That's all the confirmation Soo Jung needs to know.
She goes up to the apartment, rings the doorbell, and pretends she's from the dry cleaners. Shi Ah is skeptical, but Soon Geum notes that Shi Ah is usually forgetful. When they open the door, no one is there; only the white blazer is hanging on the door knob. That freaks Soon Geum out – who could have gotten the blazer, and known to bring it to her there?
Back at the convenience store, Soo Jung urgently asks the clerk if Soon Geum bought another lottery ticket aside from the maids' communal one. The clerk remembers she did it once, but despite Soo Jung's prodding, he doesn't remember when it happened exactly.
That evening, Young Hee mopes in his car, staring at the night sky. Hwang Yong asks after his well-being, and Young Hee apologizes to him for purchasing many of his grandfather's paintings – which may turn out to be fake. Gun Woo and Soon Geum join them, but before they can chit chat further, the rest of the maids come marching down the lawn towards Soon Geum.
They want to talk, and they can do it out here since there shouldn't be any secrets to hide. Young Hee grabs Soon Geum's hand protectively, and then Gun Woo grabs the other, asking the maids what she did wrong.
The maids are disappointed in Soon Geum, and they close in on her like a pack of wolves.
Comments:
They know! Or at least, I think they know. Either way, it's finally confrontation time with all the maids, and from the way the episode ended, it feels like the series is turning to the dark side (I hope it does). On top of that, the maids' fates are changing one by one:
– Da Kyum is in possession of the most priceless piece of artwork.
– Soo Jung knows about the lottery winnings and will probably try to get some for herself.
– Hyun Joo is set to inherit a lot from Jang Chi Gook.
I also love that Young Hee is set to suddenly become poor because of the forgery scandal. Gun Woo was the first to fall from wealth, and now it's Young Hee's turn. And the two of them are protecting the richest of the bunch – Soon Geum. (It's funny – all the boys are on Soon Geum's side, all the girls are against her.)
What's REALLY annoying me – of all things – is the love triangle between Gun Woo, Soon Geum, and Young Hee. I don't even think there should be one, since Soon Geum has rejected Young Hee. However, why must she continue acting so nice to him in front of Gun Woo? Poor guy is insecure enough as it is! That's my little petulant complaint right there – it's too much unnecessary tension that shouldn't even exist.
RELATED POSTS
Tags: featured, Jung Kyeo-woon, Kim Min-joon, Min Hyo-rin, Romance Town, Sung Yuri