1 Night 2 Days: Episode 340

EPISODE 340. Broadcast on June 26, 2011.
girlfriday: Old school opening! Aw, sometimes it's nice to go back to the old days, after so many specials and whatnot. It strangely feels like it's been a really long time since we've had a regular episode.
javabeans: I think it's been forever. By which I mean a month. Two back-to-back specials for a total of five episodes? That's ages in variety time, no?
girlfriday: It's been a month since they've filmed the last episode, so Ho-dong asks how everyone has been. Seung-gi says that he and Ho-dong were watching TV one day, and they were shocked (and worried) to see Jong-min on the news. Eep! Generally, star + news = scandal. Turns out it was just to promote his new single, so he swung by the news desk to do an interview and play a round of the perfect pitch game (ha).
javabeans: Weren't they also particularly worried because it was a live program? Ha. I interpreted that as live program = unpredictable = potential image-ruining opportunity.
girlfriday: Heh, Ho-dong introduces Ji-won as "the man Kim Haneul chose," and tells the others that he just had a birthday. It's cute how shy they are about personal things like birthdays, choosing not to make a big deal out of it. Su-geun cracks that they have to celebrate Ho-dong's 70th birthday someday on the show. Ho-dong dies laughing, and then admits, "Sadly, that's not sooooooooo far off."
girlfriday: Na PD tells them that they're going back to basics and today they're headed to the island Kwan-meh-do. Ji-won decides he doesn't like it based on the name. [Kwan = coffin.] Ji-won: "Is it because the island is shaped like a coffin? Ho-dong braces himself and asks how long the boat ride is: "Is it like 12 hours?" Na PD: "In 12 hours we'd be in China."
javabeans: Ho-dong figures it must be the Chinese character pronounced kwan that means view, and he writes it in the air with his finger to illustrate his point. Hilariously, though, Su-geun points out that he just wrote kwan in hangul.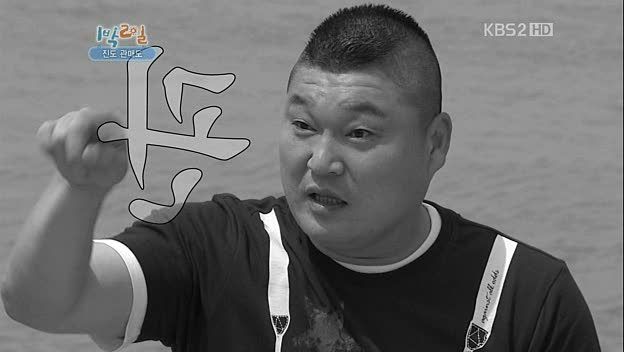 girlfriday: And the hilarious caption: "Now we regret being impressed." HA. Na PD explains that today's theme is an Analog Trip, which only really means they have no vehicles. So it's gonna be another equipment haul once they get to the island. At least they pared down the crew this time. They've done some seriously harsh equipment hauls before, to the extent that it always made me wonder if they really needed ALL of those cameras AND a crane to film some remote island.
javabeans: No kidding. You can't just go with handhelds this time? I mean, I've got a camera on my phone…
girlfriday: Haha. Hey, even Park Chan-wook made a movie on his iPhone!
javabeans: Na PD must be of the "suffering builds character" school of thought. He and my dad would get along great.
girlfriday: That's why I'm always surprised to re-realize that Na PD isn't that old — I think he's younger than half the members, but he seems like SUCH a Korean ajusshi in that way. Such a dad. Everything builds character.
javabeans: I always say that I have so much character that I'll let the poor Other Guy take this opportunity at self-improvement. My dad thinks I'm a smartass.
girlfriday: You ARE a smartass.
javabeans: ㅎㅎ. Oh whoa, he IS younger than half the guys. He's a 76-er! That makes him younger than Su-geun. (Which now explains that hilarious schoolyard ditty Su-geun whipped up in an old challenge, about putting [Na] Young-seokie in a circle and kicking him.)
girlfriday: Ho-dong closes the opening with his usual "1 Niiiiight~~" only he mixes up his gestures, so he raises his hands in the air like he usually does when they've arrived at their destination. It's only funny because he's so predictable in that way, and the members all stand there, confused. Aw, I guess a month really IS forever in varietyland.
javabeans: Ha. It's like they're all conditioned to respond to his setup, only now the setup makes no sense. "1 Niiiiight….!" "…we have arrived?"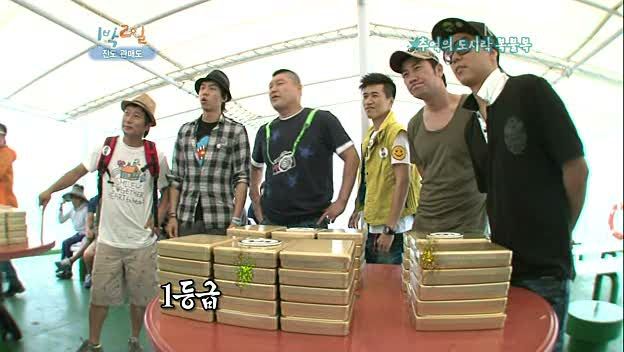 girlfriday: As soon as they get on the boat, the boys whine for food, so Na PD introduces their lunch game. Each staff team is to choose a different member, who picks one of six mystery lunchboxes for himself and whichever staff team has the misfortune of following his fate. One lunchbox has beef, another ham, there's an egg-themed one, then one's got beans, one only anchovies and rice, and the worst — rice and pickled radish. No pressure, choosing lunch for twenty hungry crew members! Yeesh.
javabeans: It's like Na PD realized he couldn't starve anyone with the crew involved, so to sate his sadistic tendencies, he made sure some of them were really crappy.
girlfriday: The funny thing is that it kind of turns into a popularity contest, to see which guys the crew leaders choose. The mook-jji-ppa cameraman chooses Ji-won, Audio Team chooses Su-geun, Lighting Team is Tae-woong. Na PD chooses for the PDs/writers: "I choose Lee Seung-gi of course!" His word choice makes me curious, like I wonder how beholden Na PD is to maknae Seung-gi, who is inarguably the show's runaway star.
javabeans: Dude, it's all image and politics and egopuffery, even as they're playing a "simple" food game. Gotta make sure you handle every situation delicately. You know how easily men's feelings bruise.
girlfriday: Keh. The Manager Team is with Jong-min, meaning Ho-dong is the least popular. So he gets the Stylist Team by default. Heh. And then Na PD asks the Food Truck Ajumma which team she wants to join. Ajumma: "Just Seung-gi!" As if they needed to ask.
javabeans: That's cute. I do like how there's no futzing around on her part. She loves Seung-gi most, and that's that.
girlfriday: I love that the lunchboxes have names, like "Anchovy Love" or "Mom Slept In Late Lunchbox."
javabeans: Hee. The good ones are "Rich Young Master's Lunchbox" and "Protein Rich Lunchbox." The guys are satisfied even down to "Totally Ordinary Lunchbox."
girlfriday: Tae-woong goes first… and chooses the worst one! Aw, poor guy. It's nothing but pickled radish for the entire lighting and VJ crew. Everyone else dances in glee.
javabeans: That's the double-edged blade of rock-scissors-paper. You win…but you lose.
girlfriday: Su-geun does better, picking the Protein one with ham, which is a good thing because that audio director looks like a gangster. Beans might've gotten him a black eye.
javabeans: I love that the one guy dances in glee — and knocks his head into a pole.
girlfriday: Seung-gi picks the "Totally Ordinary Lunchbox," which is kind of perfect, because now Na PD has to suffer the consequences of his own game!
javabeans: He tries to salvage it by assuring them, "It's not that bad!" and the PDs call back, "It's bad!" Ha, Ji-won picks the all-chicken lunchbox (fried egg, egg roll-up) and complains. I do like the way the last two are the best and second-worst options, which adds some suspense. Plus, it's Ho-dong. You don't mess with his food. Well, you do, but he won't like it.
girlfriday: He tries to get the stylist team to cheer him on, but they give nothing but one half-hearted "woot!" and the boys are like, "Why are you so unpopular? Why can't you get any love?" Ha.
javabeans: But he gets the best box, and they're back to rejoicing.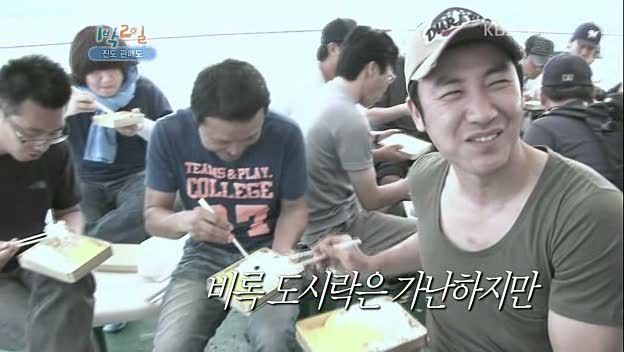 girlfriday: Everyone sits down to eat, and Tae-woong's crew looks especially pathetic with their yellow radish and plain rice. Na PD comes over and adorably puts one bean on Tae-woong's lonely rice. Omg, so cute. But then Tae-woong promptly gives the bean to the lighting director because he feels so guilty. And Na PD shouts, "Hyung! What're you, sharing that?!" I don't know what's cuter — the bean or Na PD calling Tae-woong "hyung."
javabeans: I think what's cuter is that they SHARE the bean. And what about the ONE poor manager who can't eat anchovies…who gets the anchovy plate? Seung-gi tells his team that if they're sad about their lunch, they can look over at the radish and anchovy teams to feel better.
girlfriday: They arrive on the island and begin their trek on foot, with carts of supplies. The caption: "This feels… somehow… like a refugee evacuation." Tae-woong (his mind still stuck on the lunchboxes) wonders why his mom never made him sausages in his lunchbox.
javabeans: He tells the saddest story about how she'd give him "soup" after school…which was ramen powder in water.
girlfriday: That is officially the most pathetic lunch ever.
javabeans: Upon arrival at the beach, Na PD introduces their concept today of a "walking trip." But more specifically, a slow-walking trip. So…an anti-race?
girlfriday: I'm having a Best Love flashback. "Drive fast! But carefully! Fast! But slow!"
javabeans: They are to take a pleasant stroll around the island, find the seven hidden cameras within three hours, and take a group photo with each. If they win, they earn spending money. If they lose…it's an all-night shoot. Er, what?
girlfriday: I love that they're appalled enough to just forgo the usual complaining, and skip straight to: FINE! Let's all just stay up all night TOGETHER! 'Cause ain't no sleepin' for anyone, if they lose. Na PD tells them that they'll be given a handicap to make them go slowly, and Ho-dong starts in on a proverb: "If you go quickly, you can get there fast, but if you go slowly… you get there… late?" HAHAHA.
javabeans: LOL. Seung-gi: "Is there anything you know 100% of?" 'Cause clearly he only knew the first half of that saying, and then made up the rest.
javabeans: The handicaps are revealed, which turn out to be water containers of differing sizes, and the guys immediately understand their race. As well as the cheating opportunities presented therein, since they're disqualified if they lose more than 10% of the water in their containers. In order to decide which vessel they'll be saddled with, they have to play a game (naturally!) where Na PD asks a question, and they answer simultaneously in hopes of all saying the same thing. This has the effect of eliminating all the desirable choices pretty quickly — the bucket, the pitcher, the tall glass.
girlfriday: Then they get the question: Who is the king of animals? They call out two answers, lion and tiger, and then like a bunch of schoolyard boys, they start to argue about who's the real king. Why is such a universal Guy Thing? The "Who would win in a fight…." thing? I've known some of these debates to last for weeks, seriously. Superheroes, characters from different movies. It must speak to that universal thing of needing to know who is the alpha male in all situations. Like across centuries and fictional universes too. Just 'cause.
javabeans: This is like watching the intro scene of a Tarantino movie, I swear. They're all business, but one measly rhetorical question hijacks the conversation entirely. It's mundane and hilarious. I love that Na PD finally steps in and points out that this isn't about getting The Right Answer, but about agreeing on one. So now we're down to the teacup and the ladle. HAHAHA.
girlfriday: Either way they're screwed. Then Ho-dong finally has the genius moment and gathers all the boys for a conference. He whispers that all they have to do is say the same word, no matter what the question is: "So if they ask, what's the first thing you think of when I say Ullengdo? We say WHALE!" They realize that they've been stupid not to think of this until now.
javabeans: Na PD actually plays right into their hands, because their ocean-themed question is, "What's the biggest fish in the sea?" Again, we're going for agreement, not accuracy, so they shout "Whale!" and win. Well, it's the teacup, so it's really a qualified victory.
girlfriday: The best part is that the teacups are super flowery, so the visual of six guys walking around with afternoon tea is just a crack up.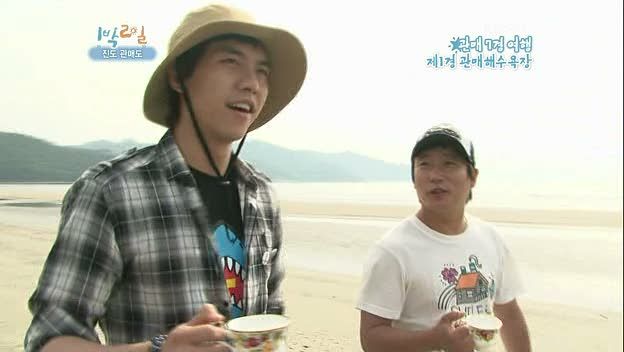 javabeans: The water forces them to walk slowly as they look around at the scenery, and already we can see the drops spilling over the sides. Ho-dong thinks he's come across a really interesting rock…until it breaks in his hand and he realizes he's just picked up shit. HAHAHA.
girlfriday: Pffffft! And then they edit in a shot of the sleeping kitty calling him "Stupid." HEE.
javabeans: Seung-gi cheats! The camera catches him and Su-geun adding water to their cups. He smiles sheepishly, but keeps on adding the water, lol.
girlfriday: Su-geun: "Seung-gi's changed a lot, hasn't he?" Hehe. Gone are the days of Upright Young Man Seung-gi, who used to always take the long way because he refused to cheat along with his hyungs.
javabeans: Hunger and hardship will wear you down, eh? Ho-dong proposes a game to allow one member to travel cup-free for the rest of the mission, and that results in a six-man chicken-leg battle. The last two men standing are Tae-woong and Seung-gi…and Seung-gi wins! At least the cheating is moot now?
girlfriday: They do about half of the walking tour, but there's so much to see that they decide to give up on the teacup mission so they can just do the tour properly. Na PD reminds them that it means they have to shoot all night long… so the boys dump their teacup water all over Na PD as their answer. HA. That's enough to make Na PD cut to banmal: "You're all staying up all night!"
javabeans: Hahaha. Ji-won turns it right back on the crew: "You're all staying up all night, too!" I feel like they weren't all attached to the idea of winning anyway, because they've all been spilling so much water along the way they were bound to lose.
girlfriday: It's so cute, the villages have painted murals everywhere they go, like they're in Hongdae or something.
javabeans: I feel like these guys sometimes get so caught up in their idea of the location more than the actuality of it, heh. Like the well — they marvel at how delicious the water is, and how in Seoul, you pay good money for fresh spring water, and here, there's this stone well and it's all fresh and natural and — oh, there's a tap. Heh.
girlfriday: Heh, apparently this island isn't as analog as they thought. It's time for dinner games, and apparently Seung-gi's really in a cheating mood today, because he nearly just starts eating, screw the rules. Su-geun eggs him on: "Why do we have to wait? We're grown!" Seung-gi: "It's time that we just eat, just once!"
javabeans: Ho-dong plays referee: "If Seung-gi['s image] collapses, we all collapse!" Okay, this dinner game is HARD, yo. I have enough trouble with the 3-6-9 game, and that's without all the manseh complications added in.
girlfriday: Yeah, mixing the two games (0-0-7-Bang and In-di-an-Bap) makes it crazy hard.
javabeans: Brief explanation: The guys point at each other in turn with finger-guns, reciting (in turn), "0-0-7-bang!" And on the bang, the guys flanking him have to raise their hands and yell "Ahhh!" like you would if someone just stuck a gun in your face. The In-di-an-bap is the same game, just with a different gesture combination. Does it sound complicated? It is. It explains why these games are lost quickly.
girlfriday: And poor Tae-woong, who's already the Black Hole of games anyway, can't catch a break. Hahaha. Ji-won's team is so bad that they keep losing round after round, but at least the blame is evenly spread out between all three members?
javabeans: Aw, they suck so bad it goes from funny to sad, all the way 'round back to funny again. So Team Tae-woong/Ji-won/Jong-min lose all the side dishes in quick succession, as well as the first main dish. Now it's sad again.
girlfriday: But then they FINALLY win their first round, and it's a good one. They win the noodles, and I'm seriously so happy for them right now. I thought they were going to starve!
javabeans: Okay, I giggle whenever that Last Match theme song is busted out. It's just so…epic. Yet '90s epic. So, cheesy. Also epic.
girlfriday: Epic in the BEST WAY. I also love that they keep referring to the main dish, the fish stew (meh-woon-tang) as woon-tang-ah, like it's a person's name. Like "Don't go anywhere Woon-tang-ah, I'll eat you right up!"
javabeans: So the Mighty Ducks win the last two (big) rounds, and that's pretty much the spirit of 1N2D right there, isn't it? You're down, but you're not out. When you contrast the two teams, it looks like the guys who were winning all night are actually the losers.
girlfriday: I love that. It's actually satisfying to see Ho-dong's team look longingly over at the other team's dinner.
javabeans: Ji-won rubs it in: "The food on your side is all cold." While eating his steaming stew. Ho-dong tries to tempt Ji-won for a taste swap with some bibimbap, but Ji-won doesn't even spare him a glance. Shut! Down!
girlfriday: Ho-dong finally gets one taste of soup, and he cleanly admits, "You guys won." Hahaha. Winners! Tae-woong asks for some of the other team's pickled fish (jut-gal) and Su-geun offers him his chopsticks (colloquially called the same, jut-gal, short for jut-ga-rak). Everyone dies laughing, and Su-geun's team feels redeemed by that. They won, but we were funnier! Heh. Now THAT's the variety spirit.
RELATED POSTS
Tags: 1N2D, Eun Ji-won, featured, Kang Ho-dong, Kim Jong-min, Lee Seung-gi, Lee Su-geun, Uhm Tae-woong