1 Night 2 Days: Episode 341

EPISODE 341. Broadcast on July 3, 2011.
javabeans: Dinner ends, and the guys are given a chance to play for dessert. The game gets upgraded with the addition of yet another catchphrase, so now they're juggling three possible action/reaction scenarios. It's just enough to be playable…barely. I swear, you can see the guys thinking as they play, trying to remember which is the appropriate response at any given moment.
girlfriday: Ho-dong's face! Hahaha. He's going into near convulsions just trying to keep it together. Must. Not. Shout. Wrong. Phrase!
javabeans: Tae-woong proves he's still the big handicap when the challenge involves childhood games, which makes me think he had the saddest childhood ever, to be so at sea with these schoolyard/bonding/MT games. His team wins one round and loses the rest, but that doesn't seem like such a loss since it's actually taxing the winners' stomachs to claim their reward, with how full the watermelon makes them. Seung-gi struggles to finish his quickly — the game's a-waitin'! — and in the last round, Su-geun pats his distended belly and comments that they're actually the losers, to be saddled with this burden.
girlfriday: Heh, all day long this team's been winning all the games, and yet somehow they always end up the eventual losers.
javabeans: Since the all-night shoot is their punishment for not finishing their day mission, Na PD fills them in on the shooting schedule. He's broken down the night into hourly segments — and "sleep" occupies a woefully small 10-minute portion of the schedule. (5:00 to 5:10.) Heh. You know he's being sadistic again, because that amount of sleep is just enough to torture you, rather than relieve.
girlfriday: Na PD's names for each activity crack me up — "Pairing Game: This is my heart. How's yours?" or "Coffee Time: Discussion with Na PD. Is 1N2D okay like this?" I can't believe he's put a race in at 3am.
javabeans: But sadism aside, he's also a shrewd mastermind, as we well know — because the reward for Activity #1 is exemption from the all-night shoot. Suddenly each member is alert, all excited at the prospect of cutting this ordeal short. Now it is ON. This game? It's GENIUS. Simple, but brilliant: Separate the members into different rooms and make them each answer the question, "Who are you closest with?" If two guys pick each other, they win the exemption. It makes the members sweat, it's rife with a number of delightful possibilities and combinations, and it reveals just enough of a flash of the members' real personalities to be tantalizing to us in the audience.
girlfriday: I LOVE this game! It's horrible (well, potentially horrible) but SUCH good drama. I'm already wringing my hands in anticipation. And the flashbacks to the different pairings isn't helping. It's Baby Bear and Papa Bear! No, wait, it's Ho-dong-ppa Tae-woong and his man-crush! What if someone doesn't get chosen? What if everyone writes Ho-dong? What if bromances are irrevocably shattered?
javabeans: It's such a mindfuck, and that's why it's so suspenseful and entertaining. You run the risk of hurting feelings and bruising delicate egos. Everyone is talking in circles, saying "I'd really pick X in real life… but for this game, I'd be expected to pick Y… but they'd know that expectation and maybe they'll pick Z…" There's always the risk that you pick a person who's closer to another person — so do you answer truthfully, or do you "settle" for the guy who might pick you back?
girlfriday: Yeah, it's one thing to try and figure out your own friendships, but then to measure that up against the other guys — how is anyone to know if their BFF is closer to someone else? How many bromance triangles does it take to sour a six-way friendship?
javabeans: I love that this game plays not only with the real relationships behind the cameras, but also the guys' perception of each other. They know how they feel, but do they have a skewed vision of how the other guys are with each other?
girlfriday: It's so great, the questions this game brings up. I see this person the most while working. But I see this person the most because we share the same hobby. But when I talk to this person, we really understand each other. This guy and I go out for drinks. Who am I closest to? And then there's Jong-min, who's just like… will anyone pick me?
javabeans: Aw, Jong-min. He's the only one who just answered the question straight, rather than getting hung up on predicting who everyone else would pick. (He does wonder at it, but ultimately chooses based on his own feelings.) It twists my heart a little that the reason he's free to do that is because he thought nobody would write him as a response. AW.
girlfriday: Someone please write his name! I might cry if he's left out!
javabeans: I think HE might cry. And then that would make me cry. See, Jong-min should just be sincere, earnest, awkward guy. SO endearing. Forget trying to be the funny jokester persona, just be the heart-on-a-sleeve dork. THAT should be his new concept.
girlfriday: Everybody begins the same way — they start with Ho-dong, and then guess that Tae-woong is bound to pick him. Ho-dong whips out his phone to show a text that he got from Tae-woong one day at like 7 in the morning, saying that he had a dream about him. OH. MY.
javabeans: It has everyone parsing the question to bits. "I like him…but can we say we're close?" They decide this is a game of telepathy, then edit in everyone guessing totally wrong. Su-geun: "I think Ho-dong will pick Seung-gi." Seung-gi: "I could pick Su-geun, but he might pick Ho-dong." Ho-dong: "I don't think either Su-geun or Seung-gi will pick me." Caption: "Wayward telepathy." But I love the edit where Su-geun is predicting how Seung-gi will react to the question. Cut to Seung-gi, saying that exact thing. So predictable.
girlfriday: That's the genius of this game. These guys are so good at predicting each other's responses that it doubles back on them. It's like a funhouse mirror of mindgames. Because then, does Seung-gi pick that predictable pick, or does he do what they're doing, and play based on the likeliest outcomes? God, this is better than Vegas. Seung-gi and Su-geun both say that they see each other the most often — they play soccer together once a week. But each of them thinks the other is going to write down Ho-dong's name. If you think about it, the crux of this game is Ho-dong, because every single one of them thinks that everyone ELSE is going to choose Ho-dong. But mostly it just fucks with all the pairings.
javabeans: HA. Su-geun was told to write his answer on his right hand by his PD, because of the dramatic effect of the reveal (handshakes and such), so he had to scrawl it with his left hand. And then he finds that nobody else was told to do that.
girlfriday: Hehe. One really overzealous PD.
javabeans: They call that PD the rookie. He must still be in that phase where you work super hard and do way too much, above and beyond what's necessary.
girlfriday: Oh, the tension as they all gather. They're equally stressed about being picked and not being picked, because either way, somebody feels bad. The endless possibility of broken hearts! This is the most bromantic game ever. Jong-min is the first to reveal his pick: Ji-won. And then the anxiety as Ji-won reveals his pick… Caption: "Will Jong-min's love be unrequited?" LOL.
javabeans: I'm on pins and needles, hoping for a love match. Because the alternative is just too sad.
girlfriday: Ji-won shows his hand… he chose… Jong-min! Aw. Jong-min actually cries! And then later, when Ji-won gets scared by a bug, Jong-min jumps up: "I'll catch it for you, hyung!" So. Cute.
javabeans: How hilarious is it that while Ji-won runs away from the big bad moth, Tae-woong's method of handling it is to blow on it? (It doesn't work.) Speaking of Tae-woong, he's the big spoiler in this whole thing, I think. The Ho-dong / Seung-gi / Su-geun love triangle has its complications, but I think you can talk your way through it and figure out a solution. But Tae-woong, he of the morning text messages… Ho-dong rationalizes that people don't dream about people they don't care about. That dream weighs on Ho-dong's mind as he tries to figure out whether to vote with his protégé, with his comedian pal…or with his heart.
girlfriday: So it's finally Ho-dong's turn, and everyone is dying to know his choice. Ho-dong: "My heart is… Uhm Tae-woong ♥ !" But sadly, Tae-woong chose Su-geun instead. Wah, wah. Ho-dong's hand goes from a declaration of love straight into a fist of fury.
javabeans: "THEN WHY DID YOU TEXT MESSAGE ME?!"
girlfriday: HA.
javabeans: Btw, Tae-woong is like the king of non sequiturs. His little offhand comments are SO random. I can totally see him sending a lovey text message out of the blue, just 'cause the idea popped into his head. He's like the male Choi Ji-woo. OH MAN they should totally date. It would be a hoot just to watch them be weird and random together.
girlfriday: But! He loves Ho-dong!
javabeans: The man can have room enough in his heart for bro-love and…uh, non-bro-love. He raises dogs!
girlfriday: I wouldn't be surprised if Dogs win over Ho-dong anyway, in Tae-woong's heart.
javabeans: Now I see why Tae-woong doesn't have lots of female friends. Knowing what I do about his personality now makes me like Su Ae even more. I'm totally inventing scenarios in my head, but I see her as the type of chill woman who just rolls with his random weirdness, not getting all peevish or sensitive when he doesn't do what he's *supposed* to do.
girlfriday: I want them to be like her and Lee Jung-jin in Bottom of the 9th With 2 Outs. Just adorably wacky BFFs, and then one day… LOVE!
javabeans: Hilariously, the lovelines continue to miss their targets, because Seung-gi also picks Su-geun…who picks Ji-won. How funny that neither Ho-dong nor Seung-gi got picked! But I feel like that's what happens when you're TOO popular ("Don't hate me because I'm beautiful!") and everyone assumes you'll pick someone else, so they don't pick you, and then you're left unpicked.
girlfriday: Aw, all the unrequited love. I love how jealous Ho-dong is: "Must be nice… to get two votes…"
javabeans: I love that while he definitely plays things up for cameras, Ho-dong can never quite eliminate that real flash of petty jealousy. Hee.
girlfriday: Keh, the next thing on the agenda, Coffee Time Discussion, takes all of five minutes. "Is 1N2D okay the way it is?" "Yup." "Anyone want to change anything?" "Nope." "Cheers!"
javabeans: Shortest debate ever. I love that they're drinking out of the cups they had to carry around all day. Caption: "1N2D: Okay the way it is?" Short discussion. Caption: "1N2D: Okay the way it is."
girlfriday: It cracks me up that of the four guys who couldn't find their match, three of them are bitter — Su-geun: "Ji-won, can you really sleep?" Seung-gi: "Su-geun hyung, I want my gift back." Ho-dong: "[Tae-woong] don't text me in the morning." But Tae-woong is just ridiculously random and sincere: "[Ho-dong] Hyung… I'm happy." That he picked you? Omg, I die.
javabeans: Like a bashful little boy. But Ho-dong is still miffed that his love went unrequited. Or maybe we should call it underrequited.
girlfriday: Then they play another game for late-night snacks, and Ho-dong and Seung-gi are hilariously competitive with their ear-pulling and interlocking fingers. Oooooowwwww!
javabeans: Lol. The more into the game you get, the more tightly you grasp your ear, which means the harder you yank on it when you forget to let go… Seung-gi: "I almost ripped my ear off that time."
girlfriday: Aw, the poor crew, sleeping in shifts while they can, and the boys with increasingly heavy eyelids. The 24 clock flashes on the screen. Jack Bauer, eat your heart out. They arrive on the beach for more games, and Na PD announces the two teams as "Unfulfilled Lovelines." HA.
javabeans: OMG the elephant-trunk-spinny-flag-hop-beach game. WTF?
girlfriday: Hahahaha. That's like the go-to game when 1N2D has no ideas: Make the guys really really dizzy, and then give them some task to do!
javabeans: I got the gist, but as I was trying to follow the logic of the verbal explanation, I just gave myself a headache. First, spin in a circle ten times while making an elephant trunk with your arms, then run toward the beach between the flags, and take three steps…? I guess the confusion was worth it, though, to see Tae-woong flail-flop on the sand while trying to maintain his dignity. At one point he looked like an upended turtle.
girlfriday: HAHAHAHA. His embarrassment was so priceless!
javabeans: That man! Brings new meaning to the expression "two left feet." Except, somehow, the reality of his coordination is worse than what I imagine two left feet would look like.
girlfriday: Needs a new expression. I rather like the one he's gotten from the foot-related sports: Dog Feet.
javabeans: But… dogs are swift and graceful? He's like a gorilla crossbred with a greyhound. Feet : Tae-woong :: Arms : Tyrannosaurus Rex.
girlfriday: Near-vestigial organs? Heh. Okay, now the pail-head chicken fight is is the most ridiculous game ever.
javabeans: In that people win and lose without actually getting to the fight part? There was barely any contact, even. It's like you're your own enemy in that one.
girlfriday: Pwahahaha…. Seung-gi spinning around and around, to his Gumiho song: "I must've lost my mind…" Ho-dong stands in front of everyone holding Tae-woong's hand: "Other people say that our love cannot be…" OH. MY. GOD. Am I dreaming this?
javabeans: I love that it totally sounds normal in Korean, even as he declares, "…but now we are one! Tae-woong, I love you!" Tae-woong: "I've always loved you!" Hug. Music. Annnnd scene.
girlfriday: They all end up in the ocean anyway, and then Ho-dong and Tae-woong get to sleep (for an hour?) while Seung-gi and Su-geun stay up all night.
javabeans: Apparently the scheduled morning punishment activity has been cancelled (Seung-gi fakes dismay: "Oh noooo. Reaaaaallly?") so instead of laboring outside, Seung-gi and Su-geun just have to stay up. Not a bad trade.
girlfriday: Chef Seung-gi spends the time making pot after pot of ramen for the staff, and then it's already sunrise. Time to wake the others! They do the opening and the pairs get introduced as: The team that went to bed at 2am, the team that went to bed at 4am, and the team that went to bed… the night before last. Heh.
javabeans: They sure look tired. I think Su-geun took sadistic pleasure in waking the others with his ungodly croak.
girlfriday: When they find Ji-won under his pile of long girly hair, Seung-gi wakes him with a, "Ji-won Noona!"
javabeans: And then it's off to see the sights of Kwanmaedo, though I'm not sure how much of the scenic environs they're taking in, with most of them still bleary-eyed and half-asleep.
girlfriday: I think that bridge with the glass bottom wakes them up. Or at least the half of them who're afraid of heights. Next week: the 200th episode special! Wow, 1N2D, you're like a senior citizen three times over!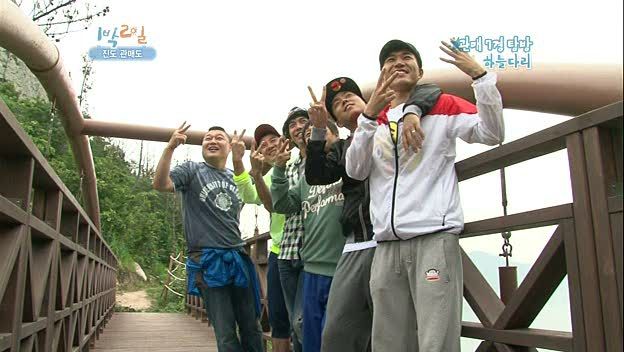 RELATED POSTS
Tags: 1N2D, Eun Ji-won, featured, Kang Ho-dong, Kim Jong-min, Lee Seung-gi, Lee Su-geun, Uhm Tae-woong