City Hunter: Episode 17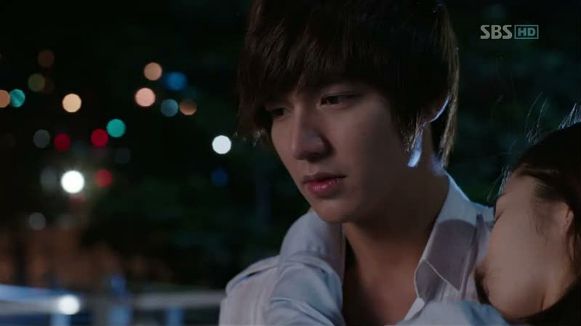 This show? It's like Shakespeare on acid. Or watching Confucius kick Shakespeare's ass. Or if Confucius and Shakespeare had a lovechild, it'd be City Hunter. Is anyone else's head hurty with the daddy issues? Somebody please give this boy a hug. I'm scared for what's around the corner.

EPISODE 17 RECAP
President Choi walks up and hands Yoon-sung the volume that he's looking for, containing his father's picture from his days as a secret service agent. Yoon-sung quickly covers up his interest in the book and says he was just browsing at random.
The president asks for some help uploading a picture onto his blog. (How cute is it that he has a blog?) Yoon-sung notes the piles of work he's got sitting on his desk, and is surprised to hear him say that he strives to keep up with current affairs without having to add to anyone else's workload.
He cites a very simple, down-home adage that when you give someone more work, you must give more pay. Basically it's a shorthand to mean that he understands the plight of the average worker, which again separates him from his Council of Five cohorts.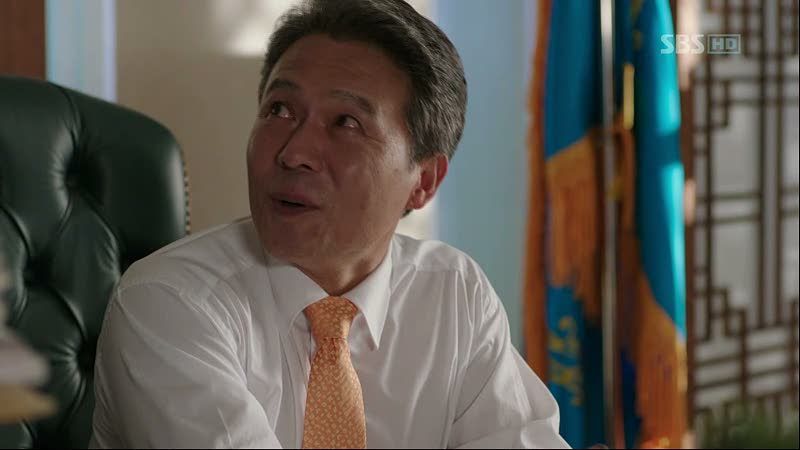 He mentions his son and then frets about youngest daughter Da-hae. Yoon-sung promises to stop by the coffee shop and check in on her. Aw. He's obviously taken a strong liking to Yoon-sung for various reasons, and invites him to the presidential luncheon later that day.
Mom sends Nana a care package with a hand-stitched handkerchief inside, asking her to come visit and to take care of herself. Nana cheerfully tells her that she'll come by, hiding her heartbreak.
Target No. 4 Chun Jae-man meets with Jin-pyo and they both play the I-know-what-you're-up-to game. Jin-pyo tells him that he's had a recent break-in and something valuable went missing, and Chun very graciously offers to recommend a good security system. Ha.
Chun then comes out and says that he lied before about those men in '83 – that they were really on a government mission, and died in the field. He admits to lying to draw out the City Hunter, because he's got the one document to clear up the lie in his possession, and he's sure the City Hunter will come to collect. Wow, this guy's no idiot. (This is all of course based on his misunderstanding that the City Hunter is sitting right in front of him.)
Jin-pyo laughs it off and says that the only thing he's interested in is money. Chun certainly plans to take advantage of that, despite who he thinks Jin-pyo is. I love that both of these guys think they're outsmarting the other, and I'm not even sure which side is winning right now.
Chun pointedly says that it's time someone of his stature meets the president, and invites him to the Blue House luncheon. Oh this should be interesting. As soon as he leaves and Mr. Creepy enters, he reveals his plan to take the rest of Jin-pyo's money and then kill him quietly.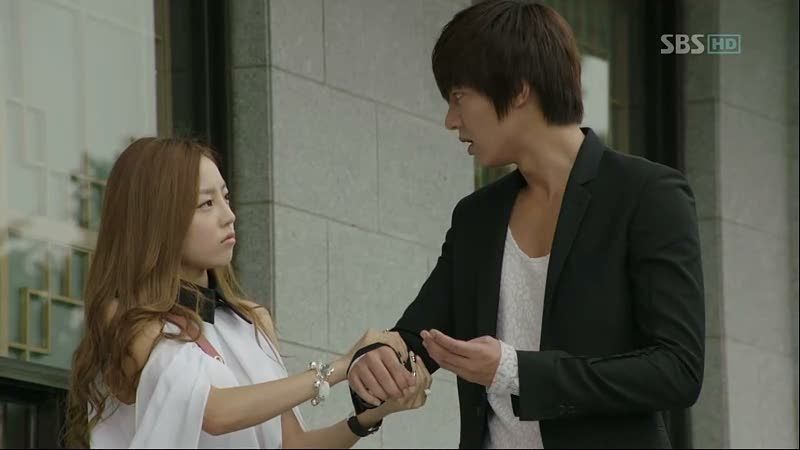 People start arriving at the Blue House for the luncheon and Da-hae clings to Yoon-sung, asking him to come along. He doesn't intend to, despite the president's invitation, that is until he sees Dad arriving with Chun Jae-man.
The president enters the room with Nana at his side and starts greeting each guest individually with a handshake, until he reaches for Chun Jae-man's hand, and stops in midair….
He locks eyes with Jin-pyo, standing right in front of him. Huck! He looks like he's seen a ghost, and Jin-pyo smiles at him with that creepy badass smile of his. "It's nice to meet you, President Choi. Eun. Chan." Eeee! He says nothing in return, but his eyes betray stress, worry, fear.
Nana is startled to see Yoon-sung's dad, and he notes her presence with an evil smile. No. Nonononononono.
The president gives a short speech, all the while focused on Jin-pyo's gaze, and neither of them notice Yoon-sung, who arrives late with Da-hae. He sits and observes quietly. Gah. President Choi, Chun Jae-man, Dad, Nana, Yoon-sung… this is the tensest lunch ever.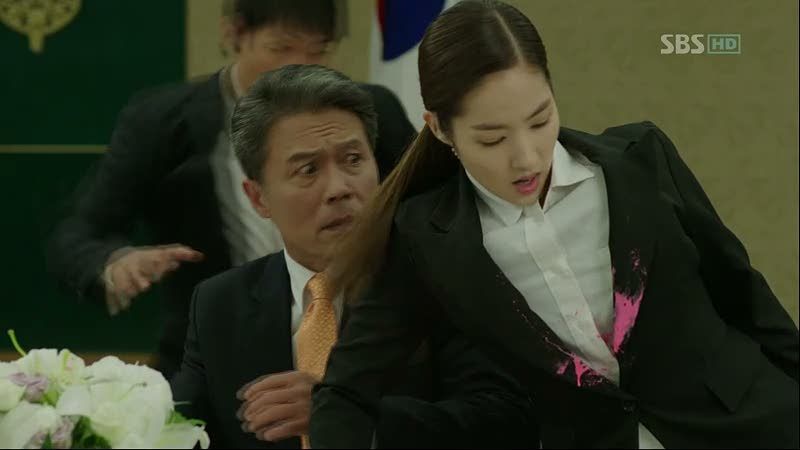 As soon as lunch starts, Jin-pyo puts down his cane, and a whirring noise startles the entire room. Nobody can tell where it's coming from, and the agents all scramble. The noise grows closer and louder and louder…
And then POP! as Nana jumps in front of the president to shield him.
Dude, you can say what you want about Nana, but a girl who jumps in front of an oncoming bullet/unidentified flying object is just hardcore, yo.
Luckily it's something like a paint gun pellet, which just explodes some pink splatter and does no harm. Everyone freezes in fear, except for one man, Jin-pyo, who EATS HIS STEAK with a smile. Hahaha. It's a similar effect to having everyone in a crowd turn in one direction, while one man stares directly at his target. Only with steak.
Yoon-sung can do nothing but watch as Nana jumps in the path of the attack. The agents safeguard the president and Nana sees that he has some of the paint on his suit. She hands him Kyung-hee's handkerchief… which he recognizes at first glance.
It makes him look up at Jin-pyo, who's still enjoying his steak with aplomb.
Outside, Yoon-sung tells Dad that Nana is nothing to him now, and he needn't put himself at risk to mess with her. He asks who Target No. 5 is, since Dad must've read the confidential file before it was stolen.
Dad simply tells him that there's an order to things – they have yet to get Chun Jae-man. You forgot to add: before I make you ruin/kill your real father. Oh, this is going to be very bad. Very bad.
The president later stops Nana to ask where she got that handkerchief, wondering if it's maybe someone he knows. She tells him that it's unlikely, since it was just a gift from an ajumma she knows.
He lets it go and returns it to her, but then goes to his desk and takes out his own identical handkerchief, holding it with a sigh. Man, is he still in love with her on top of it all?
Nana calls Mom to ask if she can tell the president about her, because he asked about the handkerchief. Mom quickly says no, feigning modesty, and tells Nana not to say anything about her. She agrees, but notes her reaction curiously.
Mom goes for a walk in the hospital and nearly crosses paths with Chun Jae-man. She sees him down the hall and immediately hides out of sight, pulse racing in fear.
She flashes back to the day she found out she was pregnant with Yoon-sung. She exits the clinic and Chun is standing there waiting for her. He tells her to abort the baby, and she refuses, insisting that she will raise the child herself. He throws money at her and threatens her with her life.
He tells her that Choi Eun-chan is his dearest friend, and he's not going to let him leave his family and throw away his future just for a woman who works in a bar. Ooooh, interesting. So he really did love her enough to consider throwing it all away.
But wait… if he loved her… okay, this is getting downright old school biblical. It's like David and Uriah. He was the king who loved a married woman, got her pregnant, and then sent her husband away to battle knowing he'd die. So that he could have her. EVIL.
I thought the fact that the prez was Yoon-sung's father was twisted enough, but if you think of it this way, it's fucking WRONG as all get out.
Back in the present, Jin-pyo clutches a photo of him and Mu-yeol, and talks to his friend. It turns out that Mu-yeol did know that Yoon-sung wasn't his child, but chose to raise him anyway as his own. Aw. How is it that the only really good guy in this drama died in the first episode?
Jin-pyo asks if he can understand him for raising Yoon-sung the way he did. "But even if you can't understand me, I can't stop this revenge."
Now it makes me wonder – if Yoon-sung HAD been Mu-yeol's biological son, would Jin-pyo have raised him so cruelly? If he were really his brother's blood, would that have changed everything?
Shik-joong Ajusshi comes to visit Mom and introduces himself, and then gives her a present from Yoon-sung. It's the framed photo of his not-dad, Mu-yeol. She takes it and then gives him another of her hand-stitched handkerchiefs to give to her son. Oh dear. You might as well put up a neon sign: Birth Secret Here.
Yoon-sung can't get his mind off of Nana throwing herself in harm's way, and then Ki-joon comes in, blubbering (thinking of Eun-ah) and voicing his fears out loud. He watches her walk by but all he can do is worry silently and brood.
Nana washes out her paint-stained clothes and sighs as she thinks of Yoon-sung's words, asking her to be the one to walk away from him.
The president sits alone in a darkened movie theater, and Jin-pyo arrives to meet him. He says that he'll reveal the truth and tell the world that Chun was lying about Operation Clean Sweep.
Jin-pyo: "You may have covered it up the way you wanted, but you can't reveal things the way you want. They loved their country more than anyone. I've spent twenty-eight years sleeping to the sound of their cries, dreaming of this revenge. We're so close. If you reveal it now, it won't taste any good, like flat beer."
They speak to each other in banmal, and the president calls Jin-pyo by first name alone. He asks what he gains from going this far. Jin-pyo tells him that he tried to forget, even understand. But watching their actions, he realized that his men had died like dogs, for nothing.
He gets up to go, and President Choi asks why he took Kyung-hee's child. Whoa. That's right — way back when he went to see Kyung-hee, she told him that Jin-pyo ran off with her son. So he actually has all the requisite knowledge…if he connects Yoon-sung to Jin-pyo, then game over. Jin-pyo says nothing and walks out.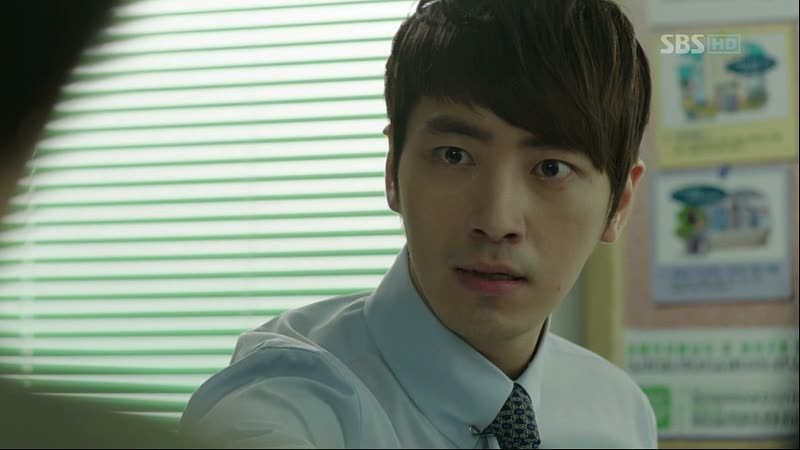 Young-ju continues to investigate Chun, and finds that his entire empire is an inflated house of cards – Haewon is basically a conglomerate where he builds up the value of each subsidiary by using the others to invest in and therefore inflate the other's worth. It's like using credit to mortgage credit. Sound familiar, AMERICA?
Ahem, anyway, his boss comes in and yells at him for refusing to give up on the case, and tells him that he's been demoted by the higher-ups. Just then, his staff arrives with a letter from the City Hunter.
He succeeds in wrangling the file from them over his boss's protests, and finds the discarded files on Haewon's chemical waste and a copy of the contract that Chun attempted to get the cancer patients to sign.
Yoon-sung stops by Da-hae's coffee shop and she brings him a latte with a heart on it, which he rejects: "I gave up coffee." Aw, why does that break my heart? It basically means 'I gave up Kim Nana,' which makes me wail.
He is nonetheless surprised to see her working hard, having expected her to quit after the first day. She tells him that she wants to make her dad proud, and worry less about her. Yoon-sung acknowledges that as the first sign she's ever shown of growing up, and then oh-so-causally asks after Nana.
But they're interrupted when Young-ju walks right up and sits down at his table. Should I be concerned, City Hunter, that the prosecutor seems to find your whereabouts so easily?
Yoon-sung: "Are you a stalker? I'm getting a little tired of it." Young-ju just says he's here to drink coffee. And stare at your pretty face? You know, pretty-to-pretty?
Da-hae eyes him warily but when the people behind her knock her down by accident, Young-ju jumps up to help her tenderly, while Yoon-sung chides her for being clumsy. She takes one look at Young-ju and switches teams, handing him Yoon-sung's coffee. Ha.
Yoon-sung watches her with a peeved look. "You said that's MY coffee. That's my coffee! Why are you giving that person my coffee?" Da-hae: "You said you gave up coffee." HEE. Hee hee hee. Your pettiness amuses me to no end.
Young-ju sits down and tells him about his curious findings, namely concerning Yoon-sung's interest in Steve Lee, and Steve Lee's investment in Haewon. He says that Hae-won is like a carefully stacked tower, only most of the parts are worthless. Everything is held together by one linchpin: Haewon Construction.
And who should be listed as the head of that company, but Steve Lee? He illustrates with the tower of blocks on the table—if you pull out the core, Haewon Construction, everything else falls down. He guesses that this is what Steve Lee is after. Yoon-sung just scoffs and walks out.
Nana arrives, just missing Yoon-sung by a second, and stiffens at the sight of Young-ju. She asks Da-hae to hurry with her coffee and Young-ju sees her look away from him.
She brings the coffee back to the Blue House and gives it to President Choi, so that he can taste his daughter's coffee. Aw, that's so cute of you to do. He's adorably happy about it and drinks with a big smile.
Young-ju waits for Nana until she leaves work, and stops her to say that he's sorry, that he knows these words aren't important, but that he's genuinely sorry. She tells him that it's not his fault, and that she knows how much it must've weighed on him, and why he became her Daddy Long Legs, which she's thankful for.
Nana: But I can't forget… the words that Kim Jong-shik said about my parents – that he was relieved that they died and became a vegetable. How a person could be so shameless, so cruel. I'm grateful to you, but when I think about your father, I don't know what I'm supposed to do.
Young-ju: I'm sorry.
He raises his hand up to her shoulder timidly as she cries.
Nana shows up at Sae-hee's clinic with a bag of soju and snacks, looking for a friend. She sighs that even her Daddy Long Legs isn't her Daddy Long Legs, declaring Sae-hee the only friend she can talk to freely.
Sae-hee realizes that she knows about Young-ju and his father, and Nana guesses that she must've seen the news. Sae-hee takes a shot for courage and begins: "I didn't mean to fool you… but I've known for a long time."
Nana asks how and Sae-hee finally tells her: "Kim Young-ju is my ex-husband." Finally! But gah, Nana's face when she realizes that every single person in her life has lied to her? It's crushing. I'd almost rather her keep lying, just for tonight when she needed a friend. Okay, fine I would've railed against her if she hadn't outed herself, but my heart breaks for Nana, who feels so alone.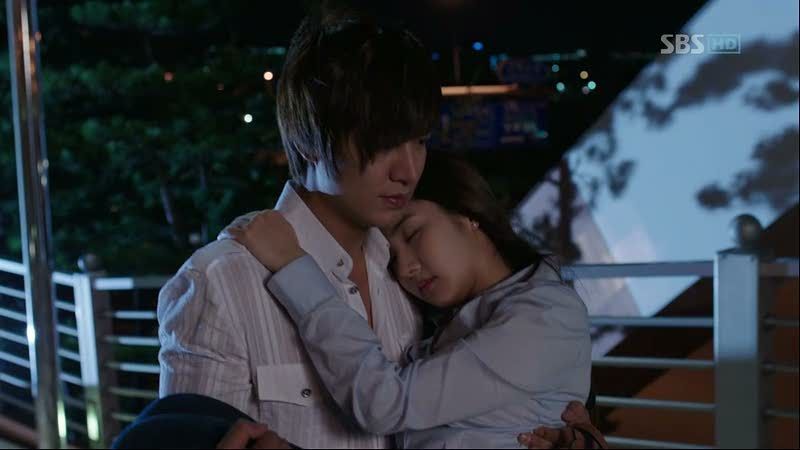 Yoon-sung sits at home brooding over the ring and his bullet necklace, when Sae-hee calls. He comes rushing over and she tells him that Nana drank until she passed out, saying that she had no one else to talk to freely. She asks if something happened.
He sighs to see her clearly hurting so much and then carries her out, literally walking her all the way home in his arms. It's totally impractical but really sweet. He lays her down in her bed and watches her sleep for a while.
Yoon-sung: What made you drink? Because of me? I seem like an idiot right? I told you to let me go, and I can't stand it. I can't give you up to some other guy. But then I can't keep you by my side either. Kim Nana, don't be in pain.
He sweeps the hair out of her face and then leaves. Don't be in pain? You're freakin' kidding me, right? Says the guy holding the knife through her heart? Yeesh. She hears him leave and opens her eyes, having heard the whole thing.
The president meets with Chun Jae-man to warn him that he's going to tell the world the truth about what happened in '83. Chun just scoffs that the president has gotten cowardly in his old age, answering to silly pranks.
He asks what Chun was doing there with Lee Jin-pyo, and Chun pretends not to know what he means, saying that Steve Lee is the CEO of Haewon Construction, and he was merely there as a business associate.
Chun thinks he ought to concern himself more presidential matters, such as helping to privatize health care. President Choi declares that it will never happen during his term, because not protecting its citizens' health is the first sign of a nation's collapse. He points out that the country's health care system is what's protecting the people who got sick at Haewon Labs.
Chun declares that the young should stop having to take care of the elderly (oh my god, you really ARE the devil) and mentions prosecutor Young-ju as being a particular thorn in their side with his constant digging into Operation Clean Sweep. He thinks they should neutralize him first.
President Choi: "Sacrificing the young to save ourselves… once was enough. Don't lay a hand on Prosecutor Kim Young-ju." He declares that he's going to out the truth himself.
Young-ju packs up his stuff for his demotion and relocation, finally defeated and let down by the one thing he put all his faith into—the system of the law. His colleagues stand by unable to help, declaring that their fates were sealed the second they touched Chun Jae-man.
Young-ju walks out of the prosecutor's office with heavy steps, and gets in his car to drive away. Suddenly, a hand reaches into his window and grabs the steering wheel. It's his boss: "What kind of back [power, pull] do you have?"
He tells him that he's not only been reinstated, but is back on the City Hunter and Chun Jae-man cases. Young-ju breaks out into this adorable little boy grin. Aw, it makes me so happy to see him get his job back. I've never seen someone so happy to go to work before.
It's the president's doing, of course, and Yoon-sung happens to witness his call to the prosecutor's office to make it happen. I like that despite Young-ju being a constant thorn in his side too, he seems happy about the reinstatement. In the very least, Young-ju is the only prosecutor he can trust to deliver his targets to. Yunno, petty rivalry aside.
Yoon-sung resumes his computer lessons with the president, and seeing him dote on Da-hae, he says, "You seem like a good father." Oof. That's gonna hurt later. The president tells him that his must be the good father, since he raised him so well. That's gonna hurt too. Worse when you find out said father groomed him to kill you.
Sang-gook leaks more information to Yoon-sung because he doesn't trust or understand Jin-pyo anymore. He seems to be focusing all his energy into investments and political bribes, when he could simply have taken the Operation Clean Sweep document public when he still had it.
Yoon-sung knows better and tells him that Dad is not one to care in the least about money. No, he's got a bigger plan in mind. He takes a look at Dad's schedule for the next few days and notes his meeting at Haewon hospital with two senators later that night.
At the same time, Chun Jae-man gets an alarming call from the bank. Steve Lee has pulled his investment in Haewon Construction, essentially cashing out against the company's worth – 30 million won in one blow. Chun needs to come up with the cash that day or Haewon Construction goes into phase one of bankruptcy.
And just like that, Young-ju's prophecy begins to come true.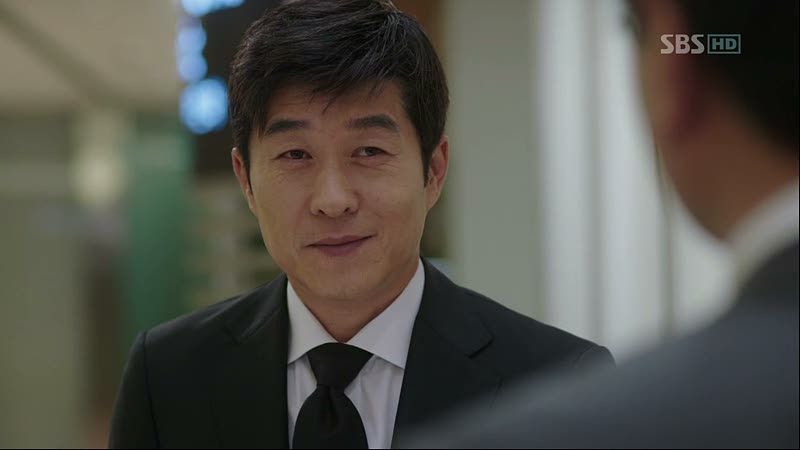 Chun flips to realize that Jin-pyo's motive isn't greed but simply to ruin him, though when Jin-pyo arrives for their meeting, he puts a smile back on his face. They meet with two senators to grease the wheels on the healthcare bill, and Jin-pyo adds that they left a little something in their lockers.
Chun's face turns to stone and Jin-pyo smiles devilishly, enacting his plan to spread his dirty money to every rotted corner of this web.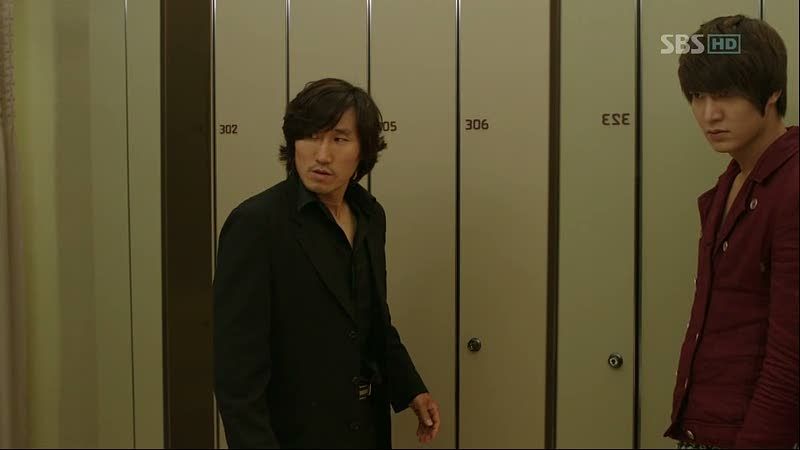 Yon-sung shows up and heads straight for the lockers and opens one, but a henchman arrives before he can look inside. What commences is this awesome sequence where all Yoon-sung does is hide from the guy, but he does so behind a row of free-standing mirrors, which serve to block him from the guy's view, but reveal him to us in the reflection.
Basically it's totally badass while being low-tech. I love stuff like this. It's visually tricksy but not overly flashy. Just using mirrors to put two people in the same frame, but out of each other's line of sight.
He makes his way around and then knocks the guy out with a swift couple of blows, and checks the locker. But it's already empty.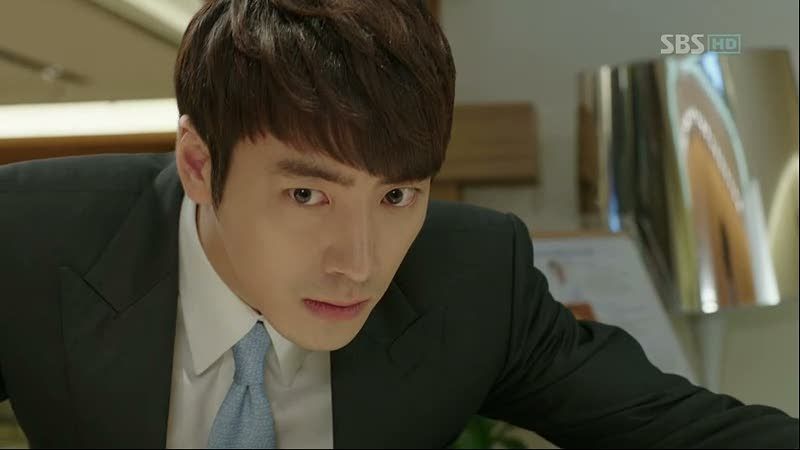 Young-ju arrives, also curious about Chun Jae-man and Jin-pyo's constant meetings with senators and other officials, convinced that they must be lobbying. He notices the sleeping guards on his way in, immediately cluing him into the City Hunter's presence there.
He works his way around the locker room, but all he finds is the henchman's unconscious body. He calls Ki-joon at the Blue House to ask if Yoon-sung is there, and receives confirmation that he's out of the office.
Jin-pyo alerts the senators that he's put their "presents" in their cars, to be safe from prying eyes. He assures Sang-gook that this is all for a greater purpose and gives him the rest of the day off for his mother's memorial.
Sang-gook receives a phone call from Sir Creeps-a-lot posing as the gas company (dude, get a new routine), alerting him to a leak at Jin-pyo's compound. Jin-pyo says he'll see to it himself and sends Sang-gook on his way. Ruh-roh. Not the day to give your lackey time off.
Young-ju waits outside the Blue House, totally high on a City Hunter-catching crusade. He asks Yoon-sung's coworkers if anything about Yoon-sung seems out of the ordinary, but his boss confirms that he just got a call about Yoon-sung's immaculate presentation at a work conference, and Ki-joon calls him a huh-dang, a rather helpless fool despite the look of him.
Just then, Yoon-sung pulls up to the parking lot while talking to Sang-gook on the phone. He walks up and Young-ju stops him, just as Sang-gook tells him that Jin-pyo went back home to check on a gas leak.
Yoon-sung stops cold, flashing back to Young-ju's gas-leak-as-assassination-attempt, orchestrated by Mr. Creepy. But Young-ju is a dog with a bone and he is in no mood to let up today.
He turns to go back but Young-ju grabs his arm, taunting him with questions about his whereabouts and whispering that he'll out his identity as the City Hunter if he leaves now. Gah, I know you're all excited to get your job back, but can you get up in his grill some other time when he doesn't have a daddy to save?
Yoon-sung thinks quickly and tosses out, "I have to ditch work to go meet my girlfriend. Will you help me out?" But Young-ju isn't buying it today. Yoon-sung turns to go anyway and Young-ju grabs him by the shoulder.
It's just enough to make him snap, and he pulls Young-ju over his shoulder, slamming him to the ground swiftly. At least it's the move that Nana taught him? He rushes off, and somebody's car keys lie smashed on the ground in the process, though if it's something more I can't tell by looking at it.
His coworkers marvel that he's gotten much better at judo, while Nana's boss notes the event curiously. Young-ju smiles, knowing he's close to blowing Yoon-sung's cover once and for all.
Jin-pyo arrives home to find himself surrounded by a team of pipe-wielding minions, led of course by the Gas Man. He puts up a good fight for a while, but fierce as he is, even Jin-pyo is no match for the number of men he's up against.
They beat him down to the ground over and over, as he struggles to stay up. Wah, I know Evil Daddy is evil, but HURRY UP AND SAVE HIM!
Creepy looms over him and takes out his knife. He sticks it up to his throat with a sickening smile…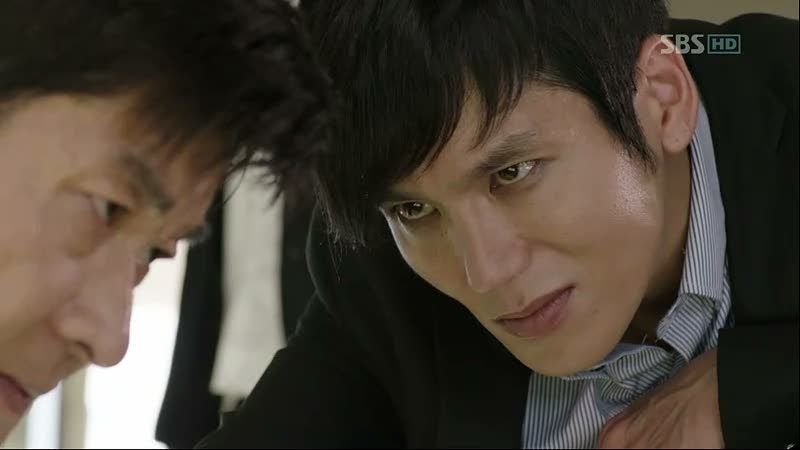 Yoon-sung bursts in (FINALLY!) and fights his way over to Dad. Oh thank GAWD for the hero's unending daddy love. I'm a nervous wreck over here.
They stand back to back, ready to take on the baddies.

COMMENTS
It's strangely really hard to see Jin-pyo beaten down like this, because I'm so used to Dad always being ahead, always in control. He's not a sympathetic character, and yet the thought of anyone except Yoon-sung getting the best of him drives me crazy. Also, I'm okay with him dying eventually if it's for the right reasons, but death-by-Creepy is certainly not one of them.
Truth be told, Yoon-sung's daddy relationship with Jin-pyo is still far more interesting to me than his bloodline to the president. Yes, that one is twisted fate, big tragedy, and thematically perfect in setting up Yoon-sung's empty revenge for his Father-with-a-capital-F (as in idea of, since Mu-yeol was never a father to him in a personal way).
But Jin-pyo is still, for all his faults, Yoon-sung's father, and the one he'd jump into fire to save.
If it were simply one birth secret hanging in the balance, it'd be an unimaginative, rather common third act. But with three fathers, one a ghost and the catalyst for revenge, the other who ordered his death thereby rendering his child TWICE fatherless (think about that for a second), and then the third who raises him in the mirror image of the truth, so that he avenges one father with the death of the other?
I mean seriously. I don't know if it's an ode to patriarchy or a death note to it. Is it wrong if I still want Jin-pyo to be Dad in the end? Even if he dies? For once I want a drama to say, "blood is not the end all be all." Sigh. What's a hero gotta do for some fatherly love around here?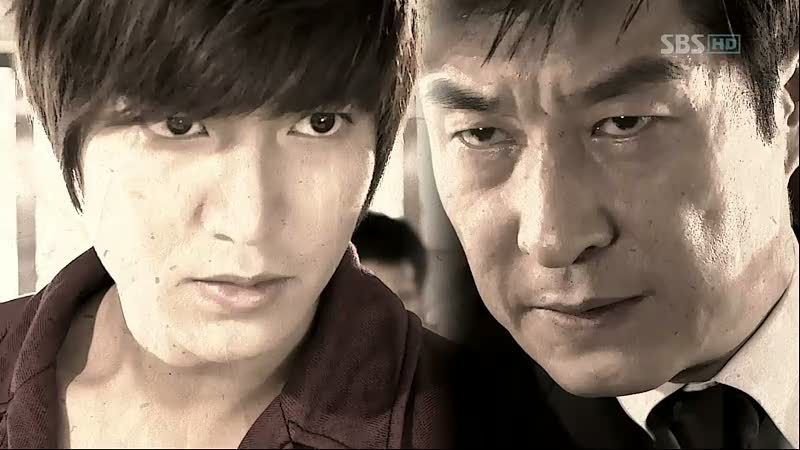 RELATED POSTS
Tags: City Hunter, featured, Lee Jun-hyuk, Lee Min-ho, Park Min-young