City Hunter: Episode 19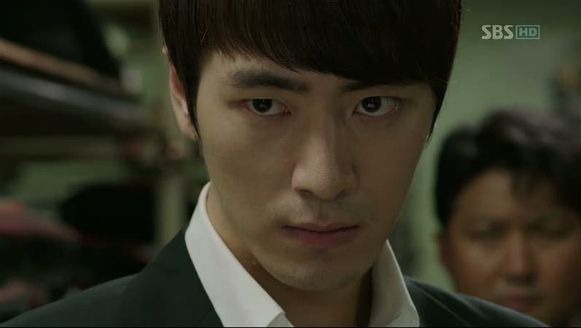 Not like you didn't own me before, Show, but this finale-lead-in? Kicks so much ass. I honestly didn't think City Hunter was going to go out as strong as it came in, but I'm happy to be wrong. So giddy. I knew my love was not for naught.

EPISODE 19 RECAP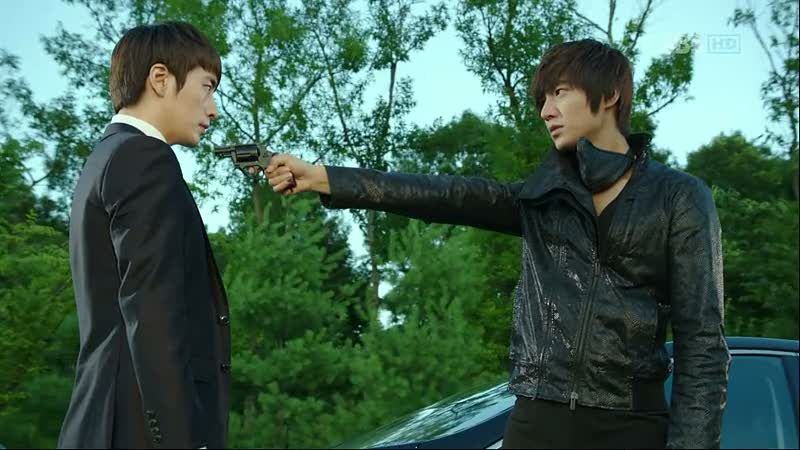 Young-ju manages to stop the City Hunter and then pulls a gun on him. Yeah that lasts about two seconds, as Yoon-sung swipes the gun and turns it right around on him. But the prosecutor doesn't even flinch as he inches forward, head to barrel. Damn, it looks like Young-ju's the one with the balls of steel.
He uses this one chance to unmask the City Hunter…
…and he finally gets his confirmation, as Yoon-sung stands there looking back at him, gun still trained at Young-ju's head. Yoon-sung: "Are you satisfied now?"
Sirens wail as the SWAT team descends on them quickly. Young-ju has seconds to decide the City Hunter's fate… Young-ju: "Go."
EEEEEEEEEEEEEEE! Epic swoon.
I cannot believe how long I've been waiting for this moment. Bromance for the win! They both act the part and Yoon-sung manages to get away, swiftly shedding his jacket and mask to walk by the SWAT team unnoticed.
Target No. 4 Chun Jae-man sits literally with his hands tied, waiting for questioning at the prosecutor's office, but someone he recognizes comes in to rescue him. Oooooh, I wonder who it is? It's not McCreepy because he's presumably still tied up in Yoon-sung's basement.
Young-ju comes back to find Chun already gone, and figures that he must've gotten help, and from someone on the inside as well. Ruh-roh. Dirty prosecutor maybe? Poor Young-ju. Guy can't catch a break.
Meanwhile Ajusshi keeps his hostage McCreepy company, reading to him from a self-help book entitled I Am Precious to Me. HA. He's trying to rehabilitate the guy? That cracks me up. He keeps waving a cane at him too, probably because it makes him feel more in control (mimicking Dad maybe?) but I have a feeling that stick is going to end up in Creepy's hands.
Yoon-sung comes home and tells him that Young-ju made him, and Ajusshi freaks out. He rattles off a list of things to do – get a plane ticket, send Yoon-sung abroad, then gather Nana and Mom and meet him…
Yoon-sung tells him that it's okay, but there's no calming Ajusshi down when it might mean he'll be separated from Yoon-sung. But he assures him that Young-ju won't be coming for him. Ajusshi doesn't understand—he's been running all over town on a witch hunt because of what he did to his father.
Yoon-sung: "He let me go." Ajusshi: "Wha~ He let you go? He saw your face and he let you go? Really? Really really?" He smiles. Is that an I-love-Young-ju smile? Is it a my-BFF-Young-ju-and-I-will-fight-crime-together-forever-and-ever smile?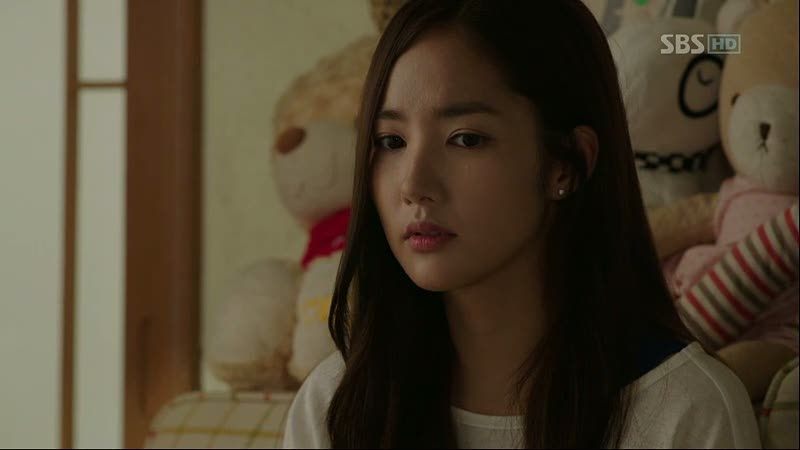 News breaks of Chun's delivery via City Hunter and his subsequent escape. Nana worries all day as she watches the news and then looks longingly at her photo with Yoon-sung in a new frame.
He sits at home and does the same, his still in the broken frame. They each pick up their phones to call the other… and then put them back down. Nana: "He'll come back. Soon." Yoon-sung: "I'll stay alive and return to you."
Young-ju gets his ass chewed out by his boss for losing Chun Jae-man, and then totally lies that he didn't get a good look at the City Hunter's face because he was busy getting his gun stolen. Wow, you're even sacrificing your pride? I love this.
Yoon-sung comes to find him.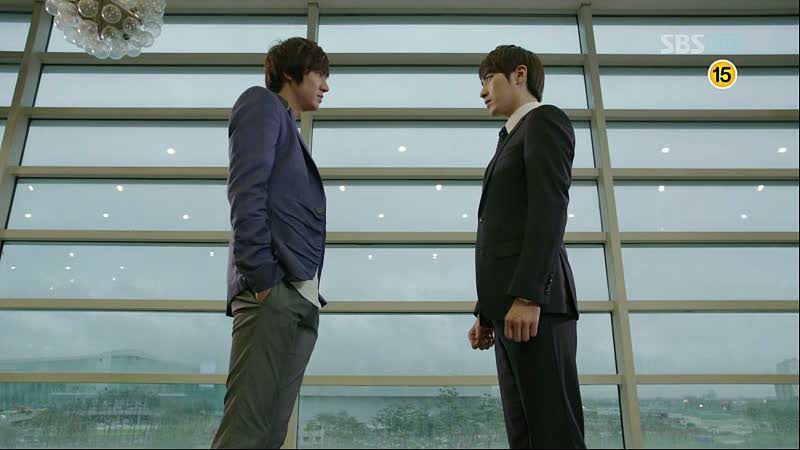 Yoon-sung: Why did you let me go?
Young-ju: Why do you think I did? As Kim Jong-shik's son Kim Young-ju, I should have thrown you in jail immediately. But when I thought about it, the things that the law couldn't get done, the City Hunter could. I didn't have the right to catch you. Because you won the law.
Yoon-sung: Just like Kim Young-ju. Naïve and humorless. Kim Young-ju, the next time this happens, don't be messy, and do what you need to do as a prosecutor.
Young-ju: And you? Why are you keeping me alive?
Yoon-sung: The same reason as you.
Yes! Because he can do what you can't, and vice versa, inside and outside of the law! I love that Young-ju remains humorless and that Yoon-sung keeps his distance (No matter how much I'd love to see them be all, Wonder Twins, Activate! that would be out of character for both).
What intrigues me is that Young-ju still resents Yoon-sung for his father's near-death, but his debilitating objective nature wins out. Logic wins over his heart, which makes for SUCH an interesting character, and the perfect foil for Yoon-sung.
Yoon-sung complains that it looks like he's going to have to pull an all-nighter because someone lost Chun Jae-man. Young-ju asks about 1983 and the top-secret record book, and Yoon-sung just tells him to figure it out for himself. Or yunno, you could pull an all-nighter together. Mm?
Chun Jae-man calls looking for the City Hunter, presumably on McCreepy's phone. He offers a trade: the super-secret book if the City Hunter stops dogging him. Yoon-sung turns him down cold.
This whole exchange goes down with McCreepy by his side in the basement, and he offers up what he knows – that there's no way Chun destroyed the book, because he was intent on finding a good hiding place for it, and that he can guess where he's going next.
He asks Yoon-sung to finish off Chun properly if he gives him the information. Yoon-sung promises, though I'm thinking these two have a very different idea of "finish off." Creepy tells him that after every recent visit with President Choi, Chun was obsessed with finding a woman, who he claimed was his hidden card…
Her name is Lee. Kyung. Hee.
Yoon-sung's eyes widen, as he repeats the name in shock. Eeep! So excited at his first big hint that Mom is a bigger part of this whole conspiracy.
He calls Sang-gook, who tells him that he thinks Jin-pyo didn't show him the secret book on purpose. He recounts Dad's words that he'd rather have it destroyed than land in Yoon-sung's hands.
Young-ju's team starts burrowing through all of Chun Jae-man's files, confiscated from his office. He comes across something old called "Sunflower," and finds a painting marked with a signature – a different name for the same flower.
And then in that file, he finds a hospital record for Lee Kyung-hee, from her OB-GYN. Oh, this is getting so good! Is it wrong if I want Young-ju to find out first?
Then we see someone painting the exact same painting in the present… it's President Choi. He marks it with the same seal, which Nana sees as she stands guard. He completes it and decides he should put it up on his blog. No! Don't do that! Wait… do I want him to do that? Argh, I don't know!
Chun Jae-man calls the president to ask for his help getting out of the country. President Choi refuses and tells him to surrender, but of course Chun plays his final hand – he threatens to tell the world about his extramarital affair with Lee Kyung-hee, and their child.
His reaction makes me wonder if he actually doesn't know that his child survived. Was he maybe told that she had an abortion even though she refused to? Did he assume that the child she was speaking of was Mu-yeol's son, after the fact?
He calls Nana back into his office and asks about the woman who gave her the handkerchief. He says that he thinks she might be someone he owes a great debt to, and asks where he can find her.
She hesitates, knowing that she's not supposed to tell anyone about Mom's whereabouts. So President Choi takes out his own handkerchief, identical to hers. "Will you still not tell me?"
Yoon-sung goes to see Mom in the hospital and starts to ask about her involvement, but ends up letting it go. She happily notes that he's carrying the handkerchief she gave him, and she tells him that it's a gift she gives to people she likes.
He asks very innocently if she also gave one to Dad, and she awkwardly says "Yes…" And then she stops him to ask, "Maybe, just maybe, if your father were still alive, that would be a good thing for you, wouldn't it?"
Yeah, that's a big fat maybe, is what.
He just dismisses it as wistful talk and outside, he wonders why Chun Jae-man was looking for her. Why can't you just ask her? Aaaargh.
He decides to track down another source, the woman that Ajusshi found when he looked for Mom the first time. They worked together way back when, and Yoon-sung pays her to find out what she knows.
She tells him that Kyung-hee had a hard life, struggling to pay for her father's hospital bills, and then she got pregnant with one man's child and then another man married her, knowing all that.
He stumbles out in a daze, knowing now for certain that his father isn't his father. Man, that's twice already: one, Jin-pyo, not the daddy, two, Mu-yeol, not the daddy. Just then, Nana calls to tell him about the sunflower handkerchief – the president has one just like theirs, and he's looking for Mom. She didn't tell him where to find her, and Yoon-sung tells her to keep it that way.
He thinks back to the beans (his habit of picking beans out of rice, which President Choi and Da-hae both do), the very thing that clinched it for us as viewers, only he's now catching up to all the arrows pointing toward the president.
Thankfully, he goes right away to ask Mom directly. Oh Drama, I love you so.
He tells her that he's not upset at her, but he's found out the truth about his real father. She confirms it, and also the key fact that President Choi doesn't even know that she was ever pregnant with his child.
She tells him that he already had a family when she became pregnant, and when Chun Jae-man found out, he threatened her to protect Choi Eun-chan's future.
She asks if he's disappointed to find out what kind of woman she was, and he just hugs her tenderly, "I'm not disappointed. I'm not resentful. I'm just grateful that you're alive." She cries in his arms.
And then trembling, he asks if the father who raised him knew all this. Mom: "Jin-pyo-sshi? Yes. He knew." Ack!
Oh no. THIS. This right here is the betrayal that stings the most. The look in his eyes! The fact that the president is his father doesn't matter half as much as the father he loves, the one who raised him, keeping him in the dark all this time. Heart. Breaaaaaaaaak.
What kills me is that this is the moment when he realizes that Dad really only considers him a weapon for revenge, and doesn't love him as a son. I'd venture to say that somewhere in the deep dark recesses of his used-to-be-a-heart, Jin-pyo does love him, but now Yoon-sung will never believe it.
He comes to see Dad to tell him that he knows everything. Dad says nothing, but he flinches when Yoon-sung says Choi Eun-chan's name. He slams the bullet necklace down on the table. "I will find out everything. And you'll pay the price for twisting my life."
Waaaah, are you breaking up with Daddy? He turns to walk out, and Jin-pyo clutches the only thing he has left — Mu-yeol's bullet.
Yoon-sung sits in the Blue House parking lot, lost in thought, and Ki-joon pulls up next to him after showing off his new car to Nana and Eun-ah. It's so adorably transparent why he bought the same car as Yoon-sung. Hee.
They try to say hello, but he just stalks off without a word.
Meanwhile Young-ju goes to see Sae-hee and asks about Yoon-sung as the City Hunter, saying outright that he knows she patched up his bullet wound. She refuses to tell him anything, and asks why he's pursuing the City Hunter so hard, if it's because of his father.
Young-ju: It hurts my pride as a prosecutor. I keep having to acknowledge it. I keep thinking that his methods are right. It makes me angry and it wounds my pride, but there's nothing I can do. The law has lost. To that guy.

Sae-hee: You should've shown me this side of you sooner. I left because you were so perfect, but today I feel like I want to be by your side. He's a lot like you, Lee Yoon-sung. He seemed really lonely too. How he must've grown up… his back was covered in scars, and as he dug a bullet out of his own back… I felt really bad for him. You know I can't stand to see a dog that's lost its way. You're like that too, aren't you?
She changes the subject to the sunflowers she bought, and suddenly they trigger Young-ju's memory. He rushes to his office to look at the president's blog, and finds a series of the same paintings as the one in Chun's file.
He calls to meet Yoon-sung for coffee, and asks for curiosity's sake if he would have become the City Hunter, fighting for truth and justice and all that, if it weren't for his revenge. I like that this matters to Young-ju.
Yoon-sung tells him that it's something he risks his life for, and asks if Young-ju wouldn't do the same, for poor defenseless people in pain. Young-ju smiles, satisfied at the Lee-Yoon-sung-esque answer.
He goes straight to Jin-pyo afterwards, to confront him straight-on about his own twisted revenge. Okay, seriously, Young-ju is rocking the big guns in this episode. He unflinchingly tells Jin-pyo that Yoon-sung doesn't regret becoming the City Hunter because he couldn't just stand aside and watch people in pain. HUCK! What if he slits your throat on the spot for knowing Yoon-sung's identity?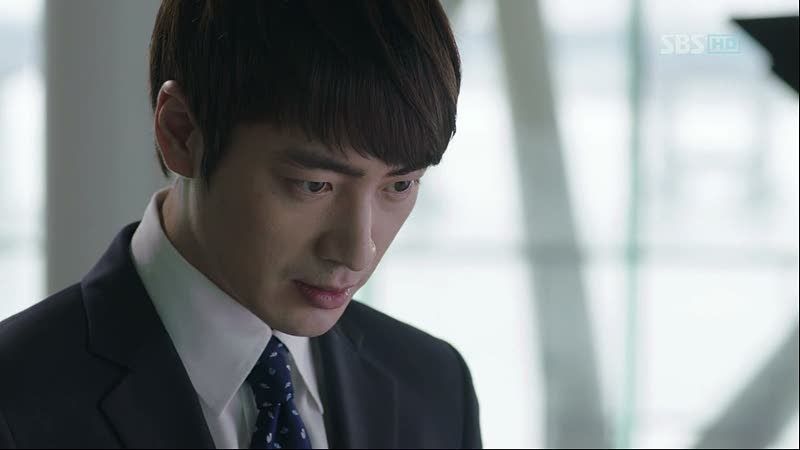 He says that he liked that answer from Yoon-sung, who differs so greatly from someone else's revenge plot that reeks of bloodlust. He says that Yoon-sung's revenge may be forgiven, but Jin-pyo's cannot.
And then he lays down the gauntlet: "You must have known. That Lee Yoon-sung is not Park Mu-yeol's biological son." Oh crap. He adds that he doesn't care how Jin-pyo managed to survive in '83, but what he really wants to know is why he stole Yoon-sung and raised him as another man's son.
Jin-pyo: "If you want to know so badly, ask your father." Oof. Poor Young-ju. The daddy drama never ends for you either, huh? Jin-pyo tells him that it's all in the top-secret report, so he can find it himself to know the truth.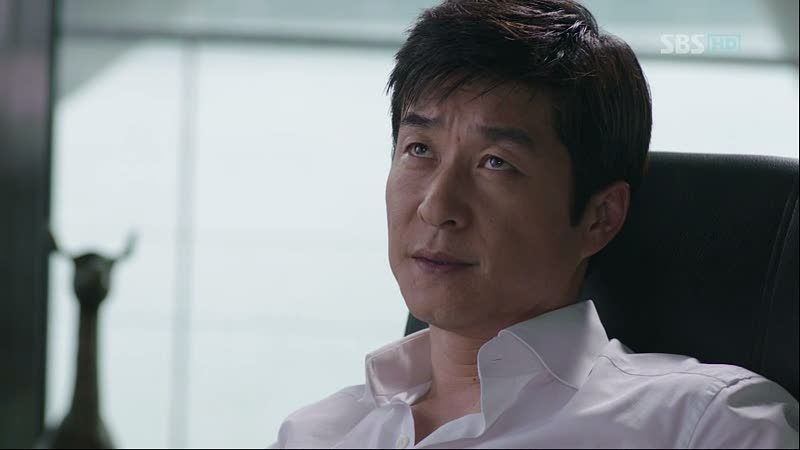 Jin-pyo tells him that it's his job as a prosecutor to put a man on trial for murder. But what about a government that murders twenty of its own and then erases their existence to cover up its crime?
Jin-pyo: You think my revenge is for blood alone? The country I trusted to protect me – how it exploited, deceived, and slaughtered the lives of twenty people… What unspeakable acts they did in the name of country… what your father did!
Young-ju tells him that he will uncover the truth, and that Jin-pyo will have to face judgment. Jin-pyo doesn't balk at facing his due punishment, but adds that he'll have to put the nation on trial as well.
Young-ju is nothing if not exact about the letter of the law. He swears to put the country on trial, and even his father, to receive judgment for their actions. He tells Jin-pyo that the next time they meet it'll be as prosecutor to criminal, on the stand.
So goddamn heroic, it kills me.
Yoon-sung, meanwhile, listens obsessively to his recording of Chun Jae-man's phone call, trying to suss out where he is from the background noises. Ajusshi comes in, nagging incessantly about how he's not eating, and what are they going to do about McCreepy downstairs who has to be fed, taken to the bathroom, and read-to…
Yoon-sung snaps and yells angrily at Ajusshi that he's trying to find Chun Jae-man, scaring the living daylights out of him. Aw. *whimper* Don't be mean to Ajusshi! He just loves you!
He realizes that he's reached the end of his nerves, and apologizes. Ajusshi says he's sorry and says that he's worried about him is all, and scoots away before he gets yelled at again. Aw, poor Ajusshi, but I do appreciate the palpable sense that the City Hunter is down to the wire.
Chun Jae-man is still hiding out, and sends his new minions to retrieve a package that he sent to Young-ju. He vows to win this. "Let's see who remains… the persistent one or the strong one."
Young-ju drives along and gets a call from Sae-hee, over at his place to pick up a jacket she left behind last time. He asks if she has time to eat, so he heads over to meet her. Oh, I have a bad feeling about this. Why do I have a bad feeling about this?
While they're still on the phone, she hears a doorbell, so she goes to answer the door… Eeep, I'm watching this with my hands over my eyes…
It's a deliveryman, with a package for Young-ju, no sender. Oh whew. He tells her to open up the package, so she does, and finds the top-secret record book inside. Whoa. So Chun Jae-man must've originally sent it to him, planning to air the president's dirty laundry. He tells her to keep it safe and heads home to meet her. But then a second doorbell rings. Ack! It's the gas man. NO!
Nonononononono, don't answer the door!
She answers it, and Chun's new minions back her against the wall and knock her to the ground, laughing at her threats. They retrieve the book. Is he changing his mind because he wants to deal directly with the president? Or with the City Hunter?
Young-ju comes home, passing by the thugs on his way in. Something doesn't feel right so he rushes upstairs…
He calls out her name over and over, checking every room, but there's no response. Aaaauuugh, did they kill her? IS SHE DEAD?
He finally finds her, tied up and still alive. Gah. My nerves. She's beaten up but okay, and she tells him to hurry and go. He just hugs her tight and says he's sorry for putting her through this. Aw. He finally learned to put her first! That alone is worth the scare.
Yoon-sung finally figures out one of the background noises in the recording as a tow truck, hauling up a car. He realizes that Chun Jae-man used the accident outside the prosecutor's office to escape in the car that was totaled. He replays the news footage to track down the car to the junkyard.
Young-ju takes Sae-hee to the hospital, and she tells him that she's okay so he should go. He looks up at her, now realizing that she always said, "It's okay. Go," but I think it only now occurs to him that he shouldn't have gone.
But that's just Young-ju, and she knows it, even admires that it's who he is. He tells her that he's sorry. She smiles at him, "If I give you a second chance to repay that regret, will you do well?"
Aw, the way he looks up at her, like a puppy… it just kills me. She tells him that it's what she wants. Yay, I'm so happy for them. But it also makes me re-scared for their lives all over again. Gah.
Chun gets word that he's got the book back, which he plans to use against the City Hunter first, putting his original president plan on the backburner. He still thinks that Jin-pyo is the City Hunter, and declares that he should've died back in '83.
He sends Jin-pyo a text to meet him at the junkyard if he wants the book. Jin-pyo in turn sends the message to Young-ju, posing as the City Hunter.
Sae-hee sees it written on his face that he has to get back to work, and laughs at his lack of a poker face. She tells him she'll be safe in the hospital, and tells him to go. He puts his hand on hers, "Your offer of a second chance… that's a promise, okay?" AW.
She tells him not to forget it either, and they promise to talk about it later. OHGOD. There's not gonna be a later, is there? Is he gonna die? Show, are you trying to kill me? He gets the slow-motion hero walk out the door. OH NO. Frack.
Nana goes to see Mom and asks why the president has the same handkerchief as her. She asks if what she's suspecting is right, and Mom tells her the truth.
Young-ju arrives at the junkyard first, and Chun Jae-man is surprised to see him there when he called Jin-pyo. He tells him that the book is being destroyed right this second, so he's never going to get his hands on it.
Young-ju realizes that it's serving as bait for the City Hunter, and turns back to try and retrieve it. But Chun and his henchmen beat him to a bloody pulp.
Yoon-sung arrives at the same junkyard, having tracked down the car that Chun escaped in. He takes out the thugs sent out to meet him in some outrageously badass moves, including one where he jumps through a car meant to squash him.
He gets closer and Chun jumps at the sound, "Is it the City Hunter?" Young-ju realizes what he has to do, and so he quickly locks the door behind him and sends Yoon-sung a text to find the book in the car crusher.
And then he buys him time by giving the henchmen a fight. Oh god, it's his last stand, isn't it?
Yoon-sung gets the message and turns around. The machine is rigged to keep going so he only has a few seconds to search the car before it gets pulverized with him in it. He digs around and finally finds the book hidden under the floormat, and gets out just in time not to get squashed to death.
Chun's men finally beat Young-ju down to the ground, but he does everything to try and keep him there, grabbing his leg and refusing to let go. Chun sighs that it's too bad he's not more like his father. And then like a proper evil villain, he mentions that he's headed to port to catch his boat, because Young-ju's blocked all the airways.
Young-ju grits his teeth and uses all his remaining strength to pull himself up, as he lays out Chun Jae-man's crimes against the people, as Prosecutor Kim Young-ju addressing the court.
And that's when the final blow comes, straight to the back of his head. Blood streams down his face as he falls to the ground.
Yoon-sung makes his way up to Chun and his men, knocking down the ones sent at him, while Chun slips away. He's about to go after him when he realizes that Young-ju is nowhere to be found.
He runs upstairs…
And there he finds Young-ju, lying bloody on the ground. He shakes him awake and Young-ju comes to, asking if he found it. He says yes. He tells Yoon-sung to uncover the truth.
He tells him to go catch Chun Jae-man at the port, "I don't think I can go right now." Augh, why is that sentence breaking my heart?
Yoon-sung: "Kim Young-ju, catch him with your own hands." He coughs up more blood as he struggles to speak. He reaches out his hand and Yoon-sung takes it in his.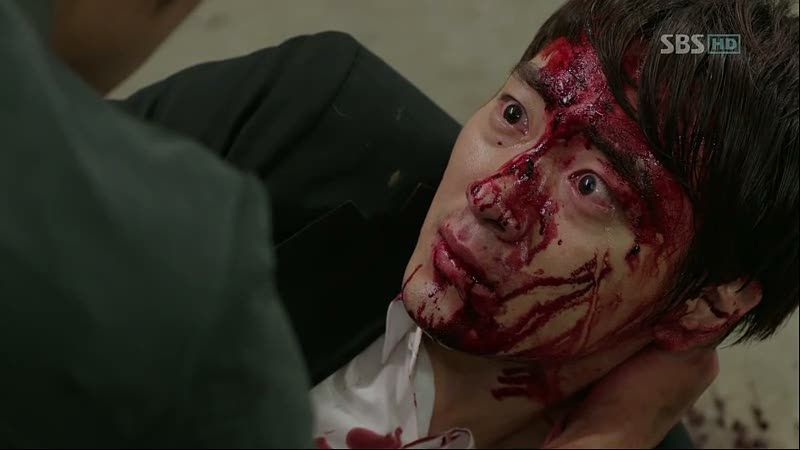 Young-ju: "City Hunter. Lee Yoon-sung. Forgive my father." Oh my gooooooood. You're asking for forgiveness in your father's place? *WAIL*
A tear rolls down his face as he says, "I'm sorry," and then he falls to the ground, dead.
Yoon-sung shakes him over and over, "Kim Young-ju. Kim Young-ju! KIM YOUNG-JU!"

COMMENTS
Oh my god, they killed Young-ju! I know, we complained that no one died, and then they killed off Young-ju! Grawr! Can I go back in time and trade some of the others for him? Puhleeeeease? Sigh.
But what a heroic send-off, for the upright prosecutor, to die defending justice and truth. And the City Hunter! I can't believe it. It kills me, but in the best way possible. I mean, he was maybe the ONE character I didn't want to see die under any circumstance… which is what makes it PERFECT. It's the death that gets me in the gut, and rips out my insides. I have such a love-hate relationship with a show that does that. Respect, but angry bitter respect. Like it knows exactly whom I love and then kills him bloody. Gah.
I can't believe they finally gave me the begrudging partnership between Yoon-sung and Young-ju, the one thing I've been dying for, just to yank it out from under me. It's like waking up thinking it's Christmas and then finding out it's April Fool's. It's a cruel, sick joke. Props, Show. You fucking bastard.
You win.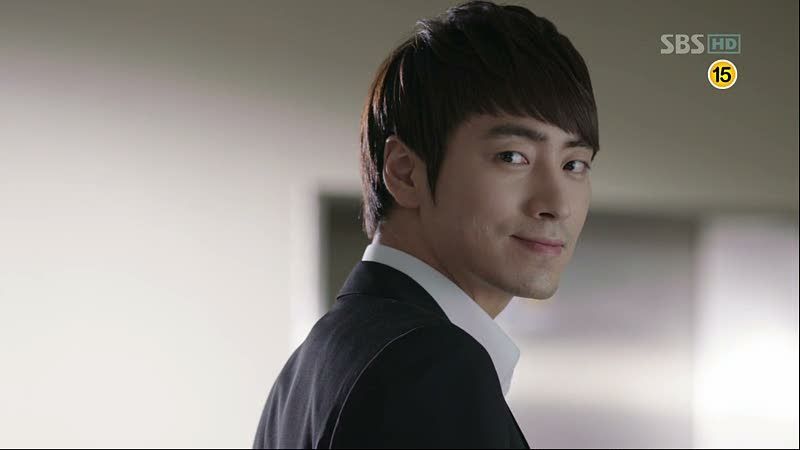 RELATED POSTS
Tags: City Hunter, featured, Lee Jun-hyuk, Lee Min-ho, Park Min-young