Miss Ripley: Episode 12
He knows! It's the death of the puppy and the rise of Dark Yoo-hyun, who is no less polite than before, but eerily icy beneath the surface. And let's not count out Myung-hoon, who is quickly becoming Miri's biggest opponent yet. Basically everyone serves Miri up a slice of humble pie, and it's kind of awesome. Let the real fun begin.

EPISODE 12 RECAP
Awkward family dinner, party of five? Right this way.
Let's see, we've got Dad, Evil Stepmom, Son, Daughter-in-law-to-be, and… her ex-boyfriend? Why not? I invite all of my exes to meet my next boyfriend's families. It's the new passive aggressive way to say, "I'm just not that into you."
Myung-hoon sits down and it's really interesting, the divide—Lee Hwa, Myung-hoon, and Miri all know what's what, while Yoo-hyun and his dad are all smiles, none the wiser. Though Yoo-hyun isn't a complete fool, as he picks up on Miri's tense vibes, especially when Stepmom starts asking Myung-hoon pointed questions about his love life.
He says that he was seeing someone but they broke up, and Lee Hwa asks what kind of person she was. He looks up at Miri: "I think there was so much that she wanted… that I couldn't fill." Dayum. Such good tension.
He adds that he was lacking, and that she left him when she found something else she wanted. He purposely uses the word "greed," though out of context (in the gold-digger way) it can also just mean "really really want."
They get left alone when Dad has a coughing fit and the family gets up to help him to bed. Shaking, Miri asks how far Myung-hoon is planning to take this: "Are you going to cut off my air supply too?" He smiles, a little amused that for the enormous size of her lies, she seems more afraid than he would've imagined.
I'm such a fan of this new dynamic. They were great as a couple but now he's the perfect antagonist for her—he's a spurned lover, he's wise to her lies, AND he's in a position of power to totally mess up her program.
She tells him that no matter what he does, she won't go back to him. Oh, okay Princess. He makes it clear that he's not waiting. Good. Now that we've got that off the table, let's see if we can't toy with her a little. I'm now seeing Myung-hoon as a sadistic kitty, and I LOVE IT.
Yoo-hyun returns just in time to overhear a key point in their conversation, as Miri tells Myung-hoon that his mother came to see her. She tells him that she explained that she won't go back to him, and that her heart changed through no fault of his.
Myung-hoon: "Loving you, and you becoming like this… it's all my fault."
Eeeeeee! He knows! He knows! I might've been a little more satisfied had he put some clues together himself instead of happening upon an incriminating conversation, but I'll take what I can get, since he's too trusting to go digging without a big push.
Lee Hwa rounds the corner, pleased as punch to see Yoo-hyun listening in. Oy, what is this, 49 Days, with the lurkers having lurkers? But inside Miri admits with a different twist on his words that yes, what she's become now she owes to him. (It's so interesting that he means that he's to blame for putting her in the position to hurt so many people, while she takes it to mean that she owes her success to him.)
Then Myung-hoon asks: "Song [Yoo-hyun]… do you sincerely love him?"
And then we cut away before she answers! Aaaaaaargh. Well at least Yoo-hyun realizes that this is a question for her, like there's a possibility that her answer is no, whereas until now, he's never considered it an option.
He's particularly distant and cold to her as he drops her off that night, and Miri worries, though she doesn't know what's changed.
Myung-hoon gets a call from the hospital and rushes off, but finds that his mother was never able to fully recover from her collapse the day before. Before he knows it he's in funeral clothes.
Everyone comes to pay their respects, while Miri sits alone at her desk, finally struck with guilt for maybe the first time ever. She tries to rationalize that it couldn't be because of her, but she can't shake the thought. I feel bad that she died, but I love that it's indirectly Miri's fault.
Yoo-hyun arrives at the funeral. He lays a flower down and bows, and then looks up at the picture of Myung-hoon's mother. Dun dun. It confirms everything—she's the woman who pleaded with Miri that day and collapsed, and he was the one who brought her to the hospital. There's no denying it now, buddy.
Myung-hoon confirms his suspicions that her collapse that day was the instigating factor in her death, but Yoo-hyun doesn't reveal his part in the matter. He does confide how he dealt with his own mother's passing, at age nine when he didn't understand that death meant a forever kind of goodbye.
He relates how his last word at his mother's coffin was the send-off you say when someone is returning to you, which breaks my heart. It makes Myung-hoon feel lucky to realize that he had a lifetime with his mother, while Yoo-hyun lost his so young. Aw, man, their friendship is so sweet. I just want it to last forever. But sadly I know that this bromance is not long for this world.
On his way out, Yoo-hyun sees Hirayama walk in, and remembers him right away from the day he chased Miri away from the gosiwon. I love that once someone sees one of Miri's lies, all of her others start to come into focus. If you only knew how little of the iceberg you've really seen. Hee-joo notices him too, at the door.
Hirayama returns the money that Myung-hoon had given him, announcing Miri's name publicly. Myung-hoon drags him outside and tries to get him to take it back and leave, but Hirayama makes it clear that if he's been dumped by Miri, he's no longer of any use to him. Oh snap. What's worse than being cast aside by your ex-girlfriend's pimp/debt collector? That's gotta be the strangest rejection ever.
Hirayama: "Love is not the kind of thing that ends because you don't see her, or because she's dating another man. You know what the simplest calculation in the world is? Money. My heart's debt goes long and deep. Because love is a petty thing." I love that this guy talks in riddles and aphorisms, but twists them around for his own dark purposes. It's such an interesting character quirk, especially in a drama where everyone else speaks quite plainly, if veiled.
Yoo-hyun ponders all the facts he's now gathered about Miri atop his perch above the city. His assistant comes with Hirayama's envelope with his club's name on it, and tells him that they're tracking down the address now. Nice. I love the rise of Dark Yoo-hyun. Puppy version was cute and all, but this guy's kinda hot.
He meets Miri the next day, his demeanor totally different now that his rose-colored glasses are off. He asks her about her childhood and her dreams, as if trying to reconcile how she became this way and looking for a reason to explain it all.
But as she talks about her mother and off-handedly says that he wouldn't know what her life was like, he bitterly notes that she's assuming she knows something he doesn't, and that it implies she never thought they were the same. She wonders if it's possible for any two people to be alike down to the bone, and he answers darkly, "Is that so?"
Iiiiiiiinteresting. You know what's creeping me out? He's seeing her true face but at the same time he's showing his too. I don't think he loves her any less either, because maybe he's always seen her this way—as something to have. I feel like he's decided long ago that he must have her, so he's going to see it through somehow, no matter what. He's starting to scare me too.
Miri can sense something's off the rails, but is in no position to manipulate the situation now. I love that the power balance has flipped for her in BOTH relationships. He tells her that he'll be busy for a while, purposely distancing himself from her, but for what we don't know.
Meanwhile Lee Hwa gets some alarming news of her own, that someone is digging into her past and her whereabouts, starting from the orphanage where she left Miri. She's told this by the secretary of a deceased company president, who I'm guessing was her first husband. Just positing a guess, but it's likely that she abandoned Miri to marry her first chaebol, and then when he passed away, she traded up for a new one in Yoo-hyun's father. The man asks if she doesn't want to find her daughter now, and she tells him no.
But she goes to visit her old apartment building anyway, for the first time in twenty years. She walks up the steps only to be confronted by a vision of young Miri, asking her what took her so long. With tears in her eyes, she heartbreakingly smiles up at her full of guilt and longing, as she tells her that she was in America to earn money.
She follows Little Miri up to the door of their old home, and then she disappears, leaving Lee Hwa to call out, "Child, child!" out at nothing, only to realize that she's alone. Okay, while I dislike this Stepmom/Mom story thread altogether, I do for once feel a twinge of sympathy for Lee Hwa. Just a drop.
Miri goes to work the next day and finds that every promotional brochure and video with her face on it is gone or in the trash. She panics. Her tower is finally starting to crumble. She meets Hee-joo, who tells her that she's resigned at Mondo, and plans to go study abroad.
Miri freaks out, turning it totally around to her, "How can you do this to me?" Whoa. She takes self-absorbed to a new plane of existence. Hee-joo tells her plainly that she doesn't want to live with her anymore, and Miri reacts like a child being abandoned by her mother all over again.
She keeps repeating that she can't do this to her, that she'll be all alone, which really makes me wonder how she's worked it out in her brain that Hee-joo is family and all she has… and yet treat her the way that she does.
Hee-joo stands her ground (yay!) and tells her that this isn't what she wants. She asks where the Miri she knew went—the girl who refused to let other kids call her an orphan, or helped her hide so she wouldn't get adopted.
Miri looks at her in genuine shock, and her disbelief in this situation is in turn really throwing me for a loop. Are you really that surprised that Hee-joo wouldn't want to be your BFF? Her shock, at something so obvious to the rest of the universe, is so fascinating.
Yoo-hyun starts to piece together a few key events, like the timing of the two baseball games—the first where he was stood up by Miri, then the second where she was suddenly so friendly… right after the banquet at Hotel A. Ding ding!
Wow, I didn't even give you the benefit of the doubt that you'd think that through, but again, once you see through one of her lies, you kind of can't help but start to revise the entire past sans love blinders.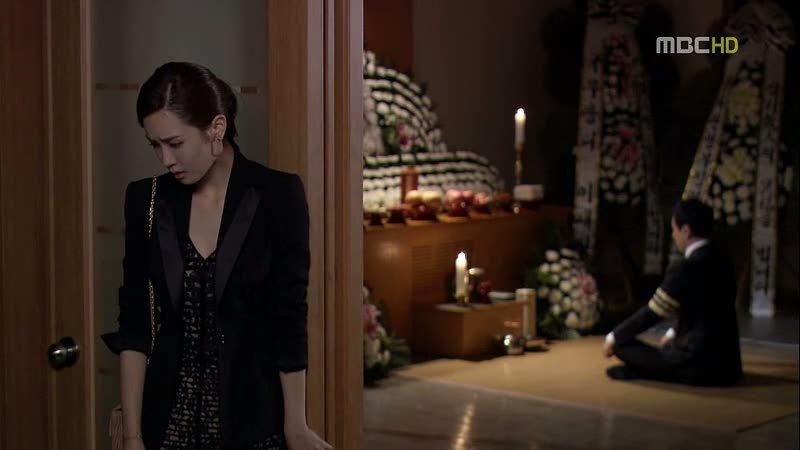 Miri finally makes her way to the funeral, but stops short in the doorway at the sight of Myung-hoon. She can't bring herself to go inside and face it. And though I desperately want her to, to confront her guilt and even to comfort Myung-hoon, it's fitting that she doesn't, or rather that she's too scared to face the consequences of her choices.
So Myung-hoon buries his mother without so much as one word from Miri, finally shedding a single tear after she's laid to rest.
Then Yoo-hyun meets with him to hear it straight from the horse's mouth. He tells him about having seen his mother before with Miri, and asks directly if their relationship is that kind of relationship.
Myung-hoon doesn't hem or haw, which I like, and neither does Yoo-hyun, who is clearly uncomfortable, but would rather hear the truth. Myung-hoon tells him about how he had spent his twenties and thirties just trying to stay afloat, and then one day turned around and realized how alone he was. It was then that he met Miri, who reminded him of himself in his twenties.
He shares his own harsh background, having to become the head of a struggling household at the ripe age of twelve, upon the sudden death of his father. He saw himself in Miri, and was happy to help her, and felt somehow like he was reliving his youth through her. Aw.
Yoo-hyun asks if he's ever told Miri these things, but Myung-hoon says no, "Because these aren't the things you want to burden the person you love." Still crushing my heart.
Hee-joo stops by the orphanage to tell them that she's going to study abroad, and happens to see Lee Hwa's contact stop by to ask about the person digging into her past.
Miri goes to work and finds that Myung-hoon has put up a notice looking for her replacement, in effect putting her head on the chopping block. She storms into his office in a fury, calling him petty for stooping so low. Damn, the entitlement on this girl… it's just a sight to behold.
She asks if this is because of his mother, and he admits that he doesn't entirely not blame her. But he explains that this is purely a business decision, which I believe, and adds that he's already cleared it with Yoo-hyun. Well that effectively shuts her trap.
She stomps away in a self-righteous huff… that is, until her co-worker drops the bomb that a shady looking debt collector came to the funeral to return an envelope that Myung-hoon had given him on Miri's behalf…
Which then Yoo-hyun asked for… the envelope with a rose on it.
She finally starts to clue into how far this has gotten out of her control. She races over to Flower Blossom to track down Hirayama. She pleads with him to let her go. But he confesses now that this isn't about the money. It's about her.
He reminisces about the day she came and found him, at fifteen, wanting to sell cigarettes in his club. He talks about raising her for ten years, half like a father, half like a boyfriend, which really makes theirs a lot like her relationship with Myung-hoon (the totally twisted dark version, don't get me wrong).
With tears streaming down her face, she reaches the end of her rope.
Miri: Just let me go. I'll do whatever you want. If you want me to work again I will. I'll do whatever you tell me to. I'm begging you. Just keep it a secret from Yoo-hyun. I really love that person. I love him. I mean it.
And there's the answer to the question. There's no telling what love means to her, or if she even believes in love herself. But whatever it is, love or desperation, she'll clearly do anything not to lose him.
They're interrupted by someone's henchmen punching their way into the club. Hirayama walks out and Miri peeks out from the corner to see Yoo-hyun's assistant demand a meeting and escort him out. Uh-oh.
Hirayama gets taken to an empty office in a high rise, where Yoo-hyun waits for him like a power mobster.
Oh, this ought to be good.

COMMENTS
I like how the tables have turned, now that Miri is two steps behind the guys, who each know more about her than she fears, even now. Before she used to be able to preemptively lay the tracks down for the next lie miles before she had to get there, but now she's scrambling to catch up, desperate to plug a whole in a dam without realizing that the whole thing's about to cave under the weight of her all her lies.
It works well because her lies are such a complicated web that the downfall is just as suspenseful as when she carefully built everything up. I also like the change in her demeanor, whether borne of fear and desperation or actual human feelings of love and guilt. Either way, it's fascinating. And the way she interprets everything as a personal affront to her, like Hee-joo leaving, is downright batty and yet makes perfect sense in her completely self-centered worldview.
I was concerned that Park Yoochun wouldn't be able to handle the dark turn in his character, because let's be frank, there's only so much character work a haircut can do. But he actually pulls it off rather well. I think it helps that the character's razor edge is always couched in social graces, making him stony and polite on the outside, while the wheels are turning in his head. He's no Kim Seung-woo, but he does a good job, and in this episode I really did feel a marked change in Yoo-hyun's character, which effectively creeped me out.

RELATED POSTS
Tags: featured, Kang Hye-jung, Kim Seung-woo, Lee Da-hae, Micky Yoochun, Miss Ripley