Miss Ripley: Episode 14
The shit, it meets the fan, and for more than one person. I do appreciate the speed with which this drama blows the lid off of all its secrets, letting us speed past the inevitable angsting about whether they'll be revealed ('cause we know they will) and head straight for the fallout. It's an episode of revelations — for those Miri has swindled, as well as Miri herself, and that ever-present spoiler, The Media.
SONG OF THE DAY
Shin Hye-sung – "조금 더 가까이" (A little closer) [ Download ]
Audio clip: Adobe Flash Player (version 9 or above) is required to play this audio clip. Download the latest version here. You also need to have JavaScript enabled in your browser.

EPISODE 14 RECAP
Miri runs away sobbing, clutching the photos dug up by Lee Hwa. Yoo-hyun chases her out after seeing his stepmother leaving, too late to stop her from leaving in a taxi.
The next morning, Yoo-hyun gives Lee Hwa the cold shoulder on his way to meet a contact who has information about Kim Jung-soon, aka Miri's birth mother. It's a manager at the bank, who confirms (while bending a dozen rules, I'm sure) that after a long period of inactivity, her account has had recent transactions. He's unable to give Yoo-hyun any contact information, but Yoo-hyun thanks him for his help.
At the same time, Lee Hwa goes to her deposit box and takes her passport and documents with her. She's called back at the last minute — when she's just a few steps away from Yoo-hyun, whom she misses seeing — to sign something she'd missed. He recognizes the name and freezes. Dun dun dun!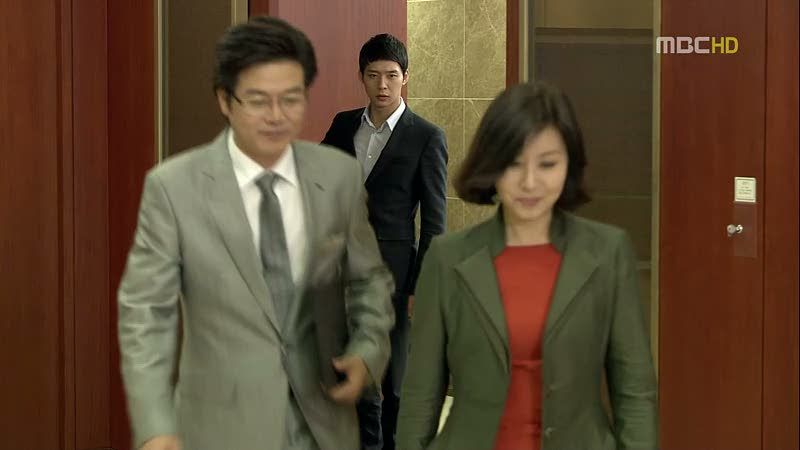 Turning, he sees Lee Hwa clearly, answering to the name Kim Jung-soon, and the realization hits him. I guess it's better that he learned before the wedding that his fiancee is his stepmother's daughter, eh?
Hee-joo gets her ten seconds of screentime in this episode, but she may as well be absent because she's just sharing screen space with Miri, who's the focus of the scene: Prosecutors arrive to take her in for questioning. Miri has been slapped with a lawsuit for forgery and obstruction of business. The plaintiff? Hankook University.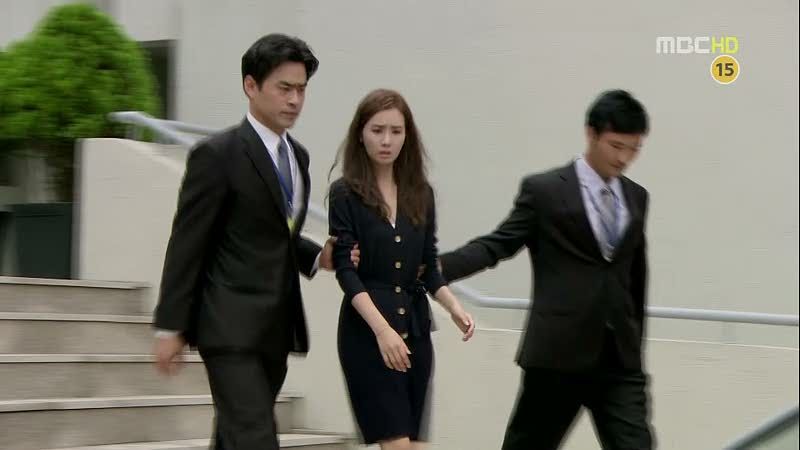 Hee-joo calls Chul-jin in a panic, who relays the news to Yoo-hyun. To Chul-jin's surprise, Yoo-hyun isn't taken aback — in fact, he'd been expecting the other shoe to drop, although he wasn't sure what form that would take.
Chul-jin takes him to task for not swooping in to do damage control the minute he knew, because this is about to get very ugly for him and the company. Yoo-hyun bites back that he could barely process the truth himself, much less know what to do with it.
Lee Hwa bites off Myung-hoon's head for letting this happen, after he'd promised to take care of the Miri situation quietly. Oh, but how I wish it were his vindictiveness (or just plain hurt) driving him to aid the lawsuit. Instead, he apologizes for being unable to persuade his colleagues to back down. Sigh. I guess everyone's determined to fight for Miri till the bitter end, even as their enabling actions are what allowed things to progress so far. In this way, she's the perfect example of a femme fatale, bringing men to ruin with her siren call, even as they know full well what they're doing and insist upon continuing.
Lee Hwa tells him ominously that his job is on the line. Myung-hoon has some spine, though (yay!) and says firmly that his relationship with Miri was his own personal matter, and that he is working to address this problem.
This meeting is interrupted with the news that Yoo-hyun has sent their lawyer to the prosecutor's office to aid Miri, which effectively links Mondo with her. Something Stepmom will not stand for. She bursts into Yoo-hyun's office to tell him to butt out of Miri's business, because associating with her will ruin the company's image.
Yoo-hyun bursts out that he can't leave Miri to face this alone, then concedes that now he understands why Lee Hwa so fiercely opposed their marriage. She doesn't care to hear his reasons, but he insists upon telling her, saying she must know.
A nervous Miri is questioned by a prosecutor — cameo by Eom Ki-joon! — because the school has discovered that her credentials are faked. He asks if she admits to the forgery, citing the year and a half of prison time she'll be facing. Mention of incarceration triggers her self-preservation mode, and Miri falls back on her lies, insisting that the lawsuit has it wrong.
The sharp prosecutor doesn't buy her protestations of innocence, and asks specific questions that poke holes in her assertion, such as whether her diploma was issued directly from the school. Flustered, she stammers, "Well — that — no, internet — no, fax —" before she stops herself.
Then, it's like she slips into a trance-like state as her composure asserts itself, and Miri says calmly that she did in fact graduate from Tokyo U. She's retreated behind her wall of safety and self-denial, to such an extent that I'd bet she'd even pass a polygraph. Chills, I swear. It's like she's hypnotized herself into believing this as truth.
She adds that she's about to marry the Mondo Group heir, saying intensely, "These truths do not change. They must not change." Then, crying, "I'm not an orphan."
With the timely arrival of Mondo's Lawyer Kang, Miri's able to get herself released, and goes home.
Yoo-hyun meets with his father's aide seeking answers about this mother-daughter mystery. He learns that the lie (about Lee Hwa being unmarried and childless) began because Yoo-hyun's paternal grandmother had necessitated it. With a young grandson to think of, she had strongly opposed the idea of her son's new wife bringing a child of her own into the marriage.
Ooh. Interesting. This means Yoo-hyun is the reason for Miri's abandonment, at least on one level. We're not about to forget that it's really the horrible mother's responsibility for ditching her child. But Yoo-hyun makes the connection, saying, "Then it was because of me…"
The aide confirms that his father had known of Lee Hwa's past, but had been so in love with her that he'd participated in the cover-up, helping her change her identity with the aid of a convenient, identity-laundering trip to the States. Wow. What a massively assy thing for Dad to do. It's one thing not to have known and then covered it up. It's quite another for him to not only condone the act, but proactively help her to act despicably.
Ergo: disillusionment. Yoo-hyun's hurt to realize that his father was part of this, and one of the architects of Miri's misery.
Yoo-hyun goes to Miri's old, rundown apartment and thinks of young Miri playing there as a child. He imagines the scene unfolding of the day Kim Jung-soon left her family so she could join his.
He pictures Little Miri walking by him, stepping right through his reflection in a puddle. (Symbolism! She shatters his view of himself, upside-down and fragile and fraught.)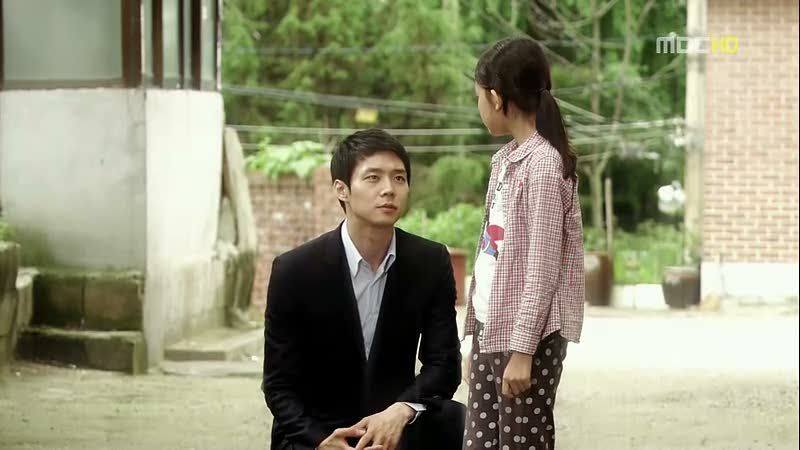 Yoo-hyun imagines kneeling to speak with Little Miri just after her abandonment, talking to her simultaneously like she's the 9-year-old and the present-day Miri, asking if she's missed her mother and gone through a lot of pain since then. Voice trembling, he takes her hand and asks what he ought to do about her: "What can I do to receive forgiveness for all the wrongs you've faced?"
Aw, this is so sadly moving. Yoo-hyun fights tears of pity and guilt, but Little Miri shakes her head and smiles, saying he's done nothing wrong, and that she'll be fine if she just meets her mother. "If my mother returns, everything ought to change. Then, I'll be able to study, and go back to school, and I won't have to go back to the orphanage."
So it turns out she's the one to tell him not to cry, assuring him that everything will be okay. She says he seems like a good man, and walks away, leaving him staring into the distance after his mirage.
Lee Hwa shows up at Miri's door that evening, presenting her with a plane ticket and cash. Icily, she tells Miri there's no reason for her to call her "Mother" anymore.
Miri asks sadly, "Did you hate me that much?" She explains that Lee Hwa was the first person she'd ever wanted to call Mother after being abandoned by her own. Lee Hwa says coolly that it's because of Yoo-hyun, not her, and leaves with a wholly insincere, "It was nice to meet you."
Miri has a fitful sleep that night, mumbling for her mother while clutching her pendant.
Hee-joo digs in her heels when Chul-jin asks her to make a statement against Miri. She argues that while she'd once agreed with his stance that Miri's lies merit punishment, now she isn't so sure. "Is Miri solely to blame?" Asked the enabler.
Yoo-hyun works up the nerve to ask his father about Kim Jung-soon, and Dad's face falls as he realize it's time to come clean. He explains with a heavy sigh that everything was the result of his own greed. After learning that the woman he'd fallen for had a child, he'd tried to get over her, but couldn't.
Yoo-hyun says that he can understand that much, because he knows love isn't something you can control. "But what about that child? Because of your greed, and mother's greed, that child lost her parent and suffered — what about her, Father?"
Yoo-hyun asks why his father didn't search for the child — he should have done that much. Dad recognizes his own folly, and admits, "I just hoped she'd be okay." Not a good enough answer. Not for us, or for Yoo-hyun.
Dad says he learned of the girl's father dying much later, and her adoption. He thought tracking her down would be an easy matter, but that making contact would shake Lee Hwa's resolve to stay with him.
Now Yoo-hyun makes the shocking revelation: "That was Miri."
Back to the orphanage he goes, asking the nun to help him in meeting Miri's mother.
News breaks of Miri's lawsuit, bringing a swarm of reporters to Hotel A. Lee Hwa gives a press conference to "clarify" facts, announcing that the engagement between Miri and Yoo-hyun has already been called off, and that they are considering taking legal matters against Miri for damaging their company's name.
Essentially, she distances Mondo Group the hell away from the scandal, heaping the burden on Miri's shoulders as her personal, individual matter. Miri understands that she's been thrown to the wolves as she watches this unfold, alone.
Lee Hwa meets with her (and the president's) trusted aide, handing over Kim Jung-soon's passport and identification, asking him to "take care of it." She says she's held onto the papers (and her identity) for too long, which I suppose we can interpret to mean that despite her icy-bitch exterior, there's a part of her that wanted to retain a connection to her previous life and to her child.
The aide tells her that a request has come from her daughter (or rather, her daughter's "people") to meet her mother. Lee Hwa immediately refuses, horrified at the idea, saying that there's no way she can meet that child.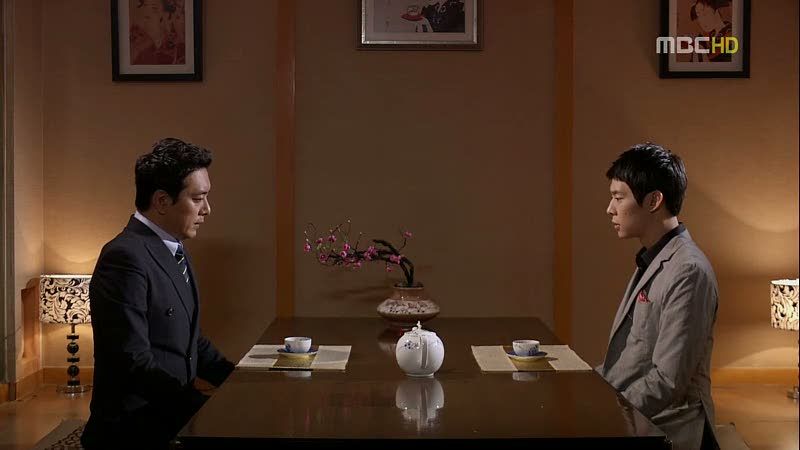 Myung-hoon tells Yoo-hyun of his intention to turn himself over to the prosecutors' office tomorrow, having deemed it time for him to give up his place in the hotel. He presents his formal resignation, which Yoo-hyun says he cannot accept if the reason for his decision is Miri. He argues that Miri is an employee of the hotel, and therefore Myung-hoon can't martyr himself to take responsibility for this on his own.
Myung-hoon agrees to help Yoo-hyun, but points out that it'll be more difficult if he remains in his position, and asks him to let him take on this burden. The result: Another media flurry as the press catches wind of Myung-hoon's role in the scandal, and the juicy gossip about his personal relationship with her.
Holed up at home, Miri watches this on television in alarm, remembering his words about being the one to turn her into this person.
Hirayama shows up at her door and demands entry, then starts packing Miri's bags. He tells her it's time to go, anticipating that arrest warrants are probably on the horizon for both her and Myung-hoon.
Miri refuses, arguing when he calls her crazy, declaring her immense regrets over not rejecting his advances from the very start: "But you want me to follow you back to hell?" She blames him, saying she would never have turned out this way if not for him. Ah, now that's the Miri we know, always ready to pin responsibility for her foibles on a man in her life. Hirayama says as much, countering, "You made the choice yourself."
She begs him to leave her be, screaming that she hates him. Aw, is it twisted that I feel sorry for the badass pimp/host? He backs off, telling her he'll leave her today, but warns that time's a-tickin': "Those bastards can't save you. You know who can save you? Hirayama."
Myung-hoon is questioned about Miri, and confirms the story — the meeting in the street, the hiring, the visa extension, the recent revelation of her forged diploma. The prosecutor reviews the facts, then cuts to the chase: "Then isn't it really you who made Jang Miri into this?" Et tu, prosecutor? Will you absolve Miri of a full load of guilt as well? Good lord, what does it take for the men in this drama to pin the blame on the one who pulled the trigger, rather than the one who told her to shoot? There's complicity, and there's responsibility. Two different things.
The skeptical prosecutor finds the story of Miri's upward mobility preposterous, and proposes that none of this is likely if the two hadn't had a personal relationship.
Deciding to confront her past, Miri takes a bus out of town, leaving behind a goodbye letter to Yoo-hyun:
Miri: "I'm sorry, Yoo-hyun-sshi. I've thought long and hard about what I should say or do. All I can think to say is 'I'm sorry.' It was after meeting you that I first understood what happiness was. I learned about love daily. But I also grew more tormented, the more I felt happiness. But I couldn't turn back — I'd come too far. Where did I go wrong? Everyone thinks that everything sprang from my greed, and I regret everything. But can I really not turn things back now? Was I always this kind of person? You may not believe it, but I want to recover my youthful self — no, my real self — so I'm leaving. I was happy. Receiving respect, love, and recognition for the first time in my life — if not for you, such a thing would have been impossible. Thank you. Sincerely, I thank you. And although I don't have a right to these words… I love you."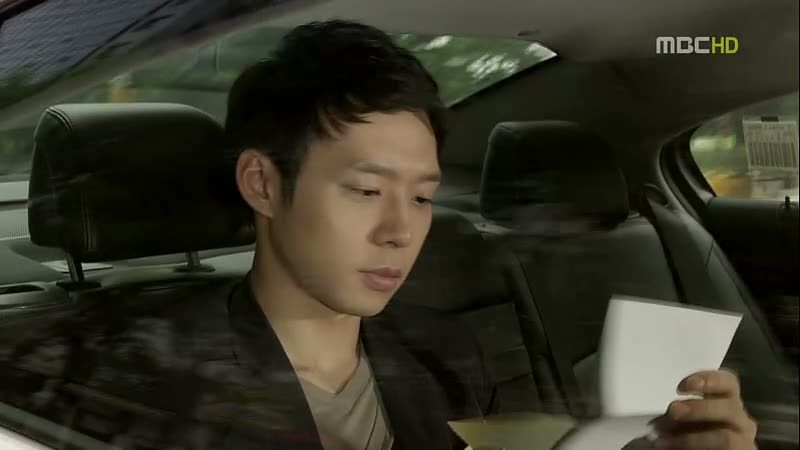 Back in Seoul, more news breaks, and this is the big one: Miri's past life as bar hostess surfaces and is plastered all over the news, with tarty photos to add to the salacious factor. The furor is compounded by the existing scandal of her falsified identity, as well as her elevated profile as the Mondo heir's ex-fiancée.
Miri arrives at the orphanage to retrace her roots…just as Lee Hwa also arrives, battling her own fears. She's been called here by the nun, per Yoo-hyun's request.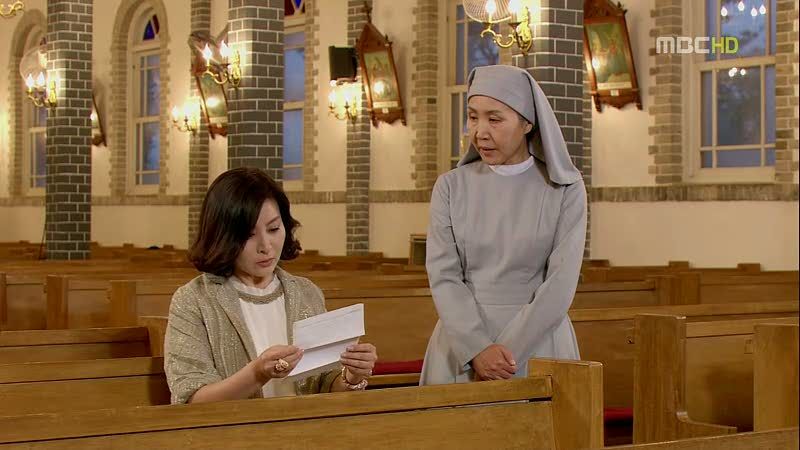 Lee Hwa is given a box of old letters, written by a young Miri over the years after her adoption. The nun confirms that Miri never recognized that she was an orphan, which is supported by the contents of the letters that Lee Hwa reads. ("You might go looking for me at the orphanage but I'll be here. What do I do?" and "I'll find a way to return to Korea" are among the sentiments expressed.) Miri had continued to send letters to the orphanage through middle school, asking whether her mother had come back for her.
This is too much for her nerves, and Lee Hwa trembles and tears up. Desperate to get away, she tries to leave, though the nun tries to keep her until her daughter's fiancé arrives, arguing that this isn't God's will. Crying, Lee Hwa admits that she wants to meet her daughter, but can't.
After waiting for some time for the nun to come meet her, Miri heads over to the main chapel in search of her. She arrives in front just as Yoo-hyun does, rounding the opposite corner, and they both stop short upon spotting the other.
Both are startled to see the other here, but their attention is diverted by the voices sounding from just inside the chapel doors. Yoo-hyun steps closer and recognizes Lee Hwa, and she stares back at him in shock, asking, "What are you doing here, son?"
The nun looks at them in surprise — wait, the fiancé is the son? Ohh, brings new meaning to the phrase "not God's will," doesn't it?
The pieces start to fall into place for Lee Hwa, as she registers that the nun recognizes Yoo-hyun as her daughter's fiancé…
…just as Miri steps forward, and into view. And then the realization hits like a ton of very anguished, painfully ironic bricks.

COMMENTS
Woohoo, the secrets are out! Every time we've had a big secret move into place, I'd been wary of the drawn-out angst that would surely accompany its slow, torturous exposure, so it's great that we get right to the point. It's a relief.
I admit I was not a huge fan of the birth secret, just because I feel like this drama could have been sustained without such a familiar makjang convention. But given that it's here, I like what they did with it today, in giving Yoo-hyun that added burden of guilt in realizing that his family had a part in making Miri into the person she is today — if not a monster, then at least the desperate, morals-bending, selfish manipulator we know her to be.
It seemed for a while that they would give Yoo-hyun's and Myung-hoon's characters a darker twist upon their discovery of Miri's lies. I was looking forward to that and therefore kind of bummed that they barely went there, but at least this direction takes Yoo-hyun out of simple victim territory. I don't think for a second that Yoo-hyun has anything he ought to feel responsible for — he can pity Miri, but he's not responsible for his father's cowardice or Lee Hwa's cold abandonment — but this is a K-drama, where sins of the father are transferred to the son, at least on an emotional/psychological level. Especially knowing the tidbit that Grandma insisted upon her arbitrary daughter-in-law criteria for his benefit.
And it's not like the drama doesn't know that — it's certainly not piling the blame on his head, and Little Miri even tells him he's got nothing to feel bad about. Speaking of which, the scene with Yoo-hyun and Young Miri is my favorite scene in the episode, and probably the whole drama, because it's such a heartbreaking way to express Yoo-hyun's sorrow over having a hand in Miri's misery. It's also lovely the way he speaks to her as a little girl, but as though she's already been through her adult tribulations. He sees pain in that girl's future and is helpless to prevent it, because it's already happened.
RELATED POSTS
Tags: featured, Kang Hye-jung, Kim Seung-woo, Lee Da-hae, Micky Yoochun, Miss Ripley