Myung-wol the Spy: Episode 1
Myung-wol the Spy makes me giggle, for all the right reasons: It's funny, it's flashy, it looks good, and it's entertaining. I was hoping for a deft directorial hand, and with the director of Sungkyunkwan Scandal behind the camera, Myung-wol has an assured, stylish air. It's mindless fun in the sense that you can sit back and enjoy it without taxing your brain too strenuously to follow the story, but it's not mindless, per se. By which I mean, there's a plot here with lots of components, and while we haven't seen the full extent of the world yet, there are glimpses of multiple storylines and objectives and layers.
The plot itself is, naturally, absurd. But within the context of this campy spy world the drama has set up, the story actually works, and there's an internal logic about the (ridiculous) events that makes it zippy fun.
SONG OF THE DAY
Bobby Kim – "사랑이 무서워" (Scared of love) from the Myung-wol the Spy OST
[ Download ]
Audio clip: Adobe Flash Player (version 9 or above) is required to play this audio clip. Download the latest version here. You also need to have JavaScript enabled in your browser.

EPISODE 1 RECAP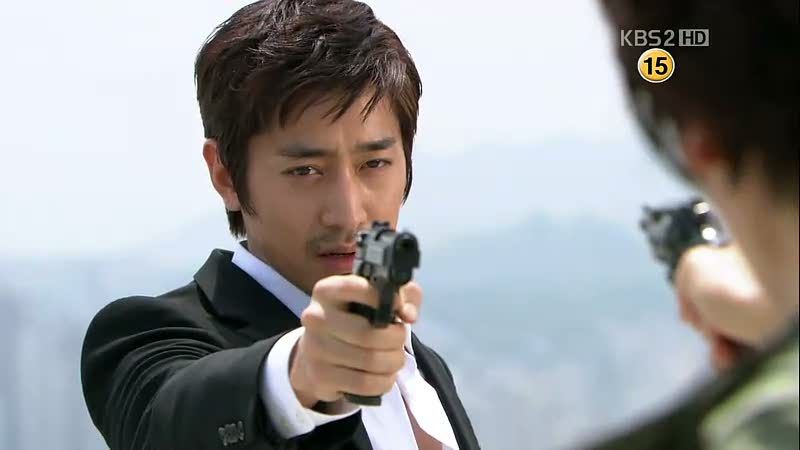 Right off the bat we start with a sequence intercutting our two leads: KANG-WOO (Eric) and HAN MYUNG-WOL (Han Ye-seul), both engaged in battle.
Kang-woo's is a rooftop standoff with a police officer (cameo by Kim Sung-oh), which is quickly revealed to be a glorious, tragic ending scene in one of his action movies. High-ranking military officials watch the movie from their Pyongyang, North Korea, headquarters, and the superior officer marvels at his star power, wondering why they don't have an actor of that magnitude on their side.
Myung-wol's scenario, on the other hand, is a higher-stakes challenge. She dodges bullets and takes down her pursuers with an explosive, then sweats nervously while she faces a ticking bomb, which she must disarm.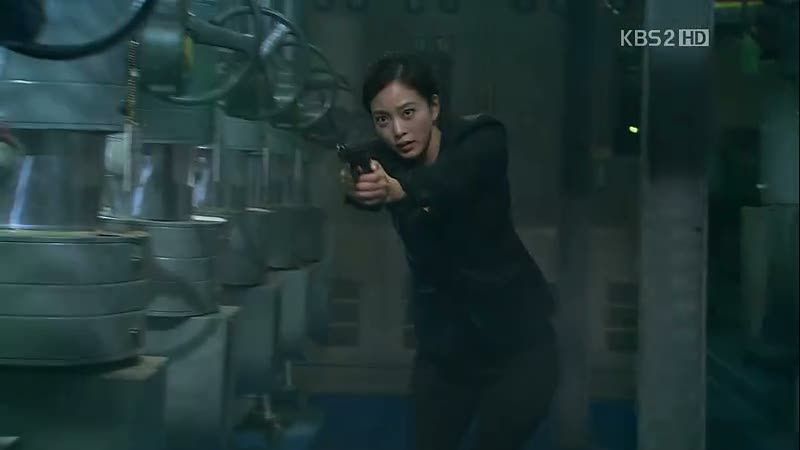 Something flies into her field of vision, though, and Myung-wol is briefly distracted — it's a butterfly — which is long enough for the bomb to tick down to zero. Thankfully, it's not a real bomb — this was a test — but alas, she has failed.
It's Myung-wol's dream to work for the special forces unit, but today's lapse means she has failed in the final round. She tells the special forces agent, CHOI RYU (Lee Jin-wook), that she will re-apply in three months, ignoring his suggestion that she stick to what she's good at.
Ryu refers to the work she currently does, as she's currently a member of the Hallyu crackdown squad, and it tickles me that there's even such a thing. Her unit deals with illegal distribution and smuggling of media such as South Korean dramas, and she gets back to work on one such case.
Acting on intel, her team locates one such source and arranges a hand-off. Myung-wol tracks him down and arrests him as he's screening Kang-woo's newest drama. (The girls salivate over his charisma and good looks, and even the men admit he's got appeal.)
General Kim — who happens to be father to a Kang-woo superfan — discusses a mission with Ryu, which he declares must proceed with utmost secrecy. For it, he selects agent Han Myung-wol, who has stellar records and, conveniently, no family or close friends.
Ryu warns, however, that despite her outstanding profile on paper, she has a fatal flaw: She acts before she thinks.
Nevertheless, Ryu accompanies Myung-wol to Singapore, where they act as guard to General Kim's daughter Eun-joo. That means keeping a close eye on the teenager and taking her to Kang-woo's concert.
There's a part of this mission that isn't revealed to Myung-wol, who's told merely to stick to her direct orders. Ryu keeps a tight lid on the details, which suggests there's a bigger goal out there.
As for Kang-woo himself, it appears he's quite the perfectionist — no idle idol is he. He puts on a flashy show, then nitpicks every little flaw in the planning despite the successful performance. He's got an ego, sure, but it's far from Dokko Jin proportions (the latter of whom practically needed a separate planet to deal with the weight of his self-importance). Interesting trait, given that his image in front of the cameras is that of an easy-going, smiling top star.
Eun-joo tries to sneak out of their room — the same hotel where Kang-woo is staying — to find her star, only to be stopped by Myung-wol, who reminds her that she isn't to show her face in public. Eun-joo pouts that all she wants is a single autograph, since she'd worked so hard to come in the first place (she'd gone on a hunger strike, which weakened Daddy General's opposition, heh).
Eun-joo tells Myung-wol to get the autograph instead, taunting her that surely an elite agent such as she would be able to manage it. So Myung-wol tries to slip by security to accost Kang-woo by the pool, only to be turned away. She turns to leave, but Eun-joo's words goad her onward, and she comes back for round two.
Rationalizing that it'll just take ten minutes of crazy to wrap up this task, Myung-wol dons a wig and follows him through the hotel. When she catches up to him, she thrusts a pen and pad at him and demands an autograph. She might want to work on her powers of persuasion.
No surprise that Kang-woo declines, even when she gets pushier and keeps indicating that he should sign. She refrains from speaking in Korean, probably to keep her own cover, so most of this is communicated via gestures and somewhat broken English. Finally, he gives in and scrawls something, but it's a taunting smiley face and Myung-wol, growing ever more incensed at his ungracious attitude, pursues him doggedly. This must be the weakness pointed out by Ryu, that she's prone to acting on her own feelings and instincts before thinking everything through.
That takes them through the streets of Singapore as Myung-wol stalks him through the marketplace, muttering all the while about the arrogant bastard who can't be bothered to oblige her this very simple little thing.
Intent on her quarry, she doesn't see Ryu out in the courtyard, who meets with a fellow agent and confirms their mission rendezvous tomorrow. Must be the thing he's keeping Myung-wol in the dark about.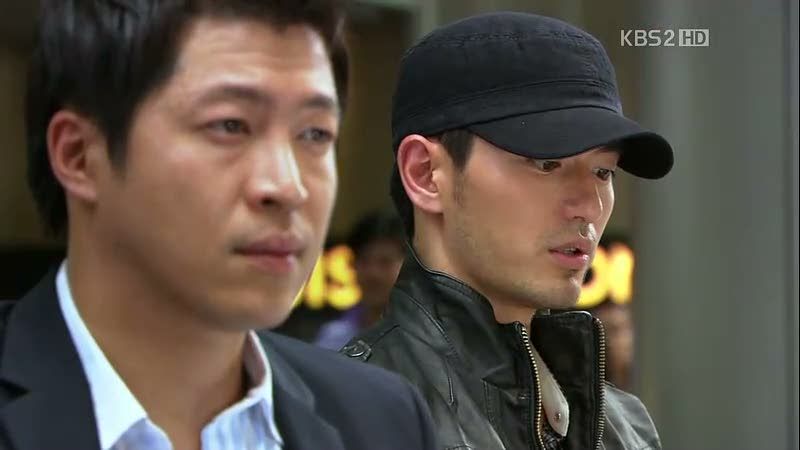 He spots Myung-wol moving through the crowd, just as he witnesses a mugging in the street. The victim is JOO IN-AH, movie actress and hotel heiress who's here for two reasons: (1) To "coincidentally" run into Kang-woo — her co-star and, if she had it her way, future boyfriend (2) Oh all right, she only cares about Reason #1, but her hotelier grandpa tries to get her to show interest in their hotel while she's here trying to snag her man.
Ryu sees In-ah losing her purse to the thief and thinks quickly, jumping in to efficiently dispatch the twosome. He returns the purse and In-ah puffs up to realize that he's Korean, expecting him to recognize her any second now. He doesn't, and turns away with cool disinterest, to her annoyance. Heh. What better way to set down the big-headed star than by poking a hole in that ego-filled balloon?
Kang-woo is wise to his stalker, and remains elusive as he keeps a step ahead of Myung-wol. For an elite spy, you'd think her tracking skills would be sharper, but let's pretend he's picked up a thing or two from his many action movies.
He finally shows himself to her, assuming she's gone through all this trouble to drool over her hero, and warns her to back off or be forever banned from his concerts. Myung-wol finally speaks, and in Korean no less, advising him to sign the damn autograph in 5 seconds or have it taken by force. Ha, now there's a scene I'd like to see.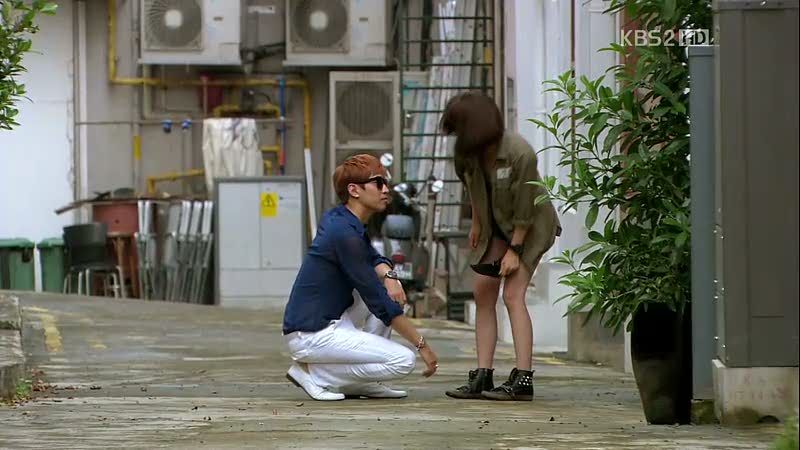 Kang-woo concedes, agreeing to give her the signature, but pauses to tie her loosened shoelace, calling it an act of fanservice. After all, she's the crazed fan who went to such lengths to see him — and what exactly has her so enraptured?, he wonders. "My handsome face? My voice? My manners?"
It's only now that Myung-wol notices that he's tied her shoelaces to each other, and as she fumbles with the knot, he swoops in and kisses her on the cheek.
That startles her, and he explains that the kiss far outweighs an autograph — so she can take this memory, cherish it, and quit following him.
Myung-wol happens to see Kang-woo as he's leaving the hotel that night, on his way to a formal event. She follows him there, then gains entrée by offering her valet services to one partygoer…and availing the woman of her gown and mask. Ha. There's that fatal-flaw doggedness rearing its head again; she's like a dog with a bone. Sure, it's just an autograph, but by now it's taken on all sorts of implications, like she can't let this punkass star get the better of her.
At the masked party, she spots Kang-woo and follows him to the auction, where he is (unhappily) joined by In-ah, who pesters him to leave this boring event so they can go party. Once again In-ah has surprised him by showing up unannounced, even as he tells her he's not interested. But spoiled princesses, heiress daughters, and movie starlets are nothing if not used to getting their way, and In-ah's all three in one. She sticks around, undaunted.
Kang-woo displays a marked interest in the auction, and in particular an ancient book up for bidding. Hm, is he a mere art connoisseur, or does this piece have special meaning for him?
One thing's for sure: It has special meaning for Ryu, who watches the bidding from a separate room and prepares to move out.
Just as the bidding escalates to $1.5 million, Myung-wol receives orders (via her earpiece) and hurries to leave, which attracts the attention of the room. She fumbles along and makes a bid to cover, although she's saved from having to make good on the $1.8 million by Kang-woo's bid of $2 million, which wins the book.
On her way out, she's distracted by the sight of Kang-woo being given the book, and pauses with the intention of trying one more time for the autograph. But before she can act, Kang-woo is set upon by masked intruders, and Myung-wol acts instinctively to fight them off.
The leader entangles her with his whip and goes after the book in Kang-woo's hand, but Myung-wol — not registering that this is Ryu — throws a dagger into his hand, then makes her own escape.
Back in Pyongyang, she's reprimanded by Ryu for ignoring orders, and put on probation. Worse yet, he bars her from applying to his special forces squad, which shakes her.
A flashback reveals the source of her desire to be a part of that unit, because her doting father — now dead — had been one of their agents. With his memory weighing on her mind, Myung-wol appeals to Ryu again, asking for one more chance. It appears they're better acquainted than they'd seemed at first glance, although they are strictly professional in all their interactions, because Ryu understands her private reason for being a special forces agent. He is, however, unmoved by her plea, being highly principled.
It's now that Myung-wol notices Ryu's bandaged hand, then sees the book on his desk with photos of the book at auction. Realizing now that Ryu's secret mission-within-a-mission had been to steal that book from Kang-woo, Myung-wol feels the responsibility for thwarting that mission. Deciding that she'll take care to right her own wrongs, she vows to settle this matter.
She takes a leave of absence from work and sails in to Incheon Harbor in the South to begin her own private mission. It's like she's gone rogue, only it's to help her unit, rather than defy it.
Tracking down Kang-woo's fairly easy — he holds a press conference to promote his upcoming drama series, Assassin, which is the same series that got those North Korean fans arrested. Aw, could you imagine your biggest drama crushes leading to jail time? And here I thought the addiction did enough damage to our priorities and sanities.
Getting access is slightly trickier, but not impossible. Myung-wol manages by dressing herself as a high school student, stealing a ticket from a fangirl, and slipping into the press conference. Ha. Poor fangirl.
Myung-wol bides her time through the preview screening and the shoot, with the attendees allowed to watch the open set as Kang-woo and In-ah film a chase/explosion scene.
Kang-woo's professionalism rears its ugly head, though, which drags down the mood of the shoot as he objects to the flashy emptiness of the material. HAHA. Which is hilarious, given the irony of the meta statement. But Kang-woo's one pretty boy who wants to be taken seriously, and accordingly takes his work super-seriously, even humorlessly. His agency president tries to reason with him, saying that the reason they're so rushed is because he dragged his feet to sign the contract.
After In-ah flubs a take, they call a ten-minute break and usher away the fans off the moody set to give Kang-woo some space alone. Myung-wol hangs back, her eyes widening in shock to see that the dangerous conditions of the set — gas lines, pipes, sparks — are about to set it ablaze, literally.
With barely a second to spare, she throws herself at Kang-woo (rawr!) and knocks him clear of the blast. The noise brings everyone racing to the set, but Myung-wol dashes off set before witnesses get a good look at her, leaving Kang-woo wondering about her identity. (Hee, it's like the Little Mermaid! The Disney version, I mean, with Eric. HA.)
Kang-woo asks his team to find her, but she's disappeared. Kind of. As they drive away from the filming location, the driver screeches to avoid hitting someone — Myung-wol, woozy from the explosion, who collapses.
The news is abuzz with reports of the mysterious high school student who saved Kang-woo's life, all wondering who she could be and why she disappeared.
The news even travels as far as the Pyongyang officials, who see the hazy shots of the accident site and the barely-discernible schoolgirl as she runs away. They have their suspicions that this is Myung-wol, since the facts fit, and the general orders Ryu to confirm her identity asap.
Meanwhile, elsewhere in Seoul in a run-down investigative agency, two men watch the news reports of the explosion and puzzle over the girl's identity. Well, it's really DAE-KANG (Lee Kyun) who's interested, while the elder man, HEE-BOK, is less so.
Dae-kang is riveted at the idea that finding the schoolgirl heroine would net them a huge cash reward, since Kang-woo will surely shower his savior richly, right?
Hee-bok, on the other hand, dismisses him with a grunt and settles down to his nightly activity: listening to a midnight radio show. The DJ relates a story sent in by a caller about a missing grandmother, and immediately Hee-bok recognizes something odd about the message — it's coded.
Reaching for his decoding kit, he gets to work unraveling the hidden message in the story. And when he's done, simple words like Grandma, dementia, and dinner become Secret Agent Target Star Infiltration Report, capped off with the name Han Myung-wol. Ooh, an undercover spy?
After being picked up by Kang-woo's entourage, Myung-wol is taken to the hospital and undergoes surgery. When she's in recovery, Kang-woo hovers over her bed and calls for a nurse — only to find that the hallway is lousy with reporters, who spot him down the corridor and hurry toward him.
Kang-woo hurries back into the room and calls his team for backup, leaving his managers to try to block the persistent paparazzi. They force their way into the room anyway — but turn away in disappointment when they find it empty. Well, of Kang-woo — the nobody patient is of no interest to them.
It's the commotion that stirs Myung-wol out of her sleep, and as she opens her eyes, she slowly takes in her unfamiliar surroundings…registering the hospital bed…and sensing a troubling presence nearby.
Hesitantly, she lifts up the bedsheet, and finds Kang-woo looking up at her, motioning for her to remain quiet.
Myung-wol opens her eyes in alarm, just as he claps a hand over her mouth. Shh! Don't alert the others!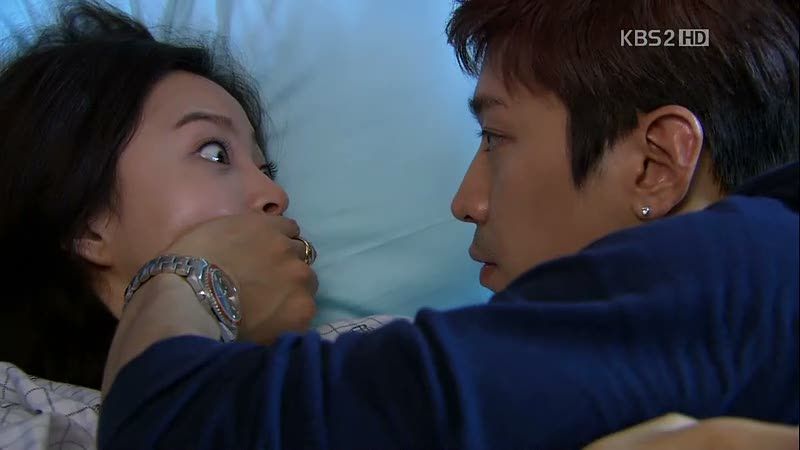 COMMENTS
What works for me is the drama's tone, which is solidly comedic and fast-paced, but not too broad or slapstick. It has a stylish campiness that tells us it knows exactly what it is, and doesn't try to be too serious, or too badass. Its flair is more along the lines of those older Bond movies rather than the harder-edged new ones, without going too far into Charlie's Angels territory. It's campy, but not a spoof. Fun and energetic, like Level 7 Civil Servant. Or True Lies.
I anticipate it'll get even wackier once the premise is fully established tomorrow [SPOILERY] and Myung-wol is ordered to off, then marry Kang-woo. Plus, we'll have to wonder how long it'll take Kang-woo to piece together his multiple encounters with her to realize they're all the same person.
Eric is pretty much perfect casting for this drama — it's like the role was written expressly for him, taking into account his idol background, his acting transition, his star status. I don't know that they could've picked a more suitable actor, because he's essentially playing a version of himself, albeit one with enough differences from his real-life persona to give us an extra layer of fun in laughing about the meta. (Case in point: I kind of enjoy how uptight Kang-woo seems, especially about his career, given what we know about Eric's wacky 4-D tendencies. Plus, it's that much more amusing to hear him lecture about the substance of his movies when, well, substance hasn't exactly been the thing to make either star — Kang-woo or Eric — the celeb that he is.)
Han Ye-seul seems to be one of those polarizing actresses who is pretty popular but who attracts a lot of derision as well. I wouldn't call myself a fan, exactly, but she's definitely grown on me over the years, depending on the role. I do think she's someone who needs to pick carefully, and does well with more exaggerated characters. Like Anna in Fantasy Couple, and Myung-wol here. For now, I'm fine with the casting — she suits the character, with this mix of badass spy skills and a bit of sheltered naivete. Plus, to be shallow, she and Eric are just gorgeous. Individually, and together.
I feel hopeful that Myung-wol the Spy will be refreshing summer fun. It's got bright pep and a lovely look, with a plot that suggests lots of fun twists — perchance not supported by the strongest real-world logic, but which are buoyed by its own internal logic.
Which brings me to this clarification: We talk about "logic" a lot around these here parts — but what we mean isn't that the drama's plot points must exist in the real world, or even be feasible in it. (That would single-handedly strike out all fusion sageuks, superhero stories, and cross-dressing romances with a single blow.) Rather, the plot has to make sense within the world that the drama has created, and not contradict itself or go all haphazard with plot contrivances and shortcuts when it runs low on ideas.
If Myung-wol the Spy can stay true to its upbeat, lively spirit and keep delivering lots of hijinks — and, to be shallow again, the shirtless Eric shots! — I'll be happy.
RELATED POSTS
Tags: Eric, featured, first episodes, Han Ye-seul, Jang Hee-jin, Lee Jin-wook, Myung-wol the Spy