Myung-wol the Spy: Episode 6
So Myung-wol finally feels feelings… which make her run away… which makes Kang-woo give chase… which makes Ryu jealous… which makes me one happy camper. I love that the only time something as classic as playing hard-to-get works for Myung-wol is when she isn't TRYING to play the game. Also if Kang-woo were any cuter, I might die.

EPISODE 6 RECAP
Myung-wol jumps up with excitement as she finally feels her heart race for Kang-woo. She runs to her spy-rents to tell them that she succeeded in conjuring up that longing and desire. Mom immediately looks worried… "You don't… like him for real, do you?"
She looks up at them, confused. You really ought to have known this would get her into trouble. How's a girl who doesn't know what feelings are, to conjure up fake ones and make sure they're not real ones? These are her first feelings EVER. As expected, she's like, "But… you told me to like him…"
They tell her that will never do. Dad worries that once the heart starts beating because of someone, it doesn't usually stop. Mom warns her that the one thing spies can never do is fall in love. She recounts the famous tale of Mata Hari, who fell in love and was executed, and Myung-wol imagines herself as the infamous exotic dancer double agent in WWI.
She assures them that she's not really falling for him – she's just following orders. But as soon as those words come out of her mouth, she runs into Kang-woo and she bolts when her heart starts to race.
He calls out after her, wondering what the hell is up with Crazy Girl this time, while she literally hides behind a pillar to stop her beating heart. Oh, no, you don't like him in the least.
Ryu happens to be watching the whole scene unfold, now understanding the full meaning behind her heartbeat declaration. Aw, poor stone-cold agent. But yay for love triangles becoming actual love triangles!
In-ah stews over the pictures of Kang-woo piggybacking Myung-wol, while her grandfather sees Kang-woo off, passive-aggressively telling him to only give affection to those worthy of it. Kang-woo blithely tells him that he never does associate with those who aren't up to his level, and leaves him grumbling.
Myung-wol continues to be hyper-sensitive about any romantic stirrings for Kang-woo, so she inches away when he sits next to her on the couch. So he lies down closer, and she jumps a few feet over. He asks angrily if she's a grasshopper.
I love that he's inching closer to her the more she jumps back – it's the perfect illustration of this new turn in their relationship. He changes the channel to a drama just as the characters are about to kiss… and Myung-wol grabs the remote to turn it off.
He gets upset so she just throws the remote away (ha) and runs off. What I love is that she's now developed feelings for him which scare her away, but that very thing makes him curious and want to come closer and closer.
The next day he asks Dae-kang if she's mad at him or something, because she's treating him like a bug (running away in fear). Dae-kang eyes him suspiciously and asks if something didn't happen at the resort.
Kang-woo insists it was nothing like that, so Dae-kang sighs in relief and guesses that she's probably just hurt and upset because he's so mean to her all the time. He denies it, but finds himself asking anyway.
Dae-kang tells him that he mistreats her because he knows she likes him, treating her like a crazy person, with no regard for the fact that she saved his life. He gets carried away and yells that all he can do is sit by and watch Myung-wol get crushed over and over. Aw, poor noona-lovin' Dae-kang.
Kang-woo pretends not to care, but wonders to himself if he was maybe too harsh on her the night of his birthday. Well it's certainly a first for him to even care how another person feels, let alone maybe feel bad about it.
Spy Mom Ok-soon packs a bag, having reached the end of her seduction skill set with no results. Myung-wol and Hee-bok try to stop her, but beyond feeling hopeless in the mission, her pride has been hurt because Hee-bok accused her of being outdated in the seduction game.
She starts to say her goodbyes amidst their protests, when Ryu walks in and puts a stop to it right quick. He tells them that there's no going anywhere – now that they've all gotten into one boat together, either they succeed on their mission or they all pay with their lives.
HA. It's literally Marry Kang-woo Or Die. Sigh, the things a girl's gotta do for love of country.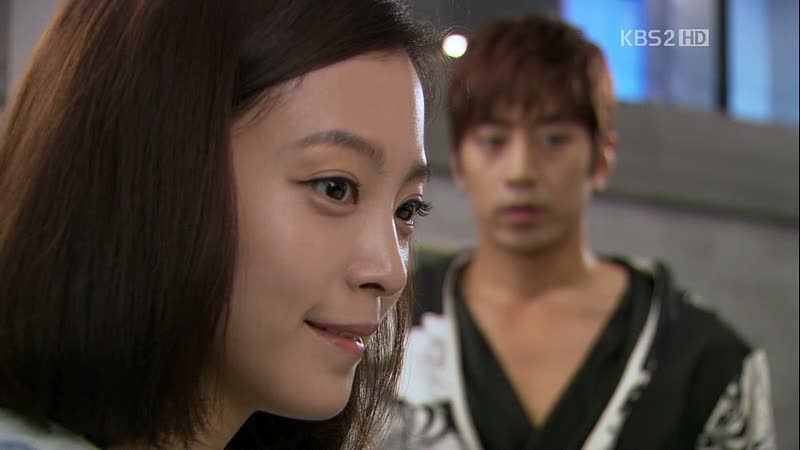 She tells herself to get it together as she goes back to Kang-woo's house, and he comes down to greet her. She answers him curtly and then smiles to herself that the feeling is gone.
But Kang-woo follows that up with: "Did you change your lipstick? You look pretty today." HAHAHAHA.
What's awesome is how awkward that is for him to say, because he's trying so hard to be nice. But it puts her in a panic because the rapid pulse comes right back, so she darts away in fear.
That just makes him think she's still mad, and he stands there confused. She runs to her room and tries to calm her heart down, as she wonders why he's saying things so out of character all of a sudden, throwing her heart back into disarray just when she thought she had it under control.
She tries to block it out, and ends up doing sit-ups while reciting military codes of conduct. Heh.
Over the next few days, Kang-woo starts being strangely nice to her, which only puts her deeper into a panic spiral. He waves at her adorably during a fan-signing, all smiley and cutesy, which she squarely attempts to ignore.
Then he purposely stops to help her carry stuff by taking her hand, only it makes her drop everything like a hot potato. And then when they eat waffles at a café, he gives her his waffle and tells her to eat up…
…which is met with water, spat directly into his face. Pfffft! Oh, joy, I could watch this for days.
She's so on edge that by the end of the day, one word from Kang-woo makes her drop a glass from nerves alone. She cuts her finger while trying to pick up the pieces, and he grabs her hand to look at it, worried, which just puts her over the edge.
She gets up, demanding to know what's wrong with him. He of course wonders the same about her, adding that he's going out of his way not to get mad at her for breaking expensive crystal.
Myung-wol: "Get mad! Yes, get mad! Why are you letting it go? You always got mad so well before! What, did you forget how?" She ends up yelling at him for NOT getting angry, and storms off, confusing him more than ever.
She tries to calm her heart down, wondering to herself if she's not going to end up really liking him this way. Um, I'd venture to say you're way past that point, but you go right on ahead and live in denial. It's great fun for us.
She gets back to reciting her edicts, burying her face in her book as she hears Kang-woo get into the shower. Hee. You're imagining him nekkid!
Ok-soon and Hee-bok bond for a moment, thinking of their families back in the North, and they vow to carry out this mission so they can return to their homeland. Hee-bok confesses that he got word that his mother passed away, and gets a moment of sympathy from Ok-soon, only to carry it too far when he tries to hug her. Aw.
Ryu overhears Chairman Joo ordering his minion to move his artifacts, so he scrambles for his last chance to open the safe. He does, and nearly gets caught red-handed coming out of the super-secret room, but manages to save his hide when Chairman Joo opens up the safe and finds the book in its place.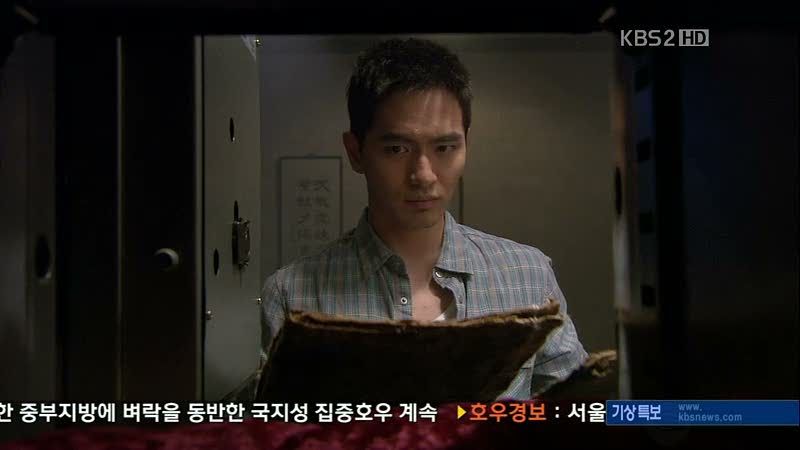 He finally shows it to Ryu, so I guess he only has the one, meaning that two are still unaccounted for somewhere out in the world. Ryu comes back to his room and examines the real book, which he had swapped out for a copy.
Meanwhile Chairman Joo has his lackey do a background check on Ryu, which seems a little late in the game after inviting him to live in your house, super-paranoid guy.
Kang-woo complains to Dae-kang that he's tried being nice and everything, but he's not getting the requisite reaction out of Myung-wol, so he's just gonna stop now. Ha. I love that just being a nice guy isn't an option in his wheelhouse.
Dae-kang tells him that women don't care about words. He only needs to do one thing to magically dissipate all her anger: hug her once. I don't know what's funnier—Dae-kang giving lady advice, or Kang-woo actually listening to him.
So when Myung-wol comes downstairs feeling a little under the weather, Kang-woo takes the opportunity to sidle up next to her and put his arm around her shoulders, as he tells her to take care of herself.
But that just gets her heart thumping more than ever, and she freaks out, grabbing his arm to throw him clear over her shoulder. Hahaha. He's finally had enough of having his niceness be rejected, and huffs at her angrily.
He does another interview for his drama with In-ah, and a question about his dad comes up, forcing him to lie again. He comes home angsty that night, and broods over his baseball. Myung-wol tries to stay away to keep her feelings in check and watches the old movie that Ok-soon gave her, only she ends up dreaming it with her and Kang-woo instead.
In the morning Kang-woo is nowhere to be found, and his agent guesses that he went up into the mountains again, which he does from time to time when he gets extra broody. Myung-wol volunteers to go find him, which Ryu overhears with disappointment.
It starts to pour rain, and Myung-wol sets out to find him on her own. The lost-in-the-woods scenario is never NOT ridiculous to me, but how much do I love that it's the hero who gets lost, and the heroine who goes to rescue him?
He trips and falls, landing on his ankle, but Myung-wol finds him right away. Everyone else worries because the weather gets bad enough to keep the rescue team from going in until the morning, and Ryu finally can't take it anymore and runs off after them.
Myung-wol takes them into a cave for shelter, deciding that they'll have to stay there for the night. She cuts up an herb to put on his wound and uses his phone to send out an S.O.S. signal, mumbling that this is nothing compared to what she's had to endure to survive in the woods.
She catches herself and says that she used to hide out in the woods whenever she got in trouble, to avoid being scolded by Mom. But once she schools him in making a campfire, his suspicions can't go ignored. Kang-woo: "You're way too good at all this stuff. What are you?"
Her eyes dart over in fear. Is she caught? Kang-woo: "Are you… a girl scout?" Keh.
Some wolves howl in the distance and Kang-woo instinctively scoots closer to her (So. Cute.) but she jumps up to avoid the awkward heart-beating proximity. She tells him to wait while she looks for food, and he insists on going with her because she's a girl. Myung-wol: "And it's not because you're scared of being left alone?"
She paints her face with the soot from the fire to camouflage herself, and playfully paints a streak across his face too for good measure. She sticks some branches in her hair and climbs up a cliff to steal some eggs out of a bird's nest, and he marvels at how she must've grown up if she knows how to do all this stuff.
She slips on her way down and lands right on top of him, this time thankfully without the bloody nose. They both reel from the awkward, and she scrambles to get up once the shock wears off.
He has to be convinced to eat an egg, finally forced by his own growling stomach, and he asks where she learned how to survive in the wilderness. She tells him that her father taught her how, to prepare her for any event. She recalls his words, "Anything can be poison or medicine, depending on how it's used."
She says he taught her that people were the same way, and that guns don't kill people; people's hearts do. He asks if her father was a soldier, adding that he didn't really look it, thinking of Hee-bok.
She clarifies that she's talking about her biological father, who died. She brings up the fact that Kang-woo also lost his father, but then apologizes and changes the subject. But he tells her: "This is where I spread his ashes, my father."
And then he tells her that Mom died young, and it was just the two of them. Dad was always busy because of work, and his biggest wish, the thing he was always so jealous of other kids for having—was an afternoon of playing catch with Dad.
On his tenth birthday he begged Dad to take him somewhere for his birthday, so they came to the woods. "If he only hadn't come, if I hadn't thrown the ball that far… he might not have died…" Aw, how sad for a ten-year old to carry that guilt all the way to adulthood.
Myung-wol dozes off to sleep in the middle of his story, falling right into his lap. He just laughs and covers her with his jacket as he continues to talk to her, even though she's not listening.
In the morning she wakes up alone with just his jacket over her, and goes out to look for him. He sneaks some pictures of her, laughing at how ridiculous she looks. Mockingly, he says, "I'm going to keep this and look at it over and over whenever I'm in a bad mood."
Oh my god, could you be ANY CUTER?
She snatches it out of his hand and takes off running, and then he literally chases her in the field like a couple of goofy lovebirds. She stays ahead of him, laughing, which is when Ryu walks up…
His relief at finding her immediately turns sour, and her smile vanishes as well, mostly from the shock but also the awkwardness of being caught mid-flirt. Uh… by the by, how are you going to explain your presence to Kang-woo?
It turns out Kang-woo got no explanation, but when his agent asks if the two bodyguards know each other, he confirms it, having read into the awkward tension. Ooh, I love it—competition afoot!
Ryu asks Myung-wol if she hasn't forgotten her mission, and reminds her that it's her only means of survival, not to mention her fellow comrades' as well. She holds all their fates in her hands. No pressure or anything.
She broods over the weight on her shoulders and rents the Greta Garbo version of Mata Hari on a whim, crying at the sad fate of the heroine.
Kang-woo comes home to find In-ah waiting there for him, clinging and cooing that she was worried. He tells her to leave but she follows him upstairs, where she catches him looking at his pictures of Myung-wol and giggling to himself. Aw.
She flips her petulant lid (well more than normal anyway) and takes out the paparazzi pictures of Kang-woo and Myung-wol together. Oh you evil girl.
Sure enough, the next day the pictures are all over the internet, with stories that Kang-woo is dating his bodyguard, and that they live together.
The spy-rents are giddy, thinking it's good news, and the North Korean general announces that at this rate, the mission will be complete within the week. Oh dear. You really DON'T know anything about the Hallyu star system, do you?
Kang-woo's agency is flooded with reporters chasing him down, and his agent yells at him for not being more careful, noting that this kind of scandal is so unlike him. She tells him that they'll handle it by firing Myung-wol.
He counters that she's saved his life more than once, but his agent reminds him that climbing to the top might be hard, but falling to the bottom happens in a split second.
Myung-wol comes to the agency to explain herself and In-ah grabs her, cattily calling her an opportunist for throwing herself at Kang-woo to climb the social ladder. Myung-wol just shakes her off, but it sends In-ah falling to the ground, which the already irate fangirls see as proof that she's the enemy.
They rush her and attack with eggs, until finally Kang-woo comes down and shouts at them to stop.

The whole crowd quiets and parts as Kang-woo hero-walks right up to Myung-wol…
And slaps her across the face. *mrmfmph*
He takes off his sunglasses to look her straight in the eye: "You're fired."

COMMENTS
GAH. What the fuck, Kang-woo? I know you're doing something roundabout and idiotic to "protect" her, which is crap anyway, but did you have to be such an ass about it?
Dramatically speaking, I love the reversal of the hero moment—the scene in every drama ever where he's supposed to publicly rescue her and declare that she's his—gets turned on its head which is fantastic. But it pains me so. Especially when it stings with such humiliation on top of heartbreak.
The slap itself—I get why, but GAH, I still hate it. I mean, it doesn't take me out of the moment or anything because it's not violent in intent — it's more humiliating and emotionally hurtful than actually roughing her up, (which I would take much greater issue with), but I feel like the point would've been made just as well without it, and it's just not a place I want my hero going. There'd better be a whole lot of groveling after this. Preferably with equal humiliation attached.
I feel like this drama has purposely shed its farcical tone and dark humor edge, which is understandable given the ratings, but still saddens me. I loved what it was before. It's now growing closer to a traditional rom-com with some ridiculous humor sprinkled in, which is fine and I still enjoy the show and laugh out loud, but it's lost that whimsical aspect that felt so fresh and interesting, and used to make me bust a gut.
I still love the characters and the setup, and their growing attraction and crossed wires are endlessly entertaining. I just wish it would stick to its original guns and be totally absurdist, all the way. It's going to kill me if they squash the original tone in favor of watered-down humor. Please, don't kill the funny!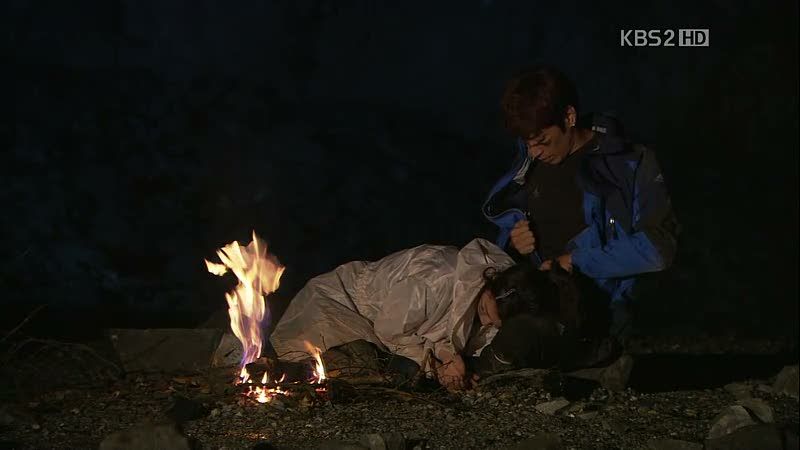 RELATED POSTS
Tags: Eric, featured, Han Ye-seul, Jang Hee-jin, Lee Jin-wook, Myung-wol the Spy