Romance Town: Episode 16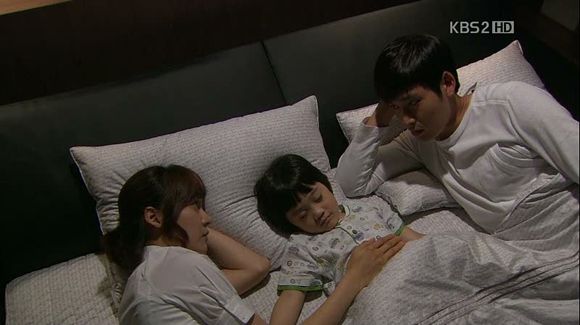 Aggravation, then satisfaction. Tearing my hair out, then putting it back on my scalp. This drama has been so badly titled now; it really should have been called 'Maids' because that's all this drama is about. Or they should have called it 'Money Town' or 'Bread and Roses,' because where the hell is the 'Romance' in this drama!?
So. Will Hyun Joo get off the plane with Hwang Yong? He asks her to trust him instead of trusting money.
That gives her a flashback of when her husband yelled at her for giving birth to another son (dude, it takes two to tango!), and for being a useless wife. He throws her out for a richer woman and takes the kids, which leads to Hyun Joo becoming a maid. She cries, wondering how on earth she can trust a man when she's always been so mistreated. She debates: trust the 7.5 billion Won in her account, or her new master?
Hwang Yong steps away to call Soon Geum. He wants the police called off. He doesn't know if he can get Hyun Joo to get off the plane, but if the police arrive, he's going to stay on that flight and become a fugitive.
Everyone in the airport rushes to the arrival gate to see Hwang Yong and Hyun Joo get off the plane. Hwang Yong's men cheer like little boys at the sight of their boss, while Soo Jung scowls at Hyun Joo. But they'll have to wait for another day to confront her. When she returns to 1st Street with Hwang Yong, Hyun Joo bids Soo Jung and Da Kyum good night with a smile, as if nothing happened.
Soon Geum and Gun Woo arrive home very late, much to Yoon Joo's distress. She's annoyed that she has to wait for so long to get fed, and wants Soon Geum gone. Though Tae Won said not to fire Soon Geum, she can't take it any longer. Tae Won joins them, and scolds Soon Geum for being more irresponsible as of late. He's always thought she was the best maid, obeying all the time, being good with San, and eating their leftovers – basically, he makes her sound like a dog. With little choice, Soon Geum meekly says she won't make this mistake again.
Soon Geum finishes the chores late in the night. However, when she tries to enter her room, the door is locked. She goes up to Gun Woo's room, where she nearly catches him looking at the real lottery ticket. Gun Woo quickly hides it behind his back, and she demands he hand it over. Afraid that she means the ticket, he runs around her, jumps on his bed, and quickly throws the ticket under his bed. But all she wants is the key to her room, as she knows he locked it.
Gun Woo wants her to stop being a maid, and start being his roommate: "Let's have an 'accident.' Let's create another 'San'." HAHA. Sweeeet. Soon Geum thinks his father will commit murder before a baby is born, but Gun Woo insists this is the only method that will work against his father!
Soon Geum turns off the lights. (WHOO!) Gun Woo waits for her expectantly to join him, but there's no one. He feels around for the lights and turns it back on. Soon Geum arrives in his room, this time carrying San. She lays the boy in between them on the bed, causing Gun Woo to call the sleeping kid a complete rascal.
Though Soon Geum is having a hard time because of his father, Gun Woo begs her not to leave just yet. Leaving would mean Tae Won wins this battle. She wonders aloud what her mother would think of Gun Woo, and he replies that she'd probably hate him. But it would be good if she hated him so that the two of them could struggle together, and love each other even more fiercely.
The next morning, Young Hee arrives to have a word with Tae Won. However, they're interrupted by Yoon Joo, who's noticed that the maid's room is locked. They wonder if she already left, but go up to Gun Woo's room to check. Yup – they're in the same bed! And San is in the bathroom, so he's not around to make the scene look a little more innocent.
Yoon Joo quietly wakes up only Soon Geum, and Tae Won orders her to go make breakfast, refusing to listen to her claims that nothing happened. Once she's out of the room, Tae Won flips Gun Woo on to the floor.
Gun Woo thinks he's done nothing wrong since he already said he wanted to live with Soon Geum, but Tae Won slaps him hard across the face. He threatens that Soon Geum will be in a lot of trouble if they try any more tricks. Gun Woo yells that Soon Geum is a lot stronger than he is, and they will both win against Tae Won. He silently adds that only when Tae Won accepts Soon Geum for the poor maid she is, will he then give back the lottery ticket.
Tae Won realizes that it's only a fight if he continues opposing his son, so he decides to play along. He yells for Soon Geum to not be a housekeeper anymore then, which is of course still a joke.
At the Hwang Residence, Hyun Joo is preparing a feast for breakfast. Soo Jung comes by, but is maddened by the fact that Hyun Joo treats her as if they're friends again. Hyun Joo says they should just split it all equally, but Soo Jung refuses to do so: Hyun Joo's now got a man in her life in the form of Hwang Yong, which is better than money.
Hyun Joo pushes Soo Jung, angry that Soo Jung was probably the one who suggested she get nothing, and feeling absolutely betrayed. It breaks out into an all-out food fight, where they throw vegetables at each other. (It's hilarious how Hyun Joo stops Soo Jung from throwing side dishes that belong to Hwang Yong. Actually, I wonder how they did this scene without breaking into laughter.) Zar Lin and Hwang Yong enter the kitchen to see it in a mess, and Zar Lin hurries to separate them. Hwang Yong on the other hand mourns that the rice and stew are getting overcooked.
Later that day, Hyun Joo goes to the bank and requests the 7.5 billion be withdrawn in one single check. The banker tells her to keep the check's number so that if a thief steals the check, she can simply call the police with the check number, and the money will be put on hold and stay with her.
She calls up all the maids to meet at a restaurant, and arrives with Hwang Yong. Soon Geum arrives late, having had to finish all her responsibilities before being able to leave. She wants to get it all over with quickly, so she suggests that they split it all 5 ways and make it simple. Hyun Joo is so happy to hear that Soon Geum was on her side the entire time.
More fighting. AISH – I am at this point more frustrated than Soon Geum over their stubbornness; she waves a napkin around in frustration, I would have thrown a glass across the room. I'll cut to the chase: Soon Geum declares that Hyun Joo will give them back all the 7.5 billion, and the four of them will give Hyun Joo an amount that is equal to how much they value their friendship with her. A compromise leads to all the maids pitching in to give Hyun Joo 1 billion Won.
Well, better than nothing – aaaaaand WE HAVE A DEAL! THANK THE LORD!
Later that evening, Hyun Joo writes down the check's number in her book just in case, and then goes to meet the other maids in Soo Jung's room. Before she hands over the check, she wants her 1 billion share first. The maids are all aghast – how can they give her the money they don't have? Da Kyum (that sly one) suddenly remembers that Soon Geum still has her wealth. She can give the 1 billion to Hyun Joo first, and then the maids will pay her back later.
Aiyoo – so petty. But Soon Geum brings her black bag over, which has all 1 billion. Satisfied, Hyun Joo holds out the check, and hands it over to Soon Geum first. Soo Jung practically drools at the sight of it, and the three maids ask to hold the check just once. They can sleep together in her room, holding the money. Soon Geum simply hands over the check – they'll just split it evenly tomorrow. It's big of her to still trust those maids.
Soon Geum helps Hyun Joo carry the bag home, and thanks her deeply for everything she's done. She'll never forget what Soon Geum did for her.
Da Kyum dances home around Young Hee, so happy that she's wealthy again. She asks that he sell her the courtyard, and he tells her to just buy the whole house. Da Kyum offers to let him keep the maid's quarters for himself, which makes him feel worse than he already feels.
Soon Geum serves some tea to Tae Won in his office, and he begins to ask for her "advice." He talks about the judge's ruling where he'll have to pay 3x the tax he owes, but uses all these legal terms that Soon Geum has no idea what they mean. It's Tae Won's way of making her feel even less qualified and more stupid. He also says that he's looking for a daughter-in-law who can bring in a dowry of $10 billion Won because of his current debt.
Oh if only he told Soon Geum this several weeks ago!
Soon Geum says confidently that he'll never find a daughter-in-law with that amount of money. If he is successful, then she will willingly quit. However, she knows that he's criticizing her lack of knowledge and refuses to buckle. Only when she can no longer take it, when all has been said and done, and he still continues to insult her, will she leave. When her love for Gun Woo is not enough, she promises to walk out on her own two feet.
Tae Won smiles – the maid is going to be quite the worthy opponent.
Soon Geum cleans up Gun Woo's bookshelf in a depressed state, which is how Young Hee finds her when he comes to return some books. She confesses that she's having a hard time because of Tae Won, and he tells her to take care of herself first. She shouldn't submit to being treated as less of a person just because of love. Gun Woo emerges from his room and tells Young Hee to stop yelling at Soon Geum. However, Young Hee just keeps going – this time, yelling at Gun Woo for being as selfish as his father, liking girls but not knowing what love means. He tells Gun Woo to let Soon Geum go if he truly loves her, and then leaves angrily.
Gun Woo knows Young Hee is acting like that because he likes Soon Geum too, but he thinks his friend is also right. Soon Geum: "But I like the self-centered Gun Woo though," and she warns him never to break up with her "for her sake."
Da Kyum returns to Soo Jung's room and wants to look at the check again. On the back, there's Soo Jung's signature and her ID number already. She did it only because she wanted to "own" a check for 7.5 billion Won. Da Kyum and Zar Lin do too, so right underneath hers, they sign their own names and add their IDs.
The next morning, Hyun Joo goes over to deliver a plate of fruits at Hwang Yong's office. She overhears his conversation with his daughter Joo Won though. Joo Won wants Hyun Joo fired, as she feels uneasy over the way Hyun Joo looks at her. She thinks Hyun Joo is only after her father for his money. However Hwang Yong likes Hyun Joo's cooking, and he knows that she doesn't like him just for the money. He admits feeling sorry for lying to her on the plane about needing her at home, but he had no choice then. Joo Won just wants him to hurry up and get married – perhaps with the lady he gave the pen to!
Hyun Joo is disappointed and angry that she was lied to. With that, she takes her bag of 1 billion and gets into a cab.
The four other maids go to Hyun Joo's bank to have the check split up and put in immediately into new separate bank accounts. But now they also have to pay back Soon Geum the 1 billion. Soo Jung says that they're supposed to pitch in a total of 1 billion to Hyun Joo, but not everyone is going to give an equal amount. Soo Jung values her friendship at 50 million won, Da Kyum at 30 million, and Zar Lin at 20 million. Since Soon Geum values her friendship at up to 2 billion, she'll be OK with "donating" 900 million, and just getting 100 million back from the ladies, right?
EVIL. BITCHES. Excuse my French.
The banker returns, and needs their IDs to create a bank account. For Zar Lin, he also needs her foreign registration card, which she left at home. So she calls up Young Hee for help.
Soon Geum informs Hyun Joo of what happened over the phone, and that just incenses Hyun Joo even more. She calls up the police, wanting to report her stolen check, but she doesn't have the check's number on her. So she calls up Young Hee for help too!
Young Hee locates the ID card, but can't find the numbers Hyun Joo is referring to, so he brings the entire notebook and meets her at the bank. Meanwhile, Soon Geum is absolutely disgusted as Soo Jung spins the situation around – the maids didn't take her money, but Hyun Joo did for wanting that 1 billion.
The banker processes the payments but then gets a phone call, which stops him from handing the ladies new bank books. Young Hee arrives with Zar Lin's card, and she quickly runs back to the banker. Hyun Joo grabs Young Hee aside before anyone else sees her.
The banker hesitantly hands back Da Kyum and Soo Jung's bank book – but suddenly the police arrive! He informs them that the check was just reported as stolen, and so the three maids are thieves; Soon Geum is not involved in this.
Hyun Joo had gone to the bank and asked for the 1 billion in the bank to be deposited into her account. As for the 7.5 billion? It can go into Soon Geum's account. YAYYYYY ALL IS RIGHT IN THE WORLD!
In the jail cell, Soo Jung wails uselessly over why she had to be so greedy (yeah, why?), asking for death to come soon (yes, please!), and apologizing to Soon Geum for her wrongs (pfft, just shut up now, yeah?).
Now on to a very random but pivotal plot point: Jang Chi Gook comes out to the kitchen with a splitting headache, missing Hyun Joo. Suddenly, he collapses on the floor.
Hyun Joo and Young Hee go out for a drink in a form of mini celebration. He asks if she's going to leave 1st Street now, but Hyun Joo now has a purpose. She wants revenge on all the households of 1st Street, and Soon Geum is with her on this. The other maids? They'll be sentenced to about a year and a half in jail. She wants Young Hee's smart brain to help them use the money the best way possible for revenge. After all, doesn't he want revenge on all those rich people who refused to give him a single cent?
Comments:
YEAHHHHHHHHH! I can't believe how happy I am over the outcome of this episode. I suffered, I tell ya, watching the screaming and arguing go back and forth. I understand everyone had a good reason for their arguments, but honestly I just wanted Soo Jung to SHUT. UP. So there you have it – money issues resolved! Well, the lottery money at least.
On top of that, this drama has now veered towards the darker side, where Hyun Joo wants revenge on those families. Somehow I imagine her tying up everyone in a dark room and sharpening her knives over them. Hehe. I am curious what mind games they would play on the rich folks, although I don't know if Young Hee is up to this task per se. I'm not too sure if Soon Geum is going to be all up on this revenge scheme as Hyun Joo makes her sound like she is. Like many, I'd rather see Soon Geum playing house with Gun Woo. But if she is up for this revenge scheme, then they should get Gun Woo in on it too, since Gun Woo has some serious beef against his father as well.
They can all buy Young Hee's house, dress up to the nines, and Soon Geum can show up at Tae Won's front door as the daughter-in-law with a dowry of 10 billion.
This drama has recently been trying my patience with its rocky, roller coaster plot lines week after week. I've been hanging on because I personally want to see the maids receive poetic justice, but I was hanging by my fingertips – until the end of this episode. I hope this drama can just be smooth sailing from here; we're nearing the end of this ride, so it's only natural that we pull in safely to a stop, right?
RELATED POSTS
Tags: featured, Jung Kyeo-woon, Kim Min-joon, Min Hyo-rin, Romance Town, Sung Yuri