Scent of a Woman posters
Posters are out for SBS's Scent of a Woman…and there's a wedding involved?
I presume the wedding must take place rather early, since I doubt they'd shoot an ending scene up front, which I have to admit is one of those story things I'm a sucker for — the first-comes-marriage, then-comes-love trope. I don't know why. It's just that it's the ultimate expression of the proximity-breeds-affection trope (i.e., forced roommies, contract romances), which I also love.
The tagline on the posters is basically the drama's premise in a nutshell: "Six months left to live. Let's really live for once!"
The drama, which stars Kim Sun-ah as the time-crunched heroine and Lee Dong-wook as her six-packed rich love interest, premieres this coming weekend. It also stars Eom Ki-joon as the cold doctor whose chill melts, and Seo Hyo-rim as the hero's possessive chaebol fiancé. Can't wait to see how they mine the humor in this rom-com.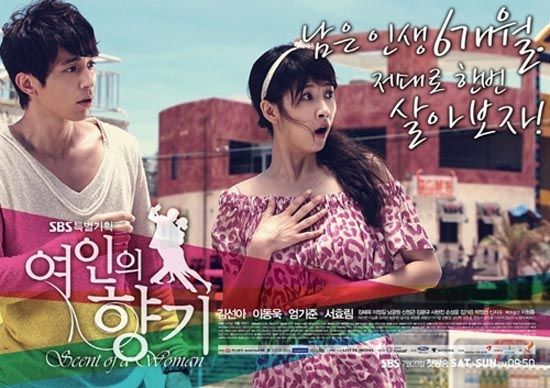 Via FNNews
RELATED POSTS
Tags: Eom Ki-joon, Kim Sun-ah, Lee Dong-wook, Scent of a Woman, Seo Hyo-rim