Can't Lose's comic promo posters
Posters are out of MBC's new rom-com Can't Lose, featuring Choi Ji-woo and Yoon Sang-hyun as a couple mid-divorce. The posters are silly and cute, which is what I'm hoping of the drama itself — you know, lots of bickering-as-foreplay, lingering attraction despite the split, and fun misunderstandings.
If we're to go off the posters, the drama is sure to deliver lots of glamorous outfits on Choi, while Yoon apparently must have one foot off the ground at all times. That's gonna be a challenge, but an actor can't shy from challenge if he wants to prove himself, right? Plus we've got a random athletic element at play, with fencing, arm-wrestling, and balance-beam gymnastics worked into one big mixed metaphor. Dueling, wrestling, teetering on precarious edges — got it.
Also: Is that Sung Dong-il, king of bizarro supporting characters, playing a judge? Climbing out of a painting?
It's all very wacky, and I look forward to it. Can't Lose will premiere on August 24, to follow current Wednesday-Thursday show You've Fallen For Me.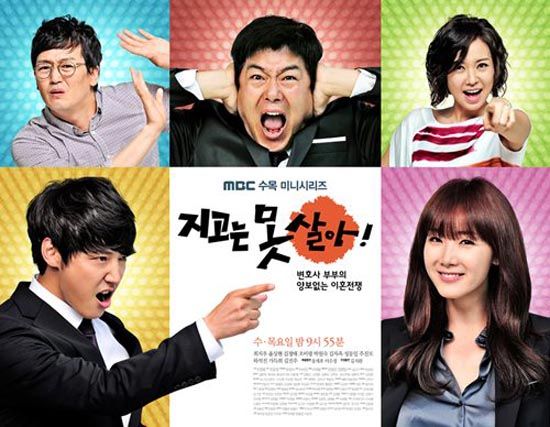 Via Osen
RELATED POSTS
Tags: Can't Lose, Choi Ji-woo, Yoon Sang-hyun