Han Ga-in and Hwang Jung-min to return to dramaland?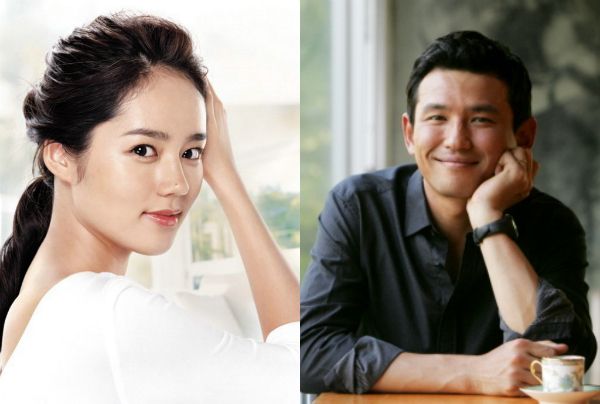 Rumor has it that Han Ga-in (Bad Guy) and Hwang Jung-min (Accidental Couple / That Fool) might be returning to dramaland together, in the mega-million blockbuster cable drama Korean Peninsula, a cable drama from CSTV (owned by Joseon Ilbo, a news network). Nothing's been confirmed on either side, but it's a good sign that the production is finally back in the casting game.
It's a drama that's been in the works for a long time, rumored to once be the drama comeback vehicle for Jang Dong-gun, while other A-list names like Ha Ji-won and Park Shin-yang have been bandied about as well. But after those casting rumors died, the project seemed to be on the backburner for a while. Can't imagine that Jang Dong-gun NOT doing your drama is anything other than a setback, but if Hwang Jung-min is set to headline, it'll officially be back to being A-list.
There's a 2006 movie of the same name (starring Ahn Sung-ki and Cha In-pyo), which is essentially the same setting, so it looks like the drama's going to explore and extend that same premise — from what I understand, it's a futuristic fantasy setup where the North and South Koreas reunite, and then all hell breaks loose over the two countries' fight over natural resources. It sort of encapsulates the South's fear in reunification, in a nutshell. Also the title, Han Peninsula, is han as in Korea, but can also be a play on One Peninsula, as in two countries, now one, on one tiny strip o' land.
The real question for me is not so much in the casting, but in the drama itself, because this is a huge experiment in producing such a large-scale blockbuster drama outside of network television, with no intent to air on on the big three networks (KBS, SBS, MBC). In theory it could be a great way for the cable network to gain a foothold in the drama realm, with a big splash and A-list names (This is no doubt why Jang Dong-gun was their first stop). But the giant 20-million-won pink elephant in the room is… what if no one watches?
Cable dramas get something like a 1-2% share in ratings IF it's a successful show. To compete with the big three, to somehow get a 20% share (the current marker of a ratings hit)… I just don't know if it's possible. It's fascinating as an experiment because I do think that if besting the big three is your goal, going big budget, big stars is the only way to try and make a dent in the ratings. I do think the premise is pretty damn cool, and if these two were to headline, I'd be on that train in a heartbeat.
Korean Peninsula will be penned by writer Yoon Sun-ju, of Hwang Jini, and is set to air on CSTV in January 2012.
Via Star News
RELATED POSTS
Tags: cable programs, Han Ga-in, Hwang Jung-min