My Name Is Kim Sam Soon: Episode 5
K-drama watchers know that the bottom generally drops out when things are going well, because dramas fade without conflict. But conflict shouldn't just randomly happen – conflict should be set in motion because of choices that people make. A few episodes ago, Sam Soon makes the innocuous choice to trade her date-able-ness to borrow $50,000. It took some effort, but things were going peachy until Jin Heon's former girlfriend returned. And now Sam Soon has to face up to the fact that her choice is now hurting not only that person, but ultimately Sam Soon herself as well.
SONG OF THE DAY
Cloud Cuckoo Land – "다시" (Again) [ Download ]
Audio clip: Adobe Flash Player (version 9 or above) is required to play this audio clip. Download the latest version here. You also need to have JavaScript enabled in your browser.
Episode 5 – Love Is Supposed To Be Childish.
Sam Soon has somehow dragged Sam Shik, er, Jin Heon to his apartment and into bed. For whatever reason, Sam Soon feels she has to strip him and not just leave him there fully-clothed. Now, I've passed out drunk in bed many times fully clothed, and to be honest, I don't recall ever feeling worse off than had I been stripped first. That said, Sam Soon has taken responsibility for her drunk boss.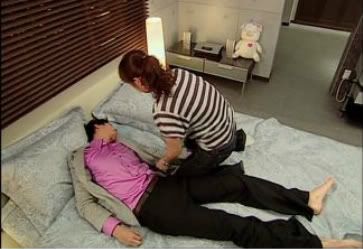 Of course, when Jin Heon wraps Sam Soon up in his arms and legs (Not quite as drunk as he first appeared??? Copping a few feels??? Arguable!) , she might be thinking differently about her effort to be a responsible person. Sam Soon would have to be a nun to simply remain still and think of nothing. Sam Soon is not a nun. Jin Heon seems to be having his pastry chef and eating his cake too.
Jin Heon awakes to find Sam Soon swinging her hips, playing the part of an ahjumma who got lucky with a young buck. Jin Heon can't remember much at all, and Sam Soon plays it for all it is worth. Hehe! Note: I just realized something – If the bed wetting incident really happened, then Jin Heon saw Sam Soon nekkid, since he would have had to strip her entirely to get rid of the… um, soiled garments (ew). Therefore, by the Universal Law of Tits For Tats, Sam Soon certainly gets to see Jin Heon's little Jinnie.
Sam Soon's delightful deadpan and needling continues through breakfast, but her fun is about to end. This morning brings another guest to Jin Heon's apartment – Hee Jin is at the door.
Note: you may wonder why Hee Jin comes back. Well, you know how k-drama characters sometimes submit their resignations, but then STILL show up for work the next day? Well, submitting a resignation doesn't always mean The End – the expectation often is that you still can keep your job (the resignation being the required act of humility). Similarly, Hee Jin likely has the expectation that she just has to humble herself and after Jin Heon's anger has cooled, and then they can get back together.
Hee Jin has too much history with Jin Heon to just let things go. And besides, Jin Heon doesn't know something that is all-so-important – the reason why Hee Jin left 3 years ago. Maybe Jin Heon won't be mad any more, or, more likely, Jin Heon will still be mad but at least he'll understand. At the very least, he won't have that "you ran over my dog" look on his face every time he sees her. Hee Jin walks in to the apartment and… Sam Soon is there, looking a little bit guilty.
Cake Lady?! What's Cake Lady doing in Jin Heon's apartment? It's too early for cake deliveries, unless… the cake was from the night before… Hee Jin has apparently walked into something here. Rumpled bed, unmade. Two bowls of after-sex soup, two bowls of post-snuggle rice. Yeah, this isn't quite the right time to spill your guts.
Hee Jin asks Sam Soon to leave but Jin Heon grabs Sam Soon and makes her part of the show. Hee Jin is humiliated and storms out. Sam Soon is also humiliated by Jin Heon's display and made to feel like a whore, and after yelling at Jin Heon, she storms out.
Back at Bon Appetit, Chef Lee can't believe his eyes or his mouth. His steak tartare has come back untouched, but his mouth says that the dish is killer. Apparently, the customer at table B-3 isn't satisfied and dismissed her dish, and Chef Lee doesn't know why. Plus his assistants are screwing up. The pot-au-feu is a giant mess (seriously, simmer, not boil!) and his sous chef apparently can't work the santoku. B-3 sends back her dessert (looks like a mascarpone-filled crêpe with cherry syrup) without touching it, and that tears it. Chef Lee on the war-path.
Chef Lee prepares and then brings out a more basic version of the quintessential French dessert dish called a Crêpe Bretonnes and serves it personally. B-3 refuses the dish, the lame explanation being that she's on a diet. What?! Even dieters eat! Why come to a French restaurant, order a gorgeous steak tartare and mascarpone crêpe, and then NOT eat? Are you a crazy person? Oh, that's right. A DIE-IT-TUH. A DIE-IT-TUH. You go on a diet to wear slutty clothes and so you intentionally miss out on one of life's great treasures, the Crêpe Bretonnes? Why, this crêpe is no ordinary crêpe and certainly not a crêpe that can be found anywhere in Korea. Eat it! Eat it!
The commotion brings out Manager Oh, and then Jin Heon, who gets hit in the face with a flying crêpe. Sam Soon arrives too late to stop the crêpe's mad dash for freedom. Oooh, sorry, where are my manners! Jin Heon, this is Sam Soon's older sister Yi Young. Yi Young, this is Sam-Shik, the rude dude President of Bon Appetit who is pretend-dating your baby sis. And I see that Chef Lee and Yi Young have already met.
Sam Soon drags Yi Young out of the restaurant to yell/talk. Not to be distracted about disgusting crêpes and such, Yi Young immediately quizzes Sam Soon about not coming home last night and wants details. Sam Soon is in no mood, given the morning. But Sam Soon's face gives away too much and Yi Young knows trouble when it is spelled out so clearly. Yi Young asks what Sam Soon and Sam Shik did together and Sam Soon says nothing, we just slept together.
Yi Young's face is shocked, but it's not a "OMG IT'S AN ASTEROID COMING TO KILL US ALL!" shocked face but a "O-MO MY BABY SISTAH ALLS GROWS UP NOW" shocked face. But Sam Soon says, no, not that kind of sleep, you know, SLEEEEEEP!
LOL! What is it about older sisters that make younger sisters sound so…. young? Sam Soon's voice has lost all her whiplash bite and she sounds like teen who's been caught with a pack of smokes or with a bottle of liquor. These days, dramas, especially rom-coms, have a tendency to be heavily stylized. Not dissin' nobody, but these days you have so many dramas with comic book characters who over-act at the slightest breeze. A straight up Yi Young (superbly played by Lee Ah Hyun) and annoyed-sheepish Sam Soon feel so real together. Just wonderful, brilliant acting!
But then here comes the grown-up part. Sam Soon heads back inside the restaurant and crosses paths with Jin Heon. Heart on sleeve, Sam Soon tells him to go see Hee Jin and apologize. Jin Heon says nothing and begins to walk away but Sam Soon isn't done, calling him cruel and a coward. Jin Heon is ready for a fight, and he acidly wonders at Sam Soon's motivation in all of this. Sam Soon immediately notes the rude use of ban-mal.
Jin Heon: You really have that little to do (except butt into other people's lives)?
Sam Soon: By what God-given right do you have to use ban-mal to me?
Jin Heon (louder): This is why I told you not to interfere!
Sam Soon (louder still): Then you shouldn't have involved me in the first place!!
Wow, but I'm not sure. I feel like grownups are talking in the kitchen and I'm sitting at the top of the stairs just listening. Sam Soon KNOWS that Jin Heon has been seriously hurt by Hee Jin. Sam Soon also should know that any pretend-dating contract would cover situations like this. Plus, this ain't none of her business, right? On the other hand, no where does it say that Jin Heon's money buys silent acquiescence. And Jin Heon using Sam Soon to hurt Hee Jin was a little bit a lot cowardly. I see the wonderful acting in a scene like this, and I just wonder how many full episodes it would have taken by today's drama standards to be able to put out the same amperage as was shown in these short scenes.
A bit later, during lunch in front of the restaurant staff, Chef Lee gives Sam Soon her blue scarf; no more yellow scarf! Sam Soon is a newbie no more. Of course, Jang Captain comes around to use this public opportunity to reveal Kim Hee Jin's real name as Kim Sam Soon, and Sam Soon is forced to admit it. However, the Bon Appetit staff was already told by the wise Manager Oh and so Jang Captain's scheme to embarrass Sam Soon was exposed. Too bad, Jang Captain!
At closing, Hee Jin is there waiting for Sam Soon. Maybe it is time to clear the air a bit. Hee Jin, though younger and in the unfortunate position of not being introduced properly yet (and therefore unable to approach Sam Soon without being disrespectful), asks Sam Soon for time to chat. The fact that Hee Jin feels the need to eschew formality bespeaks to her rising level of concern here.
Hee Jin starts it off, asking the questions using joen-deh-mal. Sam Soon answers politely as well, noting that she has been to Jin Heon's house and got approval from Jin Heon's mom even. Sam Soon then asks some questions, but Hee Jin doesn't respond to the one that mattered (why did you go away in the first place). Hee Jin notes that she and Jin Heon never did break up, they were just apart for the 3 years. Hee Jin then asks another question, the same question asked by Jin Heon's mom: do you love Jin Heon? First of all, trick question! It's been just a few months, and you ask that question? Second, you won't answer why you disappeared three years ago, and you want an answer to whether Sam Soon loves Jin Heon?
Sam Soon thinks about it and thinks about it, and for whatever reason, Sam Soon says that she loves Jin Heon very much, so please don't get between them any further. WHAT?!?! Is she telling the truth now (remember, last time she was dry-heaving in the bathroom after saying that to Jin Heon's mom)? Or is she just following through the pretend-dating contract? Hee Jin, upset, abruptly gets up to go without any apology or preamble. Then Hee Jin makes another disrespectful gesture by grabbing for the check. Sam Soon yanks the check from her, however, as she can't let too many of these gestures go without response.
Hee Jin just isn't getting anywhere. She tried a direct approach with Jin Heon, and that failed. So she does a rather shameless end-around with Sam Soon, but that was a fail. What to do now? Before she has much time to think, Hee Jin's phone rings.
It's Henry, Hee Jin's American friend, the extraordinarily handsome man from the videotape who can dunk a basketball, the wonderfully good-natured man who openly professes an unconditional (and unrequited love) for Hee Jin. Guess who's going to be spending the next 6 months in Korea? Hee Jin's life probably could not get more complicated. Ruh roh…
Yi Young, after hearing how the evening went down, also wonders if Sam Soon's life could get any more complicated. At least Sam Soon isn't in love with Jin Heon… .right? Sam Soon answers no, not even. Yi Young doesn't seem that convinced at that answer, and as Sam Soon goes outside to think, even she isn't convinced. She plucks the leaves off of a tree branch, and recites the age-old "he likes me / he likes me not" except that she is reciting whether she likes Jin Heon or not. The last leaf plucked is "I like him" but she repeats "I like him not" at the end to comport with what would hurt less.
A few days later, Mi Joo comes for a play-date with Sam Soon, making animal cookies. Jin Heon drops by as well and with Mi Joo as the focal point, Sam Soon and Jin Heon find that their hard feelings toward each other have softened.
Hee Jin makes one last attempt to tell Jin Heon the whole story, this time waiting up late at Jin Heon's apartment complex for him (rather than going to the airport to pick up Henry). Jin Heon hasn't gotten past his anger, however. Jin Heon relates how he was abandoned by Hee Jin right after his car accident… because she had to go to school in America??? Jin Heon chokes back his emotions as he notes that he looked her up in every college in America and she wasn't listed as part of any of them. Why did she lie? Was it the disgusting prospect of being with a guy with broken legs? Did she leave to be with another guy (Henry???)?
And Hee Jin apparently has nothing but crocodile tears to show. Jin Heon tells her to stop acting like she's hurt as it disgusts him. This is too much for Hee Jin. She storms out again. After a moment's pause, however, Jin Heon chases after her. He stops the elevator from going down and tells her to come out. With her pride on the line, Hee Jin will only get out if Jin Heon says that he will break up with Sam Soon. For whatever reason, Jin Heon won't say those words. Jin Heon orders her out of the elevator. Hee Jin again refuses unless Jin Heon says he'll dump Sam Soon. A game of chicken! And while Jin Heon says nothing and Hee Jin won't budge, the elevator doors close.
A pregnant pause, and Jin Heon race down the stairwell to catch up with Hee Jin. He just misses her as she zooms away in her car. Jin Heon hails a cab to follow her and when he finally reaches Hee Jin's apartment, Jin Heon sees her crying… and a man comforting her! It's Henry!
And he's hugging her!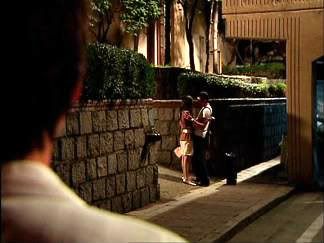 And he's kissing her! (Mrs. Samsooki adds, "Squeeeeee! It's Daniel Henney doing the kissing!")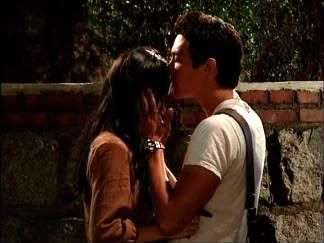 Wow. Jin Heon, buddy, you've been played…
Comments:
How awesome is this episode? In refreshing bluntness (and almost opposite from the usual k-drama fare), the main characters in this drama are so direct. Sam Soon tells Jin Heon what he is (a childish coward) and what he should do (apologize to Hee Jin). Jin Heon tells Sam Soon how he feels too (mind your own damn business or pay up the $50,000). Sam Soon, to her face, tells Hee Jin to stay the hell away. Hee Jin, also to her face, tells Sam Soon to back the heck out, since Sam Soon's 3 month relationship is nothing compared to Hee Jin's 8 year relationship. Sam Soon's older sister rather crassly tells Sam Soon to continue seeing Jin Heon, not because he really likes her, but because "something" might happen and they might start really dating (wow, that's kinda… cold?).
And Sam Soon is caught in this maelstrom of mature opinions, hurt feelings and blunt talk, and still doesn't know how she feels about anything. Mayhaps she is just envious of being in love, but is that really it? Just about everything is out in the open, and yet we still have a whole epic story left to unfold.
The wonderful thing about MNIKSS is how Jin Heon and Sam Soon can only get closer to each other if both start to change. It isn't that Jin Heon and Sam Soon are MFEO (made for each other), because they clearly aren't. How could it, since Jin Heon is a childish piece of work, and Sam Soon totally isn't the physical or economic representation of the woman Jin Heon would expect to be dating. And yet, in this Episode 5, we are starting to see small changes in both Jin Heon and Sam Soon that will start to bring them into each other's focus.
Koreans have this idiom to describe being in love, that one's heart is snagged by another person, much like a person's shirt sleeve might get caught on a protruding nail. Since both Sam Soon and Jin Heon wear their ragged hearts on their sleeves, is it any wonder how they might get snagged upon the other?
RELATED POSTS
Tags: Daniel Henney, featured, Hyun Bin, Jung Ryeo-won, Kim Sun-ah, My Name Is Kim Sam-soon