Running Man: Episode 54
We're in for a whole new ride with today's theme: Protect the Boss – Last Team Standing. It's an episode of adventure for some, horror for others, and still yet, some cast members are near non-existent in this episode. Who do you think the bosses are? Guess wisely though, because things are not always as they appear…
EPISODE 59. Broadcast on July 31, 2011
When our cast arrives, they're immediately paired off as they await their mission. Jae-suk waits for his team partner – could it be Choi Min-soo? After all, he did ask to be scheduled for Running Man again to get revenge on Jae-suk. But no, it's Kwang-soo, who runs to meet him like the Kwangvatar he is. It looks like the new name suits him, given his tall stature and long legs, much like an Avatar straight out of James Cameron's blockbuster.
We catch up with the Monday Couple applying suntan lotion on each other. Rawr. Gary soaks in the attention but instead of a loving couple, they look more like Mom and Son. Ji-hyo wonders if there's an attractive male guest today which sparks Gary's jealousy. She hastily recovers with, "Kang Gary is the most handsome (man) on Mondays."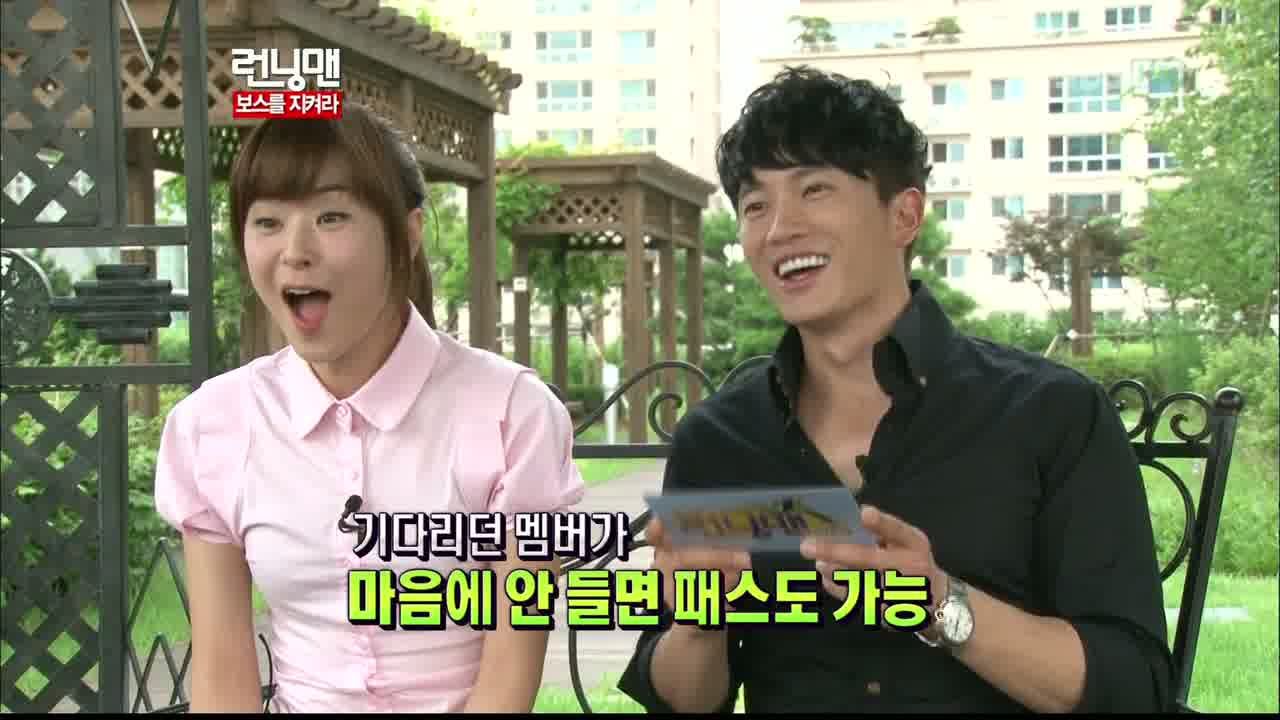 Each team is told that the guest will be coming to them – so who are they? Say hello to today's guests: actress Choi Kang-hee (Protect the Boss, Petty Romance) and actor Ji Sung (Protect the Boss, Royal Family). Their given mission is to pick up a team from three different locations. Best part? If they don't like who they're with, they can choose a different team. Hehe.
And they're off! Ji Sung is freaking hilarious as he pulls up to one team, "This is amazing! People I see on TV!" Those mega TV stars? Why, Jae-suk and Kwang-soo, of course! The Monday Couple loudly voice their disappointment to see Suk-jin, and Kang-hee drives up to see Jong-kook and Haha.
Let's hear the mission already! Mission Protect the Boss: Collect all the bosses' nametags to win. If you incorrectly tear off someone's nametag, you're out. You obtain clues about other teams' bosses thorugh mini missions. At the final destination, pick pick up a ringing phone. If you fail to pick it up in time, your team's position will be compromised.
Mr. PD informs them that the boss is the one riding in the backseat. That makes Kwang-soo for the Black Team, Kang-hee for the Pink Team, and Gary for the Blue Team. Kwang-soo can't believe his luck – it's his first time as a hero!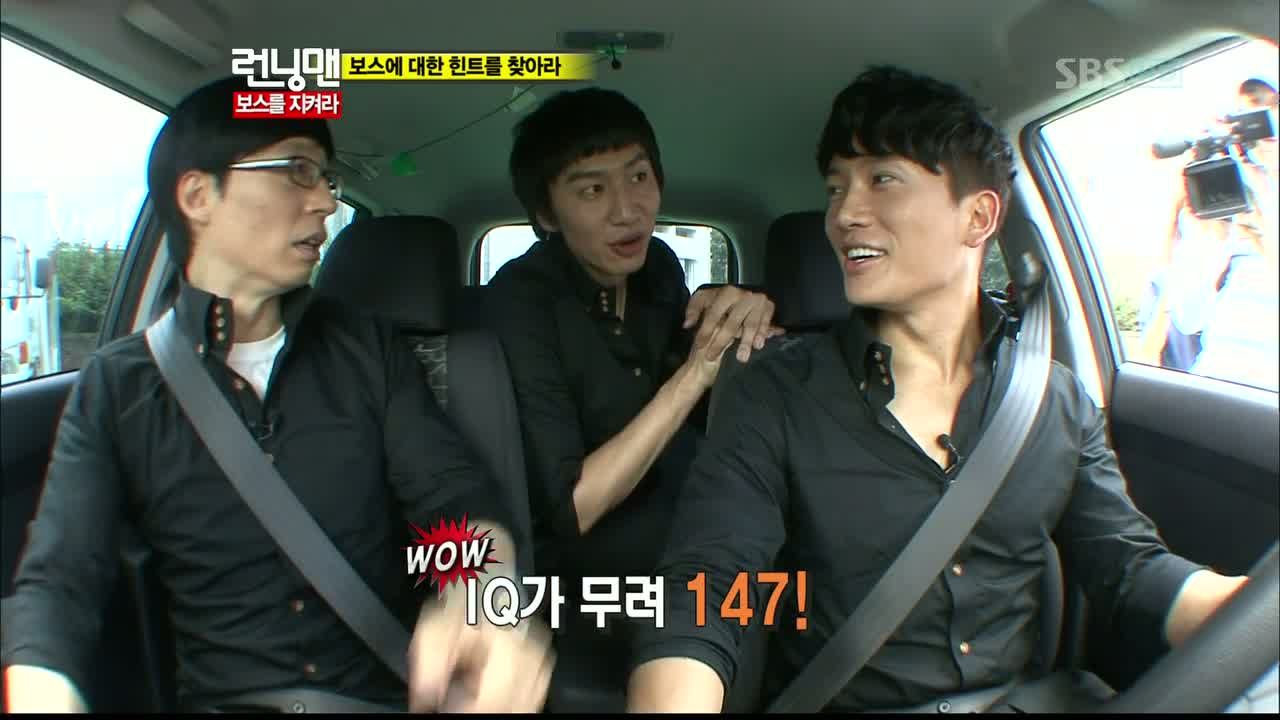 No worries for the Black Team – they're relying on Ji Sung's jisung (intellect) to win them the mission. So punny! Ji Sung asks the others what their IQ is. Jae-suk "It's over a 100…" Kwang-soo: "I didn't get tested…" However, they should be concerned about Ji Sung's fatal flaw: his variety rookie status. It leaves Ji Sung so flustered that he accidentally tugs on the emergency brake and drives over speedbumps.
To quickly remedy that weakness, Ji Sung gets a crash course on variety in the car. They're forced to keep to the law here, unlike in k-dramaland, (Aww, no dramatic illegal u-turns?!) and Kwang-soo adds that even James Bond would have to stop at a red light.
At Yeoido park, Ji Sung asks why they're walking versus running (it IS Running Man). Jae-suk replies that they tire themselves out when they run – thus, they walk. They receive their mini-mission and Ji Sung gets a painful taste of variety with sizzling bicycles seats. Must. Restrain. Twelve. Year. Old. Self.
It's a tongue twister mini mission for the Pink Team. It takes a few tries (and a hilarious penalty) and they head to their next location to spy on the Black Team who failed to name the correct color order of the ahjummas working out at the park. Jong-kook reveals himself from behind the bushes and the teams face off, hesitant to attack first.
Jong-kook deduces that Kwang-soo is their boss, deadest in his choice. Kwang-soo panics and slips up by revealing his team's clues. Kwang-soo: "Hyung, do you think I'm such an idiot?" Jong-kook: "You are one."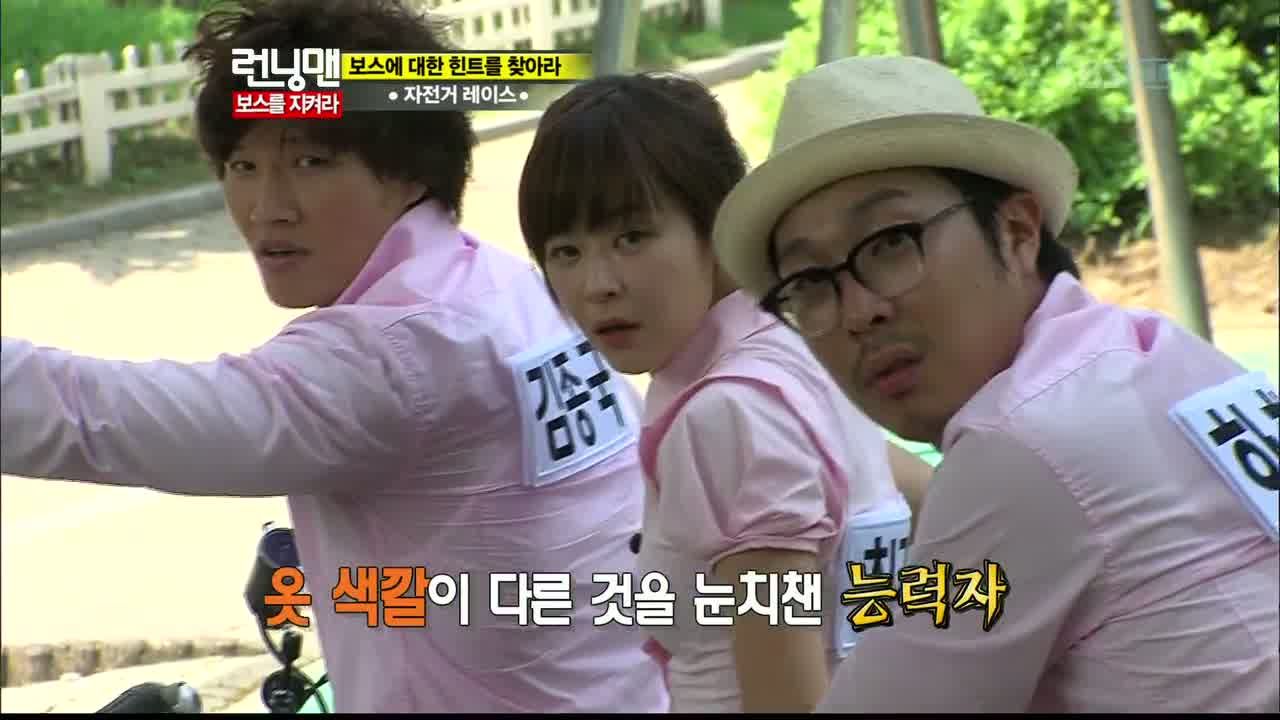 The Pink Team are quick to notice that something's definitely up with the colorful ahjummas and succeeds on the first try. They pick their clue to reveal…"Kkwang (Zero)" and Kang-hee chirps, "Kkwang…for Kwang-soo." LOL. But, alas, no clue.
Meanwhile, the Blue Team complete their mini missions, obtaining more clues about their opposing teams. They receive a clue about the Black Team boss, "Ugly," and the team debate between Kwang-soo and Jae-suk. As if it was a contest.
The Black Team follow the maknae FD inside a restaurant but this time they keep an eye out for the order the dishes are placed, just like last week … until the maknae FD sets down two dishes at once. HA. Mr. PD encourages them to sit down and enjoy so they begin grilling. As they happily fill their stomachs, they're completely unaware how simple the mission is: grill some meat and wait.
It's not long after that the Pink Team follows them to the same place. In the midst of empty threats to eliminate each other, a confused Jae-suk slips, "Kwang-soo's never been the hero before!" Oops. But, the Black Team succeeds and their next clue directly points to Kang-hee.
Either the Pink Team has a stroke of good luck or the Capable One is really on a roll. They easily pass this food mini mission in one round and everyone heads to the final destination.
The phone call timer is ticking down from a few short minutes and each team must pick up their phone call on different floors. All the teams manage to track down the phones and receive their final mission: collect all the bosses' nametags and find "Lavender." Kang-hee takes some time to learn some moves on how to take down Yooruce Willis. If all else fails, just poke him in the side. Oh boy, was it always this easy to take down Jae-suk?
The Black Team head up to the 60th floor in a clear elevator and Jae-suk imagines how terrifying it would be to see Spartakooks on the supporting beams outside the elevator. Or worse, climbing the walls like Spiderman.
They take a few precious moments to snack and strategize in the stairwell, and soon enough, they're chatting about who's scarier: Jong-kook or Choi Min-soo. Jae-suk says that Jong-kook is a little pipsqueak compared to Min-soo and Kwang-soo adds that he hopes Jong-kook gets old soon, so he'd be easier to physically. Incriminating Kwang-soo is back!
Kwang-soo interjects that he'd like to be known as easygoing too, and apart from his image, he's really a coldhearted city man. Uh-huh, okay. Back to puppy status please!
Thanks to Kwang-soo's enormous height, he sticks out like a sore thumb in a crowd. Ji-hyo easily spots him from afar and follows him at a distance. The two teams find themselves separated by a door, and when it opens…there's pushing, shoving, and yelling on both sides.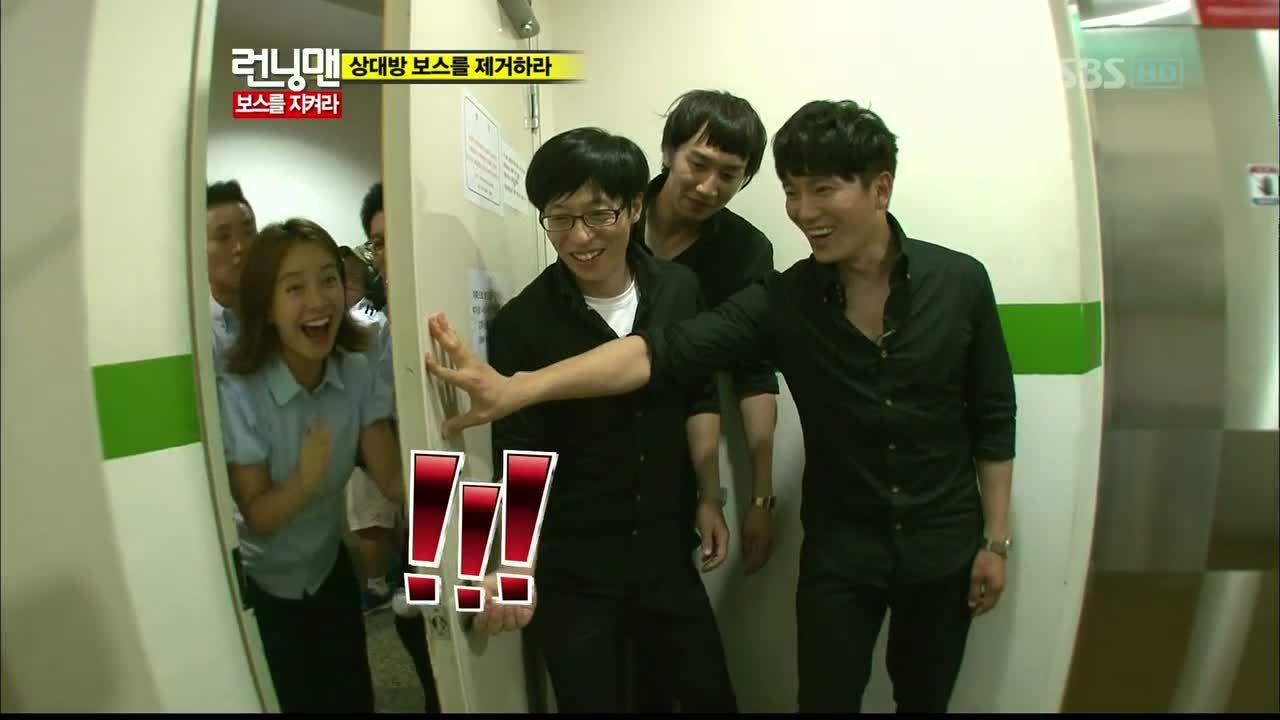 Jae-suk calls for a temporary truce, asking for physical evidence of their clues. Suk-jin gladly complies, showing them the "Ugly" clue. They're pretty sure it's Kwang-soo – after all, 97% of citizens agree with them. The Blue and Black Team decide to create an alliance and Jae-suk warns Ji-hyo not to betray them again. Even though she protests, Ji Sung adds, "Ji-hyo I've seen you on TV before…" Meaning he's seen the awesome in action.
Woah, talk about being at the right place at the right time! Spy Haroro was able to eavesdrop in on the entire conversation – confirming Kwang-soo as a boss as well as the alliance. They wait for the Black Team, and Jong-kook sweeps behind them to try and eliminate Kwang-soo but fails.
The Blue Team wait for an opportune moment to take out Kang-hee, Suk-jin reaches…and she twirls around in the nick of time, collapsing to the floor.
It's an absolute mess as everyone is trying to size each other up. Ace Ji-hyo takes a risk to eliminate Haha, but she herself gets eliminated for making the wrong choice. Boo.
The only person too scared to put on a faux grand persona is Kwang-soo, frozen in the face of elimination. He says to the VJ, "This is too scary (being the hero!) Don't make me do it next time!" He even tries to puff up in front of Haha before running away…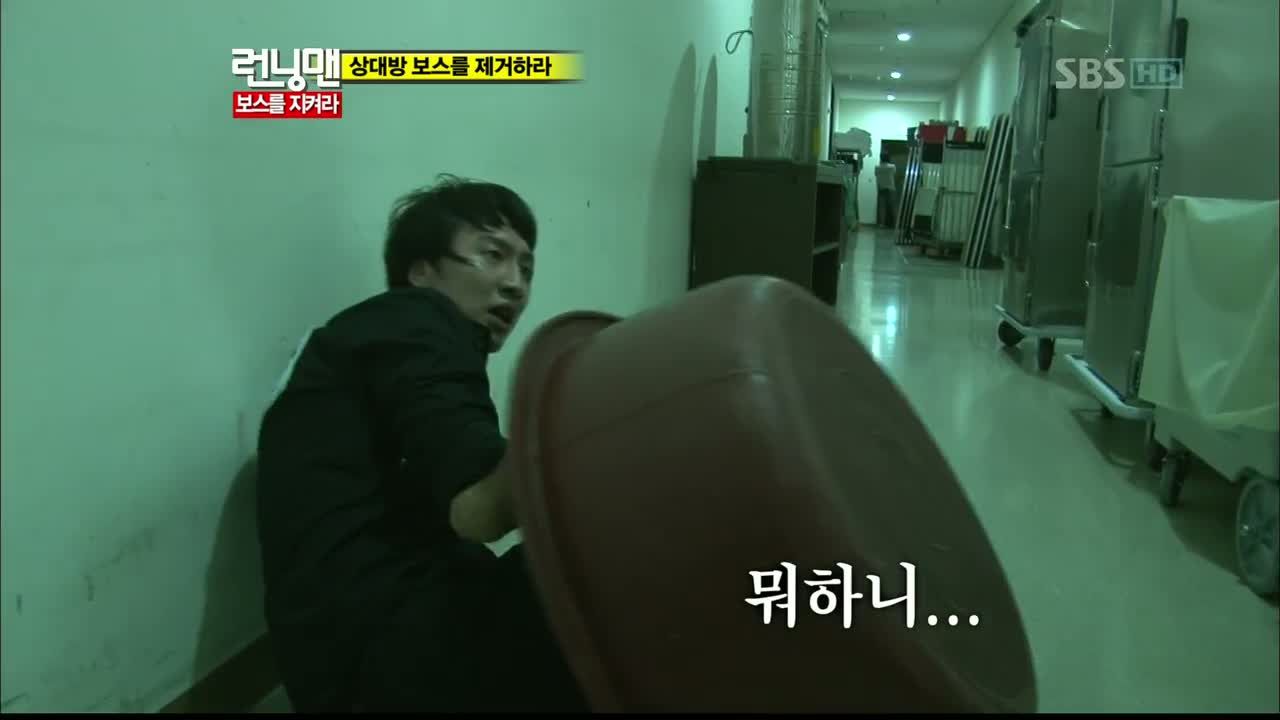 …to attempt to hide under that. LOL. Hm… tall Kwang-soo + small bin = fail. That's simple math, yea?
At a different location, Suk-jin is spotted by Jong-kook and Haha, who force his own elimination by tearing off Haha's name tag by his own hand. HAHAHA. So there was this tactic too – smart Running Men! Now only Gary remains… Jong-kook slinks through the crowd and he rips Gary's name tag off with Ji Sung one step behind him.
Jae-suk almost catches Kang-hee, and he calls Kwang-soo to grab the opportunity to take her out if they cross paths. Just like fate, Kwang-soo and Kang-hee run into each other in the stairwell. Oh yeah, Boss against Boss! Kwang-soo gives her the chance to call for help, but Kang-hee cleverly chirps away their location instead.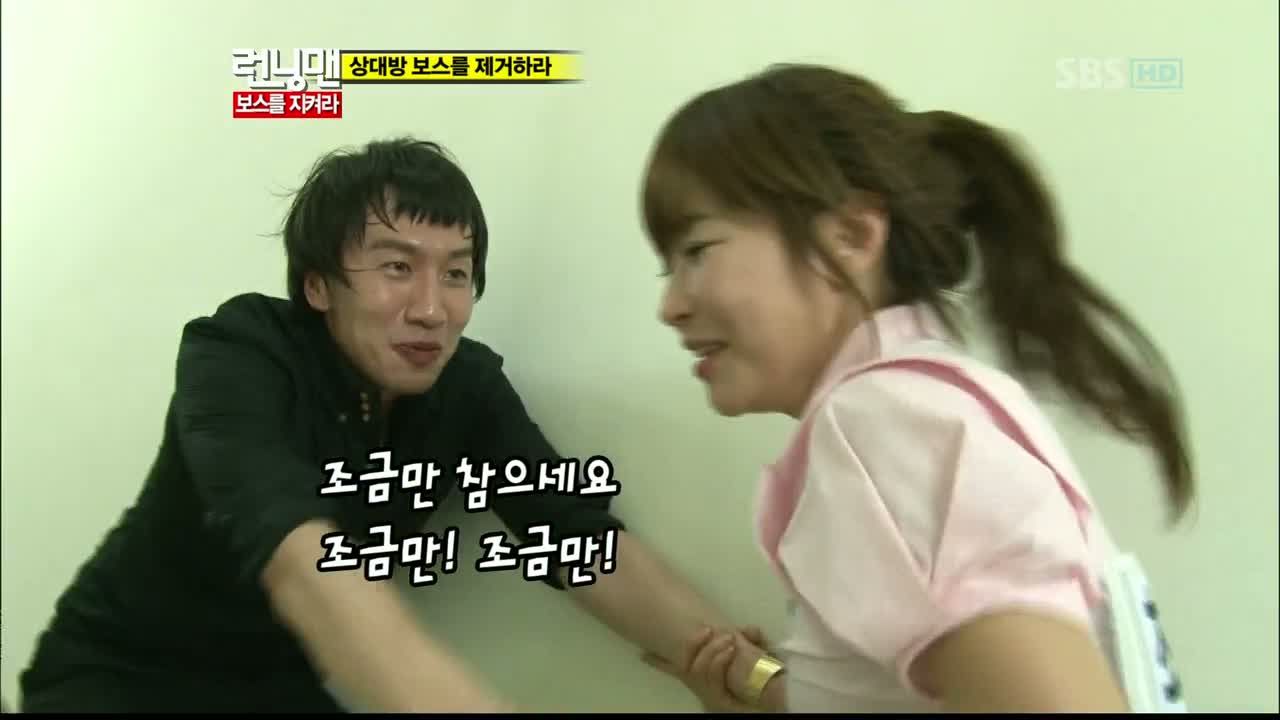 And I love it how aggressive Kang-hee is and Kwang-soo pleads for his life as the Pink Team gain on him: "I'M the hero today! I'm the hero!" Jae-suk hears the commotion from downstairs and runs up the stairs to save his boss…but it's no use – he's too late and the Pink Team rips off Kwang-soo's name tag. With that, it ultimately makes the Pink Team the winners!
Those Running Man gold rings are pretty awesome – where can I get one?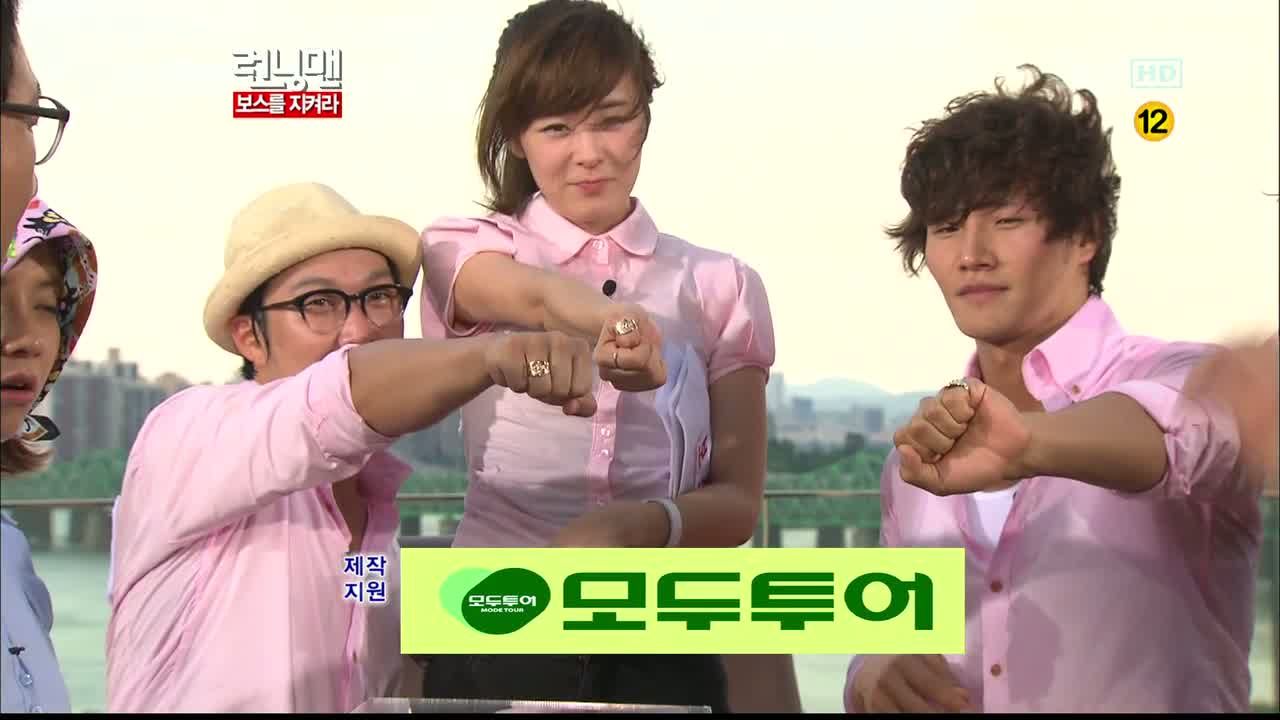 RELATED POSTS
Tags: Choi Kang-hee, featured, Haha, Ji Suk-jin, Ji Sung, Kang Gary, Kim Jong-kook, Lee Kwang-soo, Running Man, Song Ji-hyo, Yoo Jae-suk