Can't Lose: Episode 4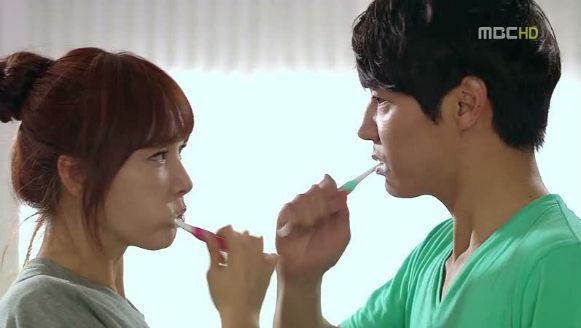 It's war, and it's also the first episode where I sided more significantly with one character over the other. Listen, when you break the heroine's heart, you spend the recap in the doghouse. Rules are rules. Stop looking at me with those puppy eyes.

EPISODE 4 RECAP
Hyung-woo is caught red-handed with his ex Hee-soo, though it's more like he's caught in a moment that looks worse than it is. I mean, that's three lies about one ex-girlfriend, one after the other. Doesn't look good, buddy.
Shocked, Eun-jae whirls around and gets in her car, and then on second thought, whips out her camera to take pictures. Ah, ever the lawyer. It's perhaps a little cynical, but it's certainly smart. There's no denying it with photographic evidence.
She spends the day by the ocean as the betrayal sinks in, and to comfort herself, she stuffs her face with sushi. She eyes the bottles of soju wistfully, but decides against it, perhaps remembering how her last bender landed her in make-up sex before she even forgave him.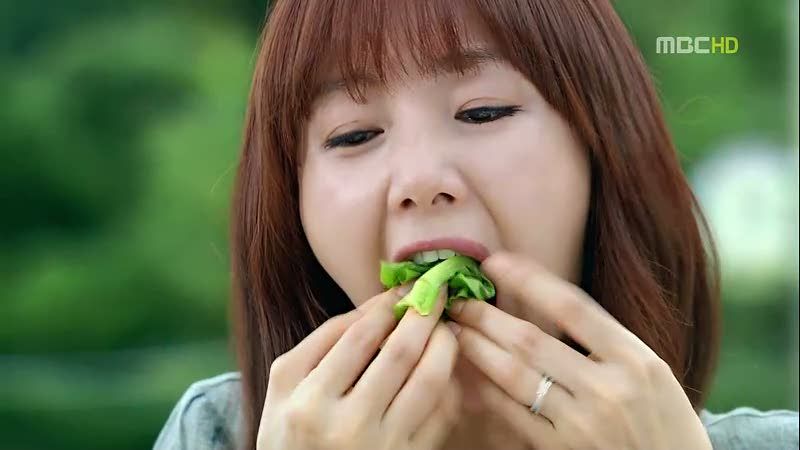 Hyung-woo meanwhile takes Hee-soo with him to try and convince the shop owner to come to court and give a testimony for Potato Grandpa. I don't really see why she's that useful here.
She tells him that she's going to trial for her own case and feeling really alone since no one is stepping up to speak on her behalf, but the cases are so wholly unrelated. It's really grasping at straws, which sort of makes his whole reason for calling her there that much worse.
It doesn't do much good and Hyung-woo comes home that night, dejected from another failed attempt on Grandpa's behalf. He finds Eun-jae schlepping a bag full of beer home, which she proceeds to chug down without sharing.
Hyung-woo tells her about failing down in Seokcho and Eun-jae pointedly asks if there's anything else he did down there, all the while insinuating that it's a nice cover he's got going.
He has nothing to say, so they leave it at that, and he goes to his office. But to his horror, when he sits down at his desk, a giant photo of him with Hee-soo is taped to his monitor. Hahaha. MESSAGE.
He brings it out, demanding to know if she took this picture, how she came to find out… all the wrong things to say. She cheekily asks if he doesn't like the picture or recognize his own face.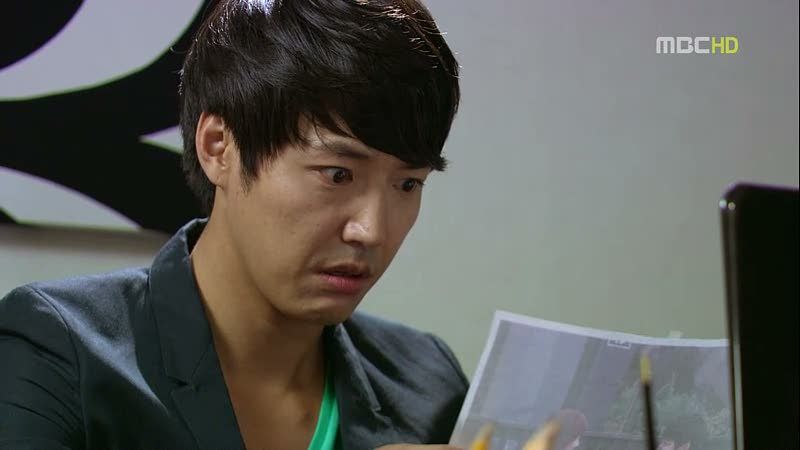 He gets all huffy about her following him, but she tells him calmly that she followed him because he's acting fishy, and that she knows about him dating Hee-soo. That makes him think twice, now realizing that he's got two misunderstandings afoot.
She tacks on the third – that night when he said he had drinks with Soju, when she saw Soju and Gogi, with her own two eyes. (Also, I just love that Soju is friends with Gogi. The foods are friends, the people are friends. It works on so many levels.)
Crap, that's three for three. He flashes back to that night, and we find out that it was actually her mother that he went out with on that particular evening, but he remains silent about it.
Okay, this is getting ridiculous. Do you really think Mother would want you to keep it a secret to the point that it aids in your divorce?? Just spit it out already! Your wife thinks you're cheating on her!
His pride refuses to let him back down though, and he just shouts that he did nothing wrong, so she shouldn't misunderstand. Uh, I think we're way past that. She says she'd rather trust a cockroach, and he just shouts back, "Don't trust me then!"
Eun-jae can't believe his attitude, fully believing that he and Hee-soo have made a fool of her, while he simply stands by his decree that he's done nothing wrong to apologize for.
She raises her hand to hit him, and he blocks her, asking if she thinks he's always going to take this from her. Frustrated and without a way to vent, she clears his desk and storms out.
He follows her out asking if she's really going to be like this, and accidentally kicks her purse…
Haha, she takes it as deliberate retaliation, and proceeds to empty out his briefcase, in what leads to a very silly war on the contents of their purses.
The tension continues to the next morning, when they wake up and see the remnants of battle. They stand on opposite sides and smirk, not nearly satisfied with the death of one measly cell phone.
Hyung-woo brushes his teeth and when Eun-jae comes in to join him, he warns her to squeeze the toothpaste from the bottom, as per his usual OCD. She snarls and puts down the tube, and then takes out a brand new one and squeezes it from the top. HA. It drives him batty, which is just hilarious.
It morphs into a toothbrushing war, while kicking around the remnants of last night's battle. I love how childish they are.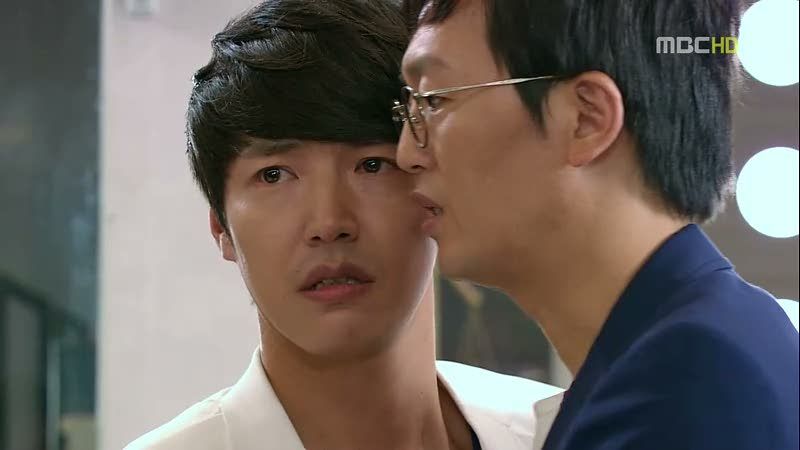 Tensions remain high in the office, and Eun-jae spends the morning nitpicking the other employees. Gogi catches on right away and pulls Hyung-woo aside, practically kissing him in the process, to ask what happened.
Hyung-woo tells him that Eun-jae found about his past with Hee-soo and even followed him to Seokcho… only he happened to meet Hee-soo there. Gogi reacts in the proper way, which is fear-horror-fear, and tells him he's gone mad.
Hyung-woo insists it was for work, but Gogi explains that it doesn't really matter, does it? To illustrate his point, he asks for a pen. He sticks out two pens: one is Eun-jae, and the other is her ex-boyfriend.
Hyung-woo seems unperturbed, musing that someone like Eun-jae must've had lots of boyfriends. Gogi continues, "Then one day, the ex-boyfriend appears in front of you. And they're together, like this…" *prancing pens*
"And THEN, they go to Seokcho! Together! For Work!" Hahaha. Hyung-woo snatches the pens away, wondering if Gogi isn't supposed to be his friend. Gogi just proves his point that it pisses him off even imagining it with pens, so he should just apologize no matter what, "With that sincerity that women like so much, and till your knees break."
Hyung-woo finally wonders if that's what he ought to do, and Gogi urges him, "For the happiness of Hope." Heh. At least they didn't name the office Harmony or Tranquility?
Hyung-woo decides to try and make amends, but he can't bring himself to outright admit he was in the wrong, so he says: "I didn't do anything especially wrong… but I didn't do anything especially right either." Oh, okay.
She just looks at him blankly, "So you and Hee-soo are nothing to each other?" He guffaws that of course that's the case… and then awkwardly answers a phone call. It's from her mother, but he doesn't reveal who it is. Idiot.
He answers vaguely and then rushes out with excuses, and she wonders how on earth she's supposed to trust him when he's acting so suspicious. I don't blame you.
To that end, she looks into how a person would hypothetically go about cracking someone's computer password, but after hearing the flood of techno-jargon in response, she gives up on that approach.
Hyung-woo runs off to meet his mother-in-law, only when he arrives outside, he sees his own mother, sitting across the table from her. He quickly puts two and two together, and hides in a panic.
What commences is a four-square telephone relay, where each mom calls her son/daughter-in-law to advise her on the new contract, not realizing of course that each is talking to the other's child.
Hyung-woo manages to get through it undetected, and then rushes over to Mom's house to try and convince her not to take it to court. But she refuses to listen to him, only sticking to Eun-jae's advice.
He storms into Eun-jae's office to try and get her to back off his mother's case, but without telling her the whole story, why would she back down? It explodes into another fight, and Eun-jae leaves to go meet Hee-soo.
He panics at that, wondering what she's about to do, insisting all over again that it's not what she thinks. Eun-jae wonders that he really doesn't know his own wife at all, and walks out.
She goes to meet Hee-soo to talk over the case, while Hyung-woo calls her over and over. (He's now got her number saved as "Open Lid," after she shouted that her lid was flipped open during their kicking fight, heh.)
She eyes Hee-soo warily while putting up a pleasant front, but can't really find fault with her. She even wonders to herself why he ever broke up with her, since she seems so perfectly normal. Heh.
Hee-soo worries about the amount their lawsuit is for, because she doesn't want to make it seem like she's suing for the money. Eun-jae tells her that it's a fair amount for what she's suffered, and that she deserves it. She swears to win, since "work is work."
As an afterthought she asks if Hee-soo has a boyfriend, and offers to set her up with someone, but Hee-soo declines graciously saying that she's not in the right headspace to date. Eun-jae offers that it might be nice to lean on someone, and Hee-soo brightly tells her that she'll lean on Eun-jae then. Eun-jae berates herself for even asking, feeling the blow to her pride.
The Hope employees gather at Young-joo's restaurant to discuss the office wars, wondering how Eun-jae found out about Hee-soo in the first place. Gogi gasps when he discovers that his wife is the culprit, leading to argument between them, as they take sides.
Outside, Soju walks up with a friend, a judge and an old law professor of theirs played by Sung Dong-il. (It's like a 1N2D reunion up in here.)
Okay, an aside about the nicknames – we find out here that Soju's surname is So, which would explain how he got the nickname Soju. (It follows the same logic for Gogi's nickname from Go Ki-chan.) But then he's also a lawyer, so by title he's called So Byun (Lawyer So) but… that's also the word for "pee." Heh. Hehehe.
Soju pleads with the professor to stop calling him So Byun, and they go into Gogi's restaurant despite the warnings that the couple is in mid-fight. Meta moment: Sung Dong-il tells Kim Jung-tae that he's got a really friendly face that makes him feel affection towards him, despite it being their first meeting.
So the professor sits them down for an impromptu therapy session to air out their grievances, and urges them in a calm and soothing tone not to get worked up. Young-joo complains that she can't be expected to stand idly by when Hyung-woo is cheating, and Gogi shouts that it's not what it looks like.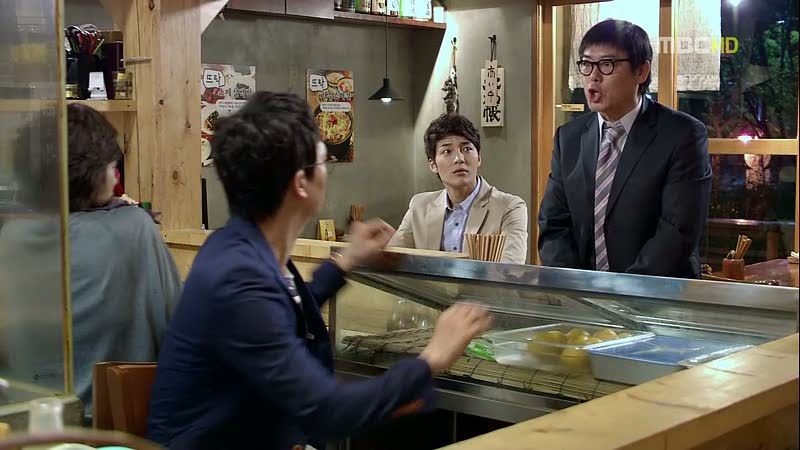 The professor starts to intervene, and then stops to ask, "Hyung-woo? Yeon Hyung-woo?!" He gets up with a start, screaming, "Where is that kid?!" He calls Hyung-woo right away to yell at him directly, and Hyung-woo assures him that he isn't cheating.
He shrinks back in embarrassment, and asks Eun-jae what she's going around saying. She asks if Hee-soo called to complain, and adds that she never once said anything about going to Seokcho with him.
He cringes, and then when she turns to walk away from him, he calls out, "Hee-soo!" OH. NO.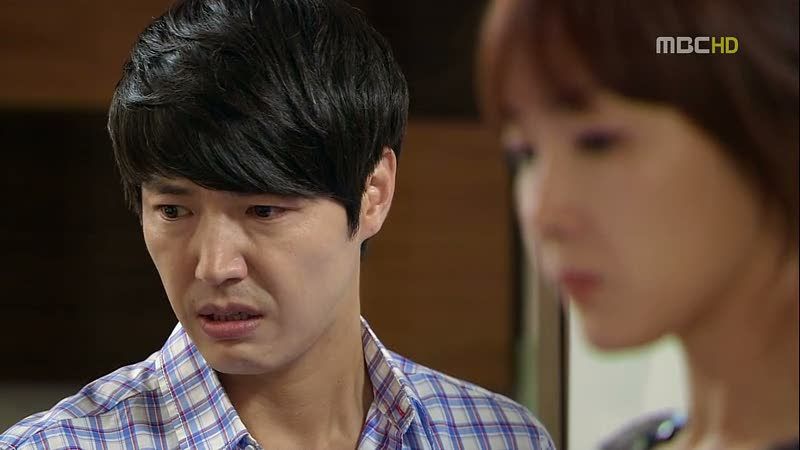 Did you just call your wife by your ex-girlfriend's name?! Are you trying to die? He just awkwardly apologizes for the mistake and they busy themselves with work.
The next day they go to Hee-soo's first hearing, to determine whether they can settle out of court. But her boss is, as described, a first-class ass and a sexist pig, and refuses to acknowledge any wrongdoing. To court it is.
Eun-jae encourages Hee-soo and treats her really kindly throughout the whole process, which Hyung-woo notes gratefully. She gets called away for a chat with the opposing counsel from her old law firm, so Hyung-woo heads out with Hee-soo.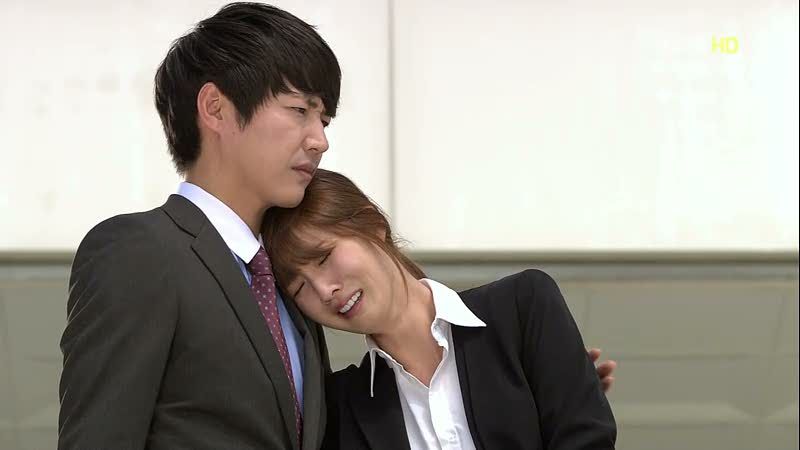 Her boss comes up to confront her with accusations and threats, and she stands up for herself despite it hitting her hard. Once he leaves, she breaks down in tears in front of Hyung-woo, crying that she feels so wronged.
She leans on his shoulder to cry, and he puts his arm around her and pats her on the back. It would be very sweet, except for the fact that you are married, and in fact currently attempting to convince your wife that you aren't cheating. Too many strikes against you.
And of course, Eun-jae comes out of the building and sees them like that. Ouch. That stings in a much more severe way than the Seokcho thing, because that's a misunderstanding, but this is… as gray and murky as it looks.
It's just not Eun-jae's day, as she returns to the office to more bad news, that she lost another case she worked tirelessly on. She sits in a silent daze at her desk all day without moving a muscle.
Hyung-woo returns to the office to find the staff worried for her, and he comes in to try and console her. He tries to tell her to learn to accept losses, but she gets defensive (and metaphorical), wondering if he thinks she ought to just keep taking it.
She sighs and asks him to take her on a drive, but when she names a place she wants to go, he has a quick flash of car crash noises and asks her to go anywhere but there. She thinks he's avoiding another conversation and just heads home, dejected.
She sits at home and looks at their wedding photo, smiling as she remembers how happy they were that day. She goes to the couch to look at the burn mark and runs her hand over it. "Even if the fire gets put out, the scar always remains, like this."
Hyung-woo comes home and they have one of those conversations where one party is completely serious and the other is joking, not realizing that he's saying all the wrong things.
Eun-jae: Do you love me?
Hyung-woo: Out of the blue…
Eun-jae: Answer me. Do you love me?
Hyung-woo: Isn't that a given?
Eun-jae: Say it in words.
Hyung-woo: How can I say words like that, sober?
Eun-jae: Right… You can't bring yourself to say it… Because you don't mean it.
Hyung-woo: What are you talking about?
Eun-jae: You aren't ever going to divorce me, are you?
Hyung-woo: Of course not. Why would I divorce you?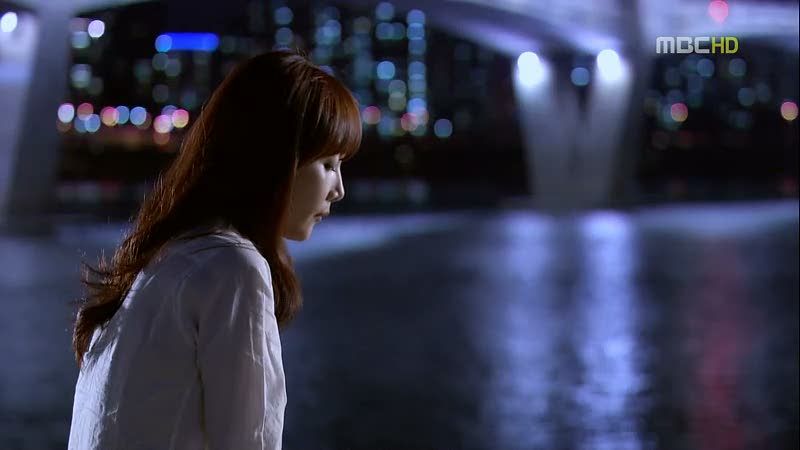 Eun-jae sighs and goes out for some air, leaving Hyung-woo totally turned around. Would it have killed you to just say "I love you"? Gah.
She goes to that great repository of woes known as the Han River and drinks as she contemplates their whirlwind romance followed by fight after fight after fight. I suppose when you think of it as time spent happily in love vs. time spent fighting, the scales tip pretty severely in the wrong direction.
The next morning she comes to work all laughter and smiles, and the Hope staff is understandably weirded out by her sudden mood swing in the opposite direction. Gogi and Hyung-woo eye her nervously, and Hyung-woo finally calls her up to the roof to ask why she's so damn happy. Heh.
She tells him that she's decided to let it all go. Uh-oh. He perks up immediately, thinking that it means she's somehow magically forgiven him. Boys.
He asks if that means she's going back to the Eun-jae from their dating days, and she contemplates it for a moment, "The old me?" And she decides that it could be a good thing. Dude, she means the Single Girl Eun-jae. Don't encourage that.
Hyung-woo remains oblivious, happily telling Soju that he's finally reached a safe and secure place in his marriage. He encourages Soju to hurry up and get married too, suddenly switching his song from "Don't ever get married ever."
Eun-jae drinks at her bar, and HotBar arrives for work. (See, now I don't even want to know this character's name. I've decided to call him HotBar, which transliterated into Korean is also the word for corndog. Don't ask me why.)
He can tell something's up with her, but she smiles it off and says that she's decided to let everything go, and doesn't explain. But he, and not her husband, gah, can tell that something's not right.
On his way to court the next day, Hyung-woo asks Eun-jae to call him oppa, just once for good luck. She counters that he's only a month older than her, but he whines that it'll help him win in court, so she sweetly does her best oppa-pout-wiggle, sending him over the moon.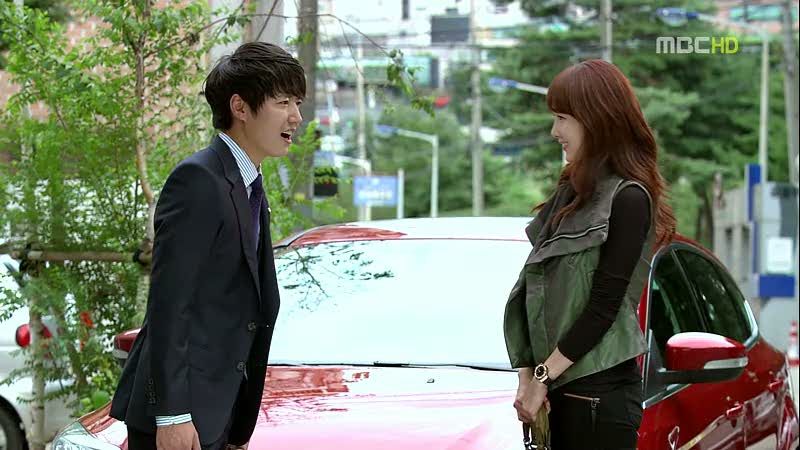 He doesn't catch one key turn of phrase though, when she says, "Okay, because it's the last time… Oppa~~~" This does not bode well.
It's time for Potato Grandpa's case, and Hyung-woo wins in court, and even manages to get that ajusshi witness there, despite arriving too late to actually help. Regardless, it's a heroic victory for Hyung-woo and the Little Guy.
He rushes back to the office feeling like a king, and goes straight to Eun-jae's office, but finds it empty. The rest of the staff cheers for him, and Gogi hands him a letter from the court.
He opens it to find… divorce papers. DUN DUN.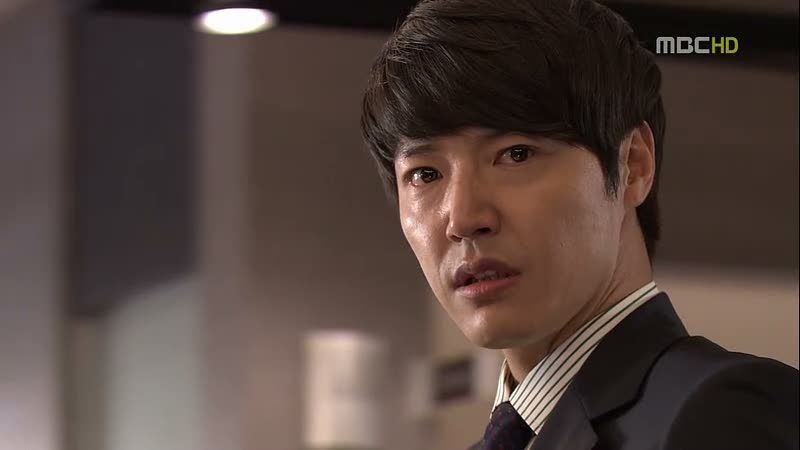 COMMENTS
Yay, it's begun! I know, what a weird response to divorce papers. But I'm glad from a story point of view that the central conflict has taken flight, now that the couple's relationship has been established. I like that there are sufficient reasons for them to stay together OR separate – because otherwise it's not an interesting drama.
Now we've got an alternative in play that so far puts Eun-jae more at peace, even though she's presupposing that he doesn't really love her. There were a hefty number of misunderstandings to maneuver them here, but at the core, I think their issues are real and not just explained away by Mom and other excuses.
While I think it's stupid to have Hyung-woo continue to keep his trap shut like an idiot, I don't think that their relationship is all that solid to begin with, so I don't doubt that this is where they'd end up. The point is to go backwards and get to know each other, oddly enough through the process of divorce.
It seems like there's a lot they have to discover about themselves as well, which I think will be the rewarding part of the journey for them. While their immaturity is comical, it's certainly something they'll have to overcome if they ever want to make their way back to each other.

RELATED POSTS
Tags: Can't Lose, Choi Ji-woo, featured, Kim Jung-tae, Lee Soo-kyung, Yoon Sang-hyun