Can't Lose: Episode 8
Hugs, fisticuffs, and forced skinship galore! I love embarrassing group therapy. It's just what a stubborn couple needs – to be the losers at something together, just to take them down a peg or two. We're halfway, so it's time for some big revelations, as well as some resurgence of those pesky feelings, just to gum up the works.

EPISODE 8 RECAP
Hyung-woo's mother storms in and kicks the court official out, insisting that there won't be a next time for him to meet the couple again. She sits them down to hear it straight from the kids, despite having heard every little thing from Gogi and Soju.
She's talking to Hyung-woo, who tries to avoid eye contact (yeah that doesn't work with moms) and then looks to Eun-jae for help. Mom snaps at him, wondering why he's looking at her, when she didn't do anything wrong.
Whoa. Is Mom taking Eun-jae's side? Well that's a first. Eun-jae looks up, startled. Mom continues to Hyung-woo that he acted plenty suspiciously, so he has no leg to stand on. She tells him to apologize and beg forgiveness, and that's that.
He can't believe Mom's taking Eun-jae's side, and she doesn't even argue that she's not: "It's because I've been married to someone exactly like you, so I know what it's like." HA. Touché, Mother. Touché.
She tells him that he does whatever he wants and he knows it. And Eun-jae ekes out a little smile, feeling slightly vindicated. Hyung-woo just tells her that it's Eun-jae who wants the divorce anyway, and storms off.
Mom sits down next to Eun-jae and asks her to reconsider for Mom's sake, because she can't abide watching her son divorce. Eun-jae just hangs her head and apologizes, saying that they're just too mismatched.
Mom tells her to do as she likes then, and moves on to Plan B.
Eun-jae tells him that the recorder was a fresh shock, and stews at his tipping the scales in his favor. She decides that the emails will be her big strategy. At the same time, Hyung-woo decides that HotBar will be his big ace.
Eun-jae begs Woo-shik to be a witness for her divorce case, but he refuses to do it. He tells her that marriage is hard but divorce is harder, and that he doesn't want to see Eun-jae lonely. Aw.
She sighs that she can't trust Hyung-woo anymore. She can't help it, but she thinks about him and Hee-soo, every night before she goes to sleep, and her heart sinks. She says it feels like she's in a one-sided love.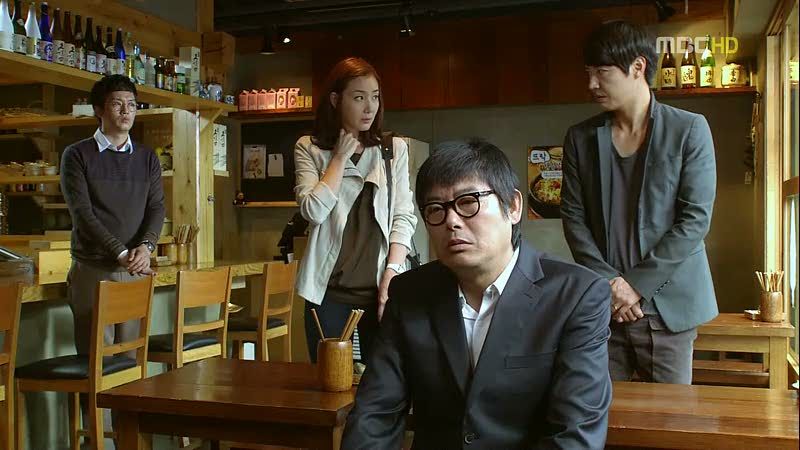 At the same time, Hyung-woo tries to convince Gogi to be a witness for his side, and Gogi does the same and refuses. Eun-jae walks in, about to ask Young-joo the same thing, and she answers for both her and Gogi, that they won't take sides.
Professor Jo walks in, ignoring them per his usual bizarre habits, and then when the couple stands behind him at attention, he treats them like invisible buzzing flies, wondering why this place is filled with such useless people.
They scram before he gets mad and takes it out on their divorce proceedings. Heh. He totally wins for most passive-aggressive mentor ever. He wonders aloud why they're running around all stuck together, when they're trying to get divorced. Good question.
Meanwhile it's the Meeting of the Moms, and Hyung-woo's mother spills the beans about the divorce, sending Eun-jae's mom into an uproar. But Hyung-woo's mother has already been down that road, and calmly tells her that she's not going to convince them not to get divorced by running over there and yelling, especially since her daughter refuses to see her.
She declares adorably that they don't have heads just to get perms, and that they should put their heads together to come up with a plan. Aw, yeah. Moms vs. Kids. It's on!
While the kids are busy trying to recruit witnesses to their sides (everyone refuses to testify except Deuk-hee, who happily announces that she will go to whomever treats her the best), the moms have thought up a strategy.
They call Gogi and Soju over to act on their behalf. How much do I love that the moms are teaming up, and that they have double agents working for them?
Gogi and Young-joo call the couple over and agree to testify for each of them… only there's a catch. They have to attend a Couples Healing Camp with them, and try their best while they're there.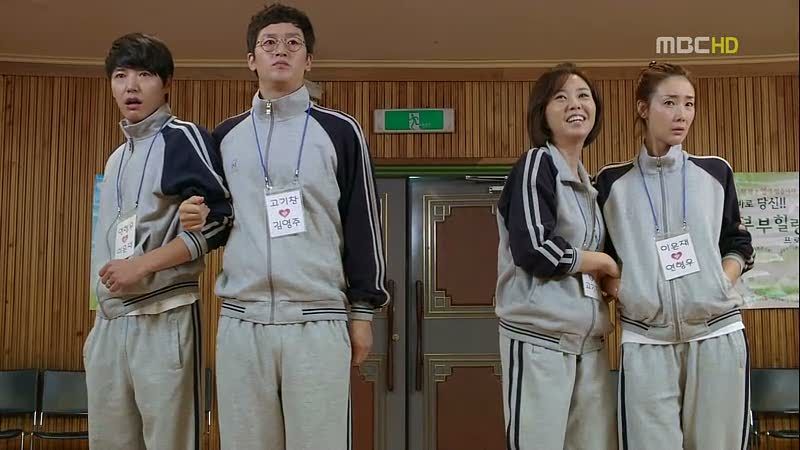 Hee. Trust moms to pick something embarrassing for them to do. Eun-jae agrees, which surprises Hyung-woo, and they agree to go as long as Gogi and Young-joo sign contracts that they will testify if they do this.
The foursome heads to camp wearing matching sweats, and Gogi and Young-joo stick to each other like glue, while Hyung-woo and Eun-jae turn every little thing into a battle.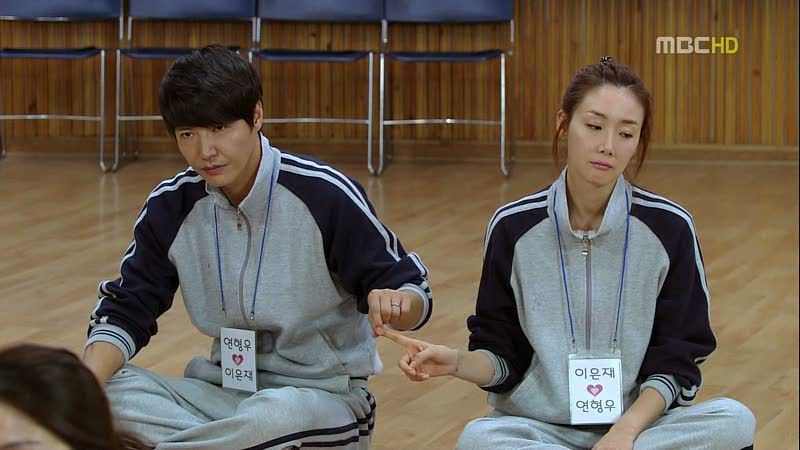 They're told to hold hands, so Hyung-woo pinches Eun-jae's finger and holds it up listlessly, like she has cooties. Eun-jae in turn grabs his hand and twists it violently, like she's trying to mug him or something.
Watching Gogi and Young-joo act so lovey-dovey just gets them angrier, and they take to massaging each other like stress therapy… for the person giving the massage.
Hyung-woo lands on the floor, writhing in pain, while Eun-jae tries to laugh it off like he's being a big baby. Heh.
Next is eye contact and saying "I love you," which Hyung-woo mumbles half-heartedly, and Eun-jae rattles off in some mangled version of English-Chinese-French.
And then when they're told to say it five times over, Eun-jae totally rats him out to teacher when he only says it four times. Hehehe. Oh, the petty.
Gogi and Young-joo scoff that they hardly participated at all, and at the fear of losing their key witnesses, the couple swears to do better next time. Oh, it's like a weekly class? Even better.
The boys work on their case, and Hyung-woo tells Gogi about Eun-jae's other man. He asks Gogi to testify that he saw them, and he balks at lying. But he's surprised that Eun-jae would have another guy. The girls work on their case, and Young-joo is equally surprised to hear about Hyung-woo's two-year correspondence, agreeing that it's definitely not with Mom.
Hyung-woo comes home but only to pack a bag, since they're fully in war prep time. But he stops when he gets another email from Green Tea. It turns out it IS his mother, only it's clearly not a message directed at him. It says that she's upset and that Hyung-woo is getting divorced.
Oh MAN. It's to his little brother, isn't it? He's been pretending to be Little Bro this whole time, to ease his mother's heart at her youngest son cutting off contact. Aw. That kills me. *heart hurty*
He heads to the office, with no real plan other than to sleep in his chair, so Woo-shik offers his place. But when Hyung-woo arrives, he's horrified at the mess, and Woo-shik just sighs that such is the life of a divorced man.
I don't think this is a tactic necessarily, but it's brilliant if it is. Hyung-woo starts imagining himself living this way, becoming the same — a slovenly ajusshi with nothing but law books and beer. It horrifies him and he tries to shake it off.
But we all know that Eun-jae's the one destined to become the messy one with empty beer cans and instant ramyun containers stacked to high heaven. She sits alone in the apartment, exploding another bag of chips and saying aloud to convince herself that it's really comfortable living this way.
Woo-shik tells Hyung-woo that he had a "girlfriend" while he was married; not someone he cheated with, but a friend he talked to, said things he couldn't tell his wife. But that was more of a betrayal to his wife than if he had cheated.
He tells Hyung-woo that sometimes men do things without thinking it a big deal… but they are a VERY big deal to women, and can leave big scars. It gives Hyung-woo pause apparently he's new, and hasn't considered this before. Woo-shik asks him not to tell Eun-jae that he's staying here, since it might give the impression he's taking sides.
At the next Couple Healing session, they have to pop a balloon between them so they reluctantly try, bickering all the while. Finally Hyung-woo just grabs her in a hug, and it sends shock waves through both of them.
Their hearts start to race, and they stay suspended in the moment, confusing feelings rising back up… until a balloon pop from Gogi and Young-joo bursts their bubble in more ways than one.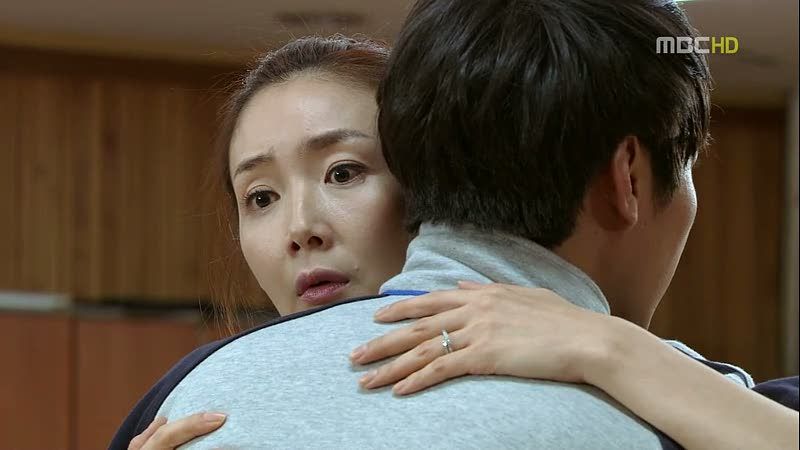 Then it's speed quiz time, and they fail miserably, just so out of sync with everything. The last one is "Lee Eun-jae," and Hyung-woo tosses out the clue: "The thing that's most important to me!"
And Eun-jae calls out everything BUT her. He finally says, "YOU!" and then she guesses: "Trial? Divorce?" Oh dear. After the clock runs out she looks back and sees her name on the placard, and asks bitterly, "Since when?"
Gogi and Soju report to Team Mom that their plan isn't really going so well. Soju wonders if they're forced to be together, given more time, things might work out. But Gogi worries that the "together" part of that plan is faulty, besides which, time isn't on their side.
Eun-jae's mom worries, so she goes to find Eun-jae, and drags her away for coffee. She asks about the divorce, but Eun-jae is as cold as ever, wondering why it's any business of hers.
She reminds her that Mom was the one who made the choice when she left to go tend to "That man" in his sickbed. Mom reminds her that it's her father she's talking about, but Eun-jae scoffs at the moniker, never having had a father once in her life.
She then opens up a little about her childhood. She tells Mom that she was an outcast all throughout school because the kids knew she didn't have a dad. Once, "that person's wife" came to school and said that he was cheating on her with Mom, and slapped her across the face. Yikes.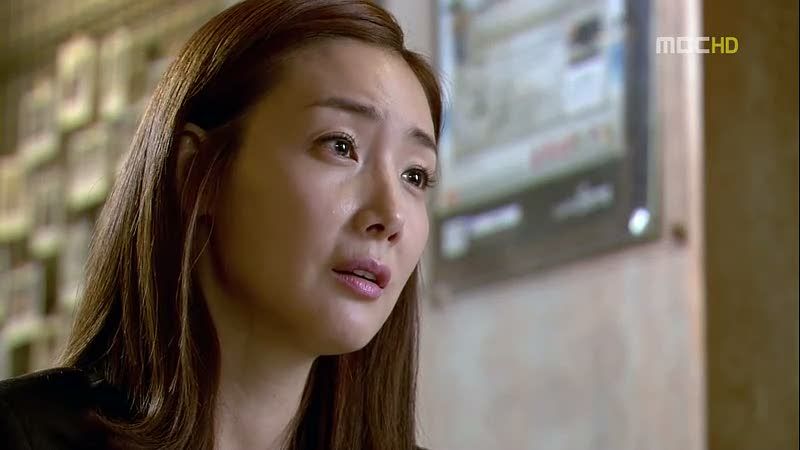 She had no one to lean on and no one to talk to, and Mom always raised her harshly. Mom says that was because she wanted her to be strong, and not be lacking anything despite being without a father.
Eun-jae: "Thanks to that fact, I was really lonely." Mom tells her to live well with Hyung-woo then. But Eun-jae sighs, "When I'm with him, I'm even lonelier." Aw, that wrenches my gut a little.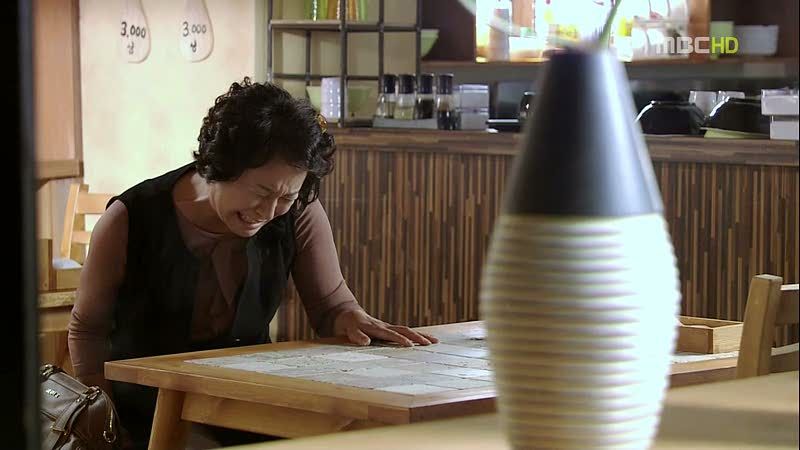 Mom returns to her restaurant and breaks down in tears. I wonder how much this relationship might be repaired if Mom and daughter stopped being so prideful and outwardly strong, and just cried in front of each other instead of waiting to do it alone.
Also, I'm now concerned for HotBar if he does turn out to be her brother, because if they share this same father, then his googly eyes at her are not so much with the kosher.
The couple spends the night before their first trial date grilling their witnesses, but come the day of, Gogi and Young-joo hold their ground and neither shows up to court. Hyung-woo's mom does, though, and starts beating him with her purse in front of everyone. Heh.
Soju and the others have to drag her out, and then they begin with the evidence that they have – pictures of each other "cheating," and copies of Hyung-woo's two-year correspondence with Green Tea.
It's the last one that gives Eun-jae the stronger case, and Hyung-woo insists he didn't lie. But Eun-jae surprises him by saying that it doesn't matter, because what she cares about isn't who they're addressed to, but what they say.
She describes them as using uncharacteristically kind and sweet words, describing his inner thoughts and everyday worries, and wonders how he could write those things to someone else, and not his own wife.
It's the fact that he shared this part of himself with someone else but never once with her. And it's clear that Hyung-woo's never considered it that way before.
Judge Jo tells them that the emails are indeed noteworthy, giving Eun-jae the advantage. But he notes that they should bring stronger evidence next time, and adjourn for now.
They return to the office and Eun-jae thanks Gogi for not showing up, since it's given her the upper hand, and Hyung-woo swears him off as a friend, reminding him that if she wins, it's divorce. Oh, I sort of forgot that too. He sighs to Gogi that he thought the big deal would be the recipient of the emails, not their content. He clearly remains as confused about girls as ever.
Eun-jae decides that she has to do something to land the case next time, and heads over to Woo-shik's place with groceries. She surprises him at the door, sending Woo-shik and Hyung-woo into a panic.
They stop in the middle of their meal to grab all of Hyung-woo's things and then stick him in the bathroom, since there's nowhere else to hide in the studio apartment.
Woo-shik gets through the entire meal with Eun-jae, desperate to use the bathroom, and finally gets her to leave by saying he'll think about testifying on her behalf.
Hyung-woo heads to court for his juvenile delinquent case, worrying to Gogi on his way out of the office about finding that her mother moved to Japan three years ago. Eun-jae hears that and shows up, to give the young girl some firsthand advice.
She tells her not to think about anyone else but herself. She advises to turn to herself and be her own friend. "It's not so bad. I should know… I've done it." She tells the girl to confess and turn herself in, and then she'll meet her on the outside.
"And then I'll give you that thing you've drawn in your dreams – warm encouragment." The girl cries, wondering how her mother could have abandoned her like that, and Hyung-woo watches the whole scene soberly, perhaps only seeing a glimpse of Eun-jae's pain for the first time.
On her way out, Eun-jae gets a call from her mother-in-law, asking one last time if she intends to go through with the divorce. Mom declares that it's ON then, and says she's kicking her mother out of her store. Oh, playing dirty. Nice.
Eun-jae tries to shrug it off like she doesn't care, but of course she does, so she checks on Mom's store, but it's already closed. She calls, (Mom's number is saved on her phone as "Always Missed") asking if she's going to give up like this, and ends up telling Mom to do as she likes.
Apparently Mom also lives at her store, so Eun-jae wonders where she is, but Mom doesn't say. It turns out she's at Hyung-woo's mom's house, sitting right next to her. Ha.
Eun-jae's mom thinks it's too much to stay here, but Hyung-woo's mom insists on it, pleading that she's the one who needs company because she's so on edge from her son's divorce. Aw.
Woo-shik comes home and finds Hyung-woo's recorder lying around. He's startled to find what's on it, and wonders what to do…
Hyung-woo waits outside for Eun-jae to come home, and flips out to see HotBar driving her home again. He whips out his camera, but then when he sees Tae-young going around to help Eun-jae out of the car, he runs up and stops him.
Tae-young remarks dryly that he's showing a lot of concern when they're knee-deep in divorce, and tosses out that he should've been better to her when he had her. Ooh, them's fightin' words.
Hyung-woo shouts that he doesn't know anything, but Tae-young comes right back: "I know everything!" It actually escalates into fisticuffs, and they each throw a punch.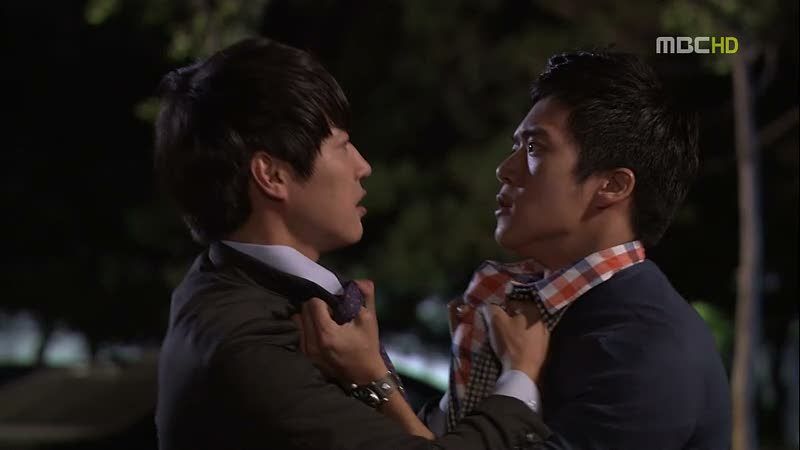 They grab each other by the collar, and Eun-jae steps out of the car, sing-songing at their idiocy. Eun-jae: "Lee Tae-young, you're actually hitting him?" Tae-young lets go reluctantly.
Hyung-woo scoffs that he sure does listen to her well, and raises his fist for another punch. But Eun-jae calls out, "If you even try to hit my dongseng [little brother]…"
It stops Hyung-woo in his tracks. Spoken in this context, all of a sudden what he thought meant "younger man" sounds a LOT like Little Brother…
He stops… "Dongseng? As in… brother?" Eun-jae points out that she DID say it before.
OMG, they are totally brother and sister! EEK! Well jb totally wins that score, but dude, what's with the sad puppy eyes from HotBar and all? I get that it was a deliberate misdirect, which is awesome, but those googly eyes were no joke.
I will choose to reinterpret past events as Little Bro sighing over his noona's self-destructive choices, and not at his sad puppy love. Oy. It's gonna be hard getting my head adjusted to his NOT being in love with her.
Hyung-woo asks Tae-young meekly if it's true, and then when he sees that Eun-jae is mad at the both of them, tries to befriend him: "She's scary, huh?" Hahaha. Tae-young just eyes him warily and walks away.
Hyung-woo calls after him, calling him by his family title for wifey's brother, and they share a bottle of soju, though Tae-young remains aloof. Hyung-woo wonders that he's not even Hong Gil-dong, but he can't call his mother-in-law Mother-in-law, or his brother-in-law Brother-in-law.
Tae-young says he heard it differently – that he's exactly like Hong Gil-dong, running around trying to save the poor while being of no help to his sister. Aw, why are you so cute? I suddenly like him ten times more now that his love for Eun-jae is all noona-love.
Hyung-woo asks why he doesn't call Eun-jae "noona," but Tae-young bristles at the sickening sweetness of calling her that. (But we can infer it's more to do with the awkwardness of their family dynamic rather than his hatred for saccharine words.) He doesn't divulge the family details, and suggests he hear it straight from Eun-jae.
He comes home and asks her how she's related to Tae-young, but she doesn't tell him either. She just says that the important thing is that he's lost another bit of evidence against her in court, and they get ready for Round 2.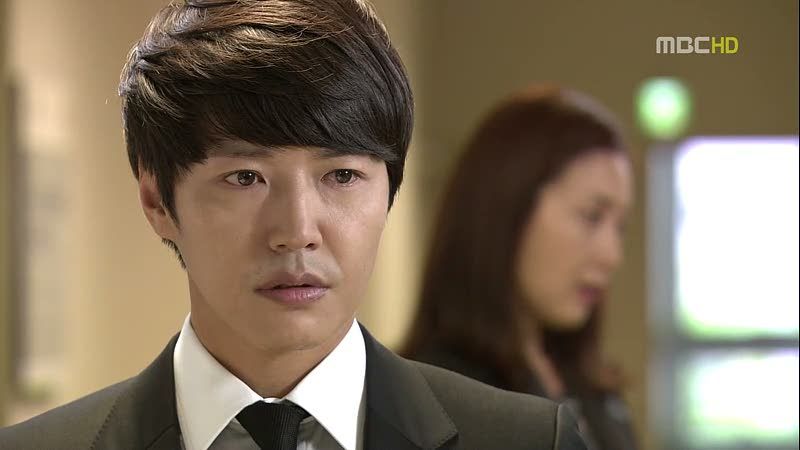 They show up in the courtroom, and Eun-jae prepares to have Woo-shik take the stand on her behalf. But when they start, Hyung-woo calls a surprise witness, someone he says is sitting in this courtroom.
Eun-jae agrees to it, so Hyung-woo calls his witness forth… and Woo-shik stands up.

COMMENTS
I'm still reeling from the Little Bro Revelation (actually I was reeling more yesterday when jb suggested it). While it's true that Eun-jae DID call Tae-young her dongseng before, I think she's just as guilty now of misleading Hyung-woo and not clarifying her actions. She totally let him believe she had a boyfriend (or at least a cute crush), knowing he was planning to use it against her in court.
I still feel like Tae-young's got some issues to resolve with his soulful staring at his noona. I guess the door's still left open for them to be wholly unrelated by blood, though it's starting to look a lot like they share the same deadbeat dad.
I'd guess that he's one of the legitimate children, while she's the illegitimate one, from the mistress. That would mean Tae-young's mom was the one who slapped her as a teenager, so there's certainly a lot of awkward family history between them, if it's true.
I'm suddenly much more interested to know the ins and outs of that relationship than spend more days in court, that's for sure. I think it's funny that their divorce case basically amounts to a competition between them to see who their friends and coworkers like more. So petty. Hopefully Woo-shik's testimony will sway the case one way or another, though clearly our couple has a long way to go, whether in or out of court.
It's looking more and more like the way to Eun-jae's heart is to help heal her family pain, which I like much more than a simple assurance of love (though for them that's a big feat as well). It gives the couple's conflict much more dimension, and makes the battle that much harder, but more rewarding in the end.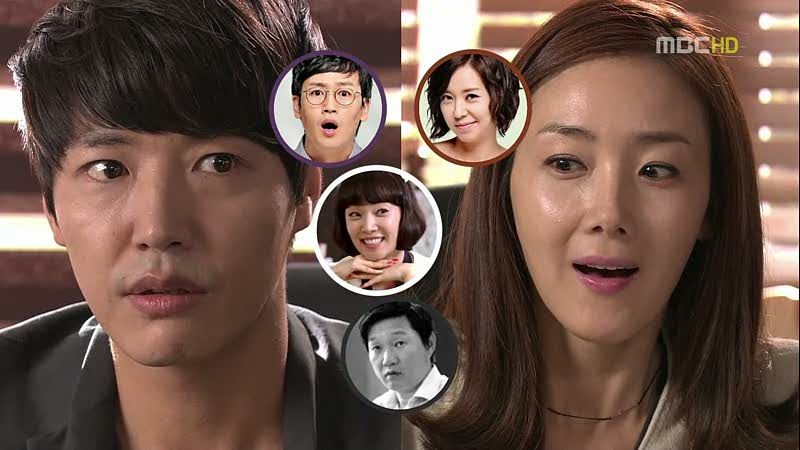 RELATED POSTS
Tags: Can't Lose, Choi Ji-woo, featured, Ha Suk-jin, Kim Jung-tae, Yoon Sang-hyun