Gong Yoo, shedding his softer image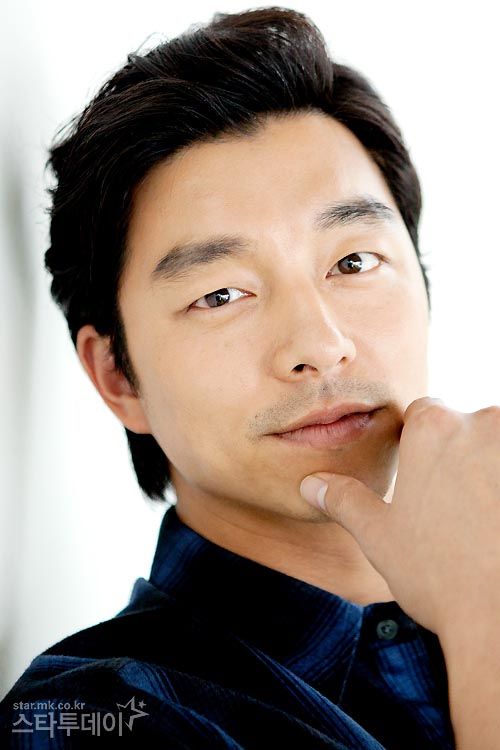 He's back! He went off to the military as a sweet loverboy boss in Coffee Prince, and came back a different man in his upcoming movie, The Crucible. If you've seen the trailer, damn — he takes his acting skills up a notch…or two…or three. In this Star News interview, Gong Yoo talks of his years in the military, what it's like to be back and shedding his image as the typical leading romantic actor.
Gong Yoo has been typecast as the gentle and romantic guy in his previous projects.  And why not?  He was boyishly charming in Coffee Prince, and adorkably cute in Finding Mr. Destiny.  But he has taken a huge leap in his acting with The Crucible, which is based on Gong Ji-young's novel of the same name.  The novel is based on a true story of the terror that went on behind closed doors at a school for the deaf.  (It makes me just shudder to think that the ones you should be able to entrust your chidren to can turn out to be the definition of evil in human form.)
The movie is reportedly dark, chilling, and terrifying.  Gong Yoo read the novel during his days in the military and was shocked and horrified. He decided that if the novel was ever made into a movie, he would become a part of the project. Then his personal magic genie (a.k.a talent agency) went on to buy the rights to the film, and a movie was in the making.
Receiving wide attention for this movie, Gong Yoo states that he is merely a person who relays the story, and that he was lucky enough to be brought into the project when there were so many others who have put their hearts and soul into making the film.  Hot, talented, and now modest?  Tell me he can cook, and I'll be putty in his hands…
Even though this project is of a dark and disturbing subject, it is the first project you ran to.  Is it because you were trying to shine a light on this dark story to bring to others' attention, or did you just find yourself going along for the ride?

I lost my sense of individuality in the military.  When I thought of getting involved in the movie, I didn't think about how difficult it would be.  All I knew was that I wanted to do the project with every breath I took, and every move I made.  It is true that I had concerns of how to tackle the project when the filming started.  But I knew that this was a story I wanted to tell no matter how long it took to tell it.

Did you feel a sense of duty to tell the story?

It wasn't because I felt the need or sense of duty as an actor to tell the story.  It also wasn't because of the attention this character may bring me.  All I felt was this surge of compassion for those students in the story.  It was the images of those students who couldn't do anything for themselves in those terrifyingly darkened alleys.  Even the people around me were wondering why I would want to do such an ominous project.  […and I guess that's why those people aren't Gong Yoo.]

After your discharge, you went back to the safety net of films such as Finding Mr. Destiny, but you shocked us by following that up with The Crucible.

Finding Mr. Destiny wasn't really a safety net either.  I'm not one to keep going for safe and easy projects.  People tend to think romantic comedies are simple and easy projects.  All I thought was that I wanted to make a really good quality romantic comedy.  That's what made me go for Finding Mr. Destiny.  It wasn't because the movie was a feel-good fluff film which I thought I'd be good at.
The Crucible is an adventure for the actors, writers, and the investors alike.  Like the movie Voice, movies based on true stories have a weighted ambiance that is felt by the audience.

I told myself the same story before the filming started, as well as after it wrapped.  If this movie ends up doing well, then of course it is a good thing.  However, if I go into this project just hoping for a box office success, then I probably shouldn't do it.  We all made this movie with the same thoughts and hearts.  I'm just so thankful to have been a part of it.

The image you've had as the gentle ladies' man must come with a certain preconceived notion. You must have some interest in knowing how that image may have changed.

If I were to say I didn't feel a certain amount of apprehension regarding how my image perception may have changed, I would be lying.  However, since returning from the military service, I have become more accepting and comfortable about how others may view me.  I have never had the thought to pick a project just because it was a the type of project I was used to and comfortable with.  I never had those thoughts from the beginning.  If you were to take a look at my list of projects in the past, you may think there's quite a bit of contradiction in that.  I even had disagreements with my managers because of this and there was even an instance when I ran away because I didn't want to do a project.  

In saying so, I hope that the first thing people talk about regarding the movie isn't about Gong Yoo.  If the movie becomes about how Gong Yoo came to do this movie, or how Gong Yoo told the story in the movie, that really won't do.  I worry that such talk would interfere with what The Crucible really is meant to portray.  How I have transformed for the movie isn't what's really important here.

As you've mentioned, you're not someone who easily shows your emotions. This couldn't have been an easy role for you to play.

Because of that reason, I had a lot of concerns.  Even working to the point of exhaustion, I still felt the pull of the character.  Even when the director told me it was fine, I couldn't shake it off… Therefore, it was really difficult.
What did Gong Ji-young, the author of the novel, have to say?

I was worried that writer Gong Ji-young was being given the impression I was trying to negotiate doing a movie of her novel or something… but that isn't what happened.  Just that if the novel was to be made into a movie, I wanted to become a part of it.  Luckily, she was thinking of turning the novel into a movie herself.  When it came to my acting, I was told she said it was a movie that I could tackle as an actor.  When I met her myself, she cheered me on and told me to give it my best.  I felt as though she was proud to be there to watch me bring this character to life onscreen.

How much are you hoping this movie will succeed?

I don't think it's right to say "Please enjoy the movie."  I just hope that through this movie, we can increase the awareness of such heinous acts as told in the story about these students.  It would be nice if more people could feel what I felt after being made aware about this story.  If that happened, maybe such crimes could be prevented in the future… I would like to believe that.

As a popular artist, I'm sure there's a need for you to do more popular commercial projects in the future

I would like to do an independent film sometime as well. Re-Encounter [혜화,동] was a really enjoyable movie to watch.  I really want to do a project with director Min Yong-geun.  There are a lot of people wanting me to do a television drama too.  However, my last drama, Coffee Prince, was so popular that there's a lot of pressure in doing a television drama versus a feature film.  I would like to become an actor who can be a positive addition to the Korean film industry.
Catch Mr. Delish in his new move, The Crucible, when it opens in theaters September 22.
Via Star News
RELATED POSTS
Tags: Gong Yoo, interviews