High Kick 3's family tree, relationship chart, and lovelines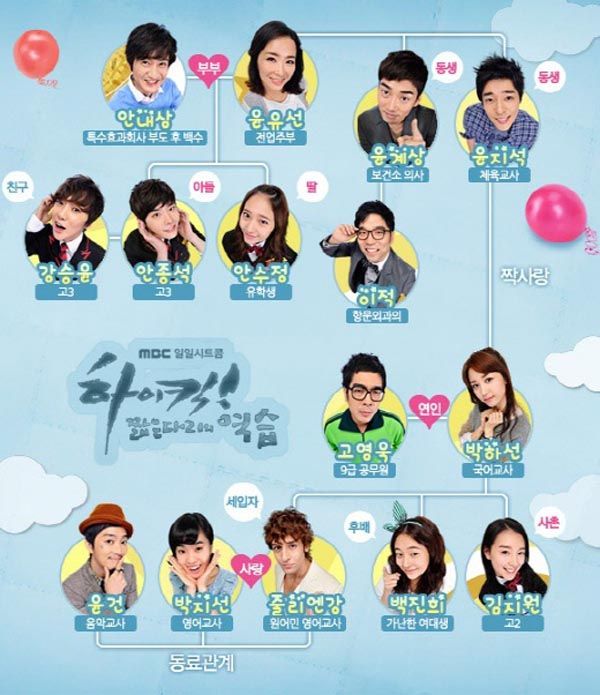 Ah, the family tree/relationship chart is out for High Kick! Counterattack of the Short Legs, which is great for getting a quick overview of the cast/family structure. I'd read little bits and pieces of the various character descriptions, but with more than a dozen actors in the main cast, it was confusing keeping everything straight.
So let's break this down, starting at the top:
The couple at the center of the show are spouses Ahn Nae-sang (playing a failed businessman) and Yoon Yoo-jung (pre-menopausal). His business failure aggravates her pre-menopausal mood swings, although she can have a temper fit one minute and then calm down immediately as though nothing happened. I foresee lots of confusion on hubby's part.
Her younger brothers are Yoon Kye-sang (Poongsan) and Seo Ji-seok (Manny), the latter of whom will go by the name Yoon Ji-seok in this sitcom (the lone Seo loses out against two real-life Yoons, heh).
Kye-sang plays a doctor who quits his job at a university hospital after he's reprimanded for taking on patients who can't pay and giving them surgery anyway. Now he works at a health clinic and has the character quirk of talking to children in jondaemal. (Cute!) He treats his patients with warmth, but he's got a steely spine underneath that can be surprising, and has an especially annoying effect on bro-in-law Nae-sang. Hee.
Little bro Ji-seok is a high school gym teacher, described as "simple, dumb, and hot-blooded." Ha, and aw. He gets angry super-fast, but calms down super-fast as well. Just like noona, except he doesn't have menopause to blame for his mood swings. He's described as pure like a child.
Immediately below we have Nae-sang and Yoo-jung's two children: (Lee) Jong-seok (his character's surname is Ahn, following Dad's) and Soo-jung (pop group f(x)'s Krystal). Soo-jung (which happens to be Krystal's Korean name) is now back in Korea after studying abroad in the States, while Jong-seok (Secret Garden's Sun) is in his last year of high school, alongside buddy Kang Seung-yoon.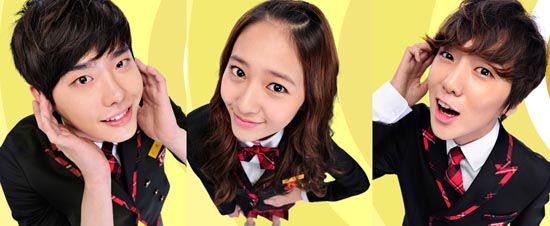 Gym teacher Ji-seok suffers from a crush on a fellow teacher at his school, Korean language instructor Park Ha-sun (Dong Yi's queen). Ha-sun is decribed as a "heo-dang angel," which means she's pure and angelic, but also kind of bumbling. She's always apologetic, even when she hasn't done anything wrong.
Too bad for Ji-seok, his feelings aren't reciprocated, since she's dating Go Young-wook (musical actor and former '90s pop star with Roo'Ra. Ha, remember them?). Poor lovelorn Ji-seok. Will he win over Ha-sun eventually, or be doomed to one-sided-love-itis? Young-wook, on the other hand, is a perennial civil service exam (gosi) student, preparing for (and hoping to pass) the test to become a low-level civil servant. Hence the rumply looks and the tracksuit, the preferred uniform of gosi students everywhere.
Meanwhile, rock singer/songwriter Lee Juck plays Kye-sang's doctor friend, a proctology surgeon.
Then there are the rest of the school-bound cast members, with three instructors.
From left to right in the photo above, we have singer Yoon Gun playing, aptly enough, a music teacher. Comedienne Park Ji-sun plays an English teacher, while Julien Kang is a English-language native speaker and teacher. He had the same description in High Kick Through the Roof, which makes me think there's a chance he's reprising the same role — which shouldn't be too hard, since all these characters are hybrids of real-life personas and fictional characterizations. The latter two have a loveline.
Among the students, we have Baek Jin-hee (Loving You a Thousand Times), who's a poor college student, and Kim Ji-won (Romantic Heaven), a second-year in high school who's Ha-sun's cousin.
High Kick! Counterattack of the Short Legs premieres on September 19.
Via Mk.co.kr
RELATED POSTS
Tags: Ahn Nae-sang, Baek Jin-hee, High Kick: Counterattack of the Short Legs, Julien Kang, Kang Seung-yoon, Kim Ji-won, Krystal, Lee Jong-seok, Park Ha-sun, Seo Ji-seok, Yoon Kye-sang, Yoon Yoo-sun