Kim Myung-min wraps marathon movie, chooses disaster next
Kim Myung-min has done melodrama, thriller, sageuk, comedy, sageuk comedy, action, mystery — so now it's time to take on the disaster genre. He has wrapped filming on his latest movie, Pace Maker, and signed on to star in a movie that I dearly hope adopts a cooler English-language title than its literal translation of Hairworm [연가시].
The movie is about the hairworm parasite, which lives by burrowing into the bodies of insects, emerging from their hosts once grown. Apparently it can even force the hosts to behave unnaturally, like throwing themselves into water. It's like Alien for the buggy set. *Shudders.* In the movie, the hairworm begins to attack people, who start dying one by one for seemingly no reason, and Kim Myung-min plays a pharmaceutical company salesman who fights to save his family.
Directing is Park Jung-woo, a writer-director who penned screenplays for Jail Breaker and Kick the Moon and directed Dance With the Wind and Big Bang. The movie plans to begin filming in mid-October.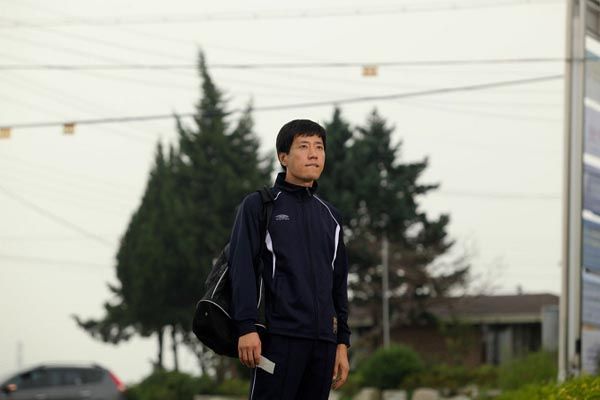 Pace Maker, meanwhile (pictured directly above and below), is the movie in which Kim Myung-min plays a marathon pace maker, a runner who keeps elite marathoners on track for the first half of the race. It's a necessary role but one that uses him more like a tool than anything else, and his character dreams of running for himself one day, although he's hindered by the cold marathon coach/director played by Ahn Sung-ki.
Kim's character strikes up an unlikely friendship with a pole vaulter played by Go Ara, and their meeting scene was actually the last one shot. In it, Kim has been denied entry to the marathoners' training village when another athlete, national sweetheart Go Ara, happens by and asks him for his help in running an errand. In thanks, she tells him of a secret gap he can use to enter the village.
"Warm human drama" Pace Maker wrapped after four months of filming, and is now in post-production.
RELATED POSTS
Tags: Ahn Sung-ki, Go Ara, Kim Myung-min